We've covered the worst. Let's go through the best.
Honorable mention. Cal 55, Sacramento State 14
I kind of consider "FCS opponent" our version of "fall scrimmage", no matter how impressive the victory. You can only look bad in fall practice, never good. Thankfully, we didn't look bad. That being said, after our previous two FCS showings, this was a nice return to form. This was a pretty loud announcement that Cal was going to be a much tougher opponent than the pushover they'd been in previous years..
4. Cal 59, Colorado 56
3. Cal 60, Washington State 59
They were exciting, they were fast-scoring, they were cardiac-inducing. But in terms of best games of the season, I can't put these at the top of the list. How proud can we be that Cal needed double overtime to beat 2-10 Colorado at home and needed a 19 yard missed field goal to hang on against 3-9 Washington State? The Buffs were a much spunkier opponent than their record indicated, but Nelson Spruce treated our secondary like high school hall monitors. And 812 yards, by the gods. I would like to take that WSU win as karmic payback for that Arizona loss, but karma went right around and punished us with six losses in seven games.
Still, the Bears showcased how explosive their offense can be when their defense struggles to hold their end. Jared Goff made himself a national name. Trevor Davis had a special teams game for the ages. Every Cal skill player on offense seemed to rack up a highlight catch, a big touchdown, or a clutch moment. Even the Cal defense made two crucial, critical goal-line stands.
On the bright side, these were the games that made Cal believe they could win in conference. Aside from one or two blowouts, they proved to be competitive for most of their contests.
2. Cal 45, Oregon State 31
Now here's a super impressive Cal win. The Bears controlled the first half, staved off a huge rally, and dominated the fourth quarter. I want wins like Oregon State all season in 2015 that are decided well before the final play. The defense made its fair share of stops and Daniel Lasco rallied the offense to a big victory. We'll need all elements contribution this year for Cal to be a Pac-12 contender, and this game was a good sign that the ingredients are formulating.
1. Cal 31, Northwestern 24
Northwestern didn't have a great year, but they were capable of some impressive results. They upset Wisconsin at home and shocked Notre Dame in South Bend. So getting this opening week win is huge for this team. They came out strong, played all their cards, and held on for dear life.
This was a statement win and got Year 2 rolling in the right direction. If we lose this game, I'm not sure how our season goes, I'm not sure how recruiting goes, and this rebuild might still be at the "moral victory" stage. Cal does look ready to do better things this season.
Also: We helped win this game! We did it!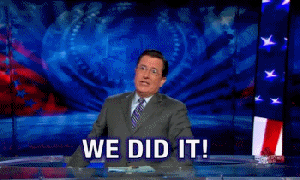 What was the best for you? Vote in the poll and discuss in the comments!