Last Wednesday I ventured up to Hollywood to represent this fine website at Pac-12 Media Day.  After an interminable voyage, I finally arrived at Paramount Pictures.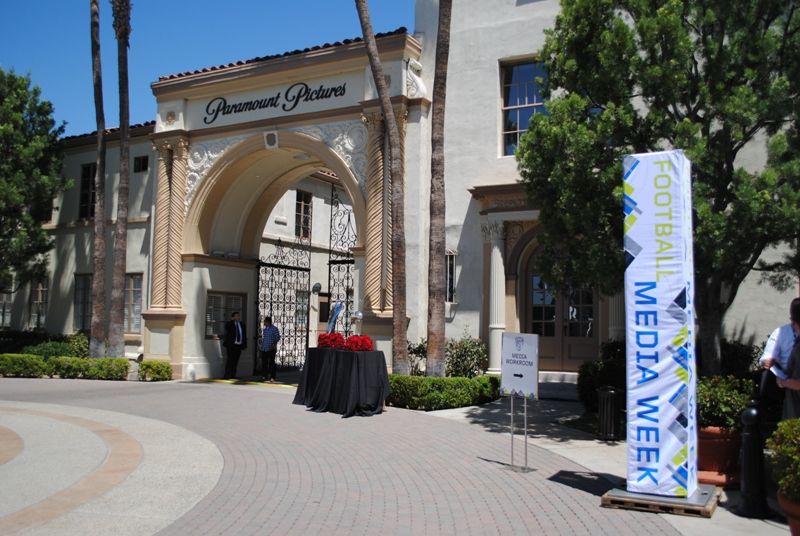 My joy quickly turned to displeasure as I received my press credentials.  All day I was expected to wear a credential with a Lobsterback on it.
Well, that was quick. #Pac12MediaDay is over because I refuse to wear a credential with a furdie on it. pic.twitter.com/gekhT5f6q3

— GoldenBlogs (@GoldenBlogs) July 23, 2014
Ha ha ha.  Very funny, Larry Scott.  Oh sure, kick Cal while we're down.  This is even worse than the time they served cupcakes with team logos on them.  RED VELVET CUPCAKES.  Larry Scott is a monster who must be stopped.
Feeling a great shame around my neck, I moved on towards the press conference area.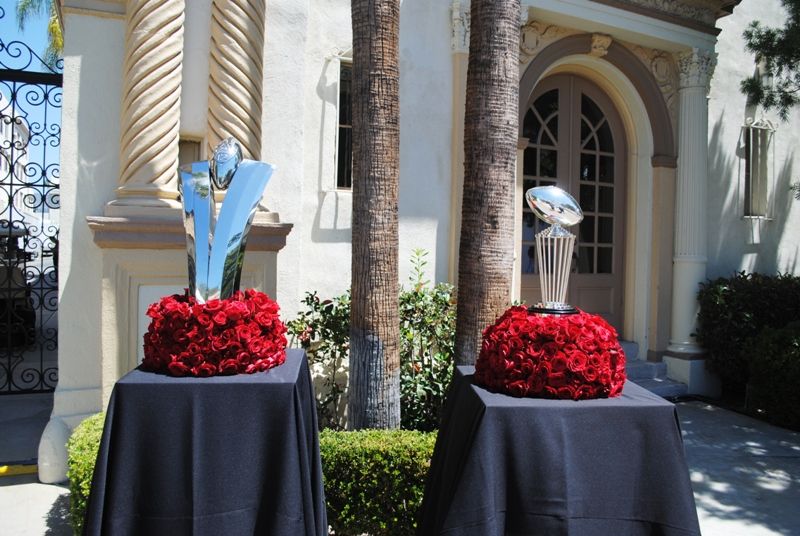 I was greeted by the Pac-12 Championship Game trophy and the Rose Bowl trophy.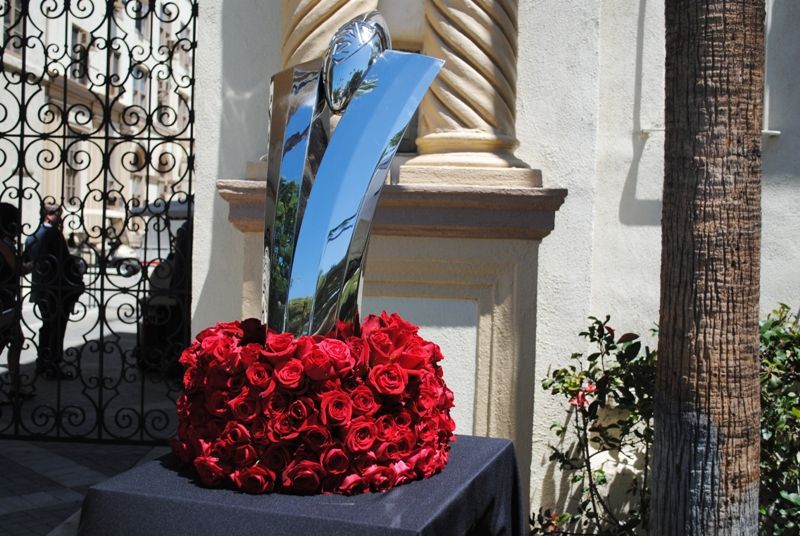 It looks a bit like someone tried to use a football to split a block of wood.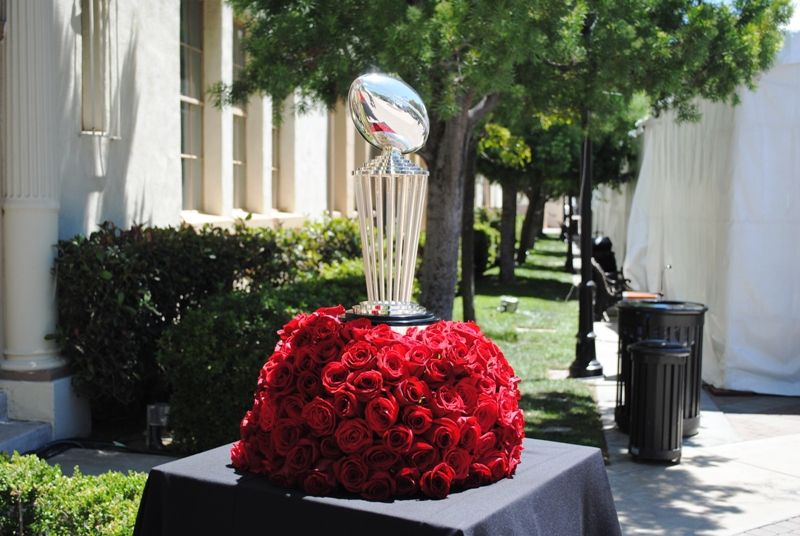 Did you know the Rose Bowl trophy is a real thing that exists?  Neither did I.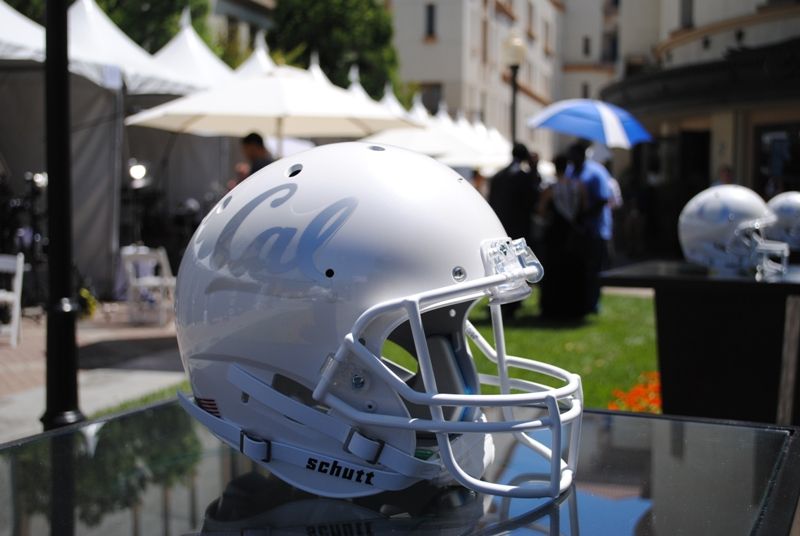 The practical jokes from Larry Scott continue.  Cal fans were scarred by the 2012 season and our awful performances in those white helmets. So what does Larry Scott do?  Bring them back.
With my PTSD from the 2012 season out of the way (actually, it was quite a pleasant trip down memory lane compared to the 2013 season), I marched onwards.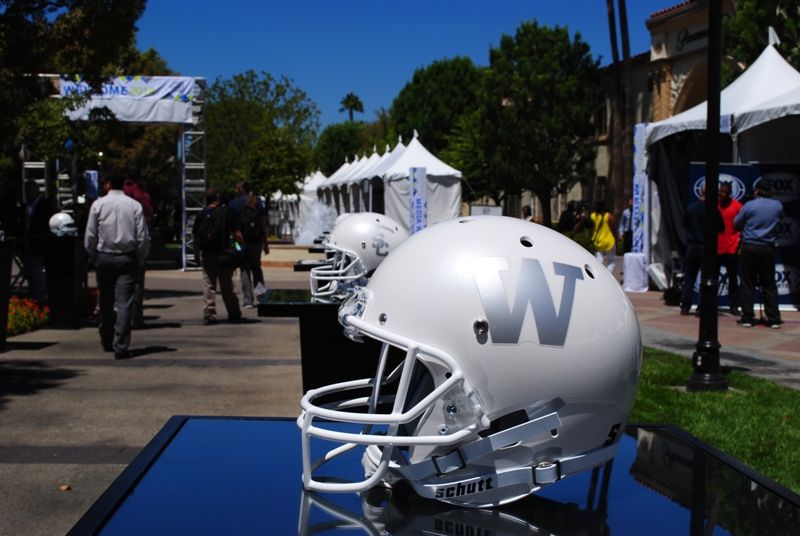 Cal fans weren't the only ones who had to suffer with those white helmets.  Every team received its own.
I walked into the press area and grabbed a seat.  I arrived early enough that I was able to secure an excellent seat in the middle towards the front.  This was great for picture-taking.  While getting settled, I looked at this year's goodie bag given to every person attending media day.  You cannot fathom my delight when I saw this
PAC-12 USB DONGLE!  You plug the USB port in and can charge items using any of the other ends.  It has all varieties of micro-USB plug, some giant plug that looks vaguely familiar, and Apple's latest proprietary connector that will be made obsolete in 6 months.
I also received all this stuff.  It was wrapped in a black piece of flag-type material that unfolds into...something.  I don't know what this black, Pac-12-logo-laden thing is.
I also received a notebook, pen, and Pac-12 water bottle.  Does anyone have any idea what I'm supposed to do with this black, flag-type thing?  Maybe I can make a dog cape.
I settled in, connected to the shockingly stable WiFi, and waited for the press conferences to begin.  Larry Scott came to the stage and talked about various issues, from player safety to paying athletes to Silicon Valley (he probably said Silicon Valley 15 times).  If you have a few minutes, I recommend reading his comments during the introductory press conference.  Due to the bizarre new format at Media Day, I don't think his conference was televised or streamed.  Speaking of bizarre formats, the press conferences were about to begin.  Arizona's Rich Rodriguez was the first coach on the stage.  Yes, just the coach.
Arizona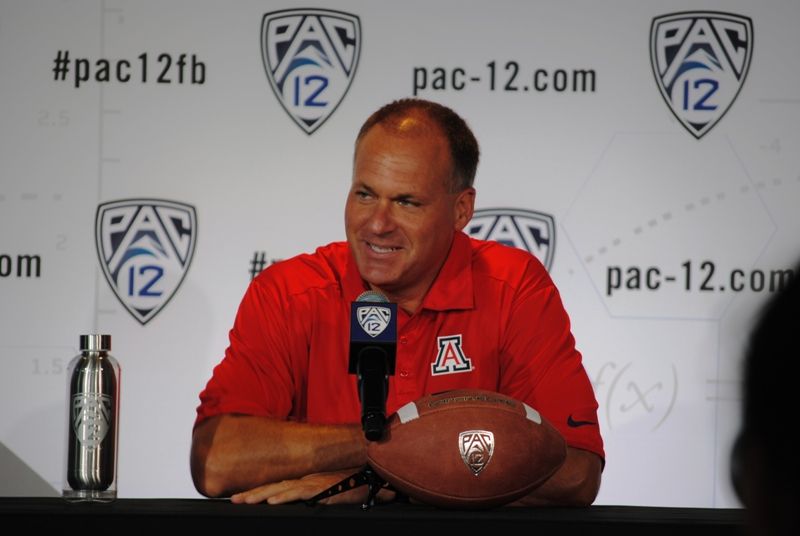 This is the face of someone who has his mind elsewhere.  RichRod was straightforward about the fact that he would rather still be on vacation than at Media Day.  After his introductory statement the woeful disorganization that is the new Pac-12 Media Day format began.
This is the new #Pac12MediaDay press conference format. Absurd. What's wrong with a traditional press conference? pic.twitter.com/UzWy3k3saD

— GoldenBlogs (@GoldenBlogs) July 23, 2014
Warning: rant imminent.  Look at the above picture.  This is the new "press conference" format.  This is pure stupidity.  In previous years the press conferences were, well, press conferences.  The coach and two athletes would take the stage and field questions from the press for about twenty minutes.  This format had worked for many years and was an organized, well run event.  This traditional format, for reasons beyond my comprehension, was scrapped this year.  Instead, the coach took the main stage while the athletes took a small stage in the back.  That's right, two separate, simultaneous Q&A sessions.  And instead of asking questions from your seat and listening to the players' and coaches' responses, you had to get up and go over to the stage to listen to them.  At an event with hundreds of journalists, this is a complete nightmare.
Things get worse.  Even if you go up to the coaches' area and try to listen to him, you can't hear anything unless you're within arm's reach.  Sure, there were speakers and a microphone, but the volume was turned very low to avoid interfering with the other Q&A session on the other side of the room.  So if you're not right there next to the coach, you're not going to hear anything.  Did you notice that giant crowd surrounding RichRod in the above picture? I bet half of them couldn't hear anything he was saying.  And he didn't even draw much of a crowd.
Worse yet is that with two simultaneous Q&A sessions, you're going to have to split time between the sessions if you want a complete report from the team.  The Q&A sessions were extended to 40 minutes, which gave us more time to talk to the players and coaches.  However, when people migrate from one session to another, you start hearing the same questions again.  That's right:  if you're fortunate enough to be able to hear the coach, you're probably going to hear several repeat questions.
Overall, trying to listen to the coach is an incredibly irritating experience.  As a result, I found it wasn't worth the effort to listen to most coaches.  This is unfortunate because I like hearing what's going on with each team during the offseason.  I'm not going to wade through a 10-deep crowd to listen to Sarkisian and USC, but I'd like to have some idea of what has happened over the past few months.  I could try to read through the quotes they sent around to members of the media, but I quickly realize there's a big problem.  It's so hard to hear what's going on that the Pac-12's own transcripts are missing half the questions (fortunately the answers are mostly complete).  That's right.  The Pac-12's own documents are incomplete because these press conferences were so poorly implemented.  That's embarrassing.
/rant
tl;dr  The new press conference format is embarrassingly broken and immediately needs to revert to a traditional format.
Cal
I fought through the crowds (quite literally--I was dodging elbows from photographers who crowded the front of the table) to report from the Cal table.  Check out my post here for a recap of the questions and answers.
After the Cal press conferences, Jared Goff and Stefan McClure took a break from the seriousness of the event to have a bit of fun.
Cash money unicorn. #pac12selfie @CalFootball pic.twitter.com/zB2RCn2atE

— Ashley Adamson (@AdamsonAshley) July 23, 2014
USC
If you've come here to read about Steve Sarkisian and USC, I'm afraid you've found the wrong website.
Washington State
As frustrated as I was with the new press conference format, I knew I had to do whatever I could to listen to Mike Leach.  If you've never watched a Mike Leach press conference, you have missed one of the great joys in life.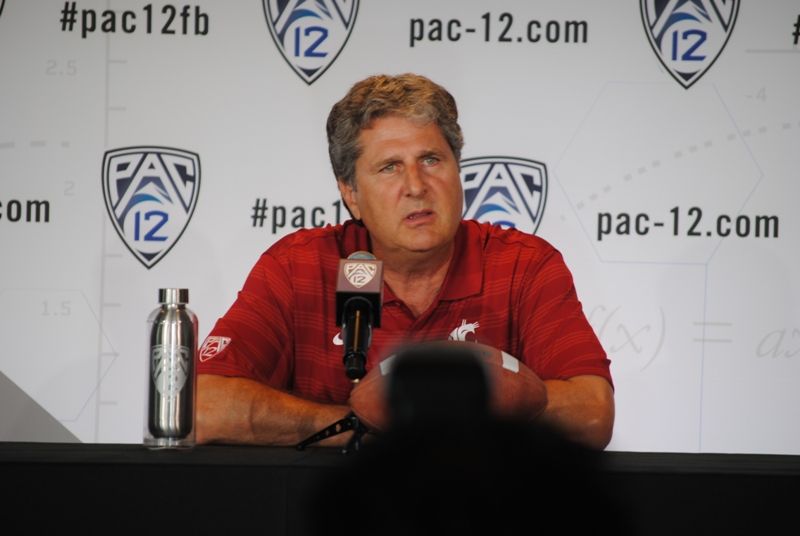 Here are some of the highlights from Mike's discussion with the media:
Mike Leach and staff caught a 9.5ft sturgeon that was 91 years old this summer. They let it go. I love this guy.

— GoldenBlogs (@GoldenBlogs) July 23, 2014
Mike Leach calls the link between tempo and injuries "total foolishness." Says that myth was disproven a long time ago.

— GoldenBlogs (@GoldenBlogs) July 23, 2014
Leach: if the 1st team D gets tired, sub them out. 2nd string gets tired, sub them out. 3rd string gets tired, fire conditioning coach

— GoldenBlogs (@GoldenBlogs) July 23, 2014
Leach talks about a roadrunner on a football field and then makes sure to spend a moment describing its joint articulation in its legs

— GoldenBlogs (@GoldenBlogs) July 23, 2014
Now Leach is talking about the difference between dry and humid heat as a function of the number of gnats. This guy is PURE GOLD.

— GoldenBlogs (@GoldenBlogs) July 23, 2014
Leach still believes Utah's Whittingham is the best bear-hunting partner in the #Pac12, but Petersen makes the choice tougher.

— GoldenBlogs (@GoldenBlogs) July 23, 2014
"If you have an incredible mascot like the Coug you want to show it off" Leach on the WSU flag at GameDay, World Cup, Masters

— GoldenBlogs (@GoldenBlogs) July 23, 2014
Also, this happened.
#SwingYourSword pic.twitter.com/DbnMkK3OSP

— Pac-12 Networks (@Pac12Networks) July 23, 2014
Oregon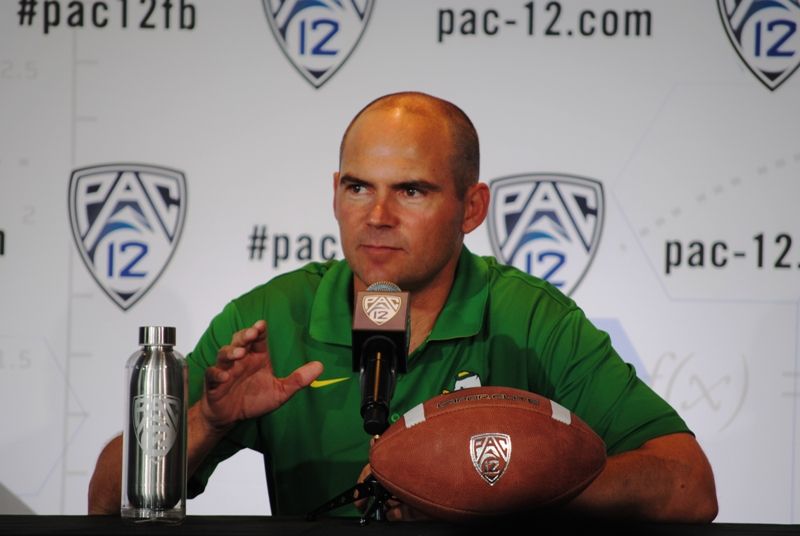 I noticed that Helfrich didn't have a very large crowd at the table.  Usually Oregon is a big draw, but the interest wasn't really there this season.  He wasn't up there by himself, but you'd never guess that this team was picked to win the conference.
I didn't make it up to the table, but I caught the most important bit of the press conference:
You can't really hear the coaches if you aren't at the stage, but I just overheard Mark Helfrich say "he's got a lot more hair than me"

— GoldenBlogs (@GoldenBlogs) July 23, 2014
Utah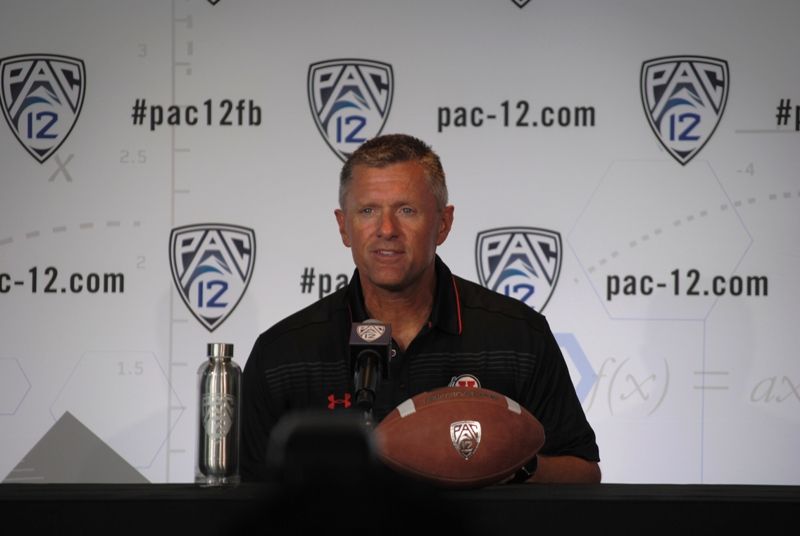 I feel bad for Utah.  This is the second year in a row where poor Coach Whittingham was the final coach on the stage before lunch.  Lunch wasn't until 1:30 this year, so most of us had left early to grab some food and talk to the players, who are usually wandering around at lunch.  This means Whittingham had a pretty small crowd.  However, he can always take solace in the fact that he's Mike Leach's top choice for bear-hunting partner.
Lunch
While I was having a productive lunch and bringing you some solid content, I missed out on this.  The things I do for you people...
I'm not sure what a Buffalo Blast is, but I'm pretty sure it's not something I'd like to taste.