In 2004, Dodger 3rd baseman Adrian Beltre hit 48 homers, 121 RBIs, and batted .334, OPSing over 1.000. These numbers were a massive increase from his previous stats in every conceivable way. For example, those 48 homers were more than 2x better than his previous season high.
Why did Beltre play so well in 2004 compared to his previous six seasons? It was his contract year, which is to say his contract was up at the end of his season. If he played well, he stood a chance to make a significant amount of money in his next contract. Play poorly and he'd be begging for his supper (i.e. only make several millions of dollars a year). Beltre played out of his mind and got WAY overpaid by the Mariners, because that is what the Mariners do.
Some people approach contract years like Beltre and perform well above expected norms. Other approach contract years like Lance Stephenson, who seemingly views basketball as performance art.   Marina Abramovic would have looked up from trying not to cut herself with knives or staring at strangers for a minute at a time to show her appreciation for Stephenson.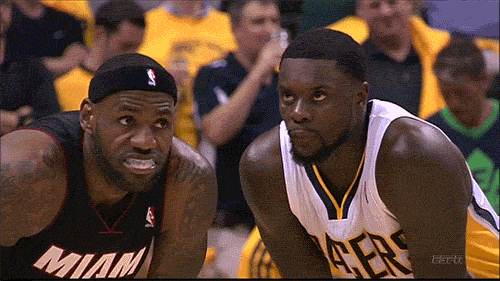 Yes, CGB is the only sports site where you'll get 40 year old Marina Abramovic references. Or, alternatively, Marina Abramovic references.  We are nothing if not a smug cultural elite!
How does this tie into Cal sports? Well, Cal baseball just finished up yet another disappointing season under 15 year head coach David Esquer with a 26-27 record. When you combine that with Esquer's previous record, you get a total win-lose record for him of 432-396.
That is a winning percentage of 52%, which does not sound that bad. However, his conference record in 2014 was 13-17, meaning his total conference record is 171-215. That is a winning percentage of 44.3%. The conference winning percentage as more meaningful insomuch as Cal's goal is to win the conference and the overall winning percentage can be fluffed up by facing some weaker non-conference teams. In Esquer's 15 years, we've only made the post-season 4 times, making it out of the first round only once. Despite having major league players such as Conor Jackson, Tyson Ross, Allen Craig, and many, many others on his teams, Cal has had a sub-.500 record in 6 of his 15 years (hovering around .500 in several other years).
For all intents and purposes, for the last 15 years, we've had almost the literal textbook definition of mediocrity in what could be potentially a key sport for Cal. Collegiate baseball is the 3rd most televised sport (behind football and men's basketball) and if Cal was able to produce success on TV and turn eyeballs into attendance, it could mean a lot.
This mediocrity is particularly salient in light of the financial problems that led the Department to almost cut the sport as a whole. I've previously discussed my thoughts on how Cal baseball is underperforming off the field. Underperforming on the field prevents the attendance needed to continue Cal baseball's march towards fiscal solvency and beyond!
How did we end up in this situation? It all stems from the 2011 season. That was the last year of Coach Esquer's previous contract. Many people anticipated at that time that Esquer would not be retained as coach moving forward. Then, in the fall of 2010, Cal announced it was cutting baseball.
Moving past the significant amount of ink has been spilled on that particular issue, in 2011 season, Esquer had the contract year to basically end all contract years. It was a storybook contract year. He didn't just save his own hide, he saved Cal baseball's hide. Cal went 38-23, which is Esquer's highest win total of his career.  Cal made it to the College World Series with a most thrilling victory along the way.
There are contract years and then there are CONTRACT YEARS. Esquer's 2011 season was a Hollywood contract year. This put Sandy in an awkward position, potentially. I say potentially, because Sandy may have been ready to extend Esquer already. I cannot imagine that that was the case, but maybe it was. If it was, I have no idea what Sandy was thinking.
I suspect that that was not the case, though. I became privy to private discussions on or around fall of 2010/spring of 2011 that showed a serious amount of unrest with Esquer as Cal head coach. What I was seeing were people who blamed Esquer for baseball on the edge of the abyss. It was not just "Esquer has coached the team to mediocrity," but "Esquer has poorly managed the baseball program and that is why we are where we are today." I even saw one person close to the program say that he only almost did not want baseball saved if it meant Esquer would get credit. That is clearly a very extreme viewpoint shared by few, but it was obvious after seeing these communications that Cal baseball at that time was a fractured entity with a lot of infighting over Esquer.
You didn't have to have inside access to know that, however.A SF Chronicle article shined all the sunlight on the backstage drama:
A year before coach David Esquer was told his team would be eliminated for budgetary reasons, his predecessor was telling former players to boycott the program's fundraising efforts.

In a 2009 e-mail addressed to several former Cal players and circulated among scores more, former coach Bob Milano urged them "to keep the pressure on the Baseball Program" by not contributing money to the program and not taking part in the team's annual golf tournament, alumni day or preseason dinner.

That summer, Milano had met with athletic director Sandy Barbour. Esquer and several former players said in recent interviews that they believe Milano hoped Barbour would fire Esquer.

Esquer had a lot of enemies at that time. BTW, note this line in that Chronicle story that reflects how baseball was doing prior to 2010.
In 2009, Cal had its worst season under Esquer. Despite having seven players who would be drafted by major-league teams that year, the Bears finished ninth in the Pac-10 Conference.
These are talented teams that are underperforming.
Anyway, it was Real Housewives Of Evans Diamond out there. This is not the dysfunction you want in a baseball program. Add on mediocrity and the time was ripe to move in a different direction. If Sandy wanted the clock to run out on the Esquer era at the end of his contract (assuming that this was her thought process prior to the whole No More Baseball thing), then that was a politically untenable position after the 2011 season. She pretty much HAD to extend him. You can already read the reports from the media if she did not:
"Cal AD Sandy Barbour Fires Baseball Coach That Saved Cal Baseball"
There would have been a big upswell of anger. Even if Esquer left to take another job, people would have blasted her for letting the Coach That Saved Cal Baseball leave. Attempts to explain all the complexities of the previous 10 years would have been lost in a tidal wave of disbelief. Many of the people who donated to Cal baseball may have felt their support was misguided and it could have stunted Cal baseball's ability to survive long term.
So, she extended him 5 years. If you read the comments there, there were unenthusiastic readers at that time. This is not 20/20 hindsight to be critical of the extension. Unfortunately, I do not believe Sandy had much choice. I wish she could have done a 3 year extension, though. Something shorter than 5 years. Anything shorter than 5 years.
I write this after the 2014 season. We are 3 years into this 5 year contract.  I got an opportunity to review this 2011 extension.  I wanted to see what the buyout provision is.  A buyout provision is a provision in a contract that requires Cal to pay Esquer a certain amount if they fire him early.
Section 12 on page 7 provides the buyout provision.  The provision is $200,000.00 per year for the remainder of the contract.  So, with two years remaining, it would take $400,000.00 to buy out Esquer.  There is, however, a duty to mitigate damages clause.  That means that if Cal does fire Esquer, he has a responsibility to work towards finding a job.  Whatever money he makes there during the term he would have been at Cal would lower the amount Cal has to pay him.  So, if he gets a job that pays him $100,000.00 per year, then Cal would only have to pay $200,000.00 to him instead of the full $400,000.00
What is odd to me is that this buyout clause is rather onerous.  It is a substantial increase over the previous contract's buyout clause.  In the previous extension (signed in 2009 and readable here), the buyout is 100% of Esquer's salary for every year except the last.  That year, it would just be 75% of the salary.  Esquer's salary there is in the $150s.
In the 2011 extension, Esquer's annual salary (base salary plus talent fee) starts at $170K and ends at $183K.  So, the buyout is more on an annual basis than his actual salary.  Of course, there are other factors that can increase his salary.  There are performance bonuses.  He can make money if he runs baseball camps.  Plus, he gets a $40,000.00 equipment stipend, which I do not fully understand.
Unfortunately, the 2011 extension not only raised his annual salary, but made it much more expensive to fire Esquer without cause.  That means we have 2 more years of Esquer.    It would take a significant amount of success over the next 2 season (yes, both seasons) for me to want Esquer to be extended another time. I hope I'm wrong, but I do not see that success coming for Cal in 2015 and 2016. After the 2016 season, I hope Sandy (or the AD at that time if Sandy is not the AD) sees fit not to extend Esquer. Let's thank him for his lengthy service and move in a different direction. Enough of my thoughts. What are your thoughts on the baseball team? Should Sandy have extended Esquer in 2011? Should the extension have been for a different amount of time? Tell us in the comments! GO BEARS!