It's been a while since we've had an update for fantasy football. No, I don't mean your fantasy where Cal goes to the Rose Bowl every year and Stanford's program is disbanded. I mean our pick 'em league where you foolishly pick Cal to cover the spread each week (it's okay, I picked Cal most weeks too).
Let's get to the regular season results:
College Football Pick 'Em
A tie! Whohah's Valiant Carpetbaggers and moving from Go to Bears tied for the top spot with 227 correct picks and 189 incorrect picks. That's a pretty good ratio. Montezuma's Revenge fills out the podium while the beer and Aussie Picks round out the top 5.
At the opposite end is BAESONG with a shameful 0 correct picks and 416 incorrect picks. If I didn't know any better, I'd think you were trying to lose.
Of course, the regular season seems like ancient history at this point. How did we do in our Bowl Pick 'Em, which wrapped up last week?
Bowl Pick 'Em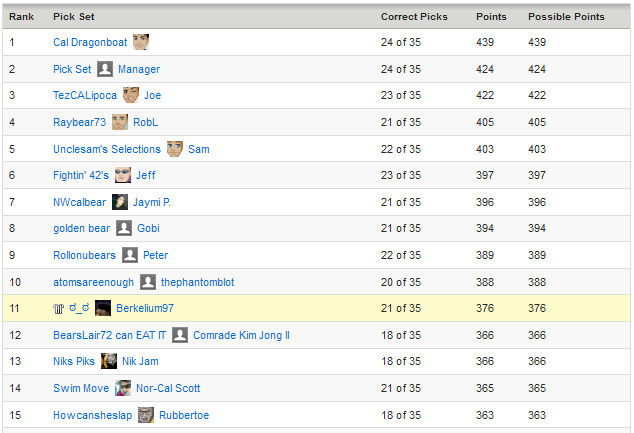 Cal Dragonboat wins! And I didn't even have to disqualify him for picking the furd in the Rose Bowl! Pick Set may feel some consolation in tying for the most correct picks with 24.
UncleSam proves he is king of the CGB mods/writers with 403 points and 22 correct picks. Twist finished last with 0 points and 0 of 35 correct picks. How surprising!
Twist wasn't the only one to earn a goose egg. the townie, Franklin and the Treesitters, ANGERRRRRRRRR, Waldorf, and John's Grand Pick Set all earned 0 points. Better luck next year!
Tune in next week when we post the results of CGB Fantasy Staff Management. I hope I'm not the only one who picked Nick Saban to be our new DC.