[Disclaimer: Past performance does not predict future results. Last week's patsy may become this week's juggernaut, and vice versa. The quarterback is liable to go Masoli on us, the running back may do his best Chauncey Washington impression, the receivers will channel their inner Paul Richardson, and, of course, the tight end will almost certainly turn into Ed Dickson. Prepare for surprises--both good and bad--each game.]
"There is no instance of an FBS team benefitting from prolonged warfare with an FCS team"- Sun Tzu
The Portland State Vikings are an FCS team on the rise under head coach Nigel Burton. That name may sound familiar, as Burton was three-year starting safety for Washington from 1996 to 1998. Before taking the head coaching job at Portland State, he was a defensive coordinator for Nevada in 2008 and 2009. Our defensive line coach Barry Sacks worked under Burton during those two seasons--an interesting connection between the two programs. The program was 2-9 the year before Burton arrived. While they finished 2-9 his first year, they finished 7-4 his second year. The program took a step back in 2012 and finished 3-8. Despite a strong offense, the Vikings' defense took a step back and let the offense down on several occasions. Tomorrow norcalnick will tell us why the defense is nothing to worry about, but today I'm going to convince you that this offense should not be overlooked. This game could tell us quite a bit about the discipline and fundamentals of our Bears defense.
Scheme
Portland State is a run-first, run-second, then-maybe-throw-a-screen kind of offense. Don't let the four receiver sets fool you; they like to run the ball. They'll pass plenty, but they are built to run the ball. Let's take a look at how they do it. It's hard to get film on the Vikings, so we'll have to focus on their performance last year against Southern Utah. I watched each of their drives in the first half and took a few notes and screenshots. Here's a look at what I noticed:
This is their base formation: the pistol. Most of their plays will come from this set: four receivers split wide (two on each side of the formation), the QB under shotgun, and the running back standing three yards behind the QB in a pistol formation.
They mostly run between the tackles, but their primary running back DJ Adams is not afraid to bounce outside if he does not see any running lanes. He has great vision and is an elusive runner, so he often finds the best running lane, even when it isn't the lane drawn up in the play. The QB Kieran McDonagh occasionally runs: sometimes in a zone read, sometimes in a read option, and occasionally he will bolt downfield as the offense uses 5 WRs to open up the middle of the field (very similar to the Northwestern play I diagrammed last week).
Here we see a zone read. Their base running play is a traditional handoff from the pistol, but occasionally they run the zone read. As usual, the QB and RB mesh while the QB reads a DE and determines whether to hand off or keep the ball.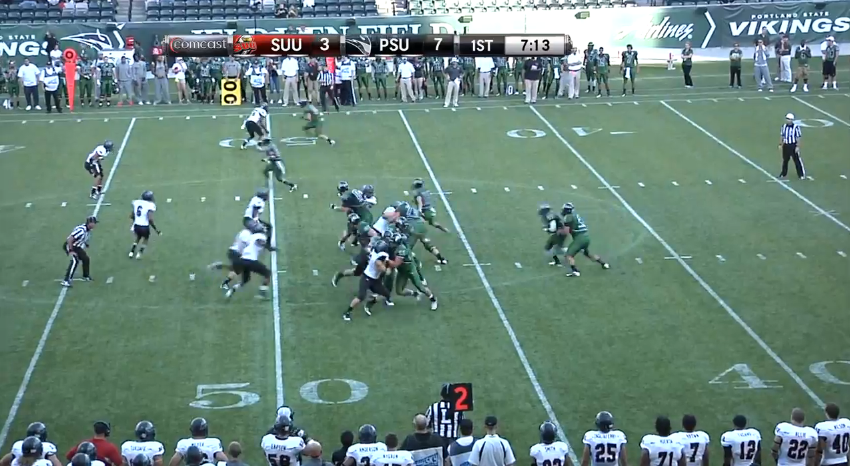 RBs DJ Adams and Shaq Richards are as likely to carry the ball as the QB in the zone read. Do not underestimate QB McDonagh as a running threat. He is a big, physical QB who will plow through linebackers. At 245 lbs, he's very difficult to bring down when he gets up to speed. Fortunately he's not that fast.
Portland State uses tight ends, but they are rarely receiving threats. They mostly block on running plays. Here Portland State uses the TE #86 to try to diagnose the defensive coverage. When he goes in motion, he usually runs to the edge to seal a block for a QB/RB run.
Occasionally they bring in two TEs to build a seven-man front. I saw this twice in the first half. Once they ran a running play from this, once they called timeout and did not run a play from this look.
This is the kind of offense that keeps you on your toes. They like to use movement and deception to keep the defense guessing. Play-action, fake handoffs, fake passes: this offense likes to use any means necessary to lure the defense out of position. Occasionally they will show something absolutely insane like the formation below. You may recognize this as the infamous A-11 offense.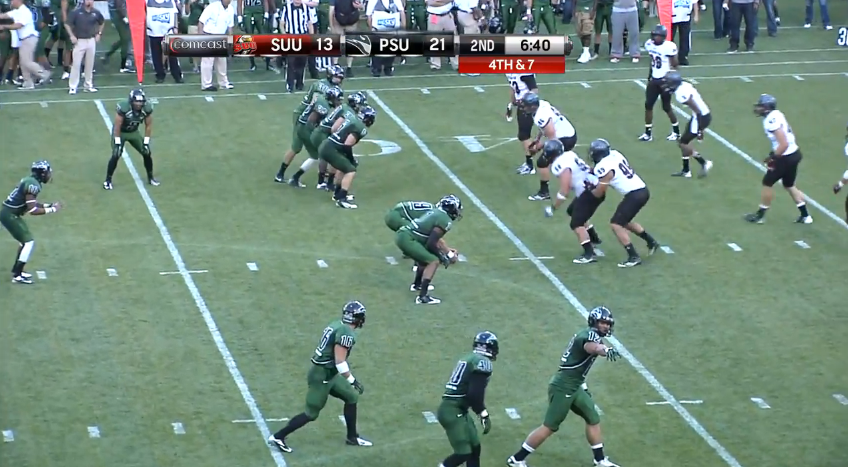 EVERY SINGLE PLAYER IS AN ELIGIBLE RECEIVER. You see what I mean about keeping the defense on its toes? Here the "quarterback" (I could not identify him. He wears #18 but is clearly not backup QB Josh Kraght) lines up five yards behind the center and prepares to throw to any one of these receivers. Unfortunately for the Vikings, #18 threw a floater that was tipped 10 yards in the air and intercepted by Southern Utah.
Other first-half observations:
I saw a statue of liberty play. The QB faked the pass then handed off behind his back to DJ Adams who ran three yards shy of a TD.

The RB occasionally runs a receiver route from the pistol back position.

I saw a very creative option play from their base formation:

The inside WR on the open side of the field (imagine it's the WR on the hash mark here) backpedaled 5 yards immediately after the snap as the QB faked the handoff to the RB. The QB then started running laterally towards the open side of the field (same side as that WR). Once the defense closed in on the QB, he pitched the ball to the WR, who was running about five yards to his left. The play resulted in no gain, but was a very clever take on a traditional option.

More observations:

Portland State relies heavily on WR blocking. As a result, these WRs are tough, physical blockers. Their blocks are key to opening up the field for the Vikings' many rushing plays.

Because WR blocking is an important component of this offense, they also run many screens (sometimes to the RB, sometimes to the WR).

Their passing game consists mostly of screens and crossing routes. They are fond of faking handoffs, which usually is the precursor to a screen pass. Their downfield passing game was limited last season. McDonagh is fairly accurate, but his passes tend to hang in the air too much.
I was very impressed with the variety of plays PSU ran in that half. This is a very creative and deceptive offense. Our defense will need to be very disciplined to avoid giving up big plays here. While they may not have the types of athletes we'll see against the Ohio States and Oregons, this should be a good tune-up for two of the most explosive offenses we will play this fall.
Now let's learn more about the players running this offense.
Personnel
* Denotes returning starter
Note: I pulled much of this information from Portland State's game notes and statistics. I noticed a few errors and inconsistencies regarding the starting roles. I cannot guarantee the accuracy of the starters


Quarterbacks
*Kieran McDonagh, 6' 2", 245 lbs, So.
McDonagh won the starting job as a true freshman last year. The dual-threat QB passed for 2,187 yards and 14 TDs and ran for 406 yards and 9 TDs. He finished 8th in votes for the Jerry Rice National Freshman of the Year Award. He's a tough, physical runner with the power to break tackles. On one play in the Southern Utah game I counted 5 tackles that he broke. At 245 lbs, he will likely need to be gang tackled. We cannot allow him to break through the front seven and hope that a DB will take him down--that's a recipe for disaster. While he's a strong runner, he is fumble prone. He fumbled 8 times last season and lost 2 of them.
Although he's a solid runner, his passing could use improvement. His passes lack velocity and tend to have more air under them than necessary. This may contribute to his relatively high number of interceptions (14TD-13 Int) last season. He's reasonably accurate on short routes such as screens and slants, but he does not possess much of a downfield passing game. We need to force them into third and long situations and make McDonagh pass his way to success.
Running Backs
Steven Long, 5' 7", 175 lbs, True Fr.
*Shaquille Richard, 5' 8", 175 lbs, Jr.
*DJ Adams, 5' 10", 210 lbs, Sr. (he's not listed as a starter, but I believe this is an error)
True freshman Steven Long reportedly started last week's game against Eastern Oregon but logged no stats. I doubt he is actually starting, given the amount of returning production in this stable of Viking running backs. Maryland transfer DJ Adams started four games last season and shared RB duties with Shaquille Richard and Justin Lilley throughout the season. He received the majority of snaps and led the team with 967 yards and 12 TDs, which earned him Big Sky All-Conference honorable mention. With 107 yards and 3 TDs last week, he should be a major contributor on Saturday. He's a strong, shifty runner who is adept at quickly changing direction. He also has great vision and has a knack for finding an open running lane. I can see why he initially signed with Maryland--he is a BCS-quality back.
Fellow starter Shaq Richards started two games and ran for 524 yards last year. He also ran for 107 yards last week (only 2 TDs, however), but lost two fumbles. Backup Justin Lilley nearly gave them a third 100-yard rusher with his 88 yards and touchdown last week.
The running backs caught only one pass last week and combined for 32 receptions last year.
Pros
Productive, experienced stable of backs
DJ Adams has great combination vision and agility
Cons
Why so many fumbles last week?
Wide Receivers
Kasey Closs, 6' 3", 200 lbs, Jr.
David Jones, 6' 1", 205 lbs, So.
Roston Tatum, 6' 2", 210 lbs, Jr.
The Vikings must replace their two most productive receivers, Justin Monahan and Nevin Lewis. The two combined for 1049 yards and 7 touchdowns.
Despite being starters, neither Kasey Closs nor David Jones caught a pass last season. Closs only caught one last week while Jones did not log a single reception.
Junior starter Roston Tatum caught three passes for an impressive 159 yards and a touchdown last week. He had four starts his freshman season but only has only caught ten receptions in his career.
Former quarterback Thomas Carter transitioned to slot receiver last season and led the team with 32 receptions (only 313 yards). He did not catch any passes last week.
One common theme among Portland State's receivers is that they are strong blockers. The new starters have the build to be strong blockers; we'll see how well they block on Saturday.
Pros
Big, physical
Typically PSU WRs block well on run plays and screens
Cons
Inexperienced, little returning productivity
Tight Ends
Hayden Plinke, 6' 4", 255, So.
The Vikings lost their top two tight ends from last season and are breaking in several players with no experience whatsoever. The tight ends appear to play a very minimal role on the Portland State offense, however.
Boise State transfer Hayden Plinke is playing his first season for the Vikings. He did not catch any passes last week. Backups Cam Sommer and Cam Thompson each caught one pass last week. Thompson is the only tight end with any previous experience with the Vikings, although he did not catch any passes last year.
Pros
I'm having a hard time coming up with anything here
Cons
The team's five tight ends have caught a total of two passes in their careers (both catches occurred last week)

Pass blocking abilities may be limited against the Cal D-line
Offensive Line
Note: Portland State's game notes listed 6 offensive linemen as starters. This is probably an error, but I'm having a hard time determining which of the three new starters actually started. Also, Keizur and Robertson's positions have not been clarified in PSU's notes--I had to make my best guess.
*Mitchell Van Dyk (RT), 6' 9", 290lbs, Sr.
Cam Keizur (RG? played guard in HS), 6' 4", 310 lbs, RS Fr.
*Mitch Gaulke (C), 6' 2", 285 lbs, Sr.
*Cornelius Edison (LG), 6' 3", 285 lbs, Jr.
Kyle Smith (LT), 6' 5", 315 lbs, RS Fr.
Thomas Robertson (???), 6' 4", 290 lbs, Sr.
The offensive line is anchored by right tackle Mitchell Van Dyk. The All-Big Sky honorable mentioned started all 11 games last season and earned the team's Most Outstanding Lineman Award. Center Mitch Gaulke is equally valuable as a three-year starter at center. He's a two-time All-Big Sky honorable mention and a surprisingly resilient player who has bounced back from two broken ankles. Cornerlius Edison is another veteran who anchored last year's line that allowed only 7 sacks all year while paving the way for 438.7 yards and 34.8 points per game.
Cam Keizur and Kyle Smith made their first career starts last week, although it's not clear which positions they played. Thomas Robertson may have made his second career start, but again it's not clear which position.
Behind these guys are a bunch of unproven linemen. Most of them have never played a single snap and the handful with collegiate experience have only played a few games.
Pros
Three v

eteran, proven starters

Excellent combination of run blocking and pass protection
Cons
Statistics
Now let's move on to our final category, statistics.
Noteworthy Individual Statistics
Kieran McDonagh
Passing (2012): 2187 yards, 54.5 % completion, 6.96 yards per passing attempt, 14 TDs, 13 interceptions
Rushing (2012): 406 yards, 4.6 yards per attempt, 9 TDs, 8 fumbles (2 lost)
Passing (2013): 7-11, 170 yards, 2 TD, 0 interceptions
Rushing (2013): 4 attempts, 7 yards
As mentioned before, McDonagh is a solid dual-threat QB. Keep in mind that he was a true freshman last season--those are pretty good stats for a true freshman. His accuracy and ball security could use improvement. Despite a low completion percentage, he has a respectable 6.96 yards per passing attempt.
DJ Adams
(2012) 967 rushing yards, 5.9 yards per rush, 12 TDs

(2013): 17 carries, 103 yards, 3 TDs
Adams is their MVP on offense. Despite 164 carries, he only had one fumble last season (he lost that lone fumble). He's off to a fast start this year.
Shaq Richard
(2012) 524 rushing yards, 4.7 yards per rush, 2 TDs, 4 fumbles (2 lost)

(2013) 11 carries, 107 yards, 0 TDs, 2 fumbles lost
Shaq is their second-option running back. Whether his two fumbles lost last week are bad omens remains to be seen. He didn't exactly have great ball security last year..
Notable Team Statistics (2012)
34.8 points per game

438.7 total yards per game

452 rushing plays, 343 passing plays

Avg. time of possession 26:51

Avg. seconds per play: 22.29 (tempo = slightly fast)
This is a productive offense. They put up tons of yards and plenty of points. Despite their run heavy approach, they have a surprisingly limited time of possession, which could prove lethal against the Bear Raid offense. They do not want their defense to be on the field for 33 minutes against Cal.
216.5 rushing yards per game, 5.3 yards per carry, 30 TDs

222.2 passing yards per game, 53.6% completions, 7.1 yards per passing attempt, 16 TDs
30 rushing TDs--that should come as no surprise. This offense is at its best when running the ball.
22 turnovers (-3)

75.3 penalty yards per game
They had a negative turnover margin last year and did not show any improvement last week: the Vikings fumbled six times and lost four of them. The Vikings were so-so in terms of penalty yardage last year.
37% third down conversions

40% fourth down conversions,

68% red zone touchdowns
The third- and fourth-down conversion rates are below average, but the red zone TD conversion rate is above average.
Before we finish up, let's take a quick look at their 2013 stats:
672 total yards, 405 rushing (6.9 ypc), 267 passing (14.1 yards per attempt)

4 TOs

7/12 3rd down, 1/3 4th

1 sack allowed

5/8 red zone touchdowns

16 penalties for 139 yards
It's tough to read too much into these stats because Portland State was playing Eastern Oregon, a Division II team. They continue to favor running the ball and showed their solid red zone offense. They had a horrific number of fumbles (6, 4 lost) and were penalized a whopping 16 times.
Conclusions
What have we learned? We must shut down the running lanes and limit DJ Adams. The front seven absolutely has to be solid in its tackling--McDonagh is a big, physical QB who can Cattouse (sorry!) a sloppy defender. The Vikings will use unusual formations and unconventional plays to keep the defense guessing. This is a productive, experienced FCS team, but it's still an FCS team. If we get pushed around by their O-line, we will have serious, serious problems this season. This is a dynamic and deceptive offense that should be a great way to get our guys in shape and disciplined as Ohio State and Oregon loom later this month.