When we left off last time the Pac-12 North coaches had just finished their press conferences. In today's post I will provide highlights from each of the press conferences and relay Bryce Treggs' insight on some of the differences between the Tedford and Dykes coaching staffs. For videos and full transcripts of each of the press conferences, see the Pac-12 Media Day Hub.
Before the coaches took the stage, we heard from Lydia Murphy-Stephans, president of the Pac-12 Networks. Here are some stats she mentioned:
More events: The conference covered 550 live events last year. This year that number will increase to 750.
Early season broadcasts: The Networks will show 35 football games this year and feature 10 of the conference's 12 teams in the first three weeks, including 7 home openers. She didn't mention that 5 of these home openers feature FCS teams. I'm pretty disappointed in the first few weeks of programming; I can see why DirecTV called the Pac-12's bluff once again. Maybe next year...
Football Training Camp: The Network will debut a show called Football Training Camp which features Rick Neuheisal and Mike Yam visiting each of the conference's teams during training camp. They will cover practice and interview players and coaches.
The Drive: Every Wednesday at 7pm the network will air The Drive a season-long, Hard Knocks-style documentary showing two schools' journey from training camp to the end of the season. She did not say which two schools, however.
More coverage nationwide: Comcast will launch the Pac-12 Networks in Illinois, Indiana, Michigan, and Ohio. CGB's midwest contingent will be pleased. Those lucky enough to have Google Fiber will receive the Network on August 15th.
Press Conferences: Pac-12 South
Colorado: The final new face in the Pac-12, Mike MacIntyre, was the first South coach to take the stage. The Florida native spent his playing days at Vanderbilt then Georgia Tech. He definitely is a good ol' boy at heart. He couldn't hide it when he slipped a "might could" and a few "y'all"s into his answers.
Facilities: MacIntyre mentioned a $170 million facility that is progressing because "Phil DiStephano is going to step up behind us and get things moving." They've had enough trouble getting chairs and acceptable media guides, so hopefully they can get some institutional support for a facilities upgrade.
Rebuilding: Mac answered a couple questions about the parallels between the rebuilding job at San Jose State and his new position at Colorado. He talked about how his dad did the same thing in his coaching days. Mac said he "watched all these young men come back and see my dad and young men come back and talk to me about different things and grow. That's a big part of it."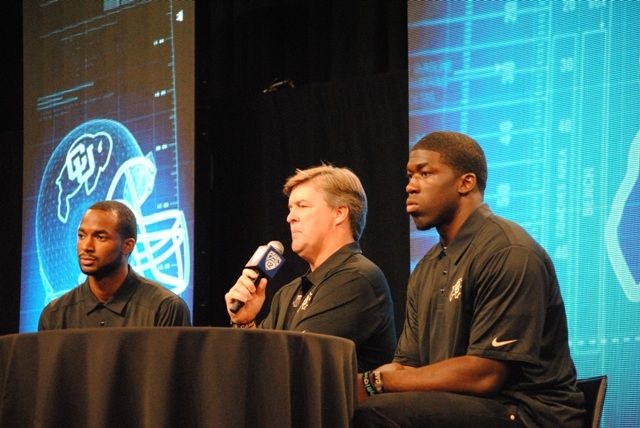 Mac seems like another great person hired by Colorado. I was really impressed with Embree during his interview at Pac-12 Media Day in 2011 and I got the same feeling from Mac--he's genuinely interested in bringing back Colorado football. Hopefully this time the university gives its coach more than two seasons to complete such a herculean task.
Before you get too optimistic about the matchup with the Buffs, note that in a one-on-one interview, Paul Richardson says he is definitely looking forward to the Cal game this season. He hasn't forgotten his 284-yard, 2 TD performance and neither have I.
Utah
Once one of the best non-AQ teams in the nation, the Utes have struggled since joining the Pac-12. They have experienced an unusual number of injuries, particularly at the QB position.
On the team's recent struggles: Kyle Whittingham was clearly disappointed with last season and told us how his players texted him during the bowl season to tell him how disappointed they were about missing a bowl. He must have a great relationship with his players for them to be so candid with him. Can you imagine a USC player texting Kiffin last year to tell him how disappointed they were to go to the Sun Bowl? Although the team has experienced challenges since joining the Pac-12, Whittingham said his latest recruiting classes are outstanding and only possible thanks to "the Pac-12 logo on our sleeves and the BCS conference affiliation."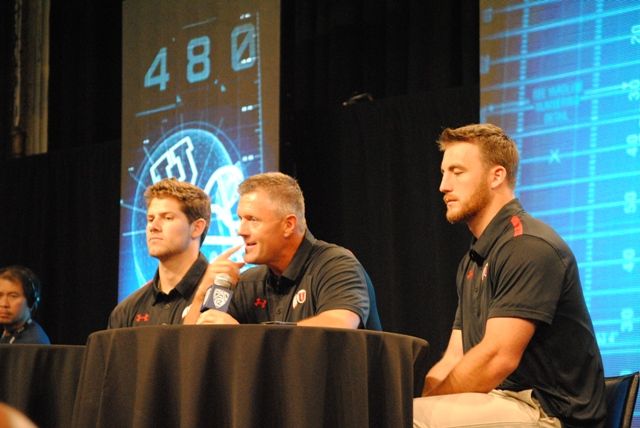 "Food goes here"
Whittingham mostly discussed personnel issues heading into this season. Those do not seem too relevant, as Cal misses Utah this season. We'll see if the Dennis Erickson experiment lasts long enough to be relevant when we face them in 2015. Erickson was brought aboard "to help us jump-start the offense."
Arizona
RichRod and the wildcats were next to take the stage
Improving the defense: RichRod was asked how he plants to improve a defense that gave up 498 yards per game last season. His answer was pretty uninspiring. He pointed to injuries and inexperience holding back the defense last season...and that's it. No revisions to the 3-3-5 scheme, no mention of greater emphasis on maintaining gap discipline, nothing about preventing big plays this season. Just more experience and praying for fewer injuries. While I don't doubt the Arizona defense will be slightly better than that monstrosity that gave up 40 points per conference game last season, I would be pretty nervous if I were a Wildcat fan.
Territorial Cup: This was the best moment of the South press conferences. Someone asked "How much does last year's Territorial Cup weigh on your minds?" RichRod: "None." He hands the mic to Terrence Miller, "None." Jake Fischer is next: "None." He hands the mic back to Rodriguez: "Next question!"
Hard Edge: Someone asked about the rather bizarre Hard Edge video the Arizona program put together. He said he sends the video to recruits and says "The posse has come to get you." He also joked about the video and said recruits can come to Arizona "play football, get a quality education, and start your movie career."
Player safety guidelines: According to RichRod, the new rules will not be an issue. He says "every coach in the country has gone to those guidelines anyway."
USC
This one started off strangely. First Lane Kiffin was late by about 30 seconds. His players had taken their seats long enough for everyone to begin wondering where Kiffin was hiding. Eventually he faced the media and took a seat.
Notice how Kiffin is the only coach who so far who has not sat in the middle seat? When he first walked out he tried to get Marquise Lee to switch seats with him. Lee would not budge. So Lane reluctantly sat on the edge. I can see why the Trojans were hit with a "lack of institutional control" penalty by the NCAA.
Lane Kiffin obviously does not want to be at these events. He looks uncomfortable the whole time and seems like he can't wait to get out of there. It doesn't help that the event is in Los Angeles, which means he received about 25 minutes of questions. Before answering many questions he would let out an adorable little sigh.
Pendy: Someone asked Hayes Pullard what the transition has been like to Clancy Pendergast's system. He said "Pendergast brings that new era swagger that's been great for us." Are we sure this is the same Pendergast?
Otherwise, there wasn't much of interesting material from Kiffin's presser. He says all the right things: he praises his players, praises the university and administration, and expresses some optimism for this year. But he comes off as dreadfully unenthusiastic.
I wanted to ask him a question, but they ran out of time. I flagged down a mic person who promised he'd come back to me, but he never did. I should write a letter to Larry Scott about this unforgivable slight. I was going to ask Kiffin if he was concerned that Pendergast's defense gave up over 100 points to the USC offense over the past three years (same with OSU, Oregon, and Stanford). But alas, we will never know the answer. What a shame.
Arizona State
First off, take a look at that mountain in the middle there.
That's defensive tackle Will Sutton, who added about 35 lbs this offseason. He is a BIG human. We are most fortunate that we do not have to face the ASU defense this season. Notice that, like Lane Kiffin, Todd Graham is on the seat at the edge. This enables him escape efficiently in case he hears of an enticing job offer.
Overall, Graham's press conference was unremarkable. He did have on tremendous bit of insight, however: "the key is to win the games." I couldn't have said it better, coach.
UCLA
Jim Mora and the Bruins were the final group to take the stage.
Secondary depth: In his opening statement Coach Mora emphasized the need to find bodies to fill out the secondary. They will be playing up to six players who have never taken a collegiate snap. That gives me a little more optimism about the Bear Raid's visit to Pasadena this October. I'm blindly optimistic enough to buy tickets, so hopefully I won't be disappointed again.
Targeting rule: I liked Barr's response to a question about the new targeting rules. Most players gave a scripted answer about how their coaches teach them the proper technique, which prevents the new rule from being an issue. Barr admitted "it's going to be difficult to fully adjust my game to all of that rule" and accepts that he may face penalties for his aggressive style of play.
Barr's hit on Barkley last season: Anthony Barr was asked to describe the first thoughts that come to his mind when he recalls his hit against Matt Barkley last season. He gave a great response: "I want to know why the tackle just let me go. For whatever reason. He should be standing up here and talking to you guys, because he's the reason why I was able to make that play." He gave one final thought about the play: "And the playcall was pretty good too."
UCLA had some great representatives this year. It makes it easier to root for players when they come across as interesting, introspective guys. Far too often players come across as uninteresting because they give coachspeak answers. It was nice to hear some insight from Xavier Su'a-Filo and Anthony Barr.
After UCLA wrapped up, we headed outside to get lunch. Oddly enough, it was raining. I caught up with Avinash and Lindsay who had been doing interviews all morning. After a quick lunch, I talked briefly with Bryce Treggs about some of the changes the team has undergone recently.
Bryce Treggs on Changes Within the Program
First off, Bryce Treggs is an incredibly well-spoken individual. He is more articulate than half the coaches in the Pac-12. He gives thoughtful, well-reasoned answers to questions and is an engaging person. Make sure you talk to him if you see him at Fan Appreciation Day or any other event; he's a great representative for the university.
I first asked him about the changes made by new strength and conditioning coach Damon Harrington. He says the workouts now mimic the pace of the offense. They do everything quickly--lift quickly, quickly transition between reps, and even run when moving throughout the weight room. Under Blasquez the team focused much more on lifting instead of conditioning. They built plenty of muscle and improved strength, but their conditioning certainly could have been better. Now that Harrington is leading the workouts, the team should have vastly improved endurance. Treggs says the arrival of Harrington is one of the biggest changes from last year to this year. I expect this will make a big difference in the second half of games.
Next I asked about the transition on offense. When asked how quickly he learned the offense, Treggs didn't even hesitate in his response: "Fifteen minutes." Fifteen minutes? "Fifteen minutes." He said it took a little longer for quarterbacks because they're more involved. But it was incredibly simple for the receivers to learn the new offense. He contrasted that to the difficulties he and Chris Harper faced when the team would install the offense on Thursdays last year. In anticipation of the upcoming game, the Tedford staff installed new plays on Thursdays, which was a struggle for many players. Treggs seems to have plenty of confidence in the new offense thanks to its simplicity. He also says it's more fun. He and the other receives have more freedom in the new offense: they can adjust their splits on the fly, for example.
Treggs also spoke about how the staff is making players more accountable for their actions. He said disciplinary issues were mostly handled one-on-one between players and coaches when Tedford was at the helm. Under Coach Dykes, issues are handled publicly. For example, during spring practice the entire team had to run 400 yards of up-downs because one person missed class. And everyone knows who's responsible for the team punishment. Treggs said "your face is on the jumbotron when you mess up." I don't imagine the players are too happy when looking at the face on the jumbotron during those up-downs. He says these public punishments help keep everyone more accountable. Players are much less likely to break the rules when the punishment affects 85 other guys.
Finally, I asked Treggs about the quarterback competition. He's hoping for a quick resolution. He said "I hope we name a QB within the first week." From his perspective, the QB differences are pretty similar to what we've been hearing from practice reports. Kline has a really strong arm while Goff is exceptionally accurate. With all the youth on the team, Treggs acknowledged that its important for some of the younger players--himself included--to adopt leadership roles. Treggs seems like a he would be a natural leader and implied that he's going to be one of the leaders this season. Finally, he said to expect big things from the Bears this year. He says "I think we can win the Pac-12 Championship...[we have the] talent and coaches to do that." I thanked Treggs for his time and let him talk to the next reporter eager to speak to the receiver.
Later on I met up with several other SBN writers from the Pac-12, including Anthony Cassino from UW Dawg Pound, David Gerhardt of Ralphie Report, Jack Follman of Pacific Takes, and a couple of the House of Sparky Guys. We have a pretty good bunch of people covering the Pac-12. It's a shame we will shower in their tears when the Bears annihilate their Pac-12 competition this season.
That about wraps it up from my perspective of Pac-12 Media Day. After doing some work with the SBN Pac-12 folks, I spent the following 3+ hours crawling at about 15mph through horrendous LA Traffic.
In the near future we will have even more Media Day content. Avinash and Lindsay scored several interviews with Cal's reps as well as Mike Riley and David Shaw. They touched on several "outside the lines"-style topics. Keep an eye out for their interviews in the near future!