This past Friday I had the pleasure of attending another Pac-12 Media Day. The event has transformed remarkably under Larry Scott. An event once held in dingy hotels near LAX now takes place in venues such as Fox Studios, Universal Studios, and even the Rose Bowl. Friday's festivities took place at Sony Studios.
In addition to improvements in the venue, Media Day has featured better and better freebies each year. We once received a pen, a flash drive, and some media guides. Now we get all sorts of creative goodies. Look at this year's haul.
I received a Pac-12 backpack/bag, a Pac-12 pen, a Pac-12 Notebook, a Pac-12 aluminum water bottle, a Pac-12 flash drive, and a Pac-12 tablet sleeve. I don't even have a tablet and I'm still excited about that sleeve. Best of all is this Rose Bowl calendar. It's a 14-month calendar featuring covers from Rose Bowl programs, both historic and modern. Here's a look at all the calendar's images.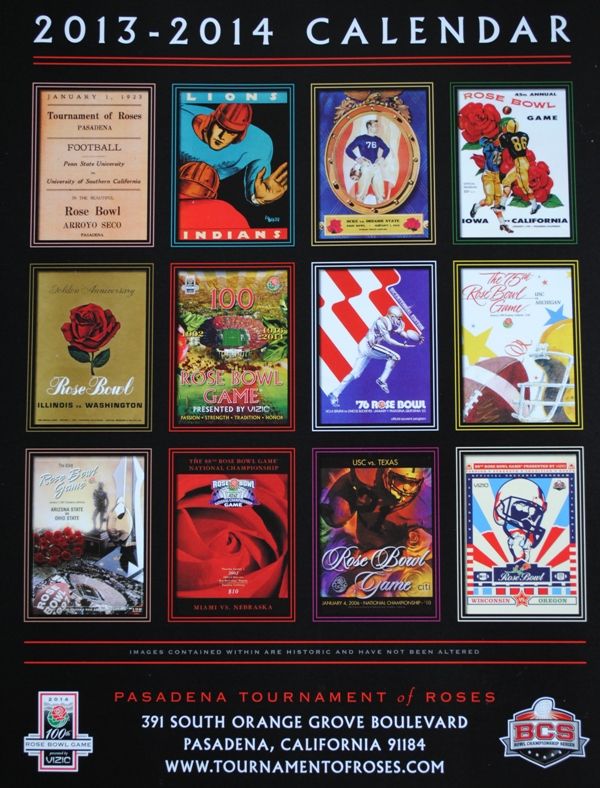 The 1959 Cal-Iowa Rose Bowl is featured in the top right above. Each calendar page has a picture from the game and a description. This is, by far, my favorite item I have received at any media day.
The sound stage for the press conferences was not scheduled to open until 8am. As I had arrived around 7:15am, I had plenty of time to kill. I grabbed a cup of coffee and wandered around the lot. The Pac-12 had an endless army of assistant who helped coordinate with the event. They wore highlighter Oregon yellow shirts, so you could probably spot them from a low-orbit satellite. Several of them were talking about which coaches they were going to assist throughout the day. For reasons mysterious to me, they expressed jealousy when talking about the ones working with Lane Kiffin. It's abundantly clear that Lane Kiffin does not enjoy these media events, so I can't imagine he's much fun to be around at Media Day.
The decorations at the event were unique. While the infamous turf couches did not make another appearance, the couches did have some nice pillows on them.
Later on during the lunch period, several of the media day assistants rounded up all these pillows. They seemed intent on making sure no one left with an extra "souvenir" or two.
Shortly before heading inside the sound stage, I gathered several media guides. Colorado's was underwhelming.
I don't want to poke too much fun because Cal's looked just like that a few years ago.
Fortunately Cal now has proper media guides. Yay Pac-12 Networks money!
Doesn't Coach Dykes look friendly and inviting?
Once the main sound stage opened up, I headed inside to grab a seat. I'm glad I was there early, as it was standing room only by the time the press conferences began.
The decorations inside were certainly different this year. This year's decorations had a sci-fi look: plenty of blue and white and an abundance of computer-generated images with surface maps.
I bet Stanfurd fans were upset with that blue helmet. Well they would be if they existed...
At the foot of the stage was a series of helmets. Unfortunately they had last year's model of the Cal helmet.
From my seat I could not figure out whose helmet this is. It's matte black with a white stripe and another reddish stripe.
It wasn't a Stanford helmet; their white helmet was elsewhere on the stage. Eventually I figured out that it was an Oregon State helmet. Nothing about that helmet reminds me of Oregon State (except the tiny OSU decal on the front).
Press Conferences: Larry Scott and the Pac-12 North
In this section I'll be providing some highlights and photos from the press conferences. If you want videos and quotes from of each of the press conferences, check out the Pac-12's Media Day hub.
Larry Scott began the press conference by highlighting the conference's accomplishments before discussing the Pac-12 Network. It quickly became clear that the Pac-12 Networks will not partner with DirecTV this season. He had some choice words for Pac-12 fans with DirecTV subscriptions: "I urge our fans that are intent on not missing their team's games this fall to drop DirecTV and switch to one of the many providers that have it." He said all coaches and ADs with DirecTV have also dropped the service provider in favor of one who offers the Pac-12 Networks.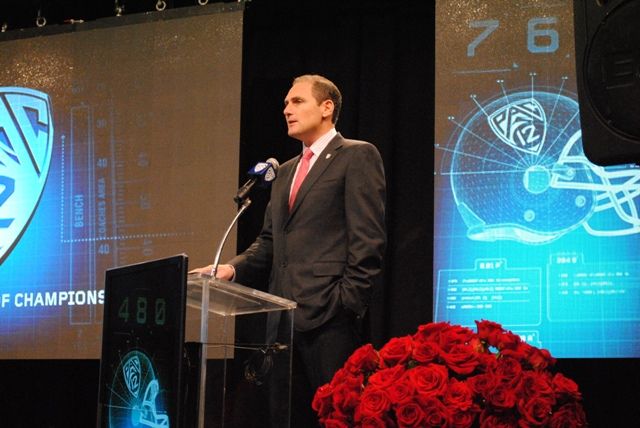 He spoke about the recent developments to enhance player safety. Scott claims the conference is in a great position to be an innovator in terms of player safety due the expertise on the topic among Pac-12 schools. While he was short on specifics (and recommended we look at a press release on the matter), he said the new guidelines "provide greater limitations on contact during football practice and provide additional recovery periods for our student athletes." Throughout the press conferences the coaches said these guidelines will have little impact on their weekly practice routines, as these are practices already adopted by coaches in the Pac-12 and beyond. The Pac-12 will continue to study head trauma and is in the process of putting RFID chips in helmets and chest pads to monitor the impact of collisions.
As usual, Larry Scott was not available for questions. This means another year goes by without his thoughts on the horrific state of Pac-12 officiating. If you look at the teams with the most penalties per game over the past couple years, 5 of the top 10 teams belonged to the Pac-12 in 2012 and 5 of the top 12 teams were in the Pac-12 in 2011. These are not team-specific problems either, as 9 different teams fill out those 10 spots. This is no coincidence. But I digress...
Washington State
Finishing last in the North Division last year, the Cougars were first on the stage. Mike Leach gave the shortest opening statement in the history of Pac-12 Media Day: "Alright, any questions?"
On the new targeting rule: His first question was about his criticism of the targeting rule. He reiterated his point by asking us to picture two of us in the sound stage running full speed at each other. We would have no consistency from person to person when determining who lowers his head first. He also said the Clowney hit "is why they invented football."
On what he's been reading this summer: Coach Leach has been writing a book! That is what has occupied most of his reading time recently. His book is on Geronimo and should touch on topics he often touches on in his interviews: survivalism, war strategies, etc. He asked us all "to buy a couple of extras in case you lose the first one."
On getting players to buy into his system: I asked Leach to talk about what he's done to prevent another issue with zombies and empty corpses this season. He took most of the blame upon himself and said that if he doesn't like the way players are playing, that is a shortcoming of the coaching staff. He also called himself "the head zombie or corpse."
Cal
Sonny Dykes was the first of the conference's new coaches to take the stage. His opening comment emphasized how excited he is to be at Cal and to be at Pac-12 Media Day. He made many points Cal fans have heard before.
On tempo and player safety: I gave Coach Dykes his first question and asked him what his thoughts were on Nick Saban's contention that uptempo offenses force players to be involved in more plays per game, which increases injury risk. While he dodged the heart of the question (the relation between tempo and injuries), he did make some good points. On linking offensive style to injuries, Dykes said "

I don't know that that's a

fair assessment because I don't think that makes a

whole lot of sense." He made an interesting point about spread offenses: he said players have more space to operate, which limits the chance that an O-lineman will fall on someone, a chief cause of injuries.

Season expectations: Sonny talked about the QB competition and basically said that as long as the offense comes together, this could be a big year. He didn't express any concern about the defense. One of his best quotes of the day came from his answer to this question. On what Bryce needs to do to ensure a solid season, he said: "

If Bryce is smart, he will take those

quarterback candidates out to dinner and wine th

em a little bit and make sure he says nice things

about them and they'll throw him the ball more and

that's the way that stuff works."

Cal's fifth-place predicted finish: He acknowledges that outsiders don't see much reason to expect the Bears to make a drastic turnaround this season. Dykes and the staff are very optimistic thanks to the team's dedication. He said "the buy-in occurred on day one."
Bringing new traditions to Cal: He said he has learned the importance of embracing his school's traditions. At Cal, that begins with the Big Game and using the Cardinal as a measuring stick for the Bears. In terms of bringing new things to Cal, Coach says he wants to ensure that the players have fun despite the academic grind. He brought aboard an idea from Mike Leach, the "super games" which helped unify the team and add some fun to spring ball.
Automatic ejections: Nick Forbes was asked about the automatic ejection rule for leading with the head on a tackle. He said "the automatic ejection is scary" but seemed less concerned because the staff is focused on solid fundamentals and tackling form.
UW
Everyone's favorite coach from the Pacific Northwest was next.
7-6: Sark's first question was about his inability to get over the 7-win hump. He said that despite the 7-6 finish last year, his team was improved over the previous year: "In our heart of hearts we were better than 7-6." He expects the team to be better this season, but he didn't give any reason why. It was a bunch of "trust me" nonsense.
Rastafarian Jenkins: Jenkins pleaded guilty to driving while under the influence and spent a day in jail. Sark said the incident "has been a great learning lesson for all of our guys on our roster." ASJ is allowed to join the team for fall camp and Sark says the team will internally decide his punishment. It's unclear if he'll be suspended for the season opener.
Oregon
Mike Riley and the Beavers were supposed to be next, but they were running late. Instead we got our first chance to hear from Oregon's new coach, Mark Helfrich. I came away with a solid first impression of Helfrich. Chip Kelly never really cared for the media and seemed annoyed at previous media days. Helfrich was much warmer and more engaging. Perhaps he's what we need to mend our tarnished relationship with our feathered friends at CGB North. That and getting rid of those horrific uniforms--that would really help.
Following the Chipper: Things should stay the same at Oregon. Helfrich says "

We're going to talk the same, work the

same, practice the same. We're going to tweak

the margins." He expanded on that final point by basically saying that his personnel will dictate his scheme. He said recruiting will change a little bit under his watch. Reading between the lines, I think this means he doesn't plan to shackle Oregon with more NCAA sanctions.

Ifo Ekpre-Omu received a question on what was the strangest mispronunciation of his name he has ever heard. That was odd.
Oregon State
Elder statesman Mike Riley was next on the stage. This is his 13th year at the helm of Oregon State.
New conference safety regulations: Mike Riley sounds like he's really enthusiastic about the new regulations. He said he's "proud that our conference took the lead" and noted that "our coaches were all very, very involved" with the decision.
Stanford
David Shaw of the Lobsterbacks was up next. I would have more to say about his press conferences, but I was hypnotized by how shiny his head is. Look at it. Just look at it.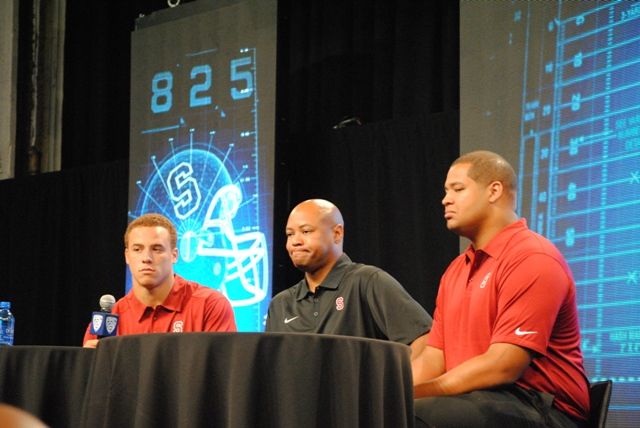 You seriously didn't want to read about the furd press conference, did you?

You did? Are you sure you're on the right website?

Fine. Here's the highlight of the conference. Talking about QB Kevin Hogan, David Shaw said "his package got bigger every game."
With all the Pac-12 North schools having finished their press conferences, it was time for a break. It's also time for us to take a break. Check back later this week for the Pac-12 South press conferences and highlights from the luncheon with Cal's reps.