After a few years of deliberation, investigation, and obfuscation, the NCAA is about to release their findings on their investigation of the University of Oregon. Punishments and sanctions will also be revealed.
The report will be sent to reporters tomorrow at 7:30am, and there will be a teleconference at 8am. This will contain everything. What Oregon did, what Oregon didn't do, and most importantly, the penalties the NCAA will hand down. Assuming that Oregon does not appeal the penalties, it will all finally be over.

And what a ride it's been. The original report by Charles Robinson of Yahoo, detailing Oregon's payments to Will Lyles and Baron Flenory, came out March 2011. Oregon has had to pay over $200,000 in legal fees to handle the mess, and has led to a new director of compliance. And Oregon won two BCS bowls during that time.
A letter was leaked several months ago indicating that Oregon was guilty of seven sets of violations.
The NCAA's case against Oregon began with questions about the Ducks' relationship with scouting services, including one run by Willie Lyles. It grew to include improper contact with recruits made by Lyles after he became — in the eyes of the NCAA — a booster for the university; hundreds of impermissible phone calls by football staff, and too many staff members engaged in recruiting at any one time.

The notice released Wednesday states that "all of the alleged violations ... are considered to be potential major violations of NCAA legislation, unless designated as secondary." None is designated as such; Oregon argued in the summary disposition proposal that violations related to the use of scouting services should not be considered major.
So what will the punishment be for the Ducks? Bowl bans? Pac-12 titles stripped? Permanent huddling? One set of uniforms? Robo Duck is now the permanent mascot?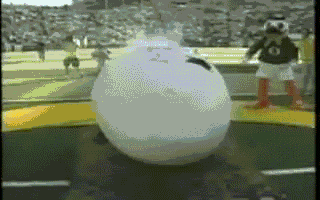 Discuss what could be in store for our feathery friends in Eugene!
(CGB will have an open thread for tomorrow's report around 7 am PT. Get the soy milk and the coffee ready!)