Well, my bracket is toast. I'm clearly not alone, as many of you saw your brackets go up in flames this weekend. Let's survey the wreckage and look for survivors.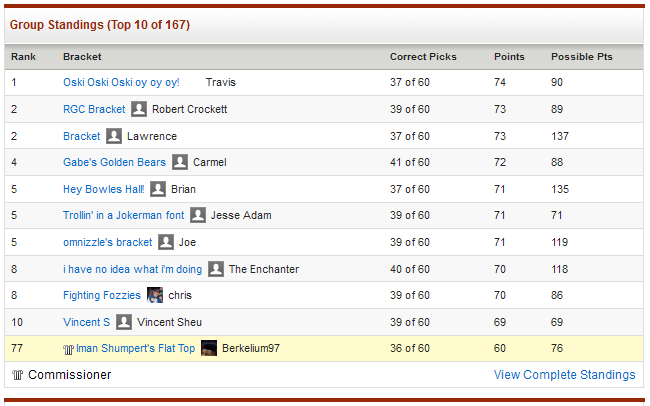 Oski Oski Oski oy oy oy! vaults into first place followed by RGC Bracket and the cleverly named Bracket--an entirely new top-three.
Here are some other noteworthy tidbits I picked up while putting these brackets through triage:
With 137 possible points, Bracket is in the best position heading into next weekend, followed by Hey Bowles Hall! (135).
With 36 points and 36 possible points, class of 87 and NWcalbear secured last place.
atoms are prescient will finish last place among the mods with 53 points. Why didn't you pick Syracuse to win it all?
With 69 points (and 69 possible) VincentS is the top mod for now. TwistNHook has the most potential with 112 possible points.
CALumbus Bear's Careless Pix was the top round of 16 performer after scoring 24 points (6 of 8 correct picks)
Kyle B Dreams of Bears (77th) is tops among the few, the proud, the homers. He picked Cal to win it all, along with Maxdarkfire's Golden Bears (126th) and Crabbe Kecobbs (146th).
No one had more than 2 correct picks in the round of 8.
This weekend's picks are worth all the Tostitos. Who will come out on top?