It was a rough day on the gridiron for the Bears, but that does not mean all Cal fans were deprived of the sweet taste of victory (or maybe that was just the copious alcoholic beverages the undoubtedly followed the USC game for many of us).
College pick 'em: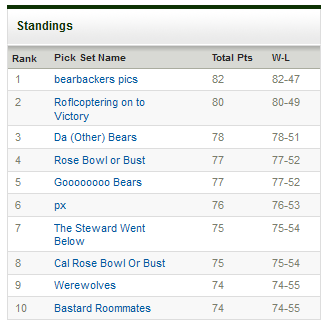 bearbackers pics rode the week's best performance to the top of the standings. Here are some other highlights:
bearbackers pics and Eric Zomalt Anyone? had the week's best performances with 19 of 28 correct picks.

norcalnick and 188 Years and Waiting were the worst performers with only 10 (ouch!) of 28.

Well, technically spbdoug was worst with only 1, but he inexplicably picked only the Utah-ASU and Oregon-Arizona games.

bearbackers pics, Roflcoptering to Victory, Da (Other) Bears, px, Montezuma's Revenge, Jigglz, Bear_Territory, Cal Dragonboat, 7-5 or bust, NWcalbear, and Jahvid Beast all picked USC to cover. Shame on all of you.

Only 15 out of the 55 of us picked Oregon State to cover against UCLA

Only 13 of 55 picked Colorado to cover against Washington State
It will be fun to see who picks against Cal (-2.5) this week.
College Fantasy Football: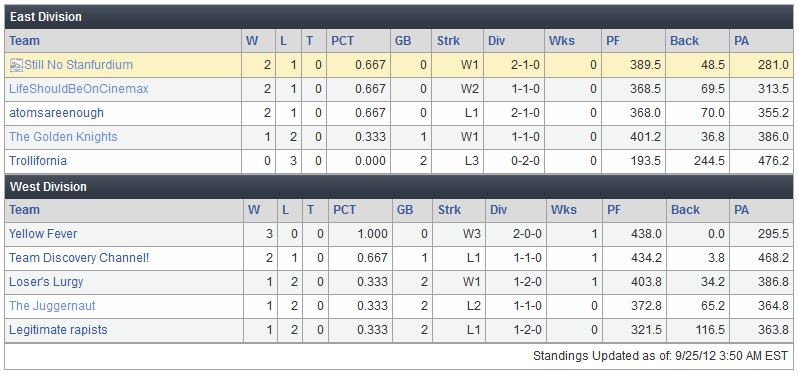 We have quite a bit of parity in the league so far this season. Only Yellow Fever and Trollifornia remain lossless and winless, respectively. With the way Cal has played so far this year, Trollifornia will probably lose out.
Speaking of which...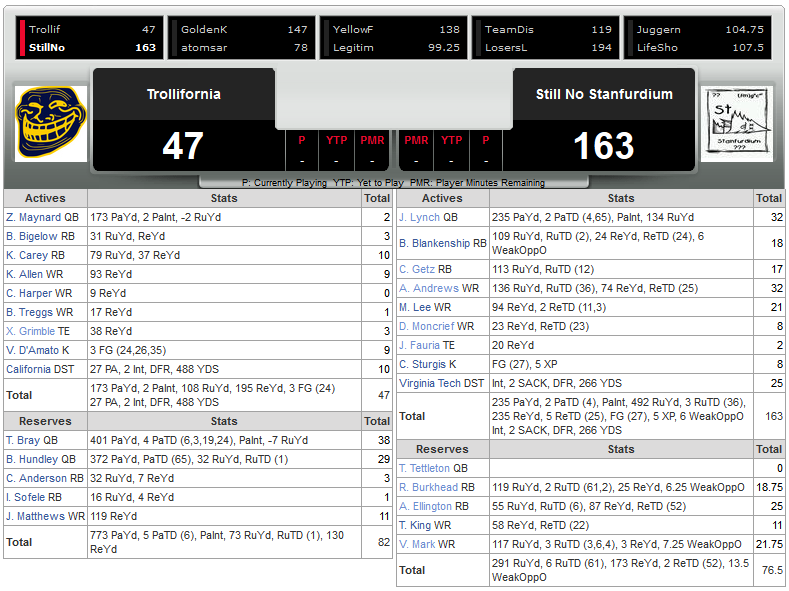 Trollifornia suffered the biggest beatdown of the week as Still No Stanfurdium more than tripled Trollifornia's production. Trollifornia got a whopping 34 points from his Cal players. Not even USC tight end
Xavier Grimble
could save him (it seemed like an ideal matchup, right?). I felt a little bad starting
Marqise Lee
but I could have benched him and still won thanks to solid performances from
Jordan Lynch
,
Antonio Andrews
, Beau Blankenship and
Cody Getz
. Non-AQ players FTW!
The best game of the week was a tightly contested battle between The Juggernaut and LifeShouldBeOnCinemax. Both left way too many points on the bench. Had The Juggernaut started
Kerwynn Williams
and benched the injured
Kedrick Rhodes
she would have been victorious. Always watch out for those last-minute injury reports, people!
The Golden Knights came back from a tough loss last week to trounce atomsareenough. Solid support throughout the roster gave The Golden Knights an easy victory. Why do you two have three quarterbacks each?
Finally, we have Losers Lurgy who posted the highest score of the week (and highest in the league so far) in a big win over Team Discovery Channel!
Stefphon Jefferson
went apetit and scored SEVEN touchdowns to bolster an already strong performance from the Lurgy.
Baseball:
The CGB baseball league is winding down. I'm taking on the Fightin' 42s for the championship while Zoonews and SJAoO battle for third place.