Yellow Fever is away this week, curing cancer, teaching Oregon fans to read, or doing whatever other charitable acts he does in his free time. In his absence, I will dutifully fill you in with everything that occurred in CGB Fantasy World over the past week. First we have our college pick 'em standings.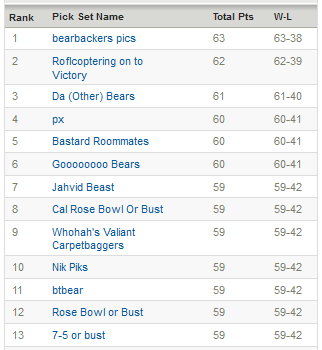 Overtaking Da (Other) Bears, bearbackers pics rides a strong Week 3 performance to the top of our charts. After the jump we have a breakdown of the pick 'em results, fantasy college recap, baseball, and, of course, some public shaming.
Highlights from this week's pick 'em:
Cal Rose Bowl or Bust, px, aussie_picks, crazed fan, Bear_Territory, Punters Are People Too, Still No Stanfurdium (me!), 238 Evans Hall, 7-5 or bust, and Montezuma's Revenge should all be ashamed of themselves. They all picked Ohio State to cover the 17-point spread. I personally picked Ohio State as a reverse jinx, so I'm off the hook. The rest of you should hang your heads in shame.

In none of the games were we unanimous with our picks. Actually, with several picks we were all in agreement except for Justin Bieber Rules. He picked every single FCS team to win. Not surprisingly, he also finished dead last in this week's results. Had he picked against those FCS teams, he would have finished in the top-20 this week. Not bad!

13 of 57 picked Stanford to cover the spread against USC. You know who you are.

Sactown Golden Bear forgot about this week's picks and dropped from 4th to 56th.
Now onto college fantasy football:
Atoms takes a commanding lead in the East divison (why East?) while Yellow Fever and Team Discovery Channel battle for 1st in the West.
Game-by-game:
Mod fight! Atoms delivered the pain to my woefully overmatched team this week. He rode the FSU defense and
Cody Fajardo
to victory while things took a turn for the Ohio (literally) as my Ohio teammates
Tyler Tettleton
and Beau Blankenship struggled against Marshall. Meanwhile Virginia Tech laid its annual egg, one of my receivers left the game with an injury, and my QB got injured. Fantastic.
Loser's Lurgy kept on losin', this time to CBKWit's legitimate rapists. Despite two of his players providing goose eggs, CBKWit cruised to an easy victory. It's tough to feel bad for royrules and his Lurgy, particularly when he picked
Andrew Luck
last year and
Matt Barkley
this year. You planning on starting Barkley this week?
Yellow Fever fought off The Juggernaut in a battle featuring two QBs with explosive days. Their supporting casts weren't great, but YF's crew was just good enough to hold onto a win.
Trollifornia and his Golden Bears fell to Life Should be on Cinemax. I appreciate the homerism, but redonkulous bear might have a tough time winning this season.
Finally, we have a real barnburner, as Team Discovery Channel and The Golden Knights combined for almost 350 points. It's a shame one of these teams had to go home without a win. Had The Golden Knights started
Ray Graham
, it would have proven the difference in the final score. Of course, none of us thought the bottom-feeding Pitt offense would do anything against Virginia Tech...
Baseball:
Finally we turn our attention to our baseball league which is still going strong after five months. We're two weeks into the playoffs now with the championship week beginning on Monday.
With an 8-5 upset over Stanfurdbites (who held the top spot in the league for most of the season), I'm riding Don Mattingly's Sideburns to the championship! Elsewhere San Jose A's of Oakland (I see what you did there) upset CALumbus Bear and Zoo News and Fightin' 42s are currently locked in a battle for a championship slot.