Larry Scott has made Pac-12 Media Day better and better each year. He has brought the event to more exciting venues each year and improved access to the event with live streaming online. This year's event was at the Gibson Amphitheatre at Universal Studios in Hollywood. Not only was the production of the event top notch, but the venue itself was adorned with some of the best Pac-12 gear I have ever seen. Exhibit A: the turf couches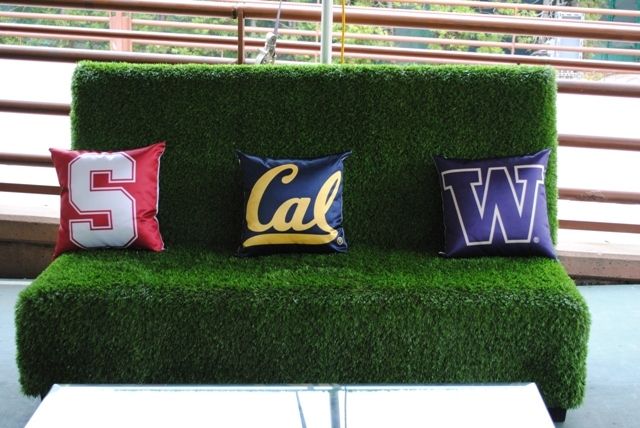 Larry Scott has truly been a visionary for the conference. Sure, the Pac-12 Network will revolutionize the way the country watches Pac-12 sports, but it's hard to top this turf couch. Several of these couches were scattered around the area where they had food and drinks for those attending and each had a few Pac-12 pillows on it. It was an exceptionally comfortable couch too!
Join us after the jump for more excitement from Pac-12 Media Day.
Here's a close up of the texture of the turf couch.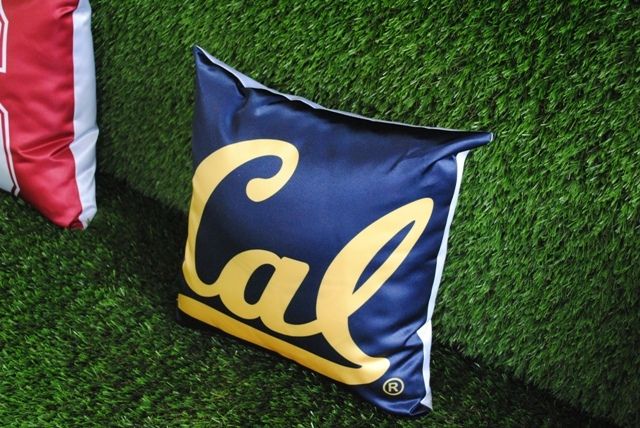 Not only did Larry Scott improve the venue and the seating arrangements, but we also received some nice goodies. Each of us in attendance received a messenger bag, a flash drive, a water container, sunglasses, and a fancy wooden Rose Bowl notebook. This was by far the best Media Day I have attended in terms of freebies.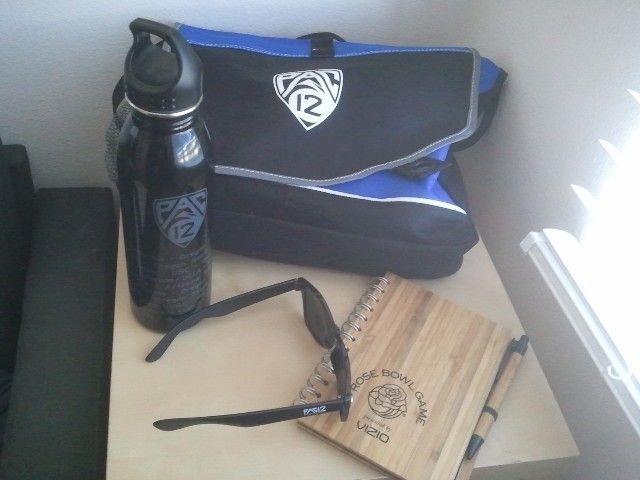 Cal continued its proud tradition of putting together a media guide consisting of a color sheet stapled to a packet of papers. At least ours was better than the UCLA media guide: theirs didn't even have a color cover.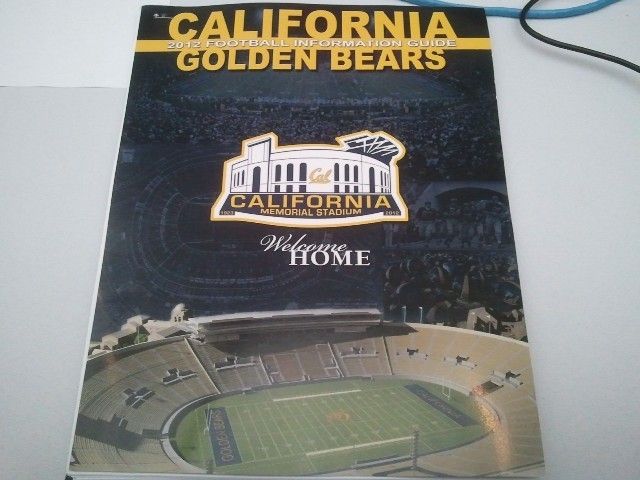 The walkway to the Gibson Amphitheatre had Pac-12 gear everywhere.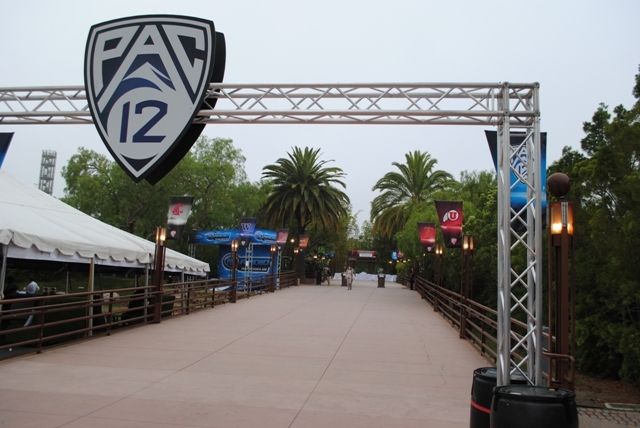 Inside the venue they had this fancy setup with 14 monitors surrounding the main screen. They periodically showed highlights of each team on the main screen. One of the day's highlights was when USC's individual screen crashed and showed an error message.
One downside is that it was dark in there. Really, really dark. This made taking photos a bit of a challenge...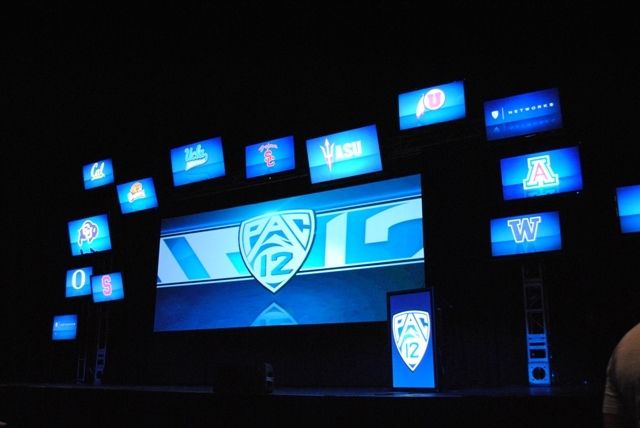 Back outside officials set up the Rose Bowl and Pac-12 Championship Game trophies. The Rose Bowl trophy is a nice-looking trophy. I'm not sure what the inspiration was for the P12CG trophy. It looks like someone tried to use a football to chop wood.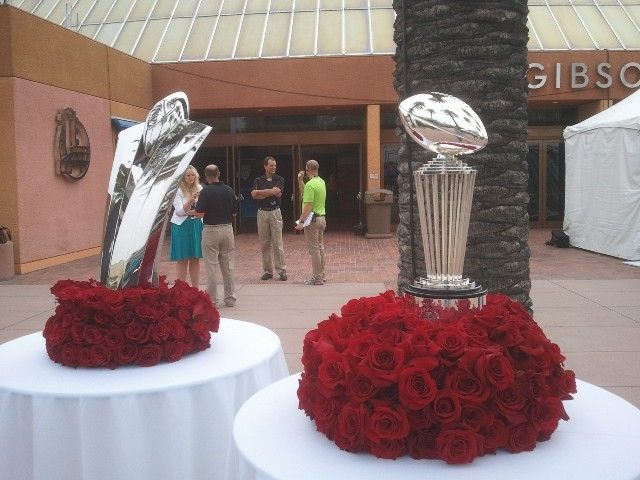 I arrived at the trophy just in time for Keenan Allen and Josh Hill to pose in front of it.
They were not happy when informed that they couldn't take the trophies home with them.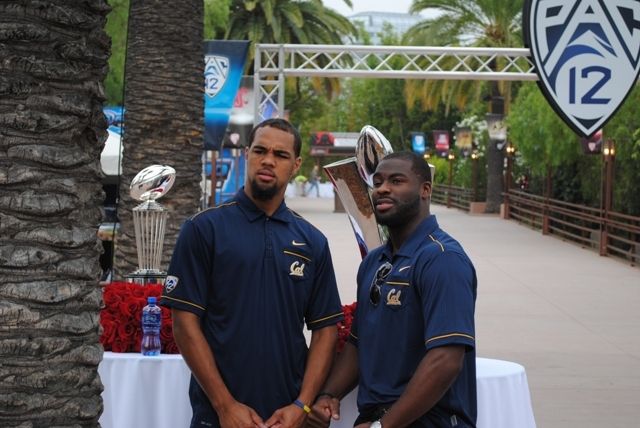 Larry Scott came to the stage to speak to us before introducing Gary Stevenson, who would tell us a bit about the upcoming Pac-12 Network.
Stevenson spoke at length about the Pac-12 Network, from its vision to its first few weeks of programming. He said the goal was not to build a television network but to build a "content network." Beyond simply showing sporting events, he says a primary goal of the network is to tell the stories of student athletes and the schools they represent.
Stevenson says the Pac-12 digital network will be run through a service called Pac-12 Now. Like ESPN3, availability will depend on your internet service provider. While he did not provide any further details, it's a fair assumption that if you'll be able to watch if you currently have access to the Pac-12 Network itself.
The network will fill its first two weeks with a variety of programming. Each team will have a half-hour long preview show. Additionally, the top-10 Pac-12 games of last season will be rebroadcast in their entirety. The Cal-Colorado game seems like it has a decent shot to make it into that list.
Looking forward, Stevenson says each Pac-12 game this season will be replayed in a condensed, 60-minute format. Finally, he said that the network will be on every campus for spring ball in 2013. Presumably, each spring game will be televised on the network.
The press conferences went in reverse order of finish last season, starting with South teams first because they lost the Championship Game. That means Colorado's Jon Embree was the first coach to speak in the morning.
Colorado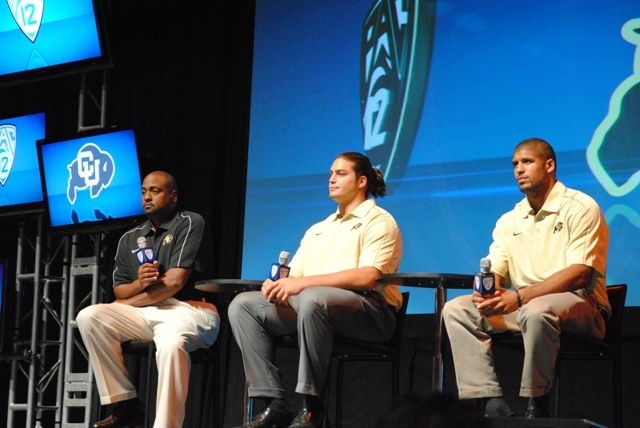 Highlights included someone asking Ray Polk how well the Colorado-Utah rivalry is going. I got the sense that he and the rest of Colorado aren't thrilled with the so-called rivalry. Polk said the team is trying to "figure out where we fit in" in the Pac-12 landscape and that after they get settled, "we'll find somebody who we want to be our rival." For now, they say they will "aim for the top dogs" to determine their rival, since those are the conference's most successful teams.
Asked about the difference between the Big 12 and the Pac-12 David Bakhtiari said the Pac-12 is a bit faster although the Big 12 is stronger. I wonder if the stereotype is true or if he's just saying that...
Polk said it's been challenging joining the Pac-12 since he plays defensive back. He says each team has two or three great receivers while in the Big 12 most teams only had one really good receiver.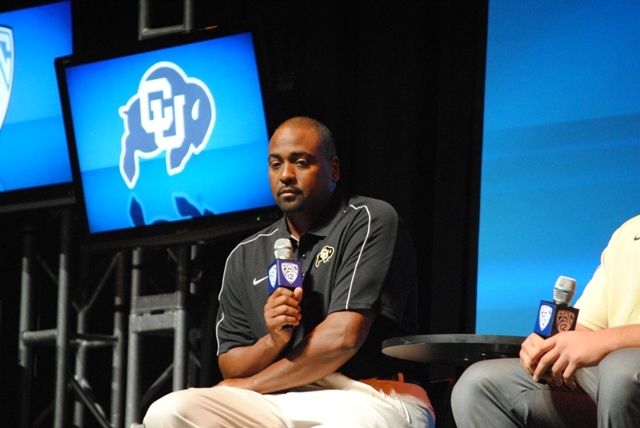 I feel a little bad for Jon Embree. He's a great guy but he's saddled with a team that is not very good. Hopefully he enjoys greater success in the future (except against Cal).
Arizona
The first new coach of the day was Rich Rodriguez who brought QB Matt Scott and LB Jake Fisher.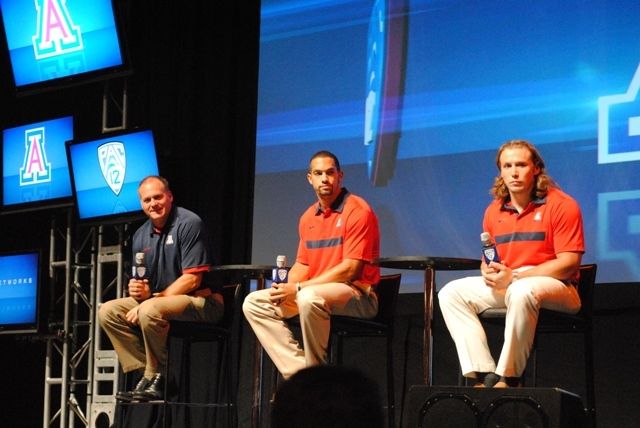 This press conference was a bit odd. RichRod had unusual (and I'd say excessive) amounts of praise for the previous coaching staff. Whenever he had the chance he'd say something positive about them. It was beyond polite and came off as a bit phony.
RichRod is happy to have Matt Scott as QB this season and calls his redshirt year last year the "best decision that coaching staff made." RichRod said the offense is much faster this spring and Fischer agreed, saying "every practice felt like we were playing against Oregon."
RichRod went on an unusual tangent/rant where he claimed that "guys coming out of the spread are more prepared [for the NFL] than so-called pro-style QBs." He went on and on about how operating out of the shotgun is great because it forces guys to make more reads and deliver the ball quickly.
Even though Arizona has a new coach, I just can't get excited about that team. I have no interest in football in the state of Arizona--and it's not even because we only play one of them per year. If they start dropping 50 per game on opponents, maybe I'll pay more attention.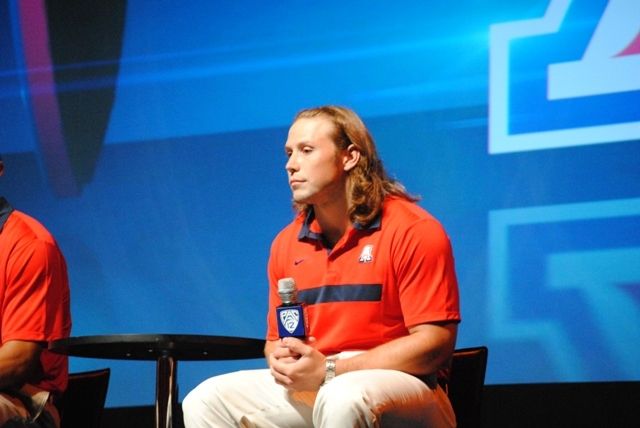 Jake Fisher sat in this position during the whole press conference. Blasquez would not approve of that posture.
Arizona State
Next up was another new coach, ASU's Todd Graham.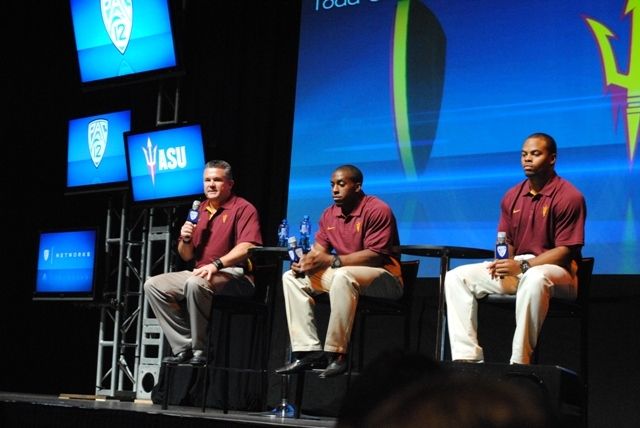 He didn't do anything to convince me to care about ASU football. In fact, when he spoke about the team he was unusually persistent about referring to it as "this team" or "these players" instead of naming them specifically or calling the team ASU. I suspect he just used the same script he had when he was at Pitt last year, which was the same he had at Tulsa, and so on.
ASU RB Cameron Marshall said the team was playing much faster during spring than they had in previous years (I've noticed everyone says this at every media day every year). The team developed a great work ethic and is undoing the bad habits and "the little things" that hurt the team down the stretch last season: penalties, etc. 90% of that improvement is probably due to Burfict's graduation.
Todd Graham said he's looking forward to roughin' it at Camp T. I have no idea what he is talking about.
Utah
This was definitely the most intimidating group. Kyle Whittingham and Star Lotuleilei are big, intimidating men. I was hoping someone would ask if they would arm wrestle on one of those little side tables.
Whittingham mentioned that they have promoted Brian Johnson to offensive coordinator to replace Norm Chow. At 25, Johnson is the youngest OC in the nation.
On the BYU rivalry, Whittingham says he backs the Utah AD 100%. With a 9-game conference schedule, he says there isn't much room for nonconference play, so the BYU rivalry may fall by the wayside. That's a shame.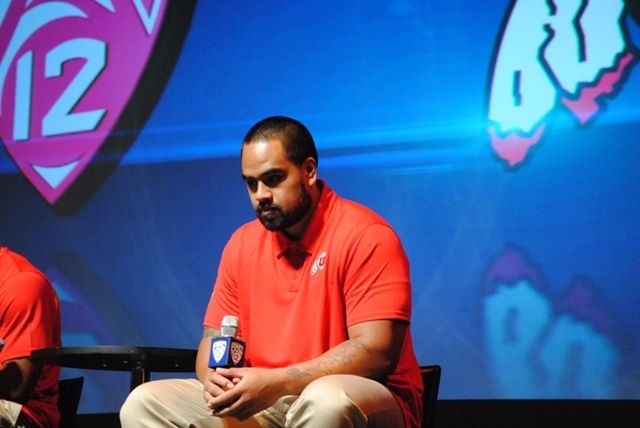 For several minutes Lotuleilei was staring forward without moving, likely scaring the pants off anyone in his field of view. I'm glad I didn't sit in the front row.
UCLA
Jim Mora Jr. came out with Johnathan Franklin and Tevin McDonald.
Mora said the transition from the NFL to UCLA "has been a lot of fun." He has really enjoyed how much involvement he has with developing the players as young men. He said his NFL experience gives him great credibility with players who want to make it to the NFL. Additionally, working the NFL helped him build a great assistant coaching staff.
Instead of holding training camp in Los Angeles or Pasadena, Mora will take the team to San Bernardino for camp. This will keep them from being distracted by friends, girlfriends, etc. There have to have been better destinations than San Bernardino...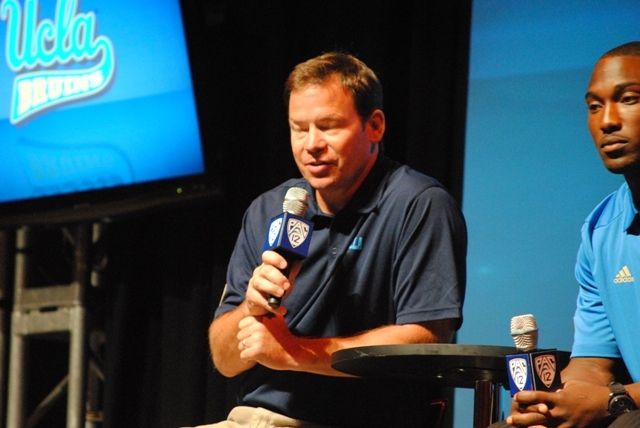 In all of my pictures Mora's eyes were closed. He must not have a soul.
USC
Lane Kiffin, Matt Barkley, and T.J. McDonald were the final group from the south.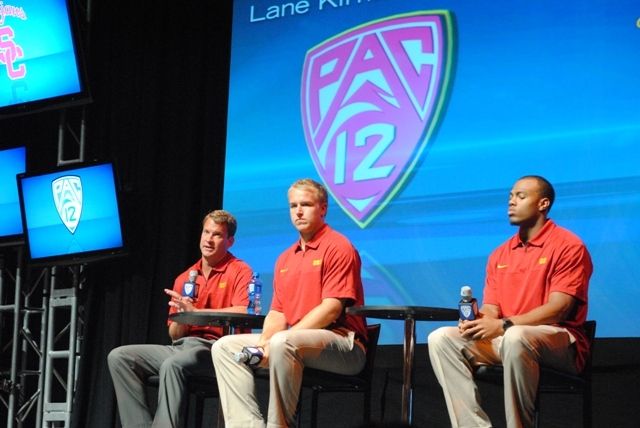 Kiffin went on and on about how depth at RB is a serious issue for the team. Naturally, this brought up questions about Penn State's Silas Redd and how USC is recruiting him. Kiffin was annoyed with these questions and said he cannot speak on that issue--he probably didn't think through his opening statement very well.
Matt Barkley said the team has a "play for your buddy" mentality, a saying made popular by the team's running backs coach. Barkley said the team flourished when playing with that mentality last season. He also mentioned that sanctions brought the team closer together and strengthened them in unexpected ways. Only USC would someone get even better after two years of sanctions...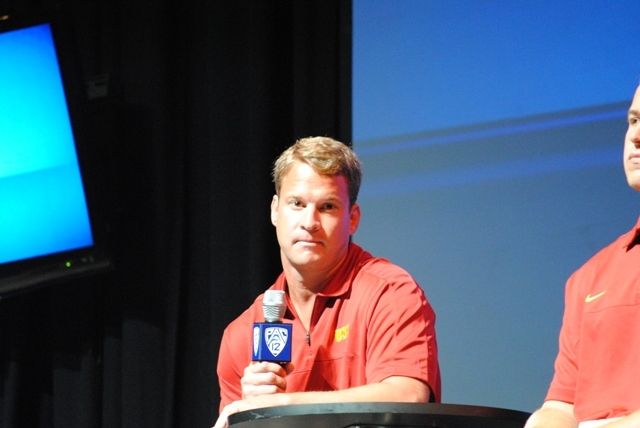 Lane Kiffin always has this exact same look on his face.
Washington State
Washington State was the first among our Pac-12 North brethren to take the stage. This was particularly exciting because Mike Leach is a hoot at press conferences.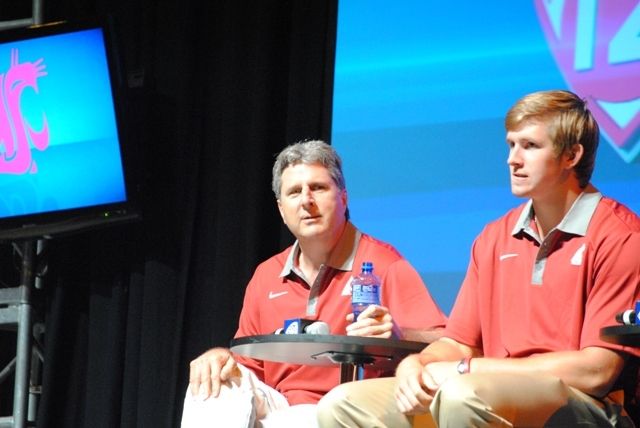 I asked him something about the difference between the culture at Washington State and at Texas Tech. It was basically a creative excuse to mention that he went bear hunting with Mike Pawlawski. He took the bait and commented that Mike is a great hunting partner and that if any of us get the chance, we should go bear hunting with him.
Describing his comments does no justice to their brilliance. If you do nothing else today, watch this video of his press conference. Highlights include describing how Travis Long can take down Vicksburg and spending about five minutes deciding which Pac-12 coach would make the best hunting partner.
Jeff Tuel and Travis Long were thoroughly amused by their coach's comments.
Oregon State
The complete opposite of Mike Leach, Mike Riley was up next.
He mentioned that he's hoping the team piles up 1,800 yards of rushing offense next season, whether this comes from a single back or a committee. Last year the team had a paltry 1041 yards, 118th in the nation.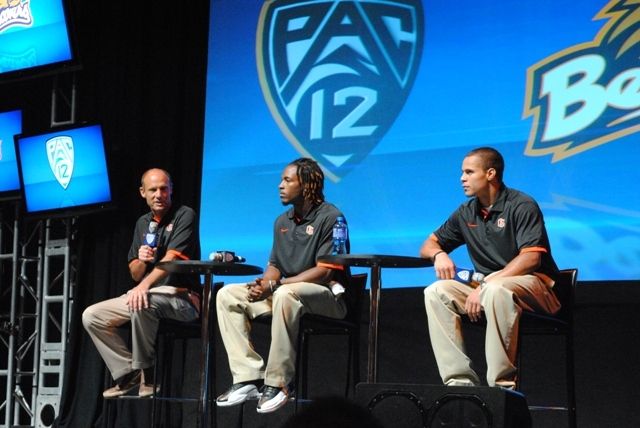 Cal
Our buddies Jeff Tedford, Keenan Allen, and Josh Hill were up next.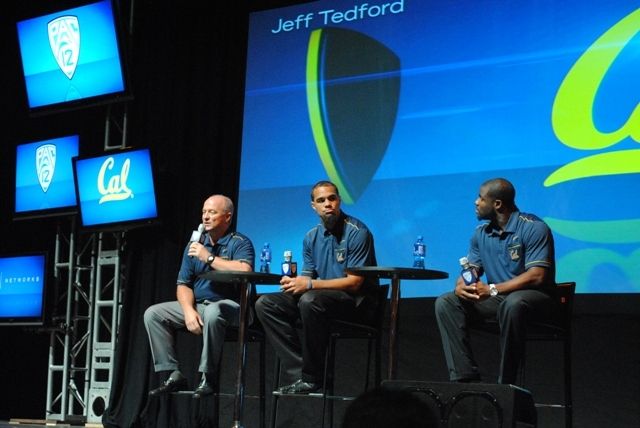 In Tedford's opening remarks he mentioned how excited he is to have an offense that returns a 3000-yard QB, a 1000-yard receiver, and a 1000-yard rusher. He says the team has big shoes to fill after Mychal Kendricks' departure, but the team has plenty of young talent to fill the void. Additionally, losing Tavecchio and Anger will be an issue for special teams.
When Q+A opened up Tedford faced many of the same questions he has been hearing at every press event for years: how are the QBs? how will the defense deal with the high octane offenses in the conference? do you want to go to the Rose Bowl? He takes them in stride and answers with a smile each time.
On Maynard, Tedford says "I have a lot of confidence in Zach" and says his game management skills have grown tremendously. Many of his struggles early in the season had to do with managing the offense; he mostly overcame those issues later in the season. While Allen is the only proven receiver, Jackson Bouze and Maurice Harris should be able to make an impact on offense.
Keenan Allen was asked about what it's like to play with his brother and cousin. He said it's great to be able to count on Zach and Maurice when he has a bad day and vice versa. Nothing cheers you up like having your family support you. He says his ankle is coming along, but he's not sure if he could play all four quarters if he had to play a game today. By the start of the season his ankle should be 100%.
Tedford spoke a bit about the team's goals which clearly are to win the conference. Tedford gave the usual answer that he wants the team to reach its potential and achieve the standard that fans and coaches expect. Tedford always talks about this when he's talking to fans and the media. While he usually mentions a certain number of wins when he gives these answers (9-10), this time he only focused on the conference championship. It sounds like it's Rose Bowl or bust for this team.
Tedford took a visit to New England in early June to learn more about how the Patriots use their tight ends on offense. Tedford says tight end play "will be critical for our success this year," particularly in taking pressure off Keenan Allen on offense.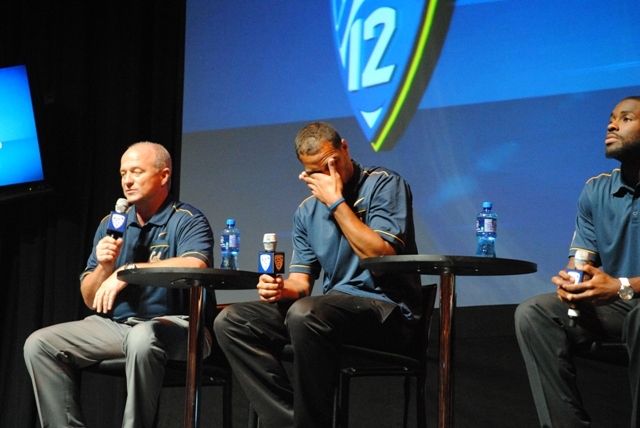 Keenan couldn't believe Tedford was once again asked about the Rose Bowl.
Washington
Our newest best buddies were next as Steve Sarkisian, Keith Price, and Desmond Trufant took the stage. The highlight (or lowlight) was Sarkisian's response to John Crumpacker's questions about the ethics of Tosh's recruiting strategy.
Q. Steve, you mentioned earlier, Tosh Lupoi and the situation last January. He was recruiting a certain number of players for Cal, and literally the next day, he was recruiting those same players for you. I know it happens throughout college football, but do you consider that ethical?

COACH SARKISIAN: I think it's the business. I think that the decisions we make as a program and as a head coach have to do what's in the best interest of the University of Washington, our athletic department and our football program. When we made the decision to make changes on our defensive staff we wanted to hire some of the best coaches in the country and some of the best recruiters in the country, and Justin Wilcox, Tosh Lupoi, Peter Sirmon, Keith Heyward, they fit those criteria. It wasn't about stealing other schools' recruits; it was about bettering the University of Washington and for our long-term success on the football field. And I believe we've done that.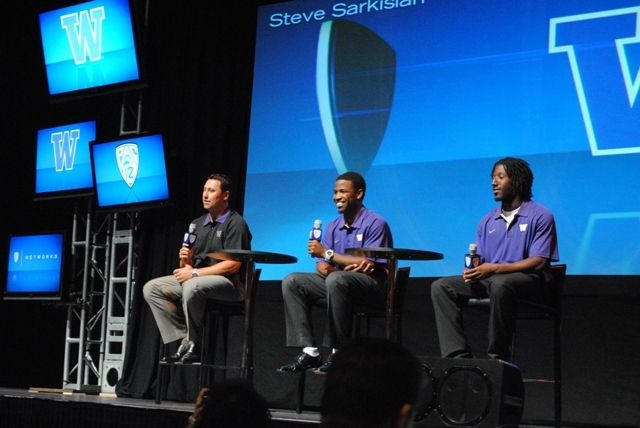 Keith Price: "I can't believe they're buying that 'it's the business line'!"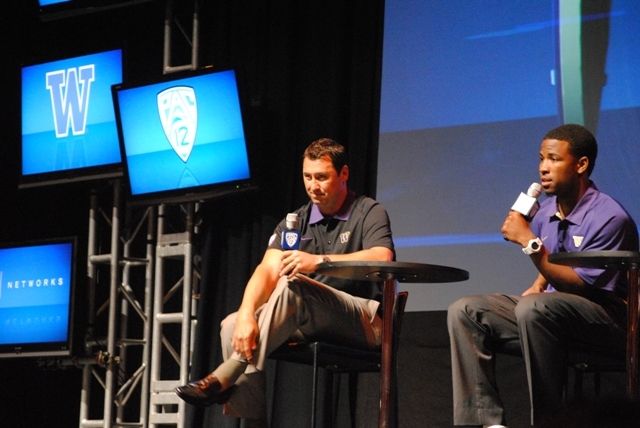 Sark was very fidgety throughout the press conference. Isn't that a common behavior when suspects are trying to hide something during police questioning?
Stanford
This press conference was unremarkable in every way.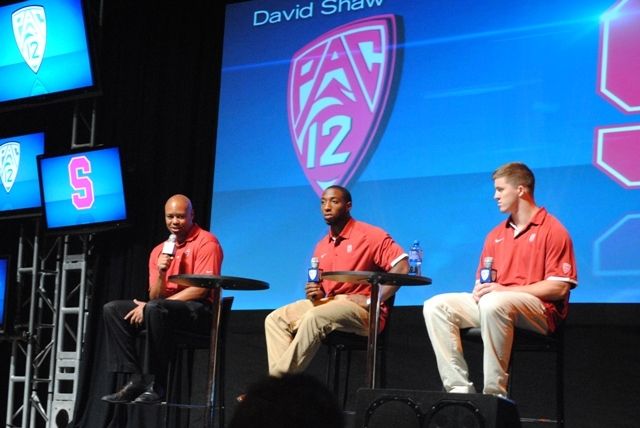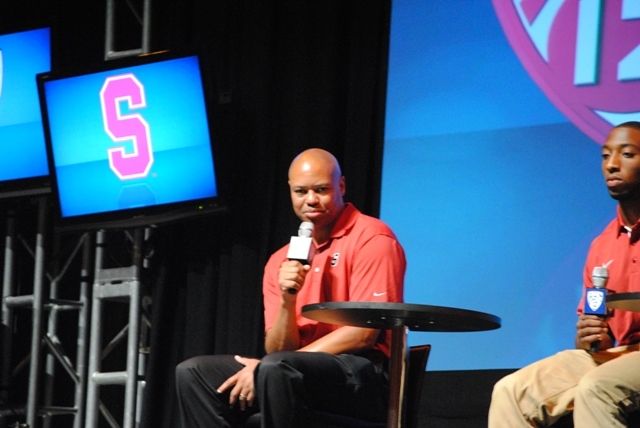 Look how smooth and shiny his head is.
Oregon
Finally Oregon took the stage with Chip Kelly, Kenjon Barner, and Michael Clay.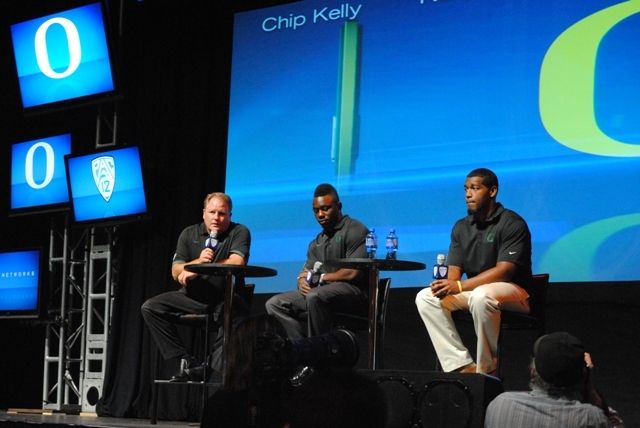 Want to know something horrifying? Last year's Rose Bowl-winning team only had ten seniors on it. This team only has 16 seniors. The team has 65 underclassmen. They will only get better over the next couple years.
Can someone from the NFL please hire Chip Kelly this offseason?
After Kelly and company left the stage it was lunchtime which, as you read about earlier, was a good time with Keenan Allen and Josh Hill. Tedford was mysteriously MIA, so I was unable to obtain gems of wisdom from him. Next time, hopefully...