While the Pac-12 Media Day press conferences provide great access to coaches and players, most questions yield answers with varying levels of insight. Certain characters like Mike Leach provide all sorts of interesting information while others, such as David Shaw, use plenty of coachspeak and don't actually provide much of any useful information. Fortunately the luncheon interview period allows for prolonged access to coaches and players, which produces an abundance of useful information. Last year Jeff Tedford opened up about the inner workings of his coaching staff and offensive philisophy--topics he rarely touches on in traditional media settings.
Unfortunately, Jeff Tedford was--for reasons that remain mysterious--not available during the lunch period. After a while Cal rep Kyle McRae was able to track down Josh Hill to come talk to us. Keenan Allen also joined us later on. Usually we're so busy with Q & A for Tedford that we don't get much of a chance to talk to the players during lunch. This year, however, we were able to talk to them at length.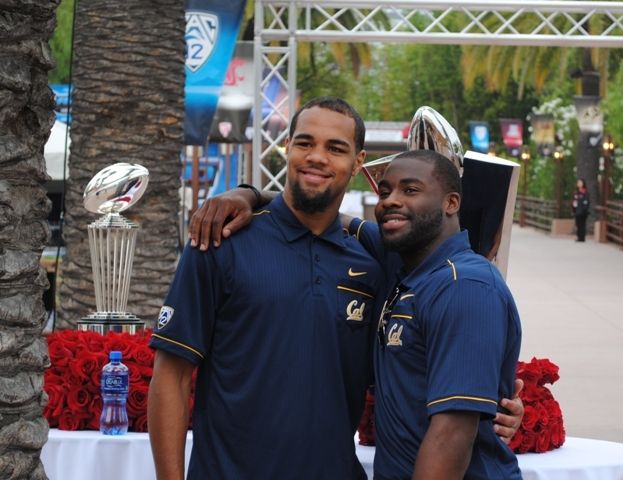 Keenan Allen and Josh Hill pose in front of the Rose Bowl and Pac-12 Championship Game trophies
We had the chance to ask Keenan and Josh about leadership, coaching changes, and their lives as student athletes. Join us after the jump to learn more about two of Cal's finest..
Since Josh Hill was first to speak with us, I'll start with his comments.
On being picked 4th: Hill admits he likes seeing people outside the program with modest expectations for the team. He says he likes playing under the radar because "when you succeed, it's that much better."
On leadership: The free safety position is not unlike the quarterback of the defense in Pendergast's system. Since he is taking the FS role, Hill is honored to take on the leadership role that accompanies the position. He will be responsible for making sure everyone is properly lined up before the snap on defense. He is not sure who will end up starting in the other safety position this fall, but Alex Logan is currently the other 1st team safety.
Younger players: Josh shared his thoughts on many of the younger players on offense and defense. He has high hopes for Stefan McClure, although he is not sure when Stefan will return from his knee injury. He says he can tell the young receivers have plenty of talent, but he cannot yet figure out whether this will immediately translate into results on the field. He did single out Bryce Treggs, whom he compared to Marvin Jones.
Leaders on defense: Hill named Aaron Tipoti and Marc Anthony as leaders and pointed to Kendrick Payne, Robert Mullins, and himself as vocal leaders for the defense. He says the defense under year three of Pendergast is more confident than it ever has been.
Academics: Hill will graduate this summer after finishing Film R1B. With an open schedule for electives this fall, Hill plans to take an enjoyable slate of classes. He says he is interested in learning piano and may take something to help him build that talent. With a light courseload, he expects to have much more time for football. Asked about adjusting to the academics at Cal, Hill says that is the toughest adjustment for players. The classes are flat-out difficult and they have to work to earn each grade.
New facilities: This was in interesting quote. When commenting on the new facilities, Hill says he "feel[s] like they care." Since the university has poured so much into the Memorial renovations and SAHPC, Hill says he feels like the university is particularly invested in its football players. The previous facilities made it hard to seem like the school cared much about football.

Ohio State: Hill is obviously excited about playing the Buckeyes. "I'm anxious. I can't wait" he said. Despite intensity of the venue, Hill says the team has "confidence all across the board." Commenting on the 9am PDT start and whether the focus on the start time will be a distraction, Hill says it "comes back to leadership" to ensure that guys do not worry too much about the start time. They simply have to show up and execute to their potential. Likewise, he says a lack of leadership accounts for some of the inconsistency the team shows on the road. While team has had leaders, they have been a little quieter on the road. This year Hill and others hope to amend that.
Homefield advantage: Hill said it was tough to feel like they had home field advantage last season. With the home-away-from-home feel, the players decided to develop a mindset that "everywhere has homefield advantage" and that advantage was something the players had to cultivate themselves, at home or on the road.
Under the radar players: Hill named Kendrick Payne on defense and Maurcie Harris on offense as two under-the-radar players who will be well known by the end of the season.
Robert Mullins: Apparently Mullins' nickname is "Old Man Rob" because he "has a personality like your dad." Mullins is wise beyond his years and helps keep the team grounded. Mullins will call the defense along with Hill when the season kicks off (just as Mychal Kendricks and Mike Mohamed did before him).
Brennan Scarlett: Scarlett has returned from injury and is practicing at 100%. He reminds Hill of Cameron Jordan in his play style.
NFL Prospects: Hill has not yet focused too much on his pro prospects. He has been too focused on getting ready for the upcoming season. If invited, he will happily attend the NFL Combine.
At this point Keenan Allen joined the table and gave Hill a breather by answering our questions.
Ankle injury: The ankle has progressed very well. Allen has been running routes for 2 weeks but he admits the ankle is only about "85%" right now. He says that by the end of practice his ankle gets tired and loses some flexibility. He did not seem concerned about the effects of the injury lingering into fall camp or the start of the season. After he sustained the injury Allen had more time to focus exclusively on football (since he had been playing basketball regularly) and spend more time in the film room.
Maurice Harris: Asked to classify the type of receiver Harris is, Allen calls him a possession receiver.
Wes Chandler: Allen says one of the great things about Chandler is that he can get out on the field and demonstrate the techniques he teaches. While Kiesau was a good coach, he would tend to talk at the receivers. Allen appreciates that Chandler can teach guys both on and off the field.
Quarterbacks: Zach Maynard has grown more comfortable running the offense. Allen says Maynard has developed his leadership skills and will be a stronger leader on offense this season. Additionally, Maynard will try to take advantage of his mobility more often this year. Allen had high praise for Zach Kline. He says he will be a great quarterback down the road, but he needs to develop a better feel for the game. Allen even talked briefly about Boehm, whom he called a physical player who enjoys running players over.
Keenan's non-WR roles: Allen will inherit the punt-returner role. Allen doesn't have any interest in returning kickoffs, however. A lack of depth at wide receiver will prevent him from entertaining any ideas of playing as a defensive back.
Leaders on offense: Asked to name some leaders on offense, Allen named Zach Maynard, Brian Schwenke, Dominic Galas, and Isi Sofele. Keenan singled out Geoffrey Gibson as the leader of the offensive line.
Richard Rodgers: Commenting on Tedford's lofty praise for tight end Richard Rodgers, Keenan says Rodgers needs to work on his aggressiveness and physicality if he wants to get to that next level.
At this point it was nearly 3pm. At past Media Days, players and coaches left around 2pm. We thanked Allen and Hill for sticking around and they thanked us right back. One of the great things about these Media Days is that these Cal players are always so humble. As much flair as Keenan Allen has on the field, he remains an exceedingly polite, upstanding guy off the field. Same with Josh Hill, who remained enthusiastic despite hanging out and answering our questions for nearly an hour. It's great to see that Tedford continues to develop great people both on and off the field.