The 1936 Berlin Olympics are best remembered by Americans for two things: African-American track athlete Jesse Owens winning four Gold Medals, and Adolf Hitler refusing to shake the hand of Owens, the man who shattered his myth of Aryan superiority. But Owens was not the only African-American to win Gold in Berlin. Far from it. And one of Owens' Gold Medal teammates was the University of California's own track star Archie Williams, who won Gold in the 400 meters. When asked about the Berlin Olympics in later years, Williams would laugh and say, "Hitler wouldn't shake my hand either!" But becoming an Olympic champion was only the beginning for Williams. He went on to earn his degree from Cal in mechanical engineering, and then to become a pilot. During World War II, Williams was a flight instructor for the famous Tuskegee Airmen, the first African-American combat pilots in history, and he earned the equivalent of a masters in meteorology to become a weather officer. After the war, Williams had a distinguished career as an Air Force officer, including service in combat in Korea. He followed his Air Force career with another career of public service as a beloved high school mathematics and computer science teacher for more than 20 years. And Williams never stopped bleeding Blue and Gold.
Archie Williams running for Gold in the 400 meters at the 1936 Berlin Olympics.
Note: This is the last in a series about early Cal Olympians. The earlier stories were about Robert Edgren, Cal's first Olympian, Ludy Langer, Cal's first Olympic swimmer, Harry Liversedge, Cal's most heroic Olympian, 1920 Rugby, Cal's first Olympic Gold Medalists, 1924 Rugby, the Gold Medal rematch, Hazel Hotchkiss Wightman, Cal's trailblazing Olympian, Helen Wills, Cal's greatest tennis champion, Ann Curtis, Cal's first Olympic swimming champion, and Olympic Crew, Cal's golden sport.
Archie Franklin Williams was born in Oakland, California on May 1, 1915, and grew up in Oakland and Berkeley. When he graduated from University High School in Oakland in 1933, it was the very deepest point of the Great Depression, and there were no jobs to be had, especially for an unskilled young black man. One of Williams' friends suggested they enroll at San Mateo Junior College, because it was free. Williams later said that he asked his friend what he wanted to be, and the friend said, "a dentist." Williams said, "I thought I'd one-up him, so I said, 'Well, I'm going to be an engineer.' Then we both laughed about it. Well, it turns out eventually both of us made it."
Life was not easy for Williams at San Mateo. He paid $5 a week for one of three beds in a shack in someone's backyard, and two meals a day. But as he later said, "during the Depression it was equal opportunity. Everybody was broke." He joined the track team and found a mentor in the San Mateo track coach, Oliver "Tex" Byrd. Byrd was supportive and encouraging to Williams, who later laughingly said, "about the only thing I can say against him was that he was from Stanford." At first, Williams was running shorter distances but without much success. As he later said, "I don't even know what the guys faces looked like that won the races -- all I know is what the back of their heads looked like!" Coach Byrd encouraged him to try the quarter mile, because he thought Williams' stride was right for it. And he encouraged Williams to aim to transfer to a four-year school.
Coach Byrd tried to get Williams into Stanford, but without success. As Williams explained in a 1992 interview, "most of the fellows who were on the track team with me at San Mateo went to Stanford. As you know, at that time there weren't any black athletes at Stanford. In fact, one of the things about Tex Byrd was that he made a real hard effort to get me into Stanford, but it didn't work out." He added, "The only black guys at Stanford were washing dishes in the frat houses." And he noted with pride, "I never got beat by one of those Stanford guys!" He did not have anything good to say about USC, either. In that same interview, Williams accused the Trojans of having recruited African-American athletes during the 1930s just to keep them away from Cal and UCLA, but then refusing to let them play. In the true spirit of a Cal alum, he concluded, "USC, I hate those people."
But Williams was not disappointed that schools like Stanford or USC would not accept him, because he knew where he wanted to be:
I think that it was destined that I go to Cal. I could stand on my front porch on Telegraph Avenue [as a teenager] and look at the Campanile at Cal, so I knew what Cal was all about. We used to go up, even before I got out of high school, and sneak into where the track guys were practicing and crawl under the fence and watch the real athletes perform. I was kind of born a Cal man.
Williams did not need an athletic scholarship to attend Cal. Tuition was only $26 a semester, and he could live at home with his family. And Williams said that track was not his reason for going to Cal. "I wanted to go to college. Sports wasn't in it. I knew I could run. I didn't know how good I was. I wanted to get that degree." So he enrolled on his own for the fall semester of 1935, as a sophomore transfer. Cal's great track coach, Brutus Hamilton, had never heard of Archie Williams until he showed up for try-outs. But Williams made the team, and in Hamilton he found a mentor to whom he would remain close until Hamilton's death.
Cal sophomore Archie Williams
Williams' first priority was always academics. Coach Hamilton supported him and all the other track athletes in that. According to Williams, "Brutus as a coach knew every guy on the team and he knew everybody's grades. He could tell you what you got in differential calculus. He could tell me I got a B- in that course. 'How you doing in physics?' He was our father figure . . . ." Hamilton got extra respect from his athletes because of his own experience in having won a Silver Medal in the decathlon at the 1920 Olympics.
Williams was a complete unknown when he started running for Cal. But under Hamilton's coaching, his talents blossomed. His junior year,1936, would be extraordinary. Before 1936, Williams had never run 440 yards (402 meters) in less than 49 seconds. But during that year he ran faster and faster times until, at the NCAA championships in Milwaukee, he not only won the 400 meters, but he set a new world record of 46.1 seconds.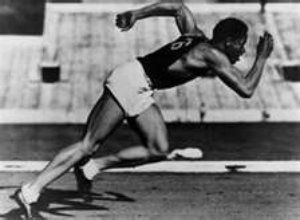 Archie Williams running for Cal.
Williams' win at the NCAAs gave him an automatic berth in the Olympic qualifying meet in New York City, two weeks later. It was a huge adventure for the 21-year-old Williams, who had never been east of Reno before. He was accompanied by Brutus Hamilton, who was an assistant coach for the Olympic team, and by his Cal teammate Bob Clark, who would win the Olympic Silver Medal in decathlon. Williams finished first in the 400 meters at the Olympic trials, and two weeks later he was on a ship headed to Berlin.
According to Williams, despite the Nazi racial policies already in effect in Germany in 1936, he and the other African-American athletes were treated very well by ordinary Germans. In fact, they were treated better than they were used to in the United States. As Williams noted, in Germany, "none of us had to ride in the back of the bus." He was, however, well aware of Adolf Hitler's antipathy for blacks and Jews, and found it a bit disturbing when he had what the called the "dubious honor" of standing less than 50 feet from Hitler during the Opening Ceremonies.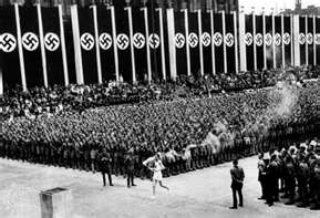 The Opening Ceremonies of the 1936 Berlin Olympics featured the bizarre sight of the Olympic Torch, a symbol of international peace, being carried past swastikas and jack-booted Nazi brown shirts.
The 400 meters was one of the last events of the Games. For the two weeks before his race, Williams practiced in the mornings and then attended the track events to root on his American teammates, especially Jesse Owens, whom he greatly admired. Then the day of Williams' race finally arrived. Somehow a group of Cal fans had gotten seats near the start line of the race, and he could hear them cheering for him. He remembered, "we were down there getting ready for the race and people were yelling and screaming, 'Do one for Cal!' You know, it made you feel pretty good in Germany."
When he described the race, Williams began by pointing out that because the 400 meters includes two turns, the starts are staggered. This makes it impossible for the runners to know exactly where they stand in relation to the other runners for much of the race. Williams continued:
That's why Brutus emphasized knowing your pace; knowing if it was a slow race or a fast race, and knowing how, you might say, you're using your fuel. So I guess I developed a pretty good sense of pace because I didn't go out too fast. I was kind of a slow starter anyway. I timed it so that I hit my spurt just as I was coming off of the last turn. That was the only time when I was really worried . . . at that point the curved lanes merged in with the straightaway lanes. It was like a railroad track, and I could see where it would be very easy to step out of your lane without realizing it. . . . Then, of course, I got into the straightaway, and I had a little lead and I held onto it. Everybody was doing his best. I guess they were probably pulling up on me a little, but I managed to hold them off. That was about it, but as far as remembering the entire race, it was kind of a blur, because it was so much noise and excitement and yelling and screaming. So I just tried to black that out of my mind and just concentrate on running a good-paced race.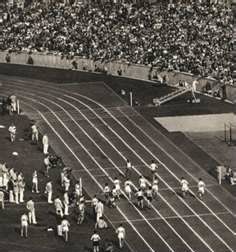 The 400 meter final at the 1936 Olympics.
It was very close. Williams won Gold with a new Olympic record of 46.5 seconds, although that was .4 seconds slower than his own world record. The Silver Medalist, Britain's Godfrey Brown, was only .2 seconds behind him. And his American teammate, James LuValle, took Bronze, .1 second behind Brown.
The finish of the 400 meter final. At left Silver Medalist Godfrey Brown (Great Britain) and Gold Medalist Archie Williams (USA). At right, Bronze Medalist James LuValle (USA).
Williams later described what the medal ceremony was like for him:
Here you are in front of the whole world and they're playing, "The Star Spangled Banner." Again, I was kind of numb. It's unreal, I'll put it that way. . . . It's kind of weird. In other words, you've seen everybody else going through that. "Here I am!" That kind of stuff. What the hell. You see your name up on the board. Then they hand you the medal. Even the day afterwards I said, "Gee whiz. Was that really me?" It was a great feeling.
When asked who handed him the medal, however, Williams' sense of humor came to the surface: "Some French guy," he said. "They wanted to kiss you. Get out of here! They'd hand you the medal and the scroll. It was sort of like graduating."
As for the story of Hitler refusing to shake the hands of Jesse Owens and other black Gold Medalists, it was a bit more complicated than it is usually portrayed. On the first day of competition, Hitler publicly congratulated some of the winners. The Olympic Committee then informed him that if he were going to shake hands with some of the winners, he would have to shake hands with all of them. Realizing that this would mean being seen publicly congratulating black and Jewish athletes, Hitler thereafter refused to congratulate anyone, although he met with all the German winners privately in his box. But there is no question that Hitler was upset by the success of the African-American track stars, eight of whom won medals in Berlin. Hitler said privately, "The Americans should be ashamed of themselves, letting Negroes win their medals for them." Tragically, many Olympians would perish in the war Hitler was about to unleash on the world, including at least six Jewish Olympic medalists who would be killed in the Holocaust.
Following the Olympics, most of the members of the American track team went on an exhibition tour of Europe. Because Jesse Owens had returned home already, Williams ran the 100 meters during the exhibitions. At an exhibition in Stockholm Williams ran the 100 without warming up sufficiently, and injured his hamstring. It did not heal properly, and when he returned to Cal the following year, he re-injured it several times. Although he continued to have success on the track, he was never able to return to his 1936 level of performance.
When he returned to the Bay Area, Archie Williams was greeted with a parade and was given the Key to the City and a gold watch from Oakland, among other celebrations. But then it was back to the classroom, to make up for the time he had lost in preparing for the NCAAs and the Olympics. He also became interested in aviation, and tried to sign up for a civil pilot training program at Cal, which was sponsored by the government to ensure an adequate number of trained pilots. At first the program turned him down because of his race. But Brutus Hamilton interceded. Williams was admitted and got his pilot's license.
Archie Williams graduated from Cal in 1939 with a degree in mechanical engineering. Unable to find employment as an engineer, he began working at a local airport, fueling planes and washing windshields. He obtained the training required to be a flight instructor, but no flight school would hire a black man for that job. He managed to make a living by giving private lessons to student pilots on his own.
In 1940, Williams heard that the Army Air Corps had begun a pilot training program for black soldiers, and he applied to be a civilian instructor. At that time there were only 124 licensed African-American pilots in the country, only a handful whom were licensed as instructors. So Williams' application was accepted immediately, and he became an instructor beginning with the first class of Tuskegee Airmen. They became the first black pilots in the history of the American military.
Archie Williams, far left, with a group of pilot cadets at Tuskegee Field, Alabama.
When the United States entered World War II in 1941, Williams joined the reserves, while continuing to train pilots at Tuskegee. When he was called to active duty in 1942, he asked to become a pilot. Despite the fact that he was already a trained pilot and flight instructor, the Army told the 27-year-old Williams that he was too old for pilot training. But, discovering that he had an engineering degree, the Army sent him to a one-year course at UCLA in meteorology. The course was the equivalent of a masters degree, completed in a very compressed time. And at the end of the course, Archie Williams was commissioned as a second lieutenant in the United States Army Air Forces. He returned to Tuskegee to perform his work as a weather officer. While there, he was finally allowed to become a rated pilot, and then began teaching instrument flying to the cadets, in addition to his weather duties.
The Tuskegee weather officers in December 1944. Lt. Archie F. Williams is second from left in the front row.
After the war, Williams decided to make a career in the military. When the United States Air Force was established as a separate branch of the military in 1947, Williams became one of the original Air Force officers. His decision to make a career in the military was bolstered when, that same year, President Harry Truman issued an Executive Order desegregating the military. With that order, Williams became eligible for the first time for positions that would place him in command of white airmen, opening many new opportunities for him. And after four years as an officer, Lt. Williams was finally entitled to walk into an officer's club.
In 1948, Archie Williams became only the third African-American to be admitted to the prestigious Air Force Institute of Technology. There he completed a degree in aeronautical engineering in 1950. During the Korean War, he was stationed in Japan as a meteorological officer. Although the Air Force considered him too valuable to be risked in combat, he nevertheless was able to talk his way into flying several bomber missions over Korea.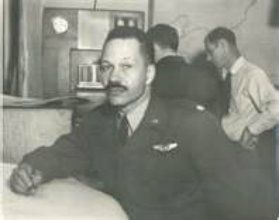 Major Archie F. Williams, USAF
Williams served 22 years in the Air Force, retiring in 1964 as a Lieutenant Colonel. During his last year in the Air Force, he decided that he wanted to teach after he retired and, as he was stationed at Strategic Air Command in Riverside, he applied for the teacher credential program at UC Riverside. He was denied admission because he did not have a specific lower division math class that was a prerequisite -- despite his engineering degrees and meteorological training. Williams called his friend Brutus Hamilton, who was still the head track coach at Cal. Hamilton interceded and was able to clear away the red tape. Williams was admitted to the program and got his teaching credential the following year.
After his retirement from the Air Force, Williams returned to the Bay Area, where he got a job teaching mathematics at Sir Francis Drake High School in San Anselmo. Later, as computers began to become more prevalent, he became qualified to teach computer science, as well. When asked why he decided to get training in computer science when he was in his sixties, Williams replied, "Hey, I've got to stay alive!" He was extremely well-liked by his students, and especially focused on working with what he called, "the less-endowed kids . . . the kids who were handicapped or slow learners." He added, "I found that all of them have something to offer if you just take the patience to work with them, and try to see just what they have to work with, and then you see what you can add to it. . . . It's a really good feeling to see success; not only to see them succeed, but to see them recognize the benefit of success."
Williams taught high school for 22 years, finally retiring in 1987, at the age of 72. He and his wife Vesta, whom he had married within three months of meeting her in Tuskegee during World War II, continued to operate a flying service which they had run part-time for several years. In 1986, he was one of the original inductees into the Cal Athletic Hall of Fame, and in 1992 he was inducted into the USA Track & Field Hall of Fame. Archie Williams died on June 24, 1993, at the age of 78. In addition to his wife, he was survived by his sons, Carlos, and Archie, Jr., a well-known jazz and blues guitarist. His was an amazingly full and impressive life.
77-year-old Archie Williams shows off his Gold Medal during an oral history interview for the University of California Archives in 1992.
GO BEARS!
_______________________________
Sources
NOTE: For those interested in more information about Archie Williams, the two oral histories referenced below are quite entertaining and informative. Both are available online by clicking the links provided.
Archie F. Williams, 1936 Olympic Games, Track & Field: An Olympian's Oral History, Amateur Athletic Foundation of Los Angeles, interviewed by George A. Hodak (June 1988)
Archie Williams, SR/Olympic Sports (2012)
Archie Williams, Wikipedia (2012)
Constable, George, The Olympic Century: XI, XII, & XIII Olympiads, World Sport Research & Publications, Inc., Los Angeles (1996)

The Joy of Flying: Olympic Gold, Air Force Colonel, and Teacher, Archie F. Williams, The University of California Regional Oral History Office, interviewed by Gabrielle Morris (1992)
Tuskegee Airmen, Wikipedia (2012)
White, Jerry, Olympian Becomes Weather Officer During World War II, U.S. Air Force Official Website (Feb. 22, 2012)