On June 26, 2012, the University of California lost one of its most distinguished athletes with the passing of three-time Olympic medalist Ann Curtis. Curtis was the greatest swimmer of her day. She won two Gold Medals and one Silver Medal at the 1948 London Olympics, at a time when there were only five Olympic swimming events for women. During her short career from 1943 to 1948, she won a record 34 AAU (Amateur Athletic Union) championships -- a record that would stand for more than 30 years. In 1944 she became both the first woman and the first swimmer to win the Sullivan Award, the prestigious prize given annually to the most outstanding amateur athlete in America. And in 1948 she became the very first of what would eventually become a virtual torrent of Olympic swimming champions from Berkeley. After she retired from competition to raise a family, Curtis opened a swimming school in Marin County, where she taught generations of young swimmers, including future Olympians. This story had been intended as the final installment of my series on early Cal Olympians, but I am posting it now as a tribute to the memory of this extraordinary Golden Bear.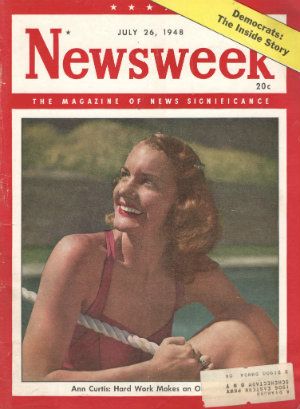 Headed to the Olympics: Ann Curtis on the cover of the July 26, 1948 edition of Newsweek Magazine.
Note: This is the eighth in a series about early Cal Olympians. The earlier stories were about Robert Edgren, Cal's first Olympian, Ludy Langer, Cal's first Olympic swimmer, Harry Liversedge, Cal's most heroic Olympian, 1920 Rugby, Cal's first Olympic Gold Medalists, 1924 Rugby, the Gold Medal rematch, Hazel Hotchkiss Wightman, Cal's trailblazing Olympian, and Helen Wills, Cal's greatest tennis champion.
In addition to being an Olympic champion, Ann Curtis held another distinction that is almost as rare: she was a native San Franciscan, having been born in that city on March 26, 1926. She began swimming at the age of nine, being taught by the nuns of the Santa Rosa convent boarding school she attended. She took to the sport immediately, finding the freestyle events to be her strength. Her parents wanted her to train at the Crystal Plunge, a noted swim school located at the corner of Taylor and Lombard in San Francisco. The coach at the Crystal Plunge, Charlie Sava, was initially unimpressed with the young Ann Curtis. In fact, just before her mother took her to Sava, Curtis had finished dead last at a meet, 70 yards behind the winner. Curtis later said that she was, "fat, short-winded, and lousy." But her mother, Florence, convinced Sava to give Ann and her sister Sue a chance.
Although Sava thought she had a poor stroke, he believed the tall young girl (she would eventually reach 5' 10 1/2") had the body to become a good swimmer. Under Sava, she swam three miles a day, Monday-through-Saturday, and two Sundays a month. To strengthen her, Sava had Curtis swim with her feet tied, and pulling weights. Curtis recalled that some days she just did not feel like going, but she went anyway because, "it was better than listening to Charlie nagging me on the phone!"
Sava soon realized he had a great swimmer, but he did not want to rush her progress. Sava waited until 1943, when Curtis was 17, before entering her into national competitions. At the 1943 national championships in Indianapolis, Sava announced, "The world has never seen a girl swimmer like this one. And she is just beginning to develop." And he was right.
Curtis with her Hall of Fame Coach, Charlie Sava.
When Curtis finally began competing in AAU events, she immediately dominated the sport. Although her specialty was middle distances, 400 and 800 meters, she won national freestyle championships at every distance. She won 100-meter championships six times, 400-meter championships nine times, and won several titles in the 200, 800, and 1,500 meters. She was the national outdoor champion in the 100-meters in 1944, 1945, 1947, and 1948, the national champion in the 400-meters and 800-meters from 1943 to 1948, and the national champion in the mile in 1944 and 1946. She also won championships in the 880-yard relay from 1945 to 1948. In all, during her five-year career, Ann Curtis won a total of 34 AAU championships, more than any swimmer in history. That record would endure until 1981, when it was broken by Tracy Caulkins. Caulkins' record, in turn, was only recently broken by Michael Phelps.
Curtis was 18 in 1944, and at the height of her career. In ordinary times, she would have led the US swimming team to the Olympics and, undoubtedly, collected several medals. But in 1944 the world was in the midst of World War II, and there were no Olympics. The war touched Curtis personally in a more significant way when her father, a captain in the Marine Corps, died of wounds suffered in the Battle of Tarawa, in the Pacific. Despite this loss, Curtis continued swimming, and that same year she received the Sullivan Award, the prize given to the most outstanding amateur athlete in the country. This was a special honor, in that she was both the first woman and the first swimmer to receive the award. She was also named the Associated Press woman athlete of the year in 1944.
America's swimming star Ann Curtis christens the USS Eagle Wing in Oakland in 1944.
It was also in 1944 that Curtis enrolled as a freshman at the University of California in Berkeley, just across the Bay from her San Francisco home. In those days before Title IX, Cal did not have a women's swimming team, and there were no facilities on campus where a woman swimmer was permitted to train. Curtis had to drive to Treasure Island twice a day, seven days a week, to use the 50-meter pool at the US Army base located there. This made scheduling classes difficult, as Curtis later recalled. "I arranged my class schedule around my swimming. I remember Brutus Hamilton, the track and field coach [who became Cal's first Athletic Director in 1946], talking with my professors and asking them to be flexible."
When the war ended, the Olympics returned in 1948, after an absence of 12 years. Curtis, who had just graduated from Cal, would finally get her chance to compete against the world's best. As she marched into London's Wembley Stadium for the opening ceremonies, Curtis was overwhelmed by the British crowd's enthusiastic reaction for the American team. "I had never heard anything like it," she said years later.
Olympic swimming was very different in 1948 than it is today. At that time, there were a total of only five events for women and six events for men, compared to the 17 events each for men and women in 2012. And no athlete was permitted to swim in more than three events. No such limit exists today. The five events for women in 1948 were the 100-meter and 400-meter freestyle, the 100-meter backstroke, the 200-meter breaststroke, and the 400-meter freestyle relay. Curtis qualified for all three freestyle events.
Curtis showing her freestyle form at the London Olympics.
Curtis' first event, the 100-meter freestyle, proved to be a disappointment. Although she was not primarily known as a sprinter, she was still the favorite. She slipped slightly going into the water, and that was just enough to cost her the Gold Medal. She finished .2 seconds behind the winner, Denmark's Greta Andersen, with a time of 1:06.5 to Andersen's 1:06.3, to win Silver.
Despite her disappointment at the 100-meter result, Curtis bounced back to set a new Olympic record and win Gold in the 400-meter freestyle. Curtis later remembered, "In the water, I could hear the crowd roaring. I realized the British swimmer was creeping up on me. All I could think of was giving it my all at that instant." She won the race convincingly, by a margin of more than three seconds over Karen-Margrete Harup of Denmark, with a time of 5:17.8 to Harup's 5:21.2. The British swimmer, Catherine Gibson, finished third, with a time of 5:22.5. With this victory, Ann Curtis became the only American woman to win an individual Gold Medal in any event at the 1948 Olympics.
Film of Ann Curtis' Gold Medal swim in the 400-meter freestyle at the 1948 Olympics (there is no sound).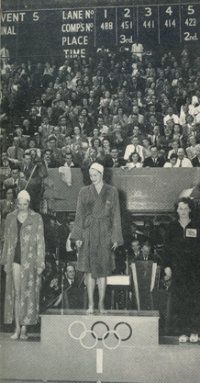 Curtis receiving her Gold Medal for the 400-meter freestyle. With her are Silver Medalist Karen-Margrete Harup (Denmark) and Bronze Medalist Catherine Gibson (Great Britain).
But for Curtis, her most memorable event in London was the 400-meter (4 x 100-meter) freestyle relay. She was the anchor of the relay team and because she had not won the 100-meter individual event, it was not expected that she would be able to swim that distance strongly enough to secure an American victory in the relay. Curtis later said that her second-place finish in the 100-meters had made her feel, "as if I had let down the world," and she was anxious to redeem herself in the relay. She did.
After Curtis' teammates had finished the first three legs of the relay, the USA was in third place, behind the Netherlands and Denmark. Although she was in the lane next to the Dutch anchor swimmer, Johanna Termeulen, the lane markers were much larger than they are today, and she could not see her. But she later said, "I could feel myself passing her." She also overtook and passed the Danish swimmer, and won the race by .4 seconds. Curtis swam her anchor leg of the relay in a time that broke the world record for the 100 meters, although because it was part of a relay, it did not count as a record.
Many years later Curtis had this reflection on the Olympic experience:
I forget all about it in between [Olympic] games, until I watch it on television. I know that glassy look in the medalist's eyes. . . . You've thought about it, you've visualized it, you've swam it. But nothing compares to the real thing.
On her return home, Curtis was given a ticker-tape parade down Market Street in San Francisco. She was presented with the Key to the City, and with the keys to a brand new Chevrolet convertible.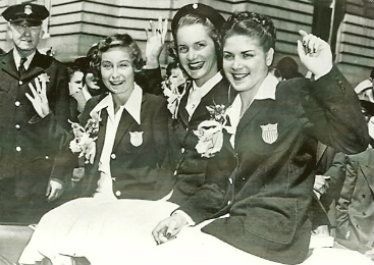 Ann Curtis, center, with two of her Olympic teammates, during the ticker-tape parade down Market Street.
Shortly before she left for the Olympics, Curtis had become engaged to Gordon Cuneo, whom she had met at Cal. Cuneo had started at Cal in 1941, when he had been a member of the freshman basketball team. But he had to leave school in 1942 to serve in the Army Air Corps for three years as a navigator of B-24 bombers in World War II. He returned to Cal after the war to resume both his studies and his basketball career, as a starting forward on Cal's varsity squad.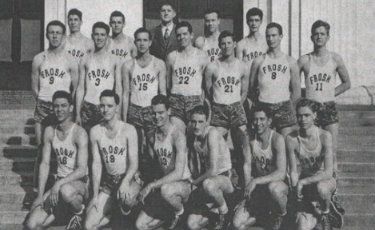 Cal's 1940-41 freshman basketball team. Gordon Cuneo is in the front row, third from the right.
When Curtis married Cuneo in 1949, she retired from competitive swimming. She was only 23, and could certainly have had an excellent chance of winning more medals at the 1952 Olympics. However, she believed that the rigors of training and travel involved in world-class swimming would make it difficult to have a strong marriage and family life. She and Gordon Cuneo would have five children and be married for more than 60 years, until his death in 2010. She said that she never regretted her decision to retire.
But although she retired from competitive swimming, Curtis remained committed to the sport. She and her husband quite literally built a swimming school in Marin County, with Gordon Cuneo building the offices, changing rooms, and pump room after work and on weekends. The Ann Curtis School of Swimming became an institution in Marin County. An estimated 40,000 young people learned to swim there, and Curtis was the first teacher and coach for several future Olympians. Among her students were future Olympic Gold Medalists Rick DeMont (now the associate head swimming coach at the University of Arizona), and Ben Wildman-Tobriner. Curtis actively coached young swimmers until she was in her 70s, and continued to run the business operations of the school into her 80s. She was forced to cut back due to health issues a couple of years ago, and the school is now run by her daughter, Carrie Cuneo.
In 2004, Ann Curtis Cuneo showed off the modest display of her Olympic medals, kept in the front office of the Ann Curtis School of Swimming.
Ann Curtis was inducted into the International Swimming Hall of Fame in 1966, into the Cal Athletic Hall of Fame in 1979, and into the Bay Area Sports Hall of Fame in 1983. In 1999, she was named one of the "50 Most Significant Bay Area Sports Figures of the Century."
There can be no doubt that if Olympic swimming had the same number of events in 1948 as it does today, Ann Curtis would have won at least two or three more medals. There were only three freestyle events in her day. Today there are eight (including the medley relay). She would almost certainly have won Gold in the 800-meters, which was one of her strongest events. And she would have had a good chance at Gold, and certainly would have gotten a medal, in the 200-meters. In fact, she would have had a chance at winning a medal in all eight freestyle events. And, had the 1944 Olympics not been cancelled, she would have had a chance of winning medals in all the freestyle events there as well. She was simply that dominant. But Ann Curtis Cuneo was not one for regrets. In fact, she said that she regarded her swimming school, rather than her Olympic championships, as her greatest legacy to the sport.
A memorial service for Anne Curtis Cuneo will be held on July 21 in San Rafael. Her family has asked that any donations in her honor be made to the UC Regents, for the Ann Curtis Cuneo Swimming Scholarship Fund, 195 Haas Pavilion, Berkeley, CA 94720. More information about the service and donations can be found here.
GO BEARS!
_______________________________
Sources
Ann Curtis, International Swimming Hall of Fame (2012)
Ann Curtis, Amateur Athletic Union, Sullivan Award Winners (2012)
Berry, Robin, "Marin Swim School a Passion for Former Olympian," The San Francisco Chronicle (Aug. 9, 2002)
Curtis, Dave, "Former Olympian Ann Curtis Cuneo Had a Huge Impact on Marin's Swimming Community," Marin Independent Journal (July 4, 2012)
Gonsalves, Kelly, et al., First to the Wall: 100 Years of Olympic Swimming, FreeStyle Publications, Inc., East Longmeadow, MA (1999)
Lord, Craig, "London 1948 Champ Ann Curtis Passes," Swimming News Online (July 6, 2012)
"She Was Queen of the Crystal Plunge," The Berkeleyan, UC Berkeley News Center (June 5, 1996)
"Stellar Swimmer," Newsweek Magazine (July 26, 1948)