I love watching Cal athletes at the NFL Combine. A large part of it is that most Bears shine in front of the scouts and provide a big boost for their draft prospects. A combination of great personalities and excellent strength and conditioning do wonders for the reputations of Cal's prospects. This year was no different. While much of the attention at the combine was focused on the class of quarterbacks, Marvin Jones and Mychal Kendricks made a big impression among the receivers and inside linebackers, respectively. Both had a second-day draft selection as their upper bound; now, both seem almost certain to be chosen in the second or third rounds.
Here's a look at what the analysts are saying about the golden twosome.
Kendricks tops the list of Sports Illustrated's risers among linebackers.
Mychal Kendricks, California: Melvin Ingram's workout with the defensive linemen was one for the ages, and Kendricks' showing with the linebackers wasn't far behind. The Pac-12 defensive player of the year led the linebackers in almost every testing category: His 40 time of 4.45 seconds was the fastest, his vertical jump of 39.5 inches the highest and broad jump of 10-feet, 7-inches the longest. Kendricks carried his momentum through the drill session, looking quick and explosive in every task. Kendricks' sub-6-foot height means he won't be a player for everyone, but a creative defensive coordinator will turn him into a productive pro.
BleacherReport envisions a long, prosperous future for Marvin Jones.
Marvin Jones shows that he can be a prototypical No. 1 receiver in the NFL. I understand it's hard to tell this from just one day of workouts, but I believe Jones has unbelievable potential.

...
Jones does a very good job getting separation on deep routes. Time after time, when the camera switches from quarterback to receiver, I saw Jones blazing past defensive backs. Unfortunately for Jones, he didn't exactly have a great quarterback throwing it to him and the deep ball was often short. This was no big deal for Jones, as he just used his strength and great hands to come back and get the ball. Imagine what he can do with Carson Palmer throwing him the ball.
Of course, they weren't the only Bears to impress at the combine. In fact, some believe Mitchell Schwartz could also be a second-day pick out of Cal. After the jump we gather up all the NFL Combine results and analysis to provide a clearer picture of when the Bears will be drafted next month.
Measurements
| | | | | |
| --- | --- | --- | --- | --- |
| Player | Height | Weight | Arm length | Hands |
| Bryan Anger | 6'3" (-1") | 208 (+0) | 33 1/4" | 9 1/8" |
| Sean Cattouse | 6'2" (-1") | 211 (-7) | 33" | 9 1/2" |
| Trevor Guyton | 6'3" (+0") | 285 (+5) | 33" | 10 1/4" |
| Marvin Jones | 6'2" (-1") | 199 (-3) | 33 1/8" | 10 1/4" |
| Mychal Kendricks | NA (6'0") | NA (240) | NA | NA |
| Mitchell Schwartz | 6'5" (-1") | 318 (+0) | 33 1/2" | 10" |
In parentheses are the heights and weights according to the depth chart for the Holiday Bowl. Nearly everyone appeared to suffer from a case of shrinkage (including Kendricks, whose measurements were not posted on the NFL's Combine site, but were reported to be 5'11" and 240). There was some fluctuation in weight between December and the Combine, but nothing unexpected.
Assessments
| | | | | | | | | |
| --- | --- | --- | --- | --- | --- | --- | --- | --- |
| Player | Bench press (225lbs) | 40yd dash | Vert. leap | Broad jump | 3 cone drill | Shuttle (20yd) | Shuttle (60yd) | Grade |
| Bryan Anger | NA | 4.75*** | NA | NA | NA | NA | NA | 52.7 |
| Sean Cattouse | NA | 4.74 | 34.0 | 114.0 | 6.99s | 4.15s* | NA | 58.5 |
| Trevor Guyton | NA | 5.07 | 31.0 | 105.0 | 7.45s | 4.53s | NA | 54.5 |
| Marvin Jones | 22*** | 4.46* | 33.0 | 112.0 | 6.81s** | 4.11s* | 11.47s* | 61.5 |
| Mychal Kendricks | 24* | 4.47*** | 39.5*** | 127.0*** | NA | 4.19s** | NA | 79.7 |
| Mitchell Schwartz | 23 | 5.45 | 26.5 | 89.0 | 7.86s | 4.87s | NA | 58.0 |
* top 15 within position group ** top 5 within position group ***best overall within position group
The strength, speed, and agility drills are where the Bears shined. Kendricks and Jones, in particular, consistently finished among the top prospects in their positions. Sean Cattouse was just outside the top-15 in most major categories. Anger won the 40 yd dash almost by default; only one other specialist elected to run the 40.
UPDATE: Mitchell Schwartz reports that Anger did not run the 40. It is unclear why NFL.com lists his 40 time.
Although not everyone wowed the scouts in every single drill, all earned grades that indicate that they are all worth draft prospects.
The grades break down as follows: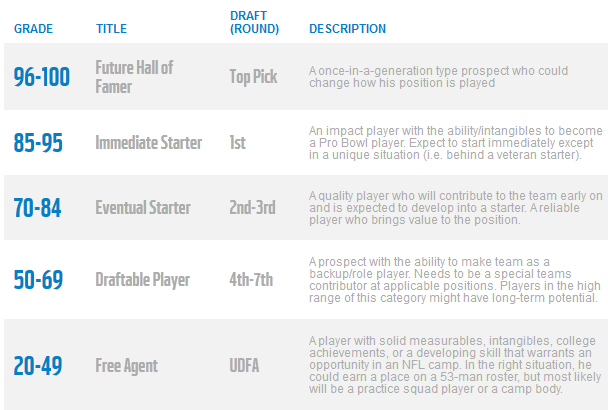 The good news is that all of our Bears are draftable (even Anger!). The bad news is that for the first time since 2008 we will not have a first round pick. It would not surprise me to see Schwartz, Guyton, and Cattouse all get drafted. Anger's status is less certain in terms of the draft, but chances are great he'll find a home in an NFL. Fortunately, all the Bears should find themselves competing for roster spots this summer. Whether their counterparts who did not attend the Combine will be so fortunate remains to be seen.
Now let's break down each of the players and see what folks are saying about their draft prospects.
Bryan Anger
Overview

Anger is undoubtedly one of the few punters who should be considered for a late-round pick, as he has a strong leg and has been consistent enough to come into training camp and steal a starting spot from a veteran. Teams love being able to pay rookie salaries to their kicking positions, and Anger just might have the skills to be worth the late-round pick come April.

Analysis

Strengths

Anger is a very accurate punter who employs a wide array of styles. He can execute both Aussie and rugby kicks, which will help him to pin teams deep. With so many strong-legged punters around the league these days, excelling in this area is a key attribute. Plays the ball to either side of the field, is strong enough to start in the NFL, is quick in his approach and athletic.

Weaknesses

Anger struggles getting height on his ball. Gets the ball off quick. Although he can drive it deep, often the ball comes down quickly and that can prove costly at the next level.
ESPN gives him a rating of 34, which is right in the middle of the "late rounds" category.
NFLDraftScout.com rates him as the #1 punter and predicts a 4th-5th round pick.
Overall, I'd be thrilled if Anger were drafted. He certainly has potential but specialist picks are always tough to predict. Regardless of if/when he's drafted, he has a long NFL career ahead of him.
Sean Cattouse
Overview

Cattouse may not be a big name on the national scale, but to those in the Pac-12 he resonates as an influential player for the Bears the past three years when healthy. He is a safety that has started in both the free and strong roles, but is more efficient when working closer to the line of scrimmage. Given this, he is not the greatest run defender but is good in man coverage; he is a former corner and looks comfortable running with tight ends. This coverage ability gives him value at the next level as the NFL has seen the emergence of big, athletic tight ends (Gronk!) and teams are having a tough time covering them. With Cattouse's frame and coverage skills, he has fifth-round value and could see time early in sub packages where he can be utilized against tight ends.

Analysis

Strengths

Cattouse is a good man cover guy playing the safety position given his athletic ability, footwork, and time spent playing corner. He is good close to the line and running with tight ends. Cattouse is a decent reactor but once he makes a decision he has shown the range to run down plays and make plays on the ball. Although he struggles tackling at times, he is a tough player working within the box.

Weaknesses

Cattouse can struggle at times to diagnose plays. Once he makes decisions, he is a good player, but he has made them late and not very often for Cal as a senior. Sean can have difficulties at times when tackling; even though he is a physical player he doesn't wrap and secure tackles enough. He is better playing in close and doesn't quite have the speed to cover a deep half of the field at the next level.
SportsIllustrated had him as one of two DBs who hurt their draft prospects following the Combine.
Sean Cattouse, California: Cattouse struggled to break 4.7 seconds in the 40 and showed marginal quickness during drills. His ball skills looked questionable, and Cattouse will drop into the late rounds.
NFLDraftScout projects him as a 6th-7th round pick.
ESPN gives him a grade of 49, at the very top of the "borderline prospect" category and one point below "adequate prospect." He receives "average" ratings for instincts, cover skills, ball skills, run support, production, and height/weight/speed. His leadership on defense earned him an "above average" rating for intangibles and his injury history (or lack thereof) earned him "exceptional" marks in durability.
Trevor Guyton
Overview

Guyton has prototypical size and quickness for the defensive tackle position and the type of frame that could be attractive to 3-4 teams looking for ends within their scheme. He was a reliable player in his senior year for Cal after not starting many games early on in his career because of the team's depth at the position. Guyton is a fast player with a motor that doesn't stop, which has helped him be an active player in his senior year and gives him sixth-round value in the draft.

Analysis

Strengths

Guyton is very quick off the ball and when maneuvering in tight spaces. He uses his hands well and has good technique. He is fast to the quarterback once in the backfield and can make disruptive plays early and often. He really sets the tempo off the ball and has the ability to quickly blow back lineman. He is excellent in pursuit in the open field, where his speed really shows up. He is a sure tackler who has been around the ball often in his senior year.

Weaknesses

Guyton could have value as a late-round pick given his collegiate history. He has displayed a lot of early round traits in his senior year, but his value is limited due to the short amount of time he has displayed it. Although teams understand Guyton's being caught behind first-round picks Cameron Jordan and Tyson Alualu, they will wonder if he's truly the player with the skills he displayed in his senior year, or just a pretender who showed up to play only once his draft status was on the line.
NFLDraftScout projects Guyton as a 3rd-4th round pick.
Trevor met with eight different NFL teams while he was at the Combine.
ESPN gives Trevor a grade of 56, which is roughly a late 5th round pick. He receives "average" ratings for his production, height/weight/speed, and versatility. His pass rush skills were deemed "below average" but his instincts/motor and run stopping ability were rated "above average." His accountability earns him an "above average" in the intangibles category and his limited injury history earned him an "exceptional" durability rating.
Marvin Jones
Overview

Jones has been a productive starter as a possession-type receiver for the Cal Bears the past three years. He does not possess great speed but seems to have a good understanding of his body and how to play to his strengths and get open. Jones has played with a quarterback the last year who is always looking to scramble and throw on the run, and Jones has been a good option for him working to get open downfield. He can make tough catches with a foot in bounds to get a first down when working up field and is a good outlet given his catch radius and hand strength when catching the ball.

Analysis

Strengths

Jones is big off the line in terms of knowing how to explode into a corner's face so that he can keep his hands off them and get a corner to turn their hips early in the route and keep him off balance. Jones is not a very smooth in-route runner and has some tendencies in terms of drifting away from the ball that could hurt him at the next level, but he is effective in stemming his routes off the line and understanding how to lean on DBs to get open at the top of routes. Jones has incredible hands and can extend to snatch balls that are thrown high over his head and has the flexibility in his hips to go down and snag balls thrown at his ankles.

Weaknesses

Jones can find holes in coverage and use a lean to separate when running routes, but when he is covered closely at his hip by DBs, he has a tough time separating with his acceleration or speed. He is more of a smooth runner who won't blow by many NFL corners, and although he is a deep threat from his jumping ability and ability to adjust to and catch the ball, he doesn't use speed to win in anything that he does.
NFLDraftScout projects Marv as a 3rd-4th round pick.
ESPN gives him a rating of 52, a late 5th round pick. ESPN rates Marv's speed/height/weight and separation skills as "average." His lack of blazing top-end speed earns him a "below average" in big-play ability. His injury history early in his career and at the Senior Bowl earned him a "below average" in durability. Marvin's ball skills, competitiveness, production, and intangibles were rated as "above average."
Marvin talks about his experience at the Combine.
" It was definitely a fun, interesting process. It was long hours, not much sleep , everybody wants to see you perform and everyone wants to talk to you. Overall, it was a great experience. I got to meet many different players and coaches which was really cool.

On my performance, I think I did well. I am a little disappointed with my 40. I was shooting for in the low 4.4s. Other than that, the drills were second nature to me. The gauntlet was great and really competitive. All of the drills were like that and I think I did an overall good job and showed the coaches what I can do.




I talked to almost all the NFL teams. I can't really say which ones showed the most interest. What I noticed was the combine was much more formal than the Senior Bowl. Instead of meeting NFL team scouts, etc. I was meeting GMs, head coaches, and wide receiver coaches of NFL teams. It was a great experience and I am fortunate to be able to show the coaches who I really am."
Mychal Kendricks
NFL.com (they also have video of his 4.47 40yd dash)
Overview

Kendricks has been a highly productive middle linebacker with a physical presence for the Golden Bears. He has had high tackle production and has been durable in his role. He will bring a physical presence to any defense and grades out as out of the top inside linebacker prospects in the draft, with 2nd round value. He is physical and capable of playing in a 3-4 scheme if necessary.

Analysis

Strengths

He is a very solid tackler who punishes running backs when he fills the gap on inside runs.
Apparently Kendricks has no weaknesses!
NFLDraftScout agrees that Kendricks' stock is rising and projects him as a 3rd round pick.
ESPN (whose assessments must have been made pre-Combine) gives Kendricks a rating of 56 (5th round pick). Kendricks' tackling skills, run defense, and third down defense are rated as "average." His height gives him a "below average" rating in height/weight/speed. They reference his "adequate" and "average" top-end speed, which suggests Kendricks may not have run his 4.47 40 prior to this analysis. Kendricks' intangibles, production, and tackling are rated "above average."
Mitchell Schwartz
Overview

Schwartz is a versatile player who does many things OK but nothing great, and that's likely the rep that will stay with him through the draft. Schwartz is a guy who makes it off effort and smarts. He has decent size for tackle, and doesn't display strong skills to encourage a move inside to guard. His size and productivity at Cal will keep him alive as a player who could be selected in the fifth or sixth round.

Analysis

Strengths

He can get overpowered in the run game, but plays with good technique. Schwartz is effective in his pass set and can sit back and let bigger players run into them yet still be effective by walling them off. He is a heady player who takes good angles to blocks and rarely falls off them.

Weaknesses

Schwartz's athletic ability is the greatest knock on him. He is a bit stiff in his movements and out of his stance, and can struggle when working to the second level. He may need to move inside because of the liability he could be outside at tackle.
NFLDraftScout rates him as a surprising 2nd-3rd round pick.
Although ESPN does not have any ratings on his specific traits, Schwartz receives a grade of 72--a likely third round pick.