There is no shortage of available methods for rating and comparing quarterbacks. The traditional quarterback efficiency rating has seen its fair share of criticism. The most common complaints about the quarterback efficiency rating are that it places too much emphasis on completion percentages and touchdowns and not enough emphasis on yardage gained. Worse yet, the measure does not take into account yards gained (or lost) on the ground, masking the effectiveness of QBs who run well or avoid sacks. While quarterbacks like Russell Wilson thrive under the traditional efficiency rating, prolific runners like Robert Griffin III become underrated (unless you happen to be a brilliant passer, like Robert Griffin III).
Sports economist and Utah State professor David Berri created an alternative formula that addresses some of the common criticisms lobbed at the passer efficiency rating. Berri calls his measure the QB Score and it looks like this:
QB Score = Total Yards - (3 x Plays) - (50 x Turnovers)
The traditional passer efficiency rating tends to take on a "more is better" approach: if players throw a bunch of TDs and hundreds of yards, they can get away with a fairly high turnover rate. Berri's measure has a different philosophy: if you generate yards and avoid turnovers, you will be rewarded. As we will see, comparing the two is an interesting endeavor.
In his book The Wages of Wins,
Berri and several other economists break down several other player efficiency stats in a variety of sports. If you're interested in this topic, it's a worthwhile read.
I decided to use this QB Score to rank collegiate quarterbacks based on their 2011 performances.
Top 5 QB Scores
Player
QB Score
Efficiency Rating
1. Case Keenum, Houston
3436
174.0 (5th)
2. Robert Griffin, Baylor
2949
189.5 (2nd)
3. Chandler Harnish, Northern Illinois
2561
153.0 (24th)
4. Geno Smith, West Virginia
2256
152.6 (26th)
5. Brandon Weeden, Oklahoma State
2232
159.8 (12th)
By looking at the top-5, it becomes clear how the QB Score differs from the traditional passer efficiency rating. Keenum and Griffin are excellent quarterbacks no matter how you asses their stats, but Chandler Harnish and Geno Smith provide two different examples of how the QB Score gives credit to players who efficiently rack up yards while minimizing turnovers, no matter how many TDs they score. Harnish is arguably the second-best dual-threat QB in the nation after Robert Griffin III. He quietly amassed over 3200 passing yards (28TD-6 int) and nearly 1400 rushing yards (11TDs). Smith, meanwhile, didn't necessarily score many touchdowns (31TD-7int), but he took care of the ball and generated over 4200 passing yards on a solid 8.3 yards per passing attempt.
After the jump we calculate the QB Score for over 175 of the nation's top quarterbacks--everyone from the Pac-12 to the SEC to the Sun Belt conference. How did your favorite QB measure up?
Before we look at the rankings within each conference, let's get a better intuition for how this measure differs from traditional efficiency. As you may have noticed from the top five in QB score, you can build up a decent QB score without having an elite passing efficiency rating (though it certainly doesn't hurt). Those players simply take care of the ball and generate plenty of positive yardage. You can however, have a decent passing efficiency rating coupled with a mediocre QB score. Those players tend to have turnover issues. Nothing hurts the QB score more than turnovers. Players who turn the ball over at high rates can have okay efficiency ratings, but they tend to have awful QB scores (see Jacory Harris every year in his career until 2011).
In case you're wondering, this is the formula for that traditional collegiate quarterback efficiency rating.
That's not the prettiest or most intuitive formula, but it could be worse. If you want the urge to gouge out your eyes, go here to take a look at the NFL formula.
Comparing the two scores with words and formulas is nice, but pictures really help tell the story. Let's look at a plot of QB scores plotted against passer efficiency ratings. The SBN-autosized image is a bit tough to read, so go here for a massive 1920x963 version. (Note: I calculated QB Scores for quarterbacks with 50 or more passes).
The correlation between the two measures is fairly strong (.734). But as we have already seen, players can have a spectacular rating one category while having "only" a great rating in another. The average QB Score for everyone in our sample is 711 while the average efficiency rating is 127.9.
If we break it up into quadrants, we can see which types of QBs fall into which sections. Naturally, QBs want to be in the upper right and avoid the lower left. But whether it is preferable to be in the upper left or lower right is debatable. The QB score favors those towards the right while the passer efficiency rating favors those towards the top.
Now, let's look at each conference starting with our own Pac-12:
Pac-12
Pac-12
Player
QB Score
Efficiency Rating
Andrew Luck, Stanford
1814 (10th)
169.7 (6th)
Matt Barkley, USC
1770 (11th)
161.2 (10th)
Nick Foles, Arizona
1722 (14th)
145.6 (38th)
Brock Osweiler, ASU
1679 (15th)
140.5 (49th)
Darron Thomas, Oregon
1432 (24th)
158.7 (15th)
Keith Price, Washington
1269 (34th)
161.9 (9th)
Zach Maynard, Cal
1031 (49th)
127.0 (95th)
Tyler Hansen, Colorado
969 (53rd)
125.5 (104th)
Marshall Lobbestael, WSU
931 (56th)
138.3 (57th)
Kevin Prince, UCLA
820 (70th)
135.3 (68th)
Sean Mannion, OSU
723 (81st)
127.1 (94th)
Richard Brehaut, UCLA
572 (92nd)
135.9 (66th)
Connor Halliday, WSU
405 (105th)
156.6 (18th)
Jordan Wynn, Utah
198 (133rd)
123.2 (112th)
Jon Hays, Utah
155 (142nd)
124.4 (110th)
I am not surprised to see Luck and Barkley at the top of the rankings (both nationally and within conference). What does surprise me is that Nick Foles and Brock Osweiler were 14th and 15th in the national rankings. Each passed for over 4000 yards and over 7.7 yards per attempt. While some might criticize their 2:1 TD to interception ratios, each had interception rates on par with Andrew Luck (about 1 interception per 40 passes). While Barkley does not rack up yardage as efficiently as Luck, Barkley, and Foles, he has a much better turnover rate (1 interception per 65 passes).
Next up are Darron Thomas and Keith Price who are good passers (indicated by their passer efficiency ratings). The primary reason their QB Scores are not higher is due to a large number of running plays that do not complement their efficient passing. If you can average 7 or 8 yards per rush (as Chandler Harnish did), you'll give a big boost to your QB score. Otherwise, running for short yardage will not necessarily help.
After Price is a big drop off and a familiar face, Zach Maynard. While Maynard had several turnovers, his decent yards-per-passing-attempt allowed him to maintain a respectable QB Score. His limited number of TDs and high interception rate really hurt his QB efficiency rating, however.
The bottom half of the chart is filled out with Pac-12 basement dwellers (how did we lose to UCLA again? wait, don't remind me)...except Utah. It is truly remarkable that the conference's worst passing team managed to finish 8-5. Give credit to that solid Utah defense.
In the plot below I have only included Pac-12 quarterbacks. Overall, the Pac-12 was above average in its quarterbacking in 2011.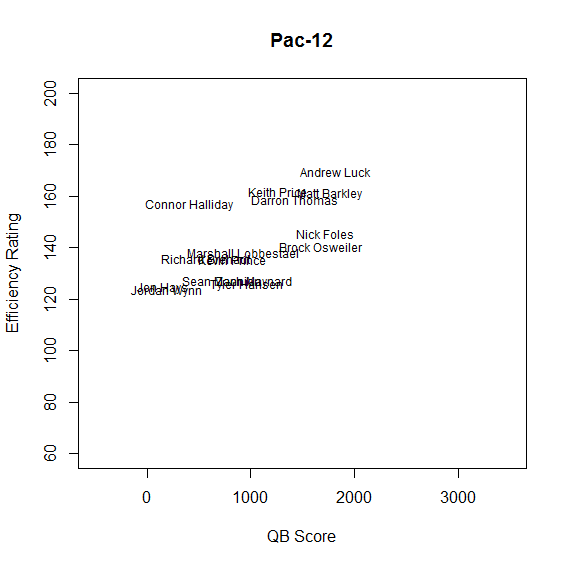 Now, for the rest of the conferences.
ACC
ACC
Player
QB Score
Efficiency Rating
Tahj Boyd, Clemson
1523 (21st)
141.2 (46th)
Logan Thomas, Virginia Tech
1350 (29th)
135.5 (67th)
Tanner Price, Wake Forest
1164 (37th)
132.8 (77th)
EJ Manuel, Florida State
1154 (39th)
151.2 (28th)
Bryn Renner, North Carolina
1127 (41st)
159.4 (13th)
Jacory Harris, Miami
1065 (44th)
150.6 (29th)
Tevin Washington, Georgia Tech
1060 (47th)
155.4 (19th)
Michael Rocco, Virginia
873 (64th)
127.1 (93rd)
Mike Glennon, North Carolina
817 (71st)
136.4 (64th)
Sean Renfree, Duke
807 (72nd)
125.7 (102nd)
C.J. Brown, Maryland
381 (110th)
98.7 (163rd)
Chase Rettig, Boston College
352 (114th)
112.4 (133rd)
Danny O'Brien, Maryland
308 (124th)
109.6 (143rd)
Clint Trickett, Florida State
183 (136th)
160.8 (11th)
Anthony Boone, Duke
86 (152nd)
106.3 (152nd)
David Watford, Virginia
-97 (172nd)
82.4 (171st)
Tahj Boyd had a breakout year and posted the highest QB Score in the ACC.
One interesting detail is that Bryn Renner was 13th in the nation in QB efficiency, but his QB score was only 41st. Like Keith Price and Darron Thomas in the Pac-12, he had fantastic passing stats (3086 yards, 8.8 YPA), but his score was dragged down by inefficient production on the ground. Renner ran for -88 yards on 57 attempts (26 of which were sacks).
After three years of terrorizing Miami fans with ill-timed interceptions, Jacory Harris finally kept his turnovers in check (except for that 4-interception bowl game). As a result, he managed to put together a decent QB Score.
The bottom third of this list is really bad. Clint Trickett is an outlier because he saw limited action filling in for an injured EJ Manuel. Otherwise, the bottom is filled with some pretty terrible quarterbacking. Fortunately, most of the worst scores came from backup players. Boston College (Chase Rettig) and Maryland (Danny O'Brien) weren't so lucky.
That's a large number of quarterbacks occupying the danger zone: the bottom left quadrant of the chart.
Big 10/11/12
Big 10
Player
QB Score
Efficiency Rating
Russell Wilson, Wisconsin
2094 (6th)
191.8 (1st)
Kirk Cousins, Michigan State
1409 (25th)
145.1 (40th)
James Vandenberg, Iowa
1287 (33rd)
138.4 (55th)
Denard Robinson, Michigan
1162 (38th)
139.7 (52nd)
Taylor Martinez, Nebraska
1135 (40th)
126.5 (98th)
Dan Persa, Northwestern
930 (57th)
154.8 (20th)
Nathan Scheelhaase, Illinois
888 (63rd)
133.4 (73rd)
Marqueis Gray, Minnesota
825 (69th)
114.5 (127th)
Caleb TerBush, Purdue
744 (78th)
130.7 (85th)
Braxton Miller, Ohio State
726 (80th)
138.4 (56th)
Kain Colter, Northwestern
626 (87th)
157.7 (17th)
Matthew McGloin, Penn State
544 (94th)
118.3 (122nd)
Tre Roberson, Indiana
310 (123th)
111.0 (138th)
Edward Wright-Baker, Indiana
300 (126th)
119.4 (117th)
Joe Bauserman, Ohio State
146 (145th)
111.4 (136th)
Dusty Kiel, Indiana
417 (154th)
100.9 (159th)
Max Shortell, Minnesota
28 (160th)
101.0 (158th)
Robert Marve, Purdue
20 (161st)
107.7 (148th)
Rob Bolden, Penn State
-119 (174th)
76.4 (174th)
Reilly O'Toole, Illinois
-123 (175th)
86.5 (169th)
I don't even know what to call this conference. I kept mixing up Big 10 teams with Big 12 teams because the Big 10 now has 12 members and the Big 12 now has 10 members. And don't even get me started on that "Leaders" and "Legends" nonsense...
Russell Wilson may have set the single-season record for highest efficiency rating, but that was not enough to ensure a top-5 QB Score! While he averaged an unbelievable 10.3 yards per passing attempt, he "only" averaged 4.3 yards per rushing attempt. With half as many rushing attempts (and half as many rushing yards), he would have climbed up to 4th overall. You can't massage his stats enough to get him a top-3 finish though. I suppose he'll just have to settle for the NCAA record instead...
Most of the conference's starters are right around the middle of the pack in terms of QB Scores.
Cal fans, do you feel less concerned about facing Braxton Miller and Ohio State next season? He runs like the wind, but he passes like a blindfolded Brock Mansion.
Russell Wilson was head and shoulders (and then some) above the rest of the Big Ten QBs in 2011.
Big-12
Big 12
Player
QB Score
Efficiency Rating
Robert Griffin, Baylor
2949 (2nd)
189.5 (2nd)
Brandon Weeden, Oklahoma St
2232 (5th)
159.8 (12th)
Landry Jones, Oklahoma
1907 (7th)
141.6 (45th)
Seth Doege, Texas Tech
1645 (17th)
138.9 (53rd)
Ryan Tannehill, Texas A & M
1533 (20th)
133.2 (75th)
James Franklin, Missouri
1517 (22nd)
139.9 (51st)
Collin Klein, Kansas State
3059 (55th)
125.6 (103rd)
Jared Barnett, Iowa State
366 (113th)
99.4 (161st)
Case McCoy, Texas
327 (120th)
131.9 (79th)
Steele Jantz, Iowa State
156 (141st)
106.8 (151st)
Jordan Webb, Kansas
145 (146th)
126.7 (97th)
David Ash, Texas
41 (157th)
107.4 (150th)
This is the conference of excellent and terrible quarterbacks; there is not much in between.
Surprising no one, Robert Griffin III leads the pack, followed closely by Brandon Weeden.
What may surprise some is that Landry Jones finished 7th overall. He passed for almost 4500 yards, but his efficiency rating suffered due to a lack of TDs. The Oklahoma offense may have been incompetent in the red zone during the second half of the season, but that had little effect on Jones' QB Score.
I'd poke some fun at Texas because David Ash finished last...but then I would remember who quarterbacked Texas to a bowl game victory over Cal. Feels bad man.
Robert Griffin and Brandon Weeden lead the way.
Big East
Big East
Player
QB Score
Efficiency Rating
Geno Smith, West Virginia
2256 (4th)
152.6 (26th)
B.J. Daniels, South Florida
1364 (27th)
126.7 (96th)
Ryan Nassib, Syracuse
834 (67th)
129.9 (87th)
Zach Collaros, Cincinatti
60 (91st)
131.6 (82nd)
Tino Sunseri, Pittsburgh
535 (95th)
124.1 (111th)
Teddy Bridgewater, Louisville
440 (102nd)
132.4 (78th)
Johnny McEntee, UConn
392 (108th)
111.3 (137th)
Chas Dodd, Rutgers
341 (116th)
18.5 (120th)
Munchie Legaux, Cincinatti
263 (127th)
109.0 (144th)
Will Stein, Louisville
252 (128th)
141.2 (47th)
Gary Nova, Rutgers
239 (129th)
116.6 (124th)
Bobby Eveld, South Florida
-59 (168th)
92.6 (167th)
Ah, the Big East: that conference whose status as a BCS league remains a mystery to the rest of us.
Unfortunately for the Big East, West Virginia will be taking its talents to the Big 12. If not for Geno Smith, the Big East would have a pretty sorry bunch of QBs. B.J. Daniels did fairly well, but I see a large number of triple digit rankings below him.
What the Big East lacks in efficient QBs, it makes up for with some pretty good names. I'm looking at you, Munchie Legaux.
I see several quarterbacks towards the bottom left part of this graph...
SEC
SEC
Player
QB Score
Efficiency Rating
Tyler Wilson, Arkansas
1841 (9th)
148.4 (32nd)
A.J. McCarron, Alabama
1288 (32nd)
147.3 (35th)
Aaron Murray, Georgia
1082 (43rd)
146.4 (36th)
Tyler Bray, Tennessee
794 (73rd)
144.8 (41st)
John Brantley, Florida
779 (76th)
140.8 (48th)
Connor Shaw, South Carolina
704 (82nd)
148.3 (33rd)
Jarrett Lee, LSU
622 (88th)
152.0 (27th)
Jordan Rodgers, Vanderbilt
445 (101st)
135.1 (70th)
Tyler Russell, Mississippi St
393 (107th)
135.1 (70th)
Jordan Jefferson, LSU
375 (11th)
138.7 (54th)
Barrett Trotter, Auburn
337 (117th)
129.2 (88th)
Randall Mackey, Ole Miss
328 (119th)
118.4 (121st)
Chris Relf, Mississippi St
198 (132nd)
121.5 (113th)
Clint Moseley, Auburn
170 (140th)
133.1 (76th)
Justin Worley, Tennessee
150 (144th)
110.4 (142nd)
Stephen Garcia, South Carolina
109 (148th)
107.7 (147th)
Maxwell Smith, Kentucky
-9 (164th)
103.3(155th)
Morgan Newton, Kentucky
-41 (165th)
93.1 (166th)
Matt Simms, Tennessee
-63 (169th)
77.1 (173rd)
Larry Smith, Vanderbilt
-110 (173rd)
104.6 (153rd)
Zack Stoudt, Ole Miss
-313 (177th)
79.6 (172nd)
From the conference who cannot convince us that it is any good to the conference that cannot stop telling us how great it is.
The SEC has some decent QBs, but it is outclassed by the Big 12 and Pac-12. Tyler Wilson leads the way while A.J. McCarron and Aaron Murray also post respectable scores. I admit, I did not know the name of Alabama's starting QB until I compiled these rankings. I watched a few Alabama games too!
Look at all those triple digit rankings! It must be that SEC DEFENSE, right?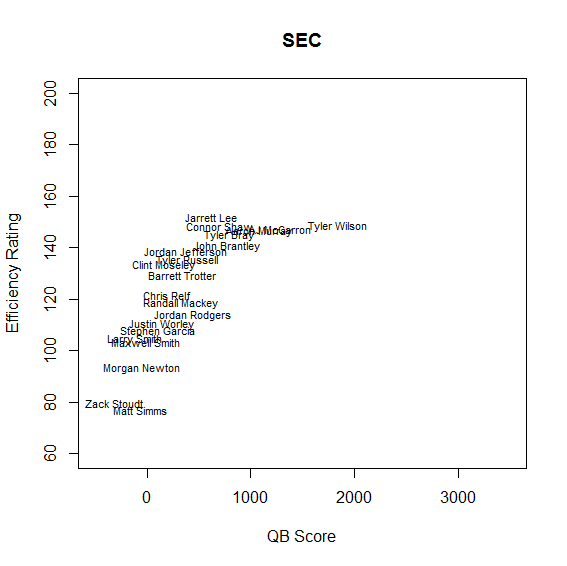 The left side of that chart looks pretty crowded. Oh right, SEC DEFENSE!
Non-AQ Conferences
Conference USA
Conference USA
Player
QB Score
Efficiency Rating
Case Keenum, Houston
3436 (1st)
174.0 (5th)
Austin Davis, Southern Miss
1543 (19th)
138.2 (59th)
G.J. Kinne, Tulsa
1350 (30th)
147.4 (34th)
Jeff Godfrey, UCF
1024 (50th)
140.5 (50th)
J.J. McDermott, Southern Miss
1013 (51st)
128.2 (91st)
Jonathan Perry, UAB
760 (77th)
120.8 (115th)
Dominique Davis, ECU
686 (83rd)
131.5 (83rd)
Ryan Griffin, Tulane
618 (89th)
112.8 (131st)
Taylor Reed, Memphis
475 (97th)
113.9 (129th)
Nick Lamaison, UTEP
465 (98th)
131.2 (84th)
Rakeem Cato, Marshall
125.8 (100th)
125.8 (100th)
Blake Bortles, UCF
419 (103rd)
153.9 (21st)
Cotton Turner, Houston
407 (104th)
159.2 (14th)
Nick Fanuzzi, Rice
390 (109th)
116.8 (123rd)
A.J. Graham, Marshall
322 (122nd)
135.0 (71st)
Taylor McHargue, Rice
181 (137nd)
118.6 (119th)
Bryan Ellis, UAB
90 (151st)
99.2 (162nd)
Carson Meger, UTEP
50 (156th)
110.5 (140th)
Andy Summerlin, Memphis
34 (159th)
85.5 (170th)
Javia Hall, UTEP
-68 (170th)
72.0 (176th)
Case Keenum, the most efficient QB in the nation, leads the pack here. Austin Davis and G.J Kinne also posted pretty good ratings. After that, no one stood out.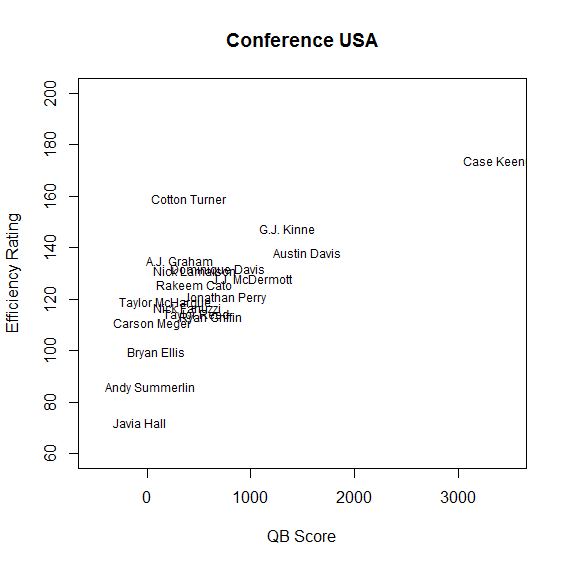 Case Keenum: he's off the charts (literally!)
Independents
Riley Nelson saved BYU's season and ended up topping the rankings among the independents.
Cal fans, aren't you glad Jake Heaps didn't transfer to Berkeley?
MAC
Mid-American Conference
Player
QB Score
Efficiency Rating
Chandler Harnish, Northern Illinois
2561 (3rd)
153.0 (24th)
Tyler Tettleton, Ohio
1727 (13th)
148.9 (31st)
Alex Carder, Western Michigan
1553 (18th)
145.3 (39th)
Zac Dysert, Miami (Ohio)
1359 (28th)
143.8 (43rd)
Terrance Owens, Toledo
1268 (35th)
169.2 (7th)
Ryan Radcliff, Central Michigan
968 (54th)
128.8 (89th)
Matt Schilz, Bowling Green
928 (58th)
137.6 (61st)
Keith Wenning, Ball State

900 (61st)
125.1 (106th)
Chazz Anderson, Buffalo
840 (66th)
111.9 (135th)
Alex Gillett, Eastern Michigan
789 (75th)
135.1 (69th)
Chris Coyer, Temple
668 (84th)
177.4 (3rd)
Austin Dantin, Toledo
646 (86th)
149.7 (30th)
Chester Stewart, Temple
331 (118th)
143.4 (44th)
Spencer Keith, Kent State
179 (138th)
100.8 (160th)
Clayton Moore, Akron
137 (147th)
96.3 (165th)
Mike Gerardi, Temple
92 (150th)
119.1 (118th)
Patrick Nicely, Akron
-51 (166th)
75.6 (175th)
I had never heard of Chandler Harnish until I put together the QB Score rankings after the 2010 season. He ended up finishing in the top-5 nationwide last year. I am not surprised he accomplished the feat again this season. Few teams would be disappointed with his passing stats: 3216 yards, 8.4 ypa, 28 TDs, 6 interceptions. Add in his rushing stats and you have one of the best QBs in the nation: 1379 yards, 11 TDs and a ridiculous 7.1 yards per carry. I would be thrilled to have a QB who passes that well and a RB who runs that well. Both in one package? One of the best players in the nation--easily.
The rest of the MAC QBs were no slouches, either. Ohio, Western Michigan, Miami (Ohio), and Toledo all had excellent quarterback play. In fact, you could argue that these QBs played better than most SEC quarterbacks. Oh right, SEC DEFENSE.
That's an impressive collection of QBs. Although he posted a brilliant efficiency rating, Chris Coyer's sample size was too small to generate a good QB Score. Watch out for him next year, though, as he replaces the senior Chester Stewart. With 9.26 yards per passing attempt and 8.1 yards per rushing attempt, he could be next year's Chandler Harnish.
MWC
Mountain West Conference
Player
QB Score
Efficiency Rating
Kellen Moore, Boise St
1889 (8th)
175.2 (4th)
Casey Pachall, TCU
1389 (26th)
158.0 (16th)
Ryan Lindley, San Diego St
1257 (36th)
125.7 (101st)
Brett Smith, Wyoming
1120 (42nd)
124.6 (109th)
Tim Jefferson Jr., Air Force
832 (68th)
153.4 (23rd)
B.R. Holbrook, New Mexico
345 (115th)
112.4 (134th)
Tarean Austin, New Mexico
323 (121st)
108.7 (145th)
Pete Thomas, Colorado St
220 (131st)
116.1 (125th)
Garrett Grayson, Colorado St
63 (153rd)
108.0 (146th)
Caleb Herring, UNLV
-53 (167th)
102.8 (156th)
Is anyone surprised that Kellen Moore tops the MWC?
Case Pachall did a fantastic job replacing Andy Dalton.
Ryan Lindley and Brett Smith certainly appreciate being ranked among the top-50 in QB score instead of outside the top-100 with the efficiency rating.
Sun Belt
Sun Belt
Player
QB Score
Efficiency Rating
Blaine Gautier, Louisiana-Lafayette
1758 (12th)
153.6 (22nd)
Ryan Aplin, Arkansas State
1465 (23rd)
133.6 (72nd)
Wesley Carroll, FIU
1054 (48th)
131.8 (80th)
Corey Robinson, Troy
921 (60th)
126.3 (99th)
Kolton Browning, Louisiana-Monroe
840 (65th)
114.4 (128th)
Derek Thompson, North Texas
606 (90th)
121.0 (114th)
Logan Kilgore, Middle Tennessee
546 (93rd)
119.7 (116th)
Kawaun Jakes, Western Kentucky
371 (112th)
115.1 (126th)
Jeff Murphy, Middle Tennessee
225 (130th)
110.4 (141st)
Jake Medlock, FIU
188 (135th)
124.8 (107th)
Cody Wells, Louisiana-Monroe
93 (149th)
128.5 (90th)
Andrew McNulty, North Texas
37 (158th)
107.6 (149th)
Chris Masson, Lousiana-Lafayette
-85 (171st)
96.8 (164th)
Graham Wilbert, FAU
-410 (178th)
91.7 (168th)
Other than Blaine Gautier and Ryan Aplin, I don't know who any of these people are.
Graham Wilbert posted the worst QB Score of anyone in our rankings! Better luck next year.
WAC
Western Athletic Conference
Player
QB Score
Efficiency Rating
Derek Carr, Fresno St
1657 (16th)
144.5 (42nd)
Bryant Moniz, Hawaii
1342 (31st)
136.1 (65th)
Cody Fajardo, Nevada
1063 (45th)
138.2 (60th)
Matt Faulkner, San Jose St
1060 (46th)
131.6 (81st)
Matt Christian, New Mexico State
979 (52nd)
129.9 (86th)
Colby Cameron, Louisana Tech
923 (59th)
137.2 (63rd)
Tyler Lantrip, Nevada
736 (79th)
146.1 (37th)
Chuckie Keeton, Utah State
667 (85th)
137.4 (62nd)
Adam Kennedy
516 (96th)
169.0 (8th)
David Graves, Hawaii
402 (106th)
127.3 (92nd)
Andrew Manley, New Mexico State
308 (125th)
138.3 (58th)
Nick Isham, Louisana Tech
170 (139th)
112.8 (132nd)
Brian Reader, Idaho
150 (143rd)
103.6 (154th)
Shane Austin, Hawaii
52 (155th)
101.8 (157th)
Dasmen Stewart, San Jose St
3 (162nd)
62.7 (178th)
Travaugn Colwell, New Mexico State
-5 (163rd)
124.7 (108th)
Taylor Davis, Idaho
-214 (176th)
69.3 (177th)
Our final conference is the wacky WAC.
Cal fans, the first name on that chart should look pretty familiar. Despite being stifled by the Cal defense, Derek Carr ended up having an excellent season. With the departure of Kellen Moore to the MWC, he filled in as the conference's best QB.
Bryant Moniz--who seems like he's in his 10th season at Hawaii--finished third in the conference.
While Graham Wilbert posted the worst QB Score in the nation, Taylor Davis had the worst combination of scores. Unfortunately, our rankings indicate that Davis was the worst QB in the nation. His only comfort is that Dasmen Stewart of San Jose State had the worst QB efficiency rating. Better luck next season, you two!
And that's all--the top 178 quarterbacks in the nation. Did you favorite QB do better or worse than you thought? Have you hopped aboard the QB Score bandwagon? Give us your thoughts and reactions in the comments.