It looks like we will have to wait another year before triumphantly reclaiming CGB North.
Kevin Gemmell: Cal could pull off the spoiler of all spoilers. But as the warrior poet Wayne Campbell once said: "It could happen, and monkeys might fly out of ... " -- well, you know the rest. Ducks roll. Oregon 49, Cal 21

Ted Miller: Oregon's defensive line has some injury issues, but the Cal O-line has been awful -- in large part due to its own injury woes. And the Bears will be without quarterback Zach Maynard. Another Super Bowl win for Chip Kelly's crew. Oregon 45, Cal 17
| | | | |
| --- | --- | --- | --- |
| Predictor | TeamRankings | numberFire | AccuScore |
| Score | Cal 18.9, Oregon 46.5 | Cal 20.4, Oregon 38.6 | Cal 19.2, Oregon 51.0 |
| | | | | |
| --- | --- | --- | --- | --- |
| Oregon at Cal | Oregon, 41-17 | Oregon, 44-17 | Oregon, 48-17 | Oregon, 49-14 |
Bears HC Jeff Tedford was the OC at UO from '98-'01 before coming here. He was 4-1 from '04-'08 but has now dropped 3 in a row to the Ducks. Two years ago Tedford's D held UO to a season-low 317 yards and a missed FG cost them the upset win at home,15-13. Last year his D did it again, at least in the 1H, as Cal led 15-14 at the half but the Ducks ended up winning 43-15 on a Thursday night. The Ducks offense was virtually unstoppable last week at USC putting up 62 points, 37 FD's and 730 yards in an 11 point win. UO RB Barner rushed for a school record 321 yards and 5 td's while earning some mentions for the Heisman in the process. Cal, meanwhile, outgained the Huskies on Friday night but was done in by 4 TO's and now enters this meeting with some major injury concerns at both QB (Maynard questionable, knee) and WR (Allen out, knee). The Ducks have now won 16 in a row on the road in Pac-12 play but in a USC/Stanford sandwich and playing their third away game in 4 weeks means the Bears could keep it closer than expected.
PHIL'S FORECAST: OREGON 44 CALIFORNIA 24
– No. 2 Oregon at Cal, 7:30 p.m. (ESPN): It's good news/bad news for Cal (3-7, 2-5). The bad: This is not a match the Bears need to show the entire country. The good: By the time it starts to get out of hand, it'll be way past everyone's bedtime on the East Coast. Cal has fared better defensively against the Ducks (9-0, 6-0) than most conference opponents in recent years. That was then. Oregon 49, Cal 20.
At least we have a better mascot
Never forget.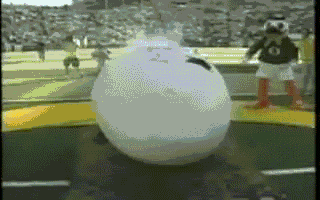 Football
Basketball
Soccer
Volleyball