So, despite all the bad news this fall, I suspect all of you are still Cal fans. Many of you have been keeping the faith for a long time, and have seen plenty of ups and downs the whole way. Let's meet someone who's been decaded three decades running, and the winner of our Fanthropology contest, Mr. Brett Smith. You know him around these parts as caaunbear1992.
Get to know more about our winner and his Bear Cave below!
When did you first know you were a Cal fan?
It was 1982. I was a 13 year old boy in Southern California who only cared about riding his bike and playing sports. For some reason, I decided to watch the Cal vs. Stanford game. I had no interest in either school and certainly had no idea where they were located, that they were great academic institutes, that there was such a tense rivalry between the two, etc.
Fast forward to THE PLAY, I was Cal fan from that point forward.
My dad, a high school teacher, told me what a great academic school Cal was and is, so I decided to take my academics pretty seriously from that point forward. Studied hard enough in high school to be accepted to Cal in 1988 and eventually graduated in 1992, of which I was fortunate enough to see Cal win the Citrus Bowl with a 10-2 record and a number 7 ranking in the polls in 1991.
You have to discuss your Bear Cave with us. When did the idea germinate, and how'd you decide to set it up?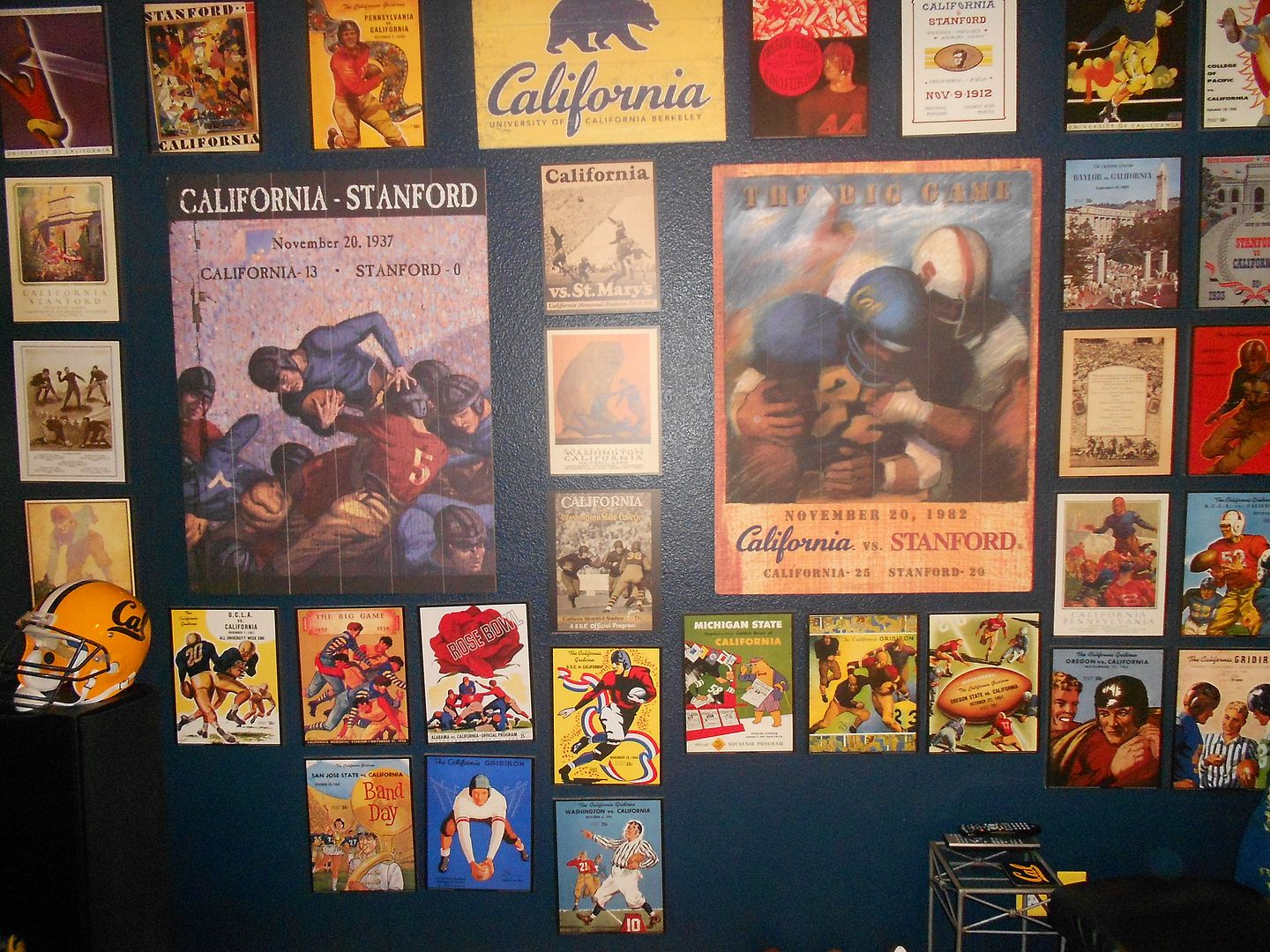 The Bear Cave was a theater room at one point with red walls (I know). I was sitting with friends watching a Cal game and they know what a true, die-hard fan I am and that I truly bleed Blue and Gold. During our inebriated discussions about whatever you talk about when you have had a few, I decided I was going to have a Cal man cave.
From that point forward, it became an obsession, a good one though. The next week I went out and bought some blue and yellow paint to cover that god forsaken red that made me want to vomit (or was that the beer?). At this point, I had a blank canvas. My first purchase was a full size replica helmet. Then, I found Cal memorabilia on eBay. That was truly the real beginning.
Started to purchase signed helmets, jerseys, pictures and anything Cal football related. My kids love the room, my wife is impartial and my mother-in-law thinks I am a hoarder. The kids, 6 and 12, are already fighting over who will get the room when I pass away. There are some good and bad thoughts/feelings there. Ha ha.
What was the first item you put in your Bear Cave? What's the rarest item? What's the most valuable to you?
I think my rarest items are a 1923 Cal/Stanford football program, a beer glass from the 1950 Rose Bowl when Cal played Michigan, a 1950 Rose Bowl pennant, a 1933 ticket stub when Cal played $C, a 1923 San Francisco full page article on Brick Muller announcing his engagement to a Piedmont lady, autographed 3x5 cards of Babe Horrell, Vic Bottari and Rod Franz, a 1923 matchbook with Cal football schedule/cost for tickets on it, a Roos Bros department store megaphone given away to fans during the 1940s, and a 1940 team signed sheet, with stamped/dated envelope, that was sent by Jim Jurkovich to a fan.
Honestly, I truly love all the items I have in the room, each one is special in its own unique way. I don't buy memorabilia to just have it, I buy it to remind me of the memories I have of certain players I have seen or read about it the many Cal football books that I own. I can look at any item I own and think of how special that player or team was to me at that particular point in my life.
How many of your games do you watch in the Bear Cave? What's your greatest memory in the Bear Cave?
I watch every game in the Bear Cave. Since I live and die by every play, which is really torture for a Cal fan, I cannot be bothered with going out into a public setting, plus my vocabulary, normally used through frustration, might not be acceptable in too many establishments Ha ha. I usually have a few friends over, a kegerator (free beer) helps keep the crowd coming back. The 2004 and 2006 seasons were the most enjoyable and heart breaking (thanks Mack Brown) for me. I cannot pick out a favorite memory because they ALL are memories for me, the good and the bad.
On another note, I started this room in 2003, the very beginnings of the Tedford era. It has been a long run for him/us and I very much appreciate everything he has done for the football program and the school, but all good things must come to an end. Let's hope that we can find someone to take this program to the next level. The players and the fans deserve it. Go Bears!!!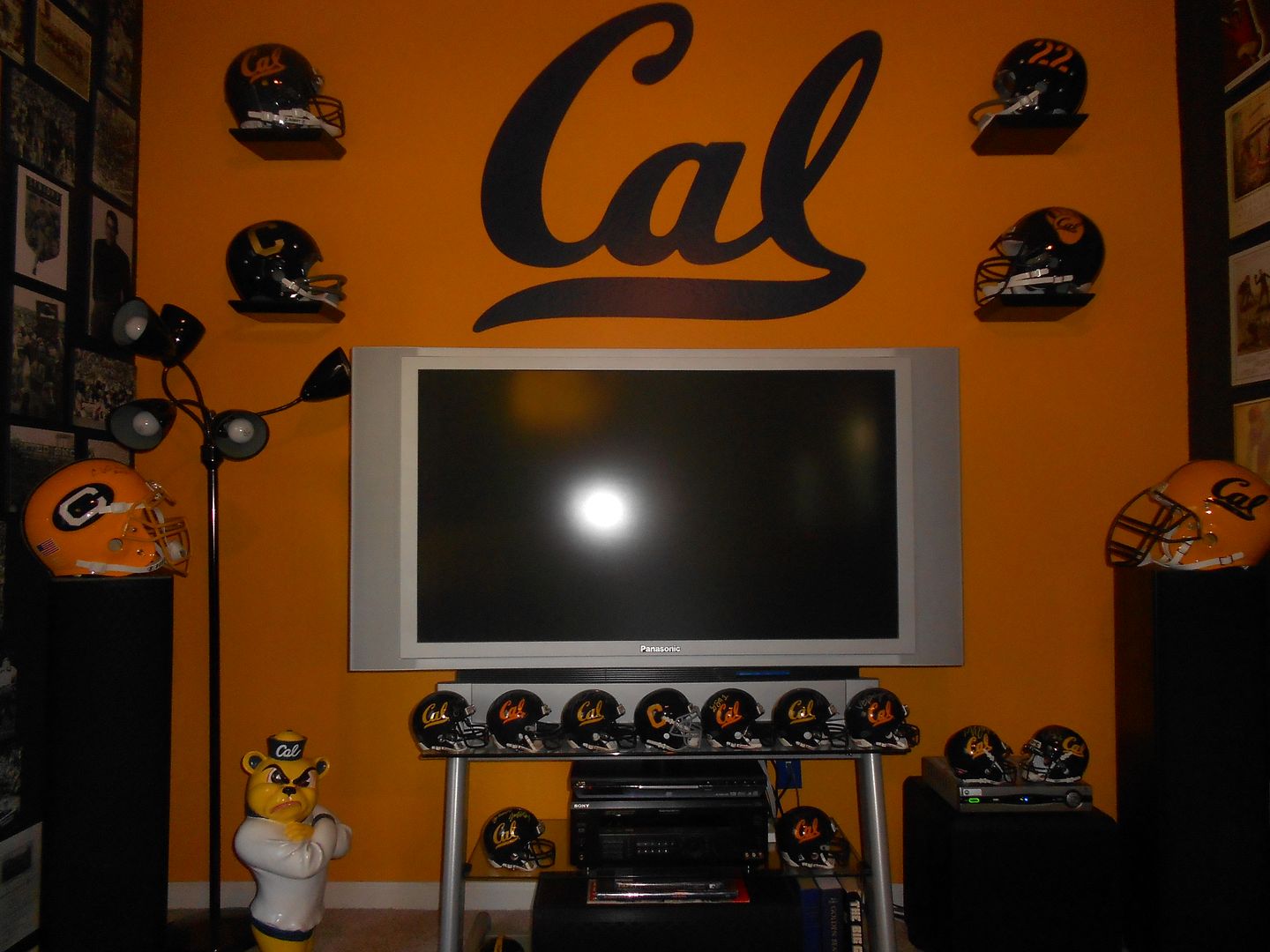 Why is Memorial Stadium the best place to watch a college football game?
The scenery, the fans, the walk up to the stadium from BART, the smell of Berkeley (good and bad) and Top Dog.
What's your greatest memory of watching Cal football at Memorial?
Taking my daughter to her first game in 2010 when we crushed Colorado. She was 10 at the time and to see the look in her eyes will never be forgotten. Funny story, we went to Top Dog, which she had heard so much about over the years and order a few dogs. She ate about half of one and I asked her if she wanted to take the rest for later. She said no and when we got outside I asked her why, she seemed to enjoy it. She said she didn't like the dog but kept eating because she did not want the lady behind the counter to feel bad, plus she knew how important it was to me.
Last story on my daughter. I have her a little brain washed in regards to Cal, go figure. The ultimate dad pride was when I asked her what she wanted to do for her 10th birthday. Have a big party? No, take 2 of her friends to Berkeley for the day, walk the campus, sit in the classrooms, go to Memorial Stadium and then spend the night. No Top Dogs that day, but Blondie's always hits the spot.
What are your thoughts on Jeff Tedford?
See statements above, plus I had the opportunity to meet him in person and he was very nice to me and the other fans. He seems like a genuine guy and I wish the best for him, but it did get to a point that the program is not where it needs to be. I do understand all that he did for the school and the program he took over, but there always seemed to be something missing to take us to that next level. The past losing seasons and the way they have lost, ultimately lead were we are now. Just like in the business world, if you don't perform, you don't have a job. Best of luck Tedford and thanks for the memories.

What makes college football so special to you?
The purity, if there really is such a word nowadays in college sports. From 9:00 am to 10:00 pm on Saturdays, you can watch these kids play with such extraordinary, athletic ability all in the love for the sport.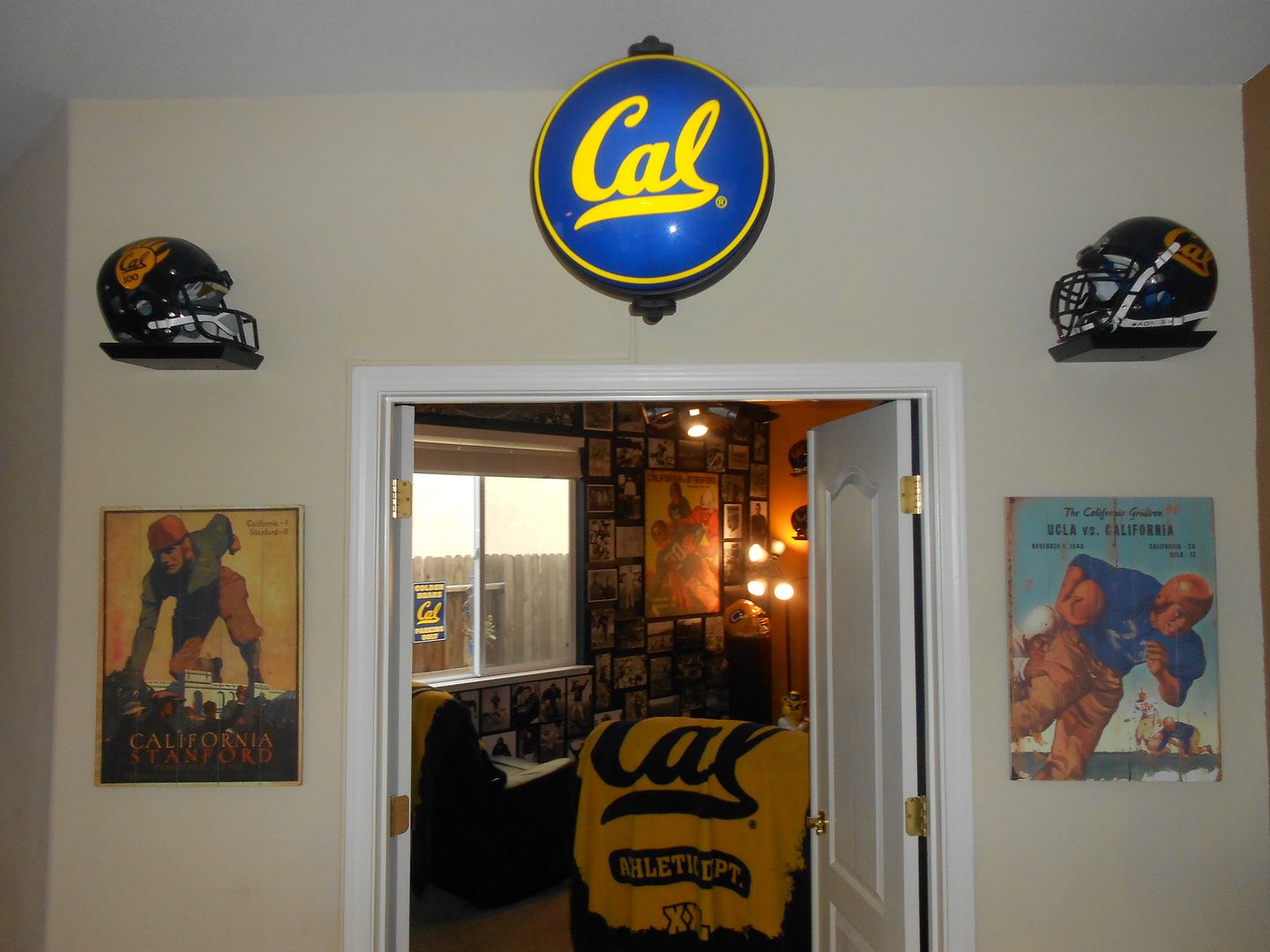 How do you keep the faith that Cal will eventually end up in a Rose Bowl?
A tortured soul deserves bliss at some point. The many years of riding this roller coaster called Cal football will only make it that much more enjoyable when we finally reach the goal that we all strive for. If it happened every year, the enjoyment would fad. 54 years is a long time though. The true Cal fan knows of what I speak. Roll on you Bears!!!!
By commenting below, you are subject to and accept the terms and conditions of the Hyundai Fanthropology Sweepstakes.