Zombie Yellow Fever continues to be missing in action, so I'll fill in once again.
College Football Pick 'Em
Bastard Roommates and Da (Other) Bears have this locked up, oh, what's that? A CHALLENGER APPEARS.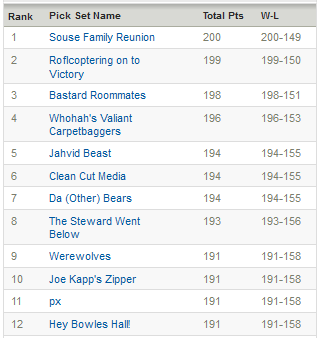 With an impressive 21/29 picks, Souse Family Reunion vaults to the top of the standings. Bastard Roommates had 15 correct picks while Da (Other) Bears had 16. Considering how many of these games were picking winners of SEC-FCS teams, that's pretty bad (then again, I only had 15).
Here are some other highlights:
No one picked any FCS teams to beat SEC teams. For a while that Wofford-South Carolina game could have gone either way.

the beer had a league-leading 12 consecutive correct picks.

GANGNAM STYLE had a league-worst 13 correct picks.

Souse Family Reunion, Whohah's Valiant Carpetbaggers, and Werewolves led the way with 21 correct picks.

Only 8 picked Utah State to cover (-3.0) against Louisiana Tech.
College Fantasy Football
The playoffs have begun. The top four battled it out last week. For the second consecutive year AERose and I will battle it out for the championship. AERose's LifeShouldBeOnCinemax defeated Still No Stanfurdium 209-172 during week 10. The winner of this week's match may or may not get to interview for a newly vacant head coaching position.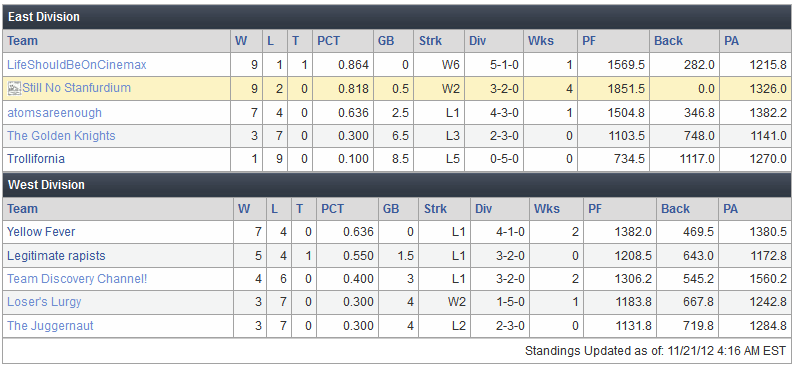 The top-seeded LSBoC defeated atomsareenough.
With some better roster management, atoms could have defeated AERose. atoms left 28.25 points on the bench while some better roster management from LSBoC could have produced 8.5 more points.
In the 2 vs. 3 matchup Still No Stanfurdium defeated Yellow Fever.
73 points?! I am glad YF didn't start Tajh Boyd! YF left 69 points on the bench and could have easily won with Boyd's 500 yards and 8 TDs. Likewise, I also got too clever for my own good with my lineup and left 35 points on the bench.
Wow--roster mismanagement all around last week. I think Cal just rescinded that head coaching offer.