When we last left off, Cal was flying high: the Bears scored on their first drive of the game after holding Texas to only 7 yards on the opening drive.
And look how clean Maynard's jersey was!
Not one speck of grass on that pristine, white jersey!
Unfortunately, things would begin to go pear-shaped in the second half, but that did not stop me from taking pictures! Join us after a jump to see Maynard's wonderful, white jersey turn completely green.
While we're on the subject of Maynard, he spent a lot of time sitting on that bench (not that there's anything wrong with that). He didn't walk around much and interacted mostly with Coach Arroyo who would periodically offer words of wisdom and encouragement. It's interesting, Maynard always sat on the left side of the bench while Keenan Allen always sat on the right. C.J. Anderson or Michael Calvin would sometimes sit in the middle. And while they sat there, they didn't talk much. Those involved with the running game (O-line and RBs) generally talked with Coach M and our interim RB coach while receivers and QBs had fewer interactions. They still talked to one another (Maynard talked to Brock a bit), but that bench seemed to be the fortress of solitude.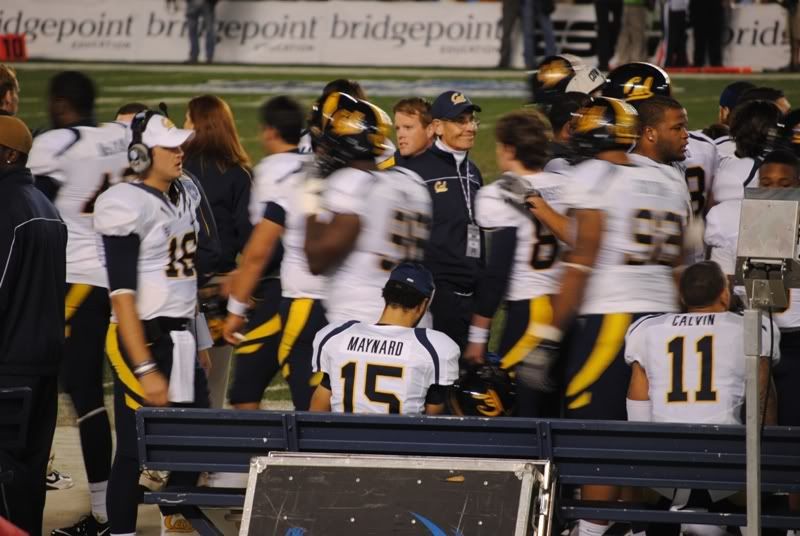 A concerned-looking HydroTech makes sure the defense is sufficiently hydrated.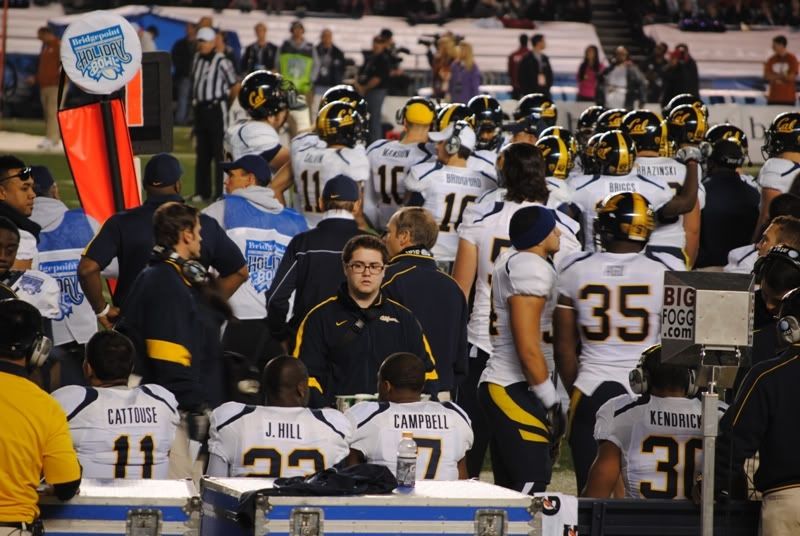 Unable to watch the O-line get manhandled by Texas, Coach M paces along the sideline.
Plenty of smiles after Isi's TD run gave the Bears a 10-7 lead. Unfortunately, Isi is hidden among John Tyndall and a few others (you can barely see the top of his head). On an unrelated note, Will Kapp had a unique contraption that he used to wheel about the sideline. It was like a combination of a walker and a tricycle.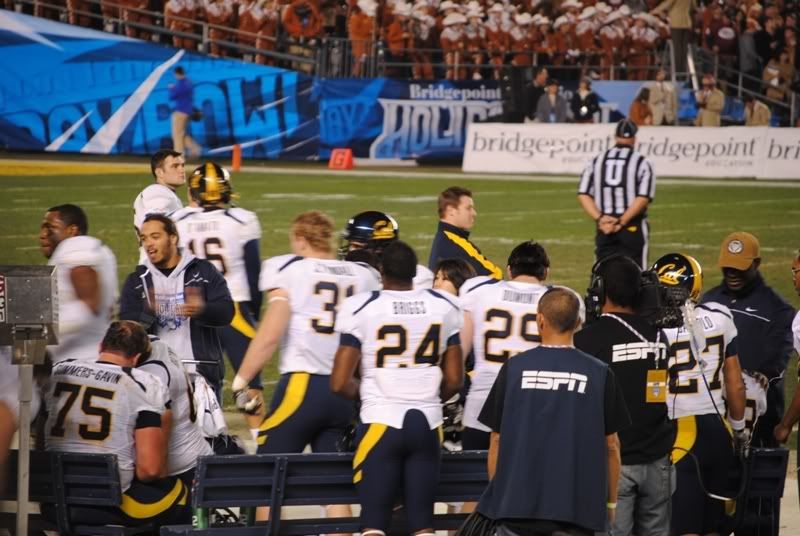 Maynard talks to Marcus Arroyo in the fortress of solitude while Stephen Anderson gives Michael Calvin a high five. Unfortunately, Maynard's jersey is showing considerably more green and brown than it did during the first half.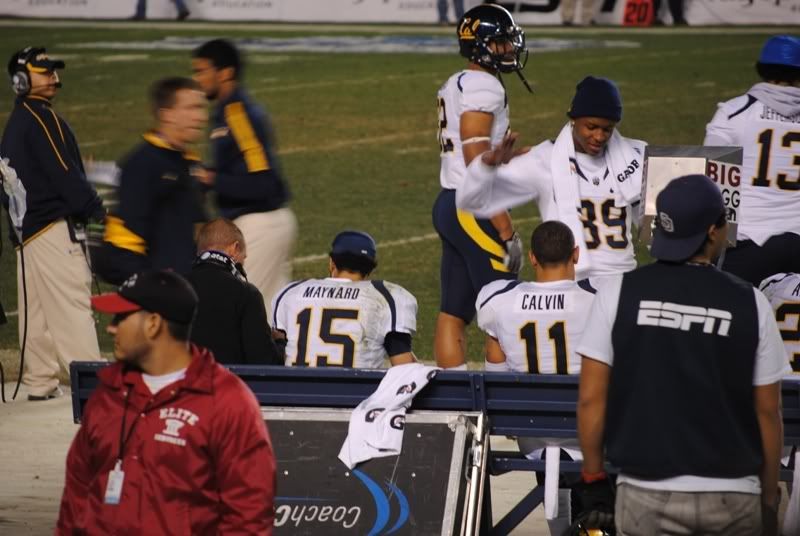 Brock Mansion imparts some senior wisdom to Arroyo and Maynard.
Amid our offense's beatdown at the hands of the Texas front seven, Oski didn't have much to cheer about. So he wandered around and created his own amusement. For a while he imitated the special teams guys as they kicked and longsnapped on the sideline. Eventually he found a serious-looking security guard to impersonate.
Oski got the guy to crack a smile and laugh with his coworker. Despite the red coat, he clearly does not have the unflappability necessary to be one of the Queen's Guards. He is much too flappable.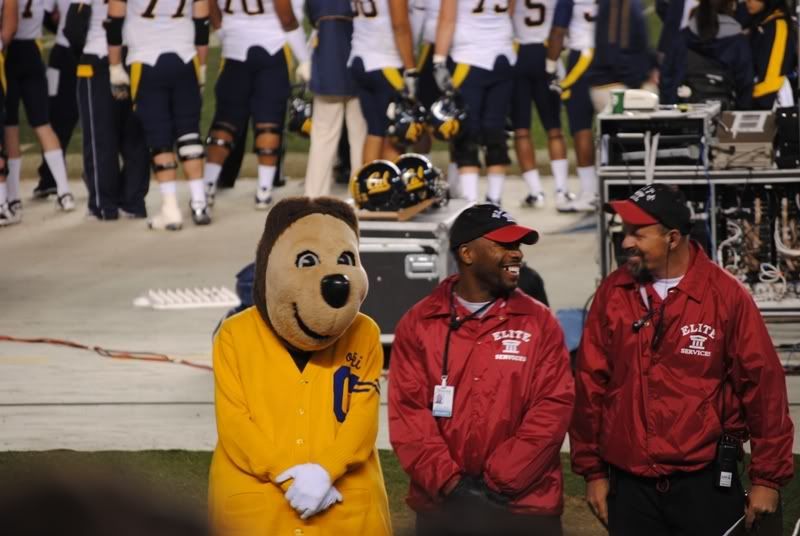 Yep, things have definitely taken a turn for the worse. Look at that jersey. Those stains will never come out.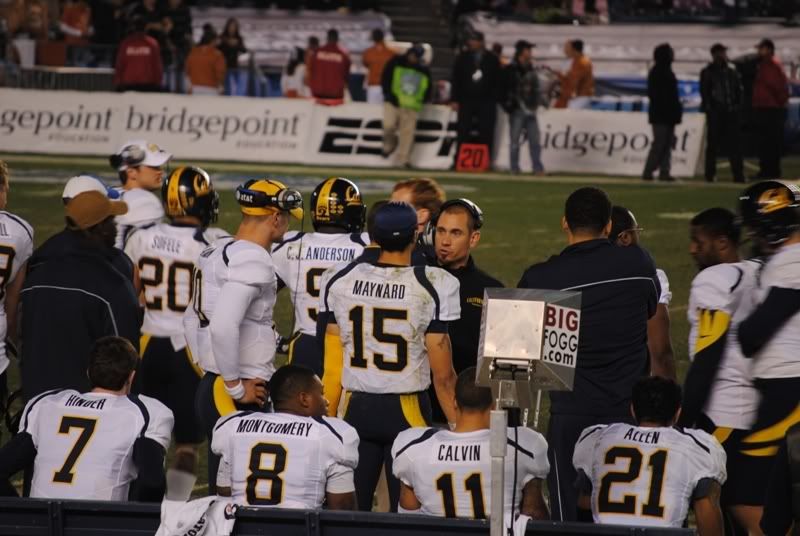 Austin Hinder and Terrance Montgomery kept Maynard's seat warm long enough, but it was time for Zach to return to the fortress of solitude.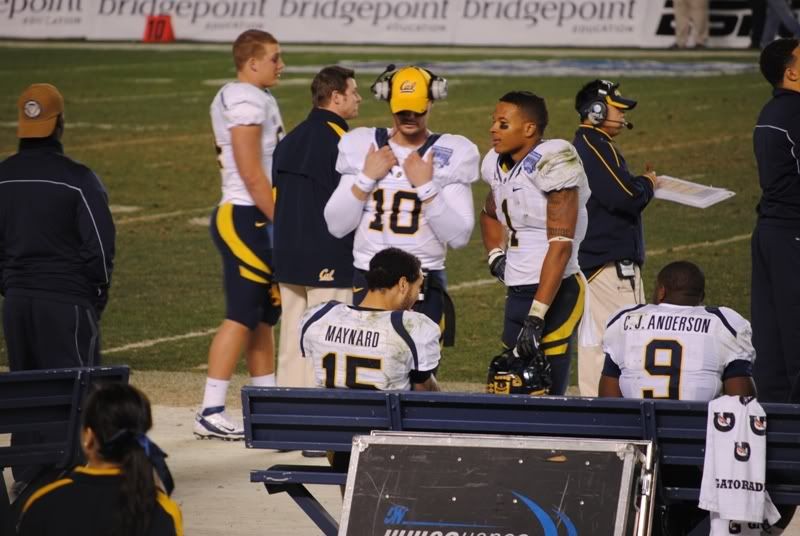 Marv appeared fairly upbeat considering his final play as a Bear was a fumble. After four solid years, he deserved a better finish than that. Hopefully a long, prosperous NFL career awaits him.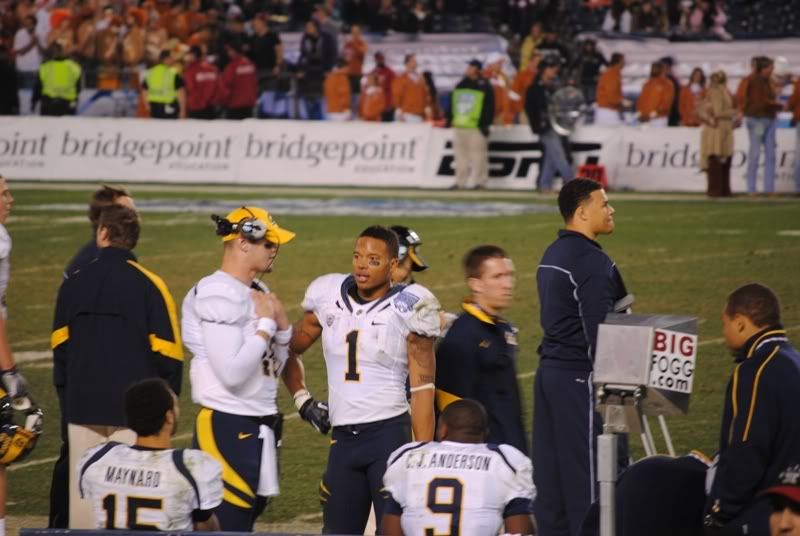 Michael Calvin wasn't so positive. As his tumultuous and injury-riddled career came to an end, he stayed in this pose for several minutes.
With the game wrapping up in the final minute, Brian Schwenke came over to cheer up Maynard.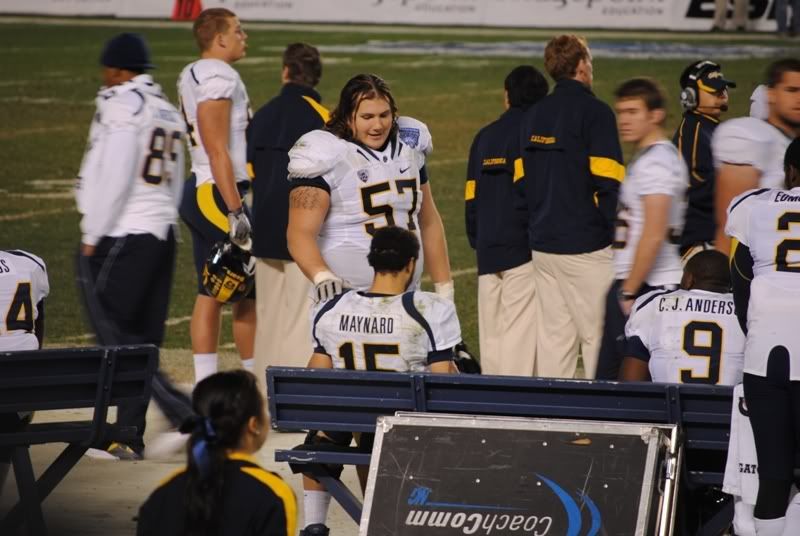 Schwenke gives him a hug as they head out to congratulate the Texas players.
In the distance Tedford (not pictured) and Mack Brown shake hands as the players come onto the field.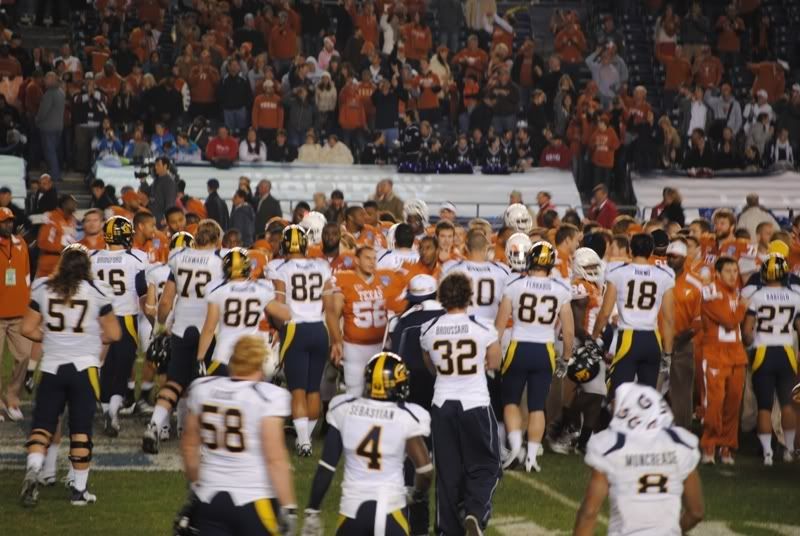 Keenan Allen gets a face full of camera as he walks onto the field. In the foreground one of the Cal assistants declares someone Sanchez.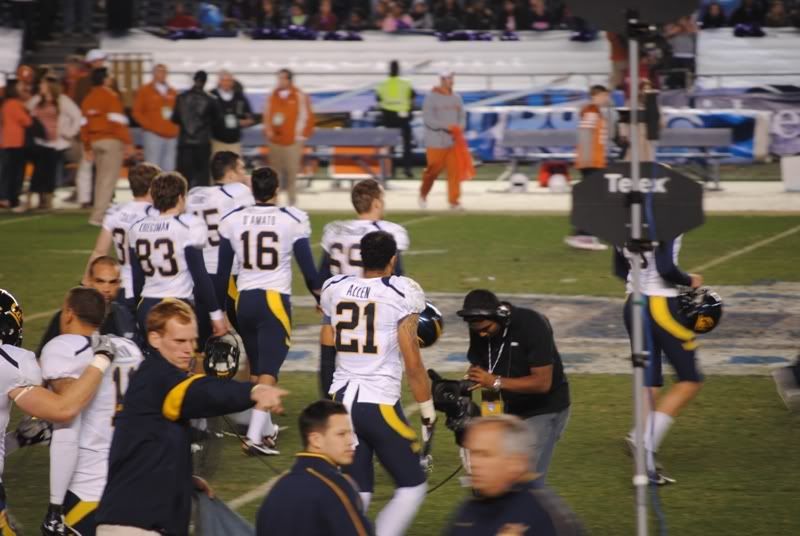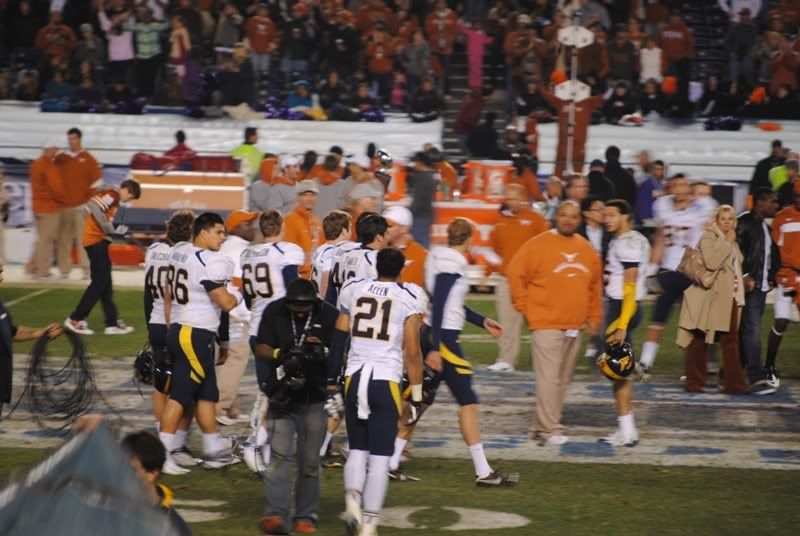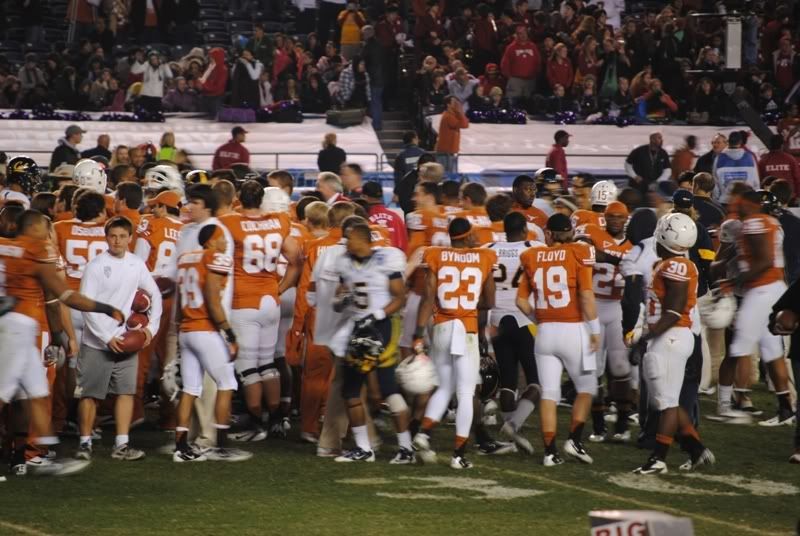 Some of the seniors, including Brock Mansion, walk off the field for the final time.
Sandy Barbour finds Tedford and gives him a hug.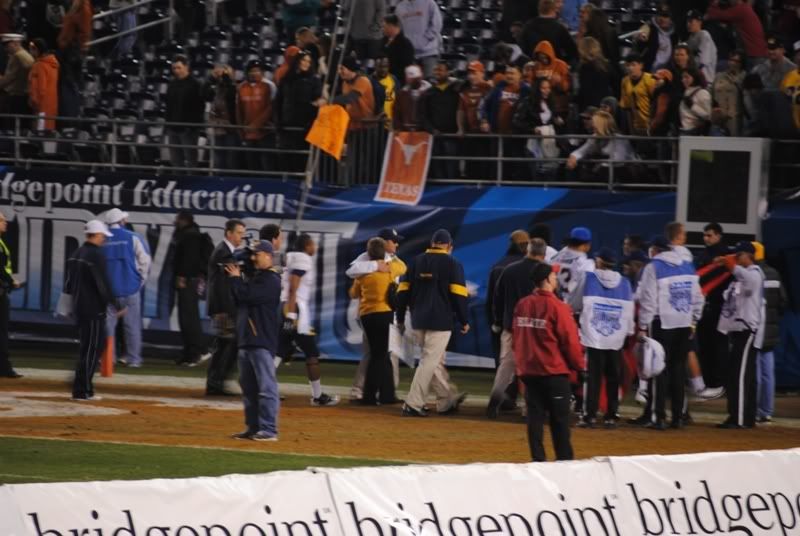 Tedford and Michalczik head into the tunnel.
Several of the seniors lingered a bit to say their goodbyes. Aaron Tipoti and Michael Calvin share a hug while Mychal Kendricks and Bryan Anger bid one another farewell.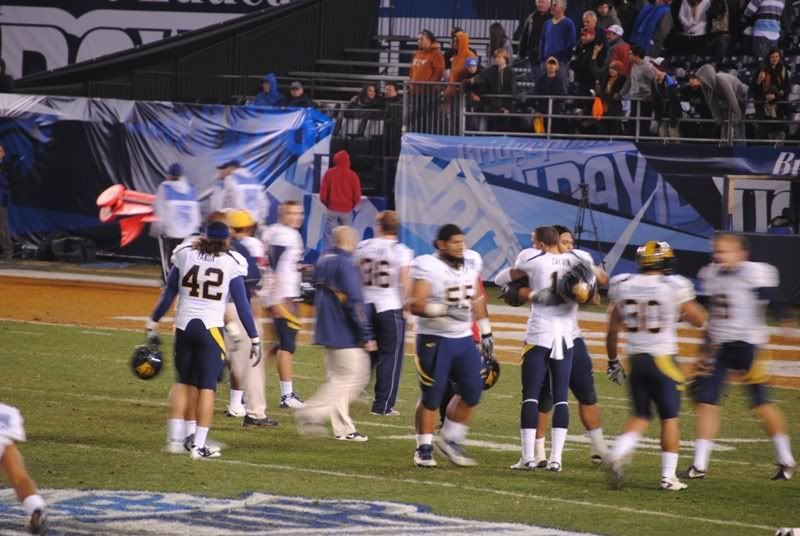 Tipoti and Kendricks share a hug.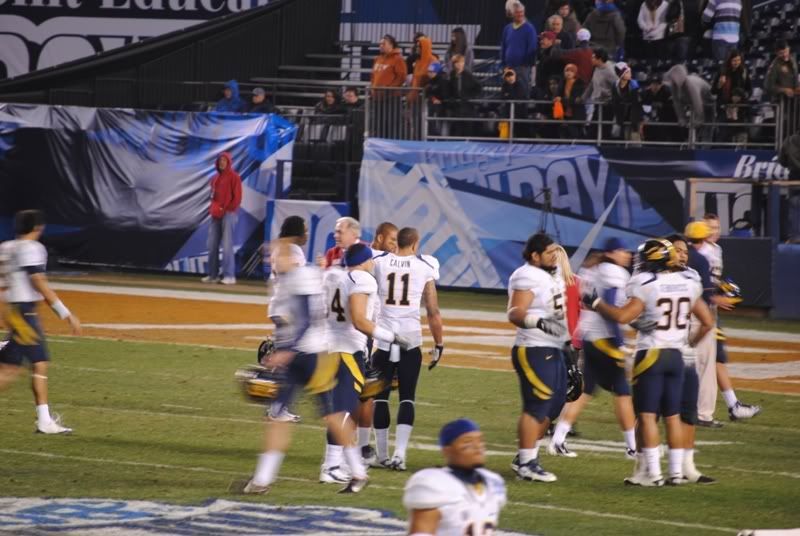 Villami "Tiny " Moala and Kendricks share a hug. Kendricks is a big guy, but look how big Tiny is in comparison. Those thighs are like tree trunks.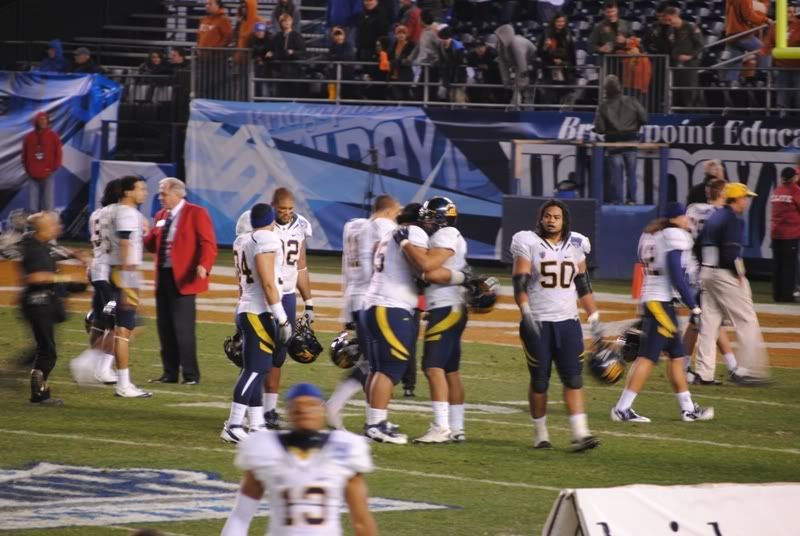 Tipoti and J.P. Hurrell share some words as Maynard and Calvin head into the tunnel.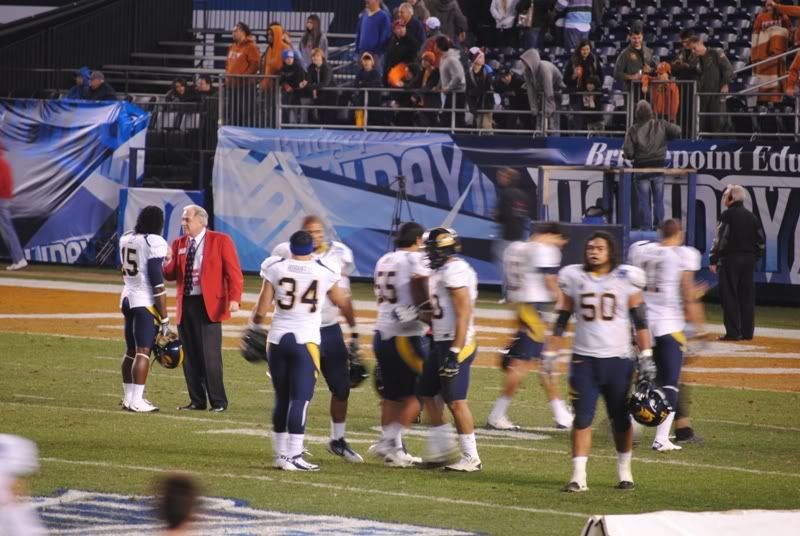 The Cal defense did enough to win this game, but the turnover margin tells us exactly why the Bears lost.
It's a disappointing end, but the Bears played a worthy opponent and hopefully learned some valuable lessons.
It looks like revenge has been postponed until 2015.