Clinton R. "Brick" Morse may be responsible for creation and preservation of more early Cal sports history and traditions than any other single individual.  It began in the 1890s, when Morse was a member of Cal's varsity baseball, track, and football teams, and played in the 1892 Big Game. While a student at Cal, he was a founder of the California Glee Club, and after his graduation he led the Glee Club for decades.  As a columnist for The San Francisco Call, he was an unabashed supporter of Cal sports, and he coined the name "The Wonder Team" to refer to the extraordinary 1920 Golden Bears. He wrote the first published history of Cal football.  And if all that were not enough, Brick Morse wrote dozens of Cal songs, including two of the most beloved, which are still played by the Cal Band at every football and basketball game. Known as "the Eternal Sophomore," Brick Morse was among the truest of all Old Blues.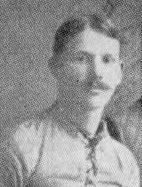 Brick Morse as a member of the 1892 California varsity football squad.
Clinton R. "Brick" Morse was born in 1872, and enrolled at the University of California in 1891. In early 1892, he tried out for the spring season of the football team, and earned a spot as a backup end -- just in time for the first Big Game, played on March 19, 1892.  Morse later described the atmosphere surrounding the game:
With the announcement of the coming event, the atmosphere at both colleges changed completely. There was but one month in which to prepare. Every student got into action either by actual play or in spirit. There was no time for books, everyone must think football and dream football. Even the professors caught the spirit and were charitable. The pent-up enthusiasm burst with a bang in San Francisco the day of the game.  All morning students paraded the streets tooting horns or giving yells. Every business house of any prominence in town was decorated with the rival colors, and every person in San Francisco of any prominence wore either a yellow or red chrysanthemum on his coat.
Sadly, Stanford upset California in that first Big Game, 14-10.  Morse later wrote, "Never have I seen so much red and never has it looked less attractive."
The spring 1892 California varsity squad, which played the first Big Game. Brick Morse is in the back row at the far right.

Fortunately,California had the chance for revenge when a second Big Game was played just a few months later, in December 1892. Once again, the entire University was in a frenzy. Writing in 1924, Brick Morse lamented the loss of the "good old days" back in the 1890s, when fans had more college spirit, and before college football had become so "professionalized":
Practice began soon after the opening of the fall term in August. Interest grew as the season progressed and the daily scrimmages attracted more and more spectators. Before the season was over, it became the daily custom of nearly everyone in college to attend football practice. This custom lasted for many years thereafter; the bleachers were filled at every practice throughout the season. Imagine what an interest the whole college took in its football team. Not a student in college but what knew the football players personally. Too bad that football has developed into such a game of strategy. Too bad that secret practice has made impossible those daily gatherings of the entire student body. Verily college life was better in the old days.
The second Big Game was played in San Francisco on December 17, 1892. This time Brick Morse was a starting end for California. It was a brutal game, with both teams repeatedly using the very dangerous and soon-to-be-outlawed "flying wedge" formation. The San Francisco Examiner reported, "The brutality of the play led to an excess of fumbling," including a key fumble by Morse, to stop a Cal drive. As time was running out, Stanford had a 10-4 lead (touchdowns were worth 4 points and conversations 2 points). California needed a last-minute touchdown and conversion to gain a tie and avoid a second-straight Big Game loss.  The Blue and Gold went on a last-minute drive, made up entirely of short runs into the line, many of them by Brick Morse. As Morse described it: "Then began another Blue and Gold march up the field. Hunt made five yards, Morse two, Morse ten, Hunt four, Burr four, Sherman three, Foulks 0, Burr three, Hunt five, and then Hunt went over for a score."
The touchdown made the score 10-8 in favor of Stanford.  The conversion would ensure a tie.  But conversions were rather more difficult in the 1890s than they are today. The team who had scored the touchdown had to punt the ball out of the end zone to a teammate, who had to catch the ball. The kick then came from the spot of the catch.  According to Morse, "The uproar suddenly gave way to deathly silence as Taylor - Reliable Oscar - went back to try the difficult kick. . .  The ball sailed true, the suspense is over, and the score is tied 10-10."  Although California would have preferred a win, the dramatic come-back to tie left the Blue and Gold feeling much more pleased than the Cardinal.
Not content to play only football, Brick Morse was also a solid left fielder on California's varsity baseball team in 1893 and 1895.  And he made the track team as well, placing second behind one of his teammates  in the running broad jump in the first Intercollegiate Track and Field Meet between California and Stanford in April 1893.  California easily won that meet, 91 points to 35 points.
But Brick Morse's interests were not confined to sports.  He also loved music and was an accomplished singer. He helped found the California Glee Club, where he sang first tenor.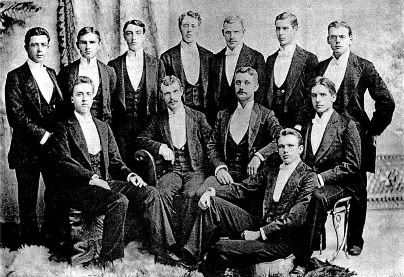 The 1895 California Glee Club. Brick Morse is in the back row, third from the right.
After he graduated from Cal in 1896, with a degree in history and English, Morse became the Director of the California Glee Club, a position he held for decades. He brought the Cal singers an international reputation, leading them on a dozen tours of Europe and Canada between 1896 and 1926.
Brick Morse leading the California Glee Club in 1923.

At the same time, Morse wrote both the words and music for dozens of Cal songs.  He claimed that he composed so many school songs that he forgot most of them before he had time to write them down.  But at least two of Brick Morse's songs are still well-known by every Cal fan. The first is Sons of California, which is traditionally the second song played by the Cal Band in every football pre-game show:
We're Sons of California, A loyal company,

All shout for California, While we strive for victory.

All sing the joyful chorus, As her colors we unfold,

Then hurrah for California, And for the Blue and Gold.

 

We'll yell for California, Dear mother of us all,

All fight for California, Till the crimson banners fall.

And raise the joyful chorus, As her colors we unfold,

For we'll win for California, And for the Blue and Gold.

 

We're sons of California, Fair mistress of the sea,

And we'll win for California, Her glorious destiny.

And raise the joyful chorus, As her colors we unfold.

For we'll win for California, And for the Blue and Gold.
The other great Brick Morse song is Hail to California, written in 1907, which is traditionally played before California sporting events:
Hail to California, Alma Mater dear

Sing the joyful chorus, Sound it far and near

Rallying 'round her banner, We shall never fail --

California Alma Mater, Hail! Hail! Hail!

 

Hail to California, Queen in whom we're blest

Spreading light and goodness, Over all the West

Fighting 'neath her standard, We shall sure prevail --

California Alma Mater, Hail! Hail! Hail!
After he graduated from Cal, Morse took a job writing for The San Francisco Call. Eventually, he was given a regular column.  While he wrote about a wide variety of subjects, he used his column to promote Cal and Cal sports whenever possible.  And with his solid ties to the University, he was often given the best "scoops" about the California sports programs.  Brick Morse became the "go-to" source for Cal fans wanting inside information about their team.
In 1920, Morse was delighted to see the amazing season that Cal football coach Andy Smith was putting together in Berkeley. After the Bears posted wins of 127-0 against St. Mary's, 79-7 against Nevada, and 63-0 against Utah in consecutive weeks, Morse wrote in his column that Andy Smith had created a "Wonder Team." Smith was irate. He feared that such hubris would motivate opponents and cause complacency among his players. He called Morse up to berate him, but Morse just laughed, telling Smith, "Why don't you break down and admit it, Andy, for you know as well as I that it is a real Wonder Team."  Smith replied: "They're overrated."  But the name stuck, and from that day to the present, Andy Smith's great Cal teams from the early 1920s have been known as "The Wonder Teams." (For more on Andy Smith and the Wonder Teams, click here.)
In 1924, the success of the Wonder Teams inspired Brick Morse to write the first history of Cal football called, appropriately enough, California Football History.  When Cal's 1937 Thunder Team won the Rose Bowl and a national championship, Morse was inspired to publish an updated version of his book. It is this 1937 edition of Morse's book which has been quoted throughout this post. (For more on the 1937 Thunder Team, click here.)
Brick Morse died in San Francisco in 1942 at the age of 70.  His death was genuinely mourned by the entire University community.  Glee Club alumni spear-headed a drive to establish a memorial to this beloved Californian on the campus.  In 1946, the Brick Morse memorial and benches were placed on the north side of Harmon Gymnasium, where they remain.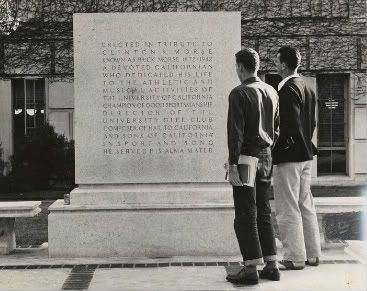 The Brick Morse Memorial and benches.
The inscription on the memorial to Brick Morse reads:
Erected in tribute to Clinton R. Morse known as Brick Morse, 1872-1942, a devoted Californian who dedicated his life to the athletic and musical activities of the University of California. Champion of good sportsmanship, Director of the University Glee Club, Composer of Hail to California and Sons of California, in sport and song he served his alma mater.

GO BEARS!
Sources
Brodie, S. Dan, 66 Years on the California Gridiron, The Olympic Publishing Company, Oakland, CA (1949)
Cal Song Book Committee, Songs of California: The U.C. Berkeley Tradition, Medius Corp., Milpitas, CA (2007)
Morse, Clinton R. "Brick," California Football History, The Gillick Press, Berkeley, CA (1937)
Sheehan, Jack F., The Games of California and Stanford, Commercial Publishing Company, San Francisco (1900)
Sibley, Robert and Sibley, Carol, California Pilgrimage, Lederer, Street & Zeus, Co., Berkeley, CA (1952)