$ - subscription required
Verbal commits are marked w/ (Cal)
September 28, 2011
CGB Recruiting Thread | Golden Recruiting Board
Tedford & Company

Shaq Thompson, ATH Grant Union (Sacramento, CA) visited Washington officially [$1]. Seems as if the Huskies have moved up to co-lead with the Golden Bears for Shaq's services in 2012 [2]. Thompson is committed to play in the Semper Fidelis All-American Bowl [3].

"I had a great time, I was actually surprised how nice it was up there," Thompson said. "I didn't really know what to expect coming in to be honest but the trip as a whole was better than I thought it would be. It's a real family atmosphere at UW and I loved being around the players and coaches."

Thompson was hosted by his former Grant teammate James Sample.

"James really likes it there," Thompson said. "He has a shoulder injury so he's probably going to have to redshirt but he likes the team and the school a lot and told me I would fit in well there. We played safety together at Grant and he looked out for me when I was younger so it was great to see him again [4].
Zach Hoffpauir, S (Cal) Centennial (Peoria, AZ) in the eyes of his coach [5]:
Hoffpauir has been a starting safety for the [Centennial] Coyotes since his sophomore season. He led the Coyotes with five interceptions as a junior and added 73 tackles. This year, he's already recorded an interception, and, as a part-time tailback, has rushed for 238 yards and a team-high 10 touchdowns.

His coach Richard Taylor said Hoffpauir, in addition to his athletic gifts, posesses a rare ability to make plays in game-defining situations.

"He knows when an important part of the game is. And a lot of kids don't," Taylor said. "He understands the important parts of the game and does something about them. After 39 years of coaching I've had plenty of kids tell me 'coach, give me the ball and I'll score. I'll make the play,' and they don't do it. When Zach says something like that, he does it."
Stefon Diggs, WR Good Counsel (Olney, MD) has Cal as his first official visit [6]:

Diggs hasn't scheduled any official visits, but he says Cal will get the first.

"Coach Tosh (Lupoi), he's recruiting me a lot," Diggs said. "One of the coaches this past spring came up to watch us. He's a good guy. I haven't yet got to see Cal but I plan on it. It's definitely my first official. I'm going to set that up."
Eddie Goldman, DT Friendship Academy (Washington, DC) visited Florida State officially and will be scheduling other visits [7]:

"Nobody is the front runner at this point, but it was just a good visit," said Muhammad [Eddie's father], who said his family is still equally considering his son's six other finalists: Auburn, Alabama, California, Maryland, Clemson and Miami.

Muhammad said there are no other official visits scheduled at this point, but that they should be coming very soon.

"We're trying to get them done in (Goldman's senior) season but time may not permit," Muhammad said.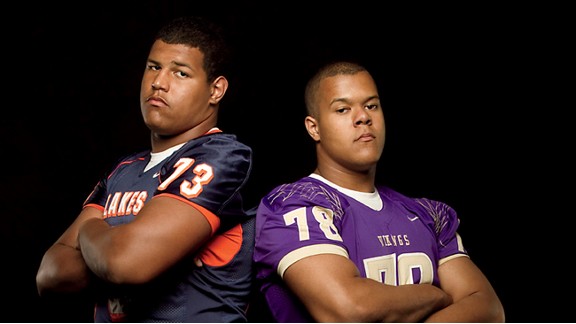 Joshua Garnett, OL Puyallup

(Puyallup, WA)

is targeted by Michigan:

Michigan already has five offensive linemen committed and probably will take only one more, as long as there is no more attrition along the line. Six is plenty for this class, and that last spot will be reserved for an elite lineman such as Josh Garnett (Puyallup, Wash./Puyallup), Zach Banner (Lakewood, Wash./Lakes), or Jordan Diamond (Chicago/Simeon). It's going to depend on the timing and who decides first for the linemen [$8].

[Banner] On Garnett doing the Bernie dance — That's some Puyallup swag. At Lakes, we do the Dougie. My Dougie isn't online but we have a Lakes' Dougie squad. I find myself to be a way better dancer than he is. Ask him about it.

On Garnett off the field — He's a good guy. He's more of a quiet guy than me. I walk into a room and within the first minute I try to talk to someone. He's a little more shy.

On Garnett on the field — I've seen his tapes. Whoever he gets on, he likes to stay with him until the whistle blows. He puts someone on the ground then puts then back on the ground (if they try to get up). He's like (Minnesota Vikings OL) Steve Hutchinson with that mean mentality. His mentality on the field is, I'm going to mess this guy up.
[9].
Zach Banner, OT Lakes (Lakewood, WA) has Michigan leading his recruiting after his official visit:

"Man, I was blown away," Banner said. "For me, the biggest highlight was just being in the Big House. I felt like a fan, not a recruit when I was watching the game. I was so into it because of the crowd around me. They were the most loyal fans I've ever seen and the game atmosphere there was like nothing I've ever seen [$10]."

On people mistaking him for Joshua Garnett— Because of our size and personality, we're like a mirror image. It makes us mad but it's OK. A lot of people look at us as role models or someone to be like. I think it's an honor.

On his nicknames — My nickname is "Big Daddy". That's just how it is on the court because I dominate. They also call me "The Diesel" after Shaq [11].
Ellis McCarthy, DT Monrovia (Monrovia, CA) continues to have USC, UCLA, Cal as his top 3 [$12].
Jordan Simmons, OL Crespi (Encino, CA) transferred from Dorsey not only for football but also academics [13].
Zach Kline, QB (Cal) San Ramon Valley (Danville, CA) lived up to his billing as one of the best QB out west, going 17/24 for 266yds and 3TDs in the Wolves' win over Washington High Huskies [16].
Jordan Payton, WR Oaks Christian (Westlake Village, CA) may be leaning toward Michigan after last week's official visit [17].
Michael Barton, LB (Cal)

De La Salle (Concord, CA)

played well despite of Spartan's loss to St. Thomas Aquina Raiders on ESPN [18].
Bryce Treggs, WR (Cal) St John Bosco (Bellflower, CA), Byron Marshall, RBValley Christian (San Jose, CA), Zach Banner, OT Lakes (Lakewood, WA), KeiVarae Russell, RB Mariner (Everett, WA) are expected to visit South Bend for Notre Dam vs USC Oct 22 [19].
Kyle Murphy

, OT San Clemente (San Clemente, CA) has USC, Stanford, Oregon as his leaders [$20].
Visit CGB on Facebook @ www.facebook.com/GoldenBlogs