Note: This is the final installment in a series by OhioBear and CalBear81 about the eight greatest football coaches in Cal history.  Click here for the earlier installments: #8 Mike White, #7 Garrett Cochran, #6 Nibs Price, #5 Bruce Snyder, #4 Stub Allison, #3 Jeff Tedford, and #2 Pappy Waldorf
You were expecting somebody else?  Not likely. Andy Smith's accomplishments at Cal are, quite simply, beyond compare. In 10 seasons at California, Andy Smith compiled a 74-16-7 record, won five Pacific Coast Conference championships and four consecutive national championships, and took the Bears to two Rose Bowls.  He also led Cal to an astonishing five straight undefeated seasons.  In the Wonder-filled 1920 season, Smith's Bears outscored their opponents by a combined score of 510-14.  He also had a 6-1-1 record against Stanford, including Cal's two biggest Big Game blow-outs of all-time. Had it not been for Smith's death at the age of only 42, it is almost impossible to imagine what he might have accomplished.  As it is, Andy Smith is, beyond question, not only the greatest football coach in the history of the University of California, but one of the greatest in the history of football.
Andrew Latham Smith, Head Coach of the University of California 1916-1925
Andrew Latham Smith was born on September 10, 1883, in Dubois, Pennsylvania.  Dubois was just a few miles from Penn State, where Andy Smith enrolled as a freshman in 1901, and joined the football team as a fullback.  Although Smith had a slight build, he was a natural at football, and proved himself to be a fearless, smash-mouth player.  He played so well in Penn State's 1902 game against the University of Pennsylvania that the Penn coach asked him to transfer.  Penn was the more prestigious program, and Smith was immediately interested. Under the virtually non-existent recruiting rules of the time, Smith began working out with Penn players the following week, and transferred for the 1903 season.  He was named a first team All American in 1904, his senior year. 
Andy Smith graduated from Penn with a degree in chemistry, and planned to go into the iron business.  But the country was in a nation-wide building slump, and the iron firms were not hiring. He took a job in real estate, which he did not enjoy, and was considering looking for work in advertising or finance, when his alma mater asked if he would be interested in coaching the 1905 freshman team.  He jumped at the chance to stay with football. The next year he was promoted to the Varsity backfield coach and in 1909 he became the head coach.  In four years as Penn's head coach, he led the Quakers to a 30-10-3 record.  Then, in 1913, he was lured away by a big contract offer from Purdue, where in three seasons as head coach, he compiled a 12-6-3 record. 
During this time, the possibility of Andy Smith coaching at California would have seemed non-existent, because Cal did not even play American football. Because of the dangerous nature of the game, and the many severe injuries to college players, Cal, Stanford, and many other schools had switched to rugby in 1906.  But after the 1914 season, a dispute developed between California and Stanford over the eligibility of freshman players.  After a series of increasingly acrimonious negotiations, the two schools severed their athletic agreements, and broke off all athletic competitions between them.  This left California looking for a substitute rival, and it turned to the University of Washington. But there was a problem: Washington played American football. The rules of American football had been changed substantially since 1906, making the kind of severe injuries that had occurred in the early days of the sport much less common. And so, just like that, Cal went back to playing American football in 1915.
This created another problem, however. California's head coach, Jimmy Schaeffer, was a great rugby coach.  He had led the Bears to a spectacular 65-11-8 record from 1909 to 1914.  But Schaeffer knew almost nothing about American football. So he set off on a cross-country trip, seeking out college coaches to, in essence, ask them how to play the game of football. By the time Coach Schaeffer reached Chicago, his trip had made the newspapers. A bartender in Champaign, Illinois recognized Schaeffer from having seen his picture in the paper, and told him he really ought to talk to the coach at Purdue, a fellow named Andy Smith.  According to the bartender, Smith stopped by from time to time, and was very friendly.  Although Schaeffer had never heard of Andy Smith, he took the bartender's advice and bought a train ticket for West Lafayette, Indiana.
When Smith and Schaeffer met, they spent several hours talking: Schaeffer discussing the California program, and Smith explaining the basics of coaching American football to Schaeffer.  Smith was impressed with the possibilities at Cal, and Schaeffer was impressed by Smith.  By the end of the evening, Schaeffer had offered Smith the California head coaching job starting the following season, 1916.  And Andy Smith had accepted the offer.  This, despite the fact that Schaeffer had no authority to offer the job to anybody!
Jimmy Schaeffer, California's outstanding rugby coach from 1909 to 1915
Despite the inexperience of both coach and players with American football, Jimmy Schaeffer managed to pull off a surprisingly good 8-5 season in 1915, although it did include an embarrassing 72-0 loss to Washington. And Schaeffer was happy to turn the team over to Andy Smith for the 1916 season. In addition to being Andy Smith's first season, 1916 would be the first year of the Pacific Coast Conference, which was formed on December 2, 1915, in an agreement between what could be called the "Pac-4": the University of California, the University of Oregon, the University of Washington, and Oregon Agricultural College (now Oregon State).
The Cal community got its first look at Andy Smith at a rally held before the 1916 season.  Former Cal player Brick Morse recounted the scene in his 1937 book California Football History:
Several of us old football men attended to look him over. "I only want men on my team who come to college primarily to study," was the opening statement. "Out upon him, he's a long hair," whispered one of my companions. . . . "Does he imagine this is a divinity school?" observed another. "Whoever heard of a football man coming to college to study?"  . . . However, we listened further, got interested and moved up closer to get a better view. "Say, he's no long hair, look at that mug," quoth [Kangaroo] Pete Kaarsberg, who had begun to get interested. Smith continued, "There are four mental qualifications necessary for success -- Aggressiveness, Obedience, Concentration and Determination. Add to this, Harmonious co-operation and you have the making of a real team. Sixty percent of the success of a football man or team is the spirit and fight that they put into their efforts."
Andy Smith recognized that his team was still largely unfamiliar with the game of American football. He told the press that on the first day of practice he was greeted by "125 of the finest specimens of humanity that I have ever laid eyes upon.  However, under a hasty investigation, I discovered that about all they knew about football was that the ball was spherical and that the game was played on a field 100 yards long and 50 yards wide.  As far as knowledge of the game was concerned, I might as well have gone to Russia."  Smith put his players through very tough drills in preparation for the 1916 season. He scheduled daily practices from 4-7 p.m., using incandescent lamps to light the field, and painting the ball white so it could be seen more easily after sunset.  Smith believed that nothing could substitute for repetitive drills. "It takes about two minutes to tell a man the proper form to use in tackling and blocking," said Smith, "but it often takes two years to get him to do it instinctively and well."  Smith also believed that defense was the most important part of the game, "Defensive methods are much more difficult to acquire than offensive methods. And while it is easier to teach offense than defense, it is my opinion that there never was an offense in any one exclusive style of play that could not be stopped by the defense -- if there is time enough to drill it into the man." 
The 1916 season proved to be modestly successful, with Cal going 6-4-1, including a 27-0 win over USC and a 48-6 defeat of St. Mary's, who were both also in the process of switching from rugby back to football.  Although the players were still learning the fundamentals of the game, the Bears had a few stand-outs in halfbacks Roy Sharp and Carlton "Dummy" Wells, and most particularly in lineman Walter Gordon, the first African American to play at Cal. (For more on the extraordinary life of Walter Gordon, click here.)  But the 1917 season proved to be an even bigger challenge, when the team was disrupted by the loss of a number of players to the World War I draft.  The Bears were 5-5-1 in 1917 and 7-2 in 1918, the latter good enough to win the conference championship.
Andy Smith (top row, far left) with his 1917 team at California Field
1918 was notable for the return of the Big Game. Stanford finally decided to follow the rest of the west coast colleges and return to American football, and the two schools agreed to play a game on November 30.  However, Stanford insisted that neither the final score nor any of the statistics be included in the official records.  Accordingly, the Bears issued an "unofficial" whopping to Stanford in the first Big Game in four years.  Even the lopsided final score of 67-0 and the seven touchdowns scored by Albert "Pesky" Sprott do not fully reflect the overwhelming nature of the California victory.  That is better reflected by Stanford's failure to complete a single pass and its net of -10 yards rushing. The season ended with Cal's Walter Gordon becoming the first Golden Bear to be named an All American.
1919 was another good season, with the Bears going 6-2-1, including wins over USC and Stanford.  But the real excitement that year came from the freshman team.  Andy Smith had hired a new assistant in 1918, former Cal rugby player Clarence "Nibs" Price. Price, who had coached high school football in southern California before serving in World War I, had already been instrumental in encouraging Pesky Sprott, Stanley Barnes, Cort Majors, and several other outstanding players to attend Cal.  Now he brought even more outstanding recruits to Berkeley, including Harold "Brick" Muller, Archie Nisbet, and Bill Bell, all of whom played on the 1919 freshman team.  That team went 11-1 in 1919, with the only loss being a one-point heart-breaker against Nevada. And they pounded the Stanford freshmen 47-0. With this group of players now eligible for the Varsity team, it looked like 1920 would be a very good season for the Bears.  It turned out, "very good" wouldn't be the half of it.
Andy Smith believed that defense was the key to winning football games, and he described his football philosophy as "kick and wait for the breaks."  But he was, in fact, not at all averse to creative offense. During the winter of 1919-20, he began considering some more wide-open offensive plays.  While having dinner with his friend, Missouri coach Jimmy Phelan, Smith drew up a play involving a lateral to a player who had dropped far back and who would then throw a forward pass of 50 yards or more. Phelan did not think the play could succeed -- unless Smith could get, "a man with a shotgun for an arm." A smiling Smith told his friend, "I've got one."  His name was Brick Muller.
The 1920 season started with a solid victory 21-0 victory over the Olympic Club and a spectacular 88-0 defeat of the Mare Island Marines, who had soundly beaten the Bears the last time they had played. Then came the St. Mary's game. Cal was a slight favorite, but the game was supposed to be the Bears' first real test of the season.  The Bears scored less than two minutes into the game on a four-play 80-yard drive.  And it just got worse from there for the Gaels. The Bears led 37-0 at the end of the first quarter and 85-0 at halftime. Although Smith pulled his starters in an effort to prevent the rout from becoming worse, the demoralized St. Mary's team could not stop the second-string Bears either. By the end of the third quarter, the score was 106-0. The final score would be 127-0. The 1920 St. Mary's game remains the biggest blow-out in Cal history. Following the game, St. Mary's canceled the rest of its season.
The starters on Andy Smith's 1920 Wonder Team (from left): Brick Muller, Bob Berkey, Duke Morrison, Charley Erb, Pesky Sprott, Crip Toomey, Dan McMillan, Stan Barnes, Lee Cramer, George "Fat" Latham, and Cort Majors
The following week, Nevada finally managed to score against the Bears. Despite the Bears' 79-7 victory, Andy Smith was unhappy with the defense for allowing a touchdown, and he increased defensive drills the following week in preparation for the Utah game. The result: a 63-0 Cal win.  After this game, former Cal player Brick Morse wrote in The San Francisco Chronicle that Andy Smith's team was a "Wonder Team."  Smith was outraged, fearful that such hubris would motivate opponents and cause complacency among his players. He called Morse up to berate him, but Morse just laughed, telling Smith, "Why don't you break down and admit it, Andy, for you know as well as I that it is a real Wonder Team."  Smith's response: "They're overrated."
And it did seem the next week that perhaps Coach Smith's concerns had been justified, as the Oregon Aggies gave the Bears their toughest game of the season in Corvallis. The Bears only managed a 17-7 win, although they out-gained the Aggies 191 yards to 47 yards. The next week the Bears faced undefeated Washington State in what was expected to be another tough game.  But this time the Wonder Team lived up to its name, posting a 49-0 victory.
Then came the Big Game.  Stanford had had a good season.  Their record was 4-2, with their two losses coming in close games against the Olympic Club and USC. On game day, nearly 28,000 fans jammed into California Field, built to hold fewer than 25,000. It was the largest crowed ever to see the Bears play. The Stanford defense played well in the first half, keeping the score to 10-0 at halftime.  But in the second half, the superior power and conditioning the the Bears wore them down, and the Bears began to score at will. The statistics tell the story: total yardage --  California 382, Stanford 26; total first downs -- California 18, Stanford 0. The final score, 38-0, made it the biggest "official" Big Game blow-out to date.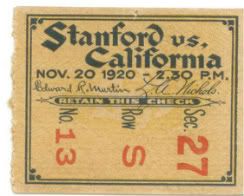 Ticket stub for the 1920 Big Game - the last Big Game played at California Field
The Bears' 8-0 record earned them a berth in the Rose Bowl against Ohio State. Despite California's spectacular season, in which they had outscored their opponents 482-14, the east coast media showed little respect for the Bears, and undefeated Ohio State was made an 8-to-5 favorite. But the interest of the west coast fans in the game was overwhelming.  Although 10,000 seats were added to 31,000-seat Tournament Park, demand for tickets was triple capacity, and they were sold by scalpers for unprecedented sums.  So great was the interest in the California-Ohio State game that the Rose Bowl Committee immediately began planning to build a new, much larger stadium, which would be called, simply, The Rose Bowl.
California scored on its first possession, and then stopped Ohio State on its only legitimate drive of the day, when Brick Muller recovered an Ohio State fumble on Cal's 8-yard-line. In the second quarter, the Bears executed one of the most famous plays in Rose Bowl history. After a first down run, Archie Nisbet feigned injury, laying on the ground for a few moments while the Cal players appeared to be milling around.  In fact, they were lining up for the next play. Center George "Fat" Latham took Brick Muller's position at right end. Right halfback Pesky Sprott moved six yards behind the line, behind the right guard. Brick Muller stood 10 yards behind, and slightly to the right of, Sprott. Archie Nisbet unexpectedly rose from the ground, moved to the center spot and snapped the ball to Sprott, who turned and lateraled to Muller.  At the same time, left end Brodie Stephens ran full speed down the field, but was ignored by the Ohio State secondary, who assumed that the ball could not be thrown that far. In fact, Ohio State defender Pete Stinchcomb yelled to Stephens, "Where do you think you're going?"  Much to Stinchcomb's surprise, Brick Muller threw the ball 53 yards in the air to Stephens, who caught it for another Cal touchdown. It was the play Andy Smith had drawn up for his friend Jimmy Phelan before the season began -- with the trickery of Nisbet's feigned injury added in.  After the game Stinchcomb was asked why he had not covered Stephens. He answered, "Frankly, I didn't think anybody could throw the ball that far."
In an era when long passes were almost unknown, Muller's touchdown pass became legendary. But the rest of his game was equally impressive.  He had two long running plays, including one on a statue-of-liberty, to set up California touchdowns, he caught three passes for 33 yards, went 3-for-3 on passes he threw, recovered three Ohio State fumbles, and disrupted the Buckeye's running game with his defense. Ohio State coach Elmer Henderson called Muller, "the best man I ever saw in a football suit."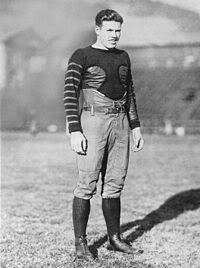 Harold "Brick" Muller - one of the greatest athletes ever to play at Cal
The final score of the game was 28-0.  California ended the season 9-0-0, having outscored its opponents 510-14.  And the Golden Bears were national champions. So traumatized was the Big 10 by Ohio State's humiliating loss, that it refused to send another team to play in the Rose Bowl for 26 years. Andy Smith became a national football idol, with coaches all over the country trying to emulate his combination of conservative play with the occasional wildly radical call.
Smith himself remained utterly dedicated to his team. While he could be very gregarious, Smith also suffered from depression and was highly sensitive to criticism. And he was a heavy drinker. One of his players, Stan Barnes, recalled years later, "I never knew how much he drank. That is, I didn't until after I graduated and became an assistant coach for a year. He drank quite a bit."  When he was not with his team or coaches, he could usually be found at the bar of the Berkeley Elks Club. In 1919 he married a young woman from Illinois, Bobbie Hollingshead.  But after only a few months she tired of a husband who spent virtually no time at home, and filed for divorce.
Smith was tough on his players.  Stan Barnes, who later became a federal appellate judge, recalled getting so frustrated at missing a tackle during practice that he pounded his fist on the ground and yelled that he was going to quit. Smith jerked Barnes to his feet and yelled, "Quit! No, you're not going to quit. What you are going to do is get up and fight. Fight harder!" And Barnes did.  At another practice, a promising player kept refusing to follow Smith's instructions to hit the line head first, instead of turning around as he hit the line. "Why are you hitting the line with your ass?" Smith demanded. "You've got to dive in there head first." When the player still did not follow Coach Smith's instructions, Smith ordered him off the field, and chased the young man all the way back to the gym, trying to kick him in the offending rear end all the way.  But Smith was equally loyal to his players. In addition to hiring Stan Barnes as an assistant, he took the extraordinary step of hiring former player Walter Gordon as an assistant in 1920, making Gordon the first African American ever hired to coach at a predominately white school.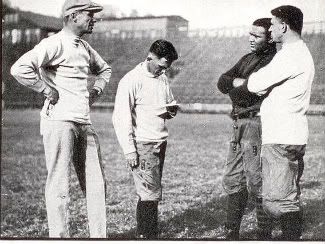 The Cal coaching staff at California Field in 1922.  From left: Smith, Clarence "Nibs" Price, Walter Gordon, and Albert Rosenthal.
The 1921 season was another extraordinary success.  The Bears finished the season a perfect 9-0.  And although the scores were not quite as overwhelming as the previous year, there were impressive wins of 51-6 over Nevada, 39-0 over Oregon, 38-7 over USC, 72-3 over Washington, and 42-7 over Stanford.  In the Washington game, Jesse "Duke" Morrison rushed for five touchdowns -- a single-game record that still stands at California. The Bears once again appeared in the Rose Bowl, this time against the obscure Washington & Jefferson College, a substitute for the Big 10 schools that now refused to come west to play California. A rainstorm of almost biblical proportions hit Pasadena the night before the game, and the field was little more than a mud pit, making all but the most conservative offensive plays impossible.  Nevertheless, the heavily favored Bears were shocked to be held to a 0-0 tie.
The terrible field conditions at the 1922 Rose Bowl made scoring all but impossible for both teams.

Despite the unsatisfying Rose Bowl tie, the Bears were named national champions again for the 1921 season.  And 1922 was more of the same. The 1922 Bears were a perfect 9-0, with six shutouts, including a 28-0 season finale against Stanford. Duke Morrison set scoring records for California that still stand: most points scored in a season (131) and most touchdowns in a season (18), while Dick Dunn set the still standing record for most touchdowns in a game (6) and most points scored in a game (36), in the Bears' 61-13 drubbing of Nevada. Although the Bears were invited to their third consecutive Rose Bowl, California announced that it was not interested in participating in any more Rose Bowls, because of disputes with the Rose Bowl Committee.  USC was invited in Cal's place.  Nevertheless, California was selected as the national champion for the third consecutive year.
After the end of the 1922 season, every member of the original Wonder Team had graduated. Their achievements were mind-boggling.  In three years as Varsity players, the Wonder Team had compiled a 27-0-1 record, with only the muddy 1922 Rose Bowl tie marring their perfection.  They had outscored their opponents 1220-81. California was expected to struggle the following year, and Andy Smith began receiving offers to coach at prestigious eastern universities.  Cal took care of the second problem by signing Smith to a four-year contract extension, and Andy Smith took care of the first problem by continuing to win.
In fact, Smith never seriously contemplated leaving Berkeley.  He loved the University and the city. He loved the campus, and could often be seen walking along Strawberry Creek. He had friends among the faculty, and among his drinking buddies at the Elks' Club.  And he took great pride both in his players, and in the knowledge that he had almost single-handedly brought west coast football respect from the rest of the nation. He said he was married to the University, and hoped it would be "till death do us part." 
What's more, the success of Smith's Wonder Teams brought the money and the will to Berkeley to build an enormous new stadium.  Demand for tickets far exceeded the 25,000 capacity of California Field, and rival Stanford had recently opened a 63,000 seat stadium. Two huge stadiums had also just opened in southern California, the Rose Bowl and the Los Angeles Coliseum. The Bears, unwilling to be left behind, began building 72,000-seat California Memorial Stadium in 1922, and it was ready for the 1923 Big Game. Fittingly, the new stadium became known as "the House that Andy Built." (For more on old California Field and the Building of Memorial Stadium, click here.)
Despite the loss of seven starters from the 1922 team, including Muller and Morrison, the Bears did not slow down in 1923. Andy Smith said, "the knowledge of football never graduates." Several players stepped up to fill the shoes of the original Wonder Team, notably center Edwin "Babe" Horrell, fullback Dick Dunn, and halfback Don Nichols, and the 1923 Golden Bears went 9-0-1. They shut out nine of their ten opponents, outscoring them by a total of 182-7. This was the Bears' fourth consecutive undefeated season and fourth straight conference championship.  California also won its fourth straight national championship.  The season culminated in the first game ever played at Memorial Stadium, a 9-0 Big Game victory over Stanford, with well over 80,000 fans in attendance -- thousands of them perched on a hill overlooking the sold-out stadium that would forever after be known as Tightwad Hill.
Edwin "Babe" Horrell, star of Andy Smith's undefeated 1923 and 1924 teams

1924 brought the Bears yet another undefeated season -- their fifth straight.  But that year Stanford was also a contender in the Pacific Coast Conference. Both teams were undefeated going into the 1924 Big Game at Berkeley. The game ended in a 20-20 tie, which sent Stanford to the Rose Bowl. In the extraordinary five seasons from 1920 to 1924, the Bears had a record of 44-0-4, had outscored their opponents 1564-146, and had shut out their opponents in 30 of the 48 games played.  It was inevitable that this streak would end eventually, and 1925 saw the Bears return to earth. The graduation of Andy Smith's second crop of great players had left the team weakened.  Nevertheless, California managed a respectable 6-3 record, with all six wins coming by shutout. The fans were not discouraged, as it was universally assumed that Coach Smith would soon have California back at the top of the college football world.
After the season ended, Smith took a trip back east to watch the Penn-Cornell and Army-Navy games. While there, he contracted pneumonia. At first it did not not seem serious, but in the days before the existence of antibiotics, pneumonia posed a serious danger even to healthy young men.  And on January 9, 1926 Andy Smith died in Philadelphia at the age of 42.  He left no family.  His only close relative was his brother Richard, whom Andy rarely saw. Richard Smith told reporters that his brother had, "centered all of his affections on the University of California and the boys he coached."
And the University returned the affection.  The Berkeley campus was devastated by the news of Andy Smith's sudden death. The 1925 team captain, Tut Imlay said, "We loved him. He made men. Andy is gone and we can't understand why."  And Brick Muller said, "We idolized him, and he was intensely loyal to us. It was one big family with Andy coaching."
Tributes poured in from other schools as well. UCLA's coach Bill Spaulding praised Smith for his concern for academics. Slip Madigan of St. Mary's added, "His characteristics were reflected by his players after they left the gridiron." And Washington All American George Wilson said of Smith, "He was a man who could honestly be called a perfect sportsman." Stanford's coach, Pop Warner, said he was simply too overcome to comment on the death of his friend.
Andy Smith left an estate of $30,000. He left $10,000 to the University for football scholarships, $2,000 to the Berkeley Elks Club, and the balance to be divided between the California chapter of his fraternity, Sigma Alpha Epsilon and the California Skull & Keys Society.  And he asked to be cremated and have his ashes "scattered to the winds" over Memorial Stadium. A memorial service was held for Coach Smith at the gates of Memorial Stadium and, as he requested, his ashes were scattered over the stadium he had brought into existence.
The crowd gathered for Andy Smith's memorial service at the north entrance of Memorial Stadium on January 15, 1926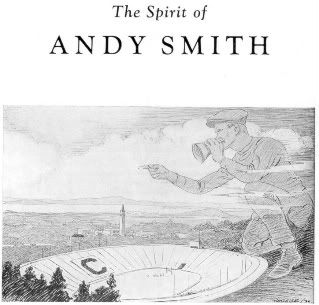 Tribute to Andy Smith in the 1926 Big Game program

The year after Andy Smith's death, a granite bench was placed on the field at Memorial Stadium in his honor, engraved with his most famous advice to his players:
We do not want men who will lie down bravely to die but men who will fight valiantly to live -- Winning is not everything, and it is far better to play the game squarely and lose than win at the sacrifice of an ideal.
In 1951, Andy Smith became one of the 54 original inductees into the College Football Hall of Fame. And in 1960, the Helms Athletic Foundation selected the 1920 Golden Bears as "the greatest college football team of all time."
GO BEARS!
_______________
Sources:
Brodie, S. Dan, 66 Years on the California Gridiron, Fontes Printing Co., Oakland, CA (1949)
Fimrite, Ron, Golden Bears, MacAdam/Cage, San Francisco (2009)
Morse, Clinton R. "Brick," California Football History, The Gillick Press, Berkeley, CA (1937)
Peters, Nick, 100 Years of Blue and Gold, JCP Corp. of Virginia, Virginia Beach, VA (1982)
Sullivan, John, The Big Game, Leisure Press, New York (2nd ed. 1983)