On Wednesday we covered Tedford's comments during the luncheon (must-read for any Cal fan wanting to know about how the program has changed over the course of the offseason).  Today, we'll look at the rest of the event, including press conferences from each of the twelve conferences.

What better way to spend a Tuesday morning than listen to these guys talk about football?
via Pac-12 Flickr
After the jump join us as I recall an eventful morning at Fox Studios.
As some of you may remember, I was a bit late getting to the event.  The event was at Fox Studios in Century City (about two miles southeast of the UCLA campus).  Ordinarily, it takes about 40 minutes to an hour for me to drive there.  In fact, the 2009 Pac-10 Media Day was close by at a Hotel near LAX.  When I attended that year's Media Day, it only took forty minutes to get there.  So I thought I'd be completely unreasonable and leave two and a half hours before the press conferences start.  At worst, I'd probably get there way too early and have to wait around for an hour before things kick off.  Surely two and a half hours will give me enough time to slog through traffic and arrive, right? Nope.  NOPE.  Not only was I late, I was nearly 40 minutes late.  Even the most generous estimates suggest I averaged less than 20mph for the entire drive.  It was the traffic apocalypse.  Except for the first 10 miles, the entire drive was just a trudge through mile after mile of agonizingly slow traffic.  Occasionally I'd hit a patch where I'd get up to a blistering 40mph, recalculate the travel time, and believe I could actually arrive on time.  Those dreams were quickly crushed.  To make things worse, this was just pointless traffic.  If I'm sitting in 3 hours of traffic, I expect it to be the result of some horrific accident.  Surely I'm going to pass some 50-car pileup or a hazardous waste spill.  At least then, it would be legitimate.  It would have an actual purpose, right?  There wasn't a single accident!  What a pointless fiasco!
Apparently they held up the start of the conference just so I could get there in time, as Tedford and Jones were answering questions as I got in the room.  According to the schedule, I should have missed their entire press conference.  Thanks, Larry!
The past couple Media Days had plenty of seating, so I thought my tardiness would get me stuck sitting at the back of the room.  I knew I was in trouble when, on the way to the press conference room, I passed through a packed room where the press conference was being streamed to a bunch of angry-looking reporters.  By the time I got to the room, it looked something like this.
Notice the lack of seating...anywhere.  Go ahead, click on this link to the full size image.  See how many people are piled in the back of the room and standing by the walls?  It was that crowded.  Even Ted Miller was stuck near the back!  You can see him in the tan sport coat on the right in the above photo--what a dashing fellow.  People were grumbling and complaining about the lack of space for everyone.  I shuffled through and steadily made my way along the left wall until I found a little slice of heaven: it had a power outlet, an elevated platform (for filming and picture-taking), and a mic-lady.  Unfortunately, I could not get a question in for Tedford, but at least I was well-positioned to take pictures and update the CGB twitter.  I couldn't take notes since I had no place to sit, so if you were hoping to for a word-for-word transcript of everything Paul Wulf said, I suggest you take a look at these transcripts.  Since I could not take notes, I spent most of the time tweeting and taking pictures.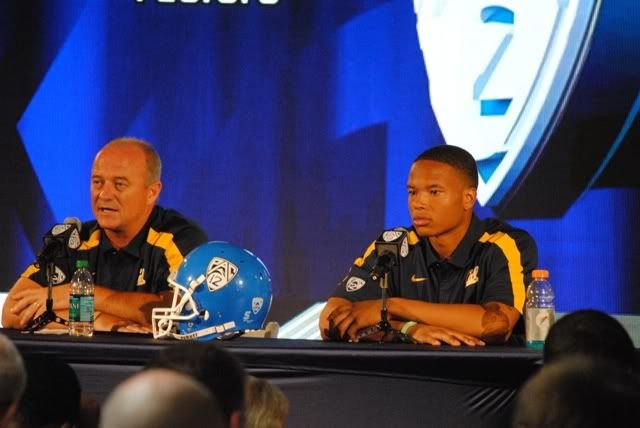 I had enough time to take a couple pictures of Tedford and Jones.  I was still pretty far back in the room (behind the furthest mirror, near the TV cameras in the above picture of the room--but on the opposite side of the room).  I'm glad I brought my zoom lens!  Of course, standing that far away and having to zoom in so much, I didn't get the world's greatest pictures.  Also the vibrant blue background coupled with relatively low lighting gave people a nice red glow when I took their pictures (especially if they wore red).  If only I had the same hardware the Pac-12 photographers have...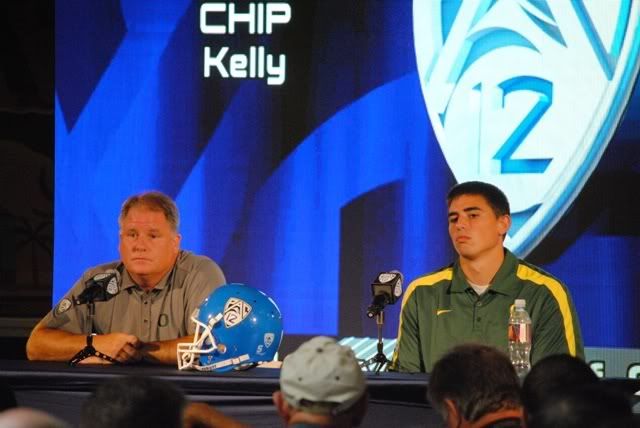 The face of a coach who is obviously thrilled with the bombardment of Lyles questions.
Chip Kelly was up next after Tedford. He received several questions about the Lyles fiasco and was obviously annoyed with them (especially after he mentioned that he will not talk about the issue until they have a law firm release some information on their behalf).  That didn't stop John Canzano, who had to be cut off mid-question by Pac-12 representatives.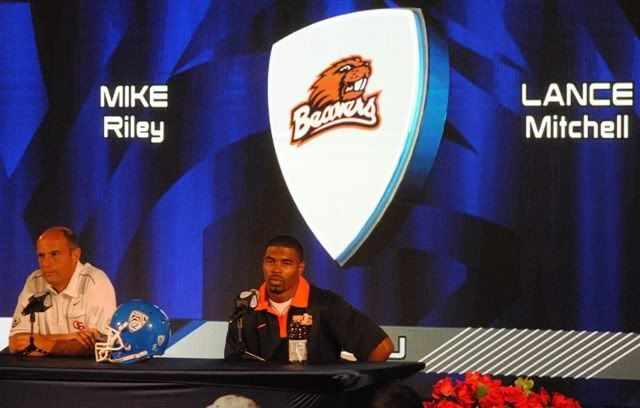 After Kelly was Mike Riley--pretty much the polar opposite of Chip Kelly.  Mike Riley always looks 10 years older without that Oregon State cap he always wears.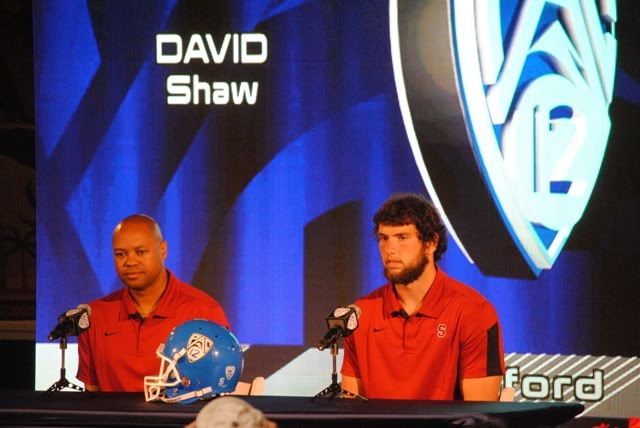 Next up was David Shaw and the Bearded Wonder himself, Andrew Luck.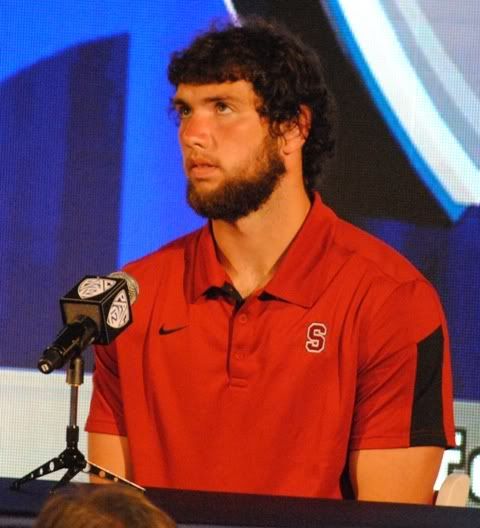 Graduating from Stanfurd: so easy a caveman could do it!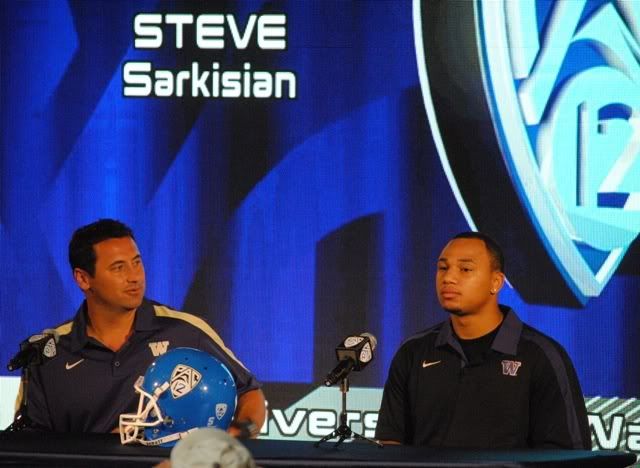 Steve Sarkisian and Chris Polk were up next.  The Huskies will be sharing homefield with Marshawn and company up in Seattle for the UW-WSU game this year and all of next year.  Husky Stadium is being rebuilt.  Hopefully it's a more rigid structure so you can actually watch UW's home games without getting seasick.
I asked Sark about toning down the complexity of his offense for Keith Price.  They have no intention of doing so unless guys cannot appear to handle it.  Sark mentioned that guys like Polk are very smart and can handle such a complex offense.
Last was the Pac-12 North's most frightening coach: Paul Wulff.  There's just something about him that is terrifying.  It does not help that he's well over 6 feet tall.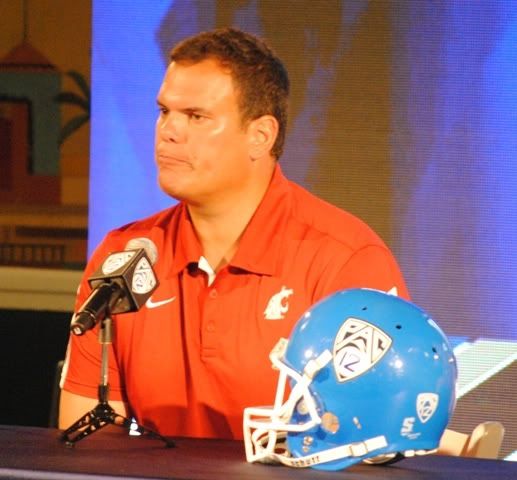 The only frightening thing about the Cougars.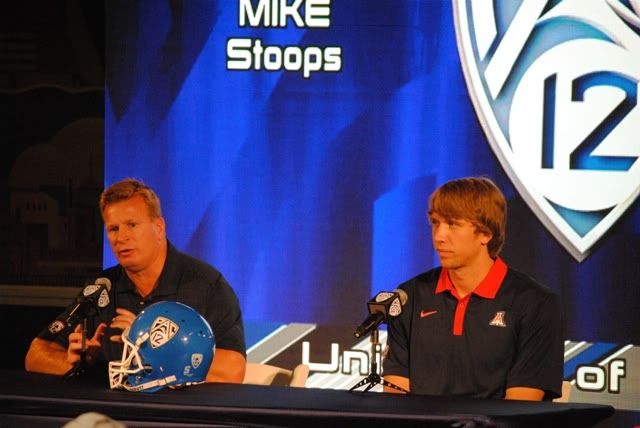 Mike Stoops and Nick Foles were up next.  As spastic as he is on the field, Mike Stoops is a shockingly calm guy in person...though he is a bit fidgety.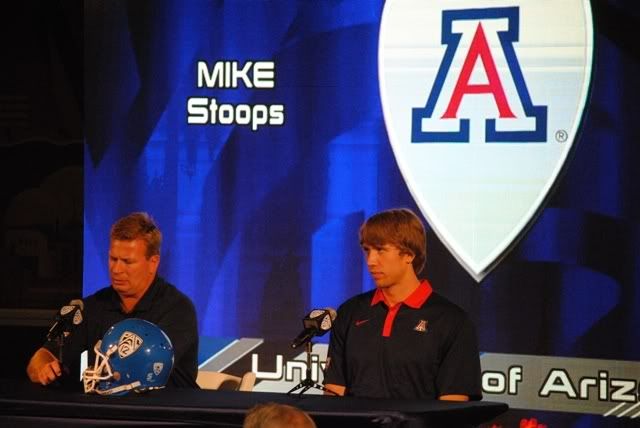 Here he plays with the mic stand.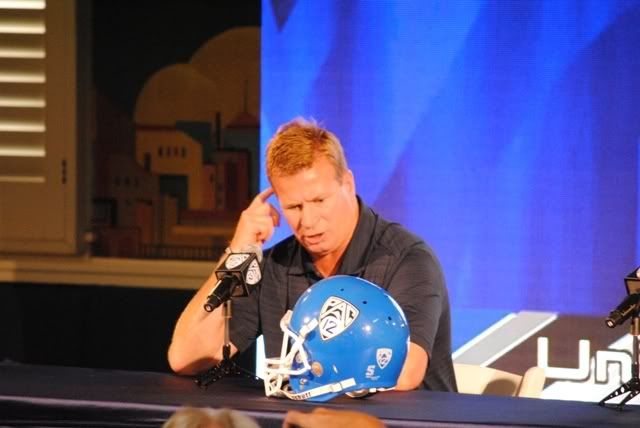 He also played with his hair and face a bit.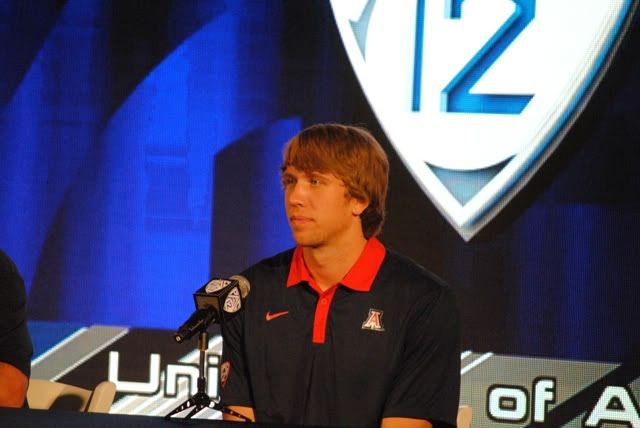 That haircut has done wonders for Nick Foles, who looks much less like Justin Bieber.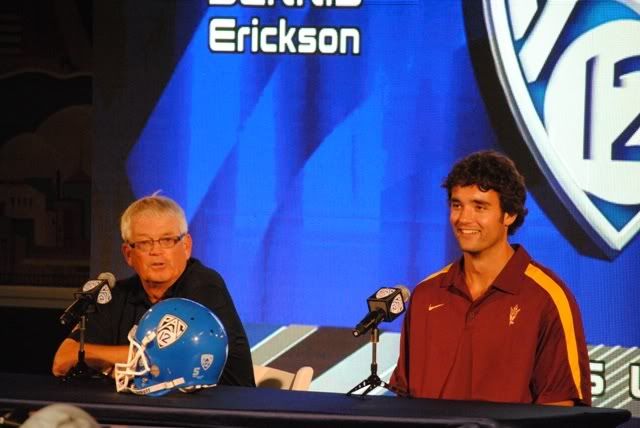 Next up was 5 foot tall Dennis Erickson and 8-foot-tall Brock Osweiler.  Erickson is such a character.  He's the conference curmudgeon.  There was one funny moment when he was asked how he'd feel about making the conference championship game by finishing second behind USC (instead of winning the Pac-12 South).  His response: "I don't care."   I'm going to miss him when ASU fires him after next season.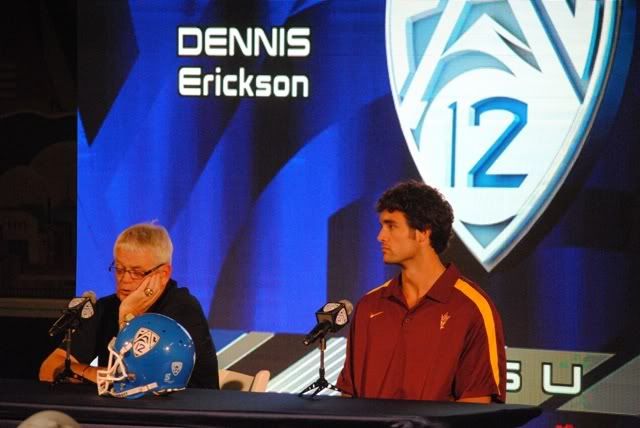 Erickson was still pretty drowsy after sitting through Mike Stoops' press conference.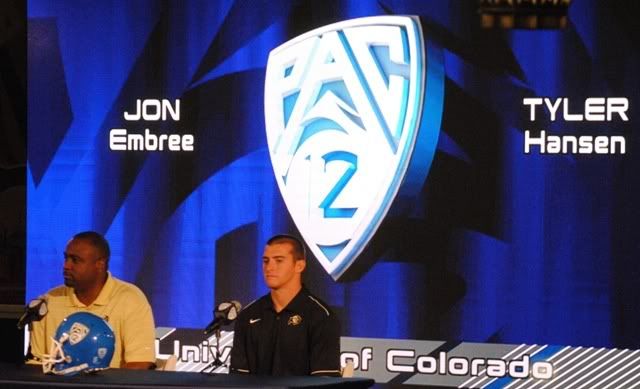 A challenger appears!  Jon Embree, one of our new Pac-12 coaches!  I was quite impressed with Embree.  I asked him about changing the mentality of a team that has not won on the road since 2007.  His response (which you can read here) made me an instant fan of his.  I would like to see him be very successful at Colorado (as long as they aren't playing Cal).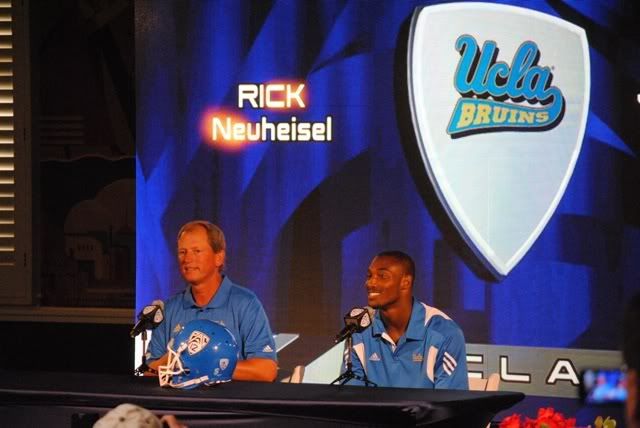 Dead Man Walking
Rick Neuheisel was quite happy to attend his first and last Pac-12 Media day. 

Neuheisel measures out UCLA's average distance gained per play last season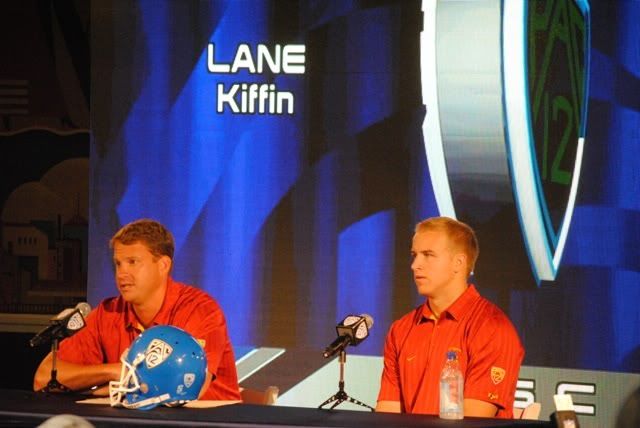 Lane Kiffin would not stop talking.  He must have mentioned all 85 guys on the team as well as all 500 USC players who are currently in the NFL.  He seriously would not shut up.  I guess that's one way to avoid questions--use up all 15 minutes on the opening statement.
"You better believe we're somehow going to turn in the best performance of the year against Cal"
Last and certainly not least was Kyle Wittingham of Utah.
By this time I had my fill of standing in a crowded room and was looking forward to lunch and getting some more information from Tedford.  Thankfully, this year I was able to grab a seat at the Cal table before it filled up.  No sitting next to Chip Kelly this time!
The lunch area was pleasant: bonus points for anyone who can spot me in the above picture!
A nice touch, there were cupcakes with each team's logo on them (and a few with Pac-12 logos).
Ironically, it was a red velvet cupcake.  Great joke, Larry Scott.
From this point on, I stopped taking pictures because I was feverishly taking notes on everything Tedford said.  For more (and better) photos, check out the Pac-12's Flickr page.  That concludes another successful Media Day!
Of course, it only took me an hour to get home.