Hazel Hotchkiss Wightman may well be the single most significant athlete ever produced by the University of California. That is a bold claim to make about a women's tennis player from the Class of 1911. But it is almost beyond question that Wightman was the most important figure in the early history of American women's tennis, and it is beyond question that she is one of the most important figures in the history of women's sports.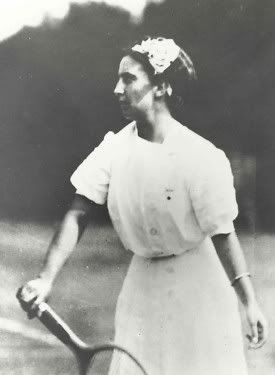 Hazel Hotchkiss Wightman at the 1919 US Open
Not only was Wightman a great tennis champion and the winner of 17 Grand Slam titles and two Olympic Gold Medals, but she essentially invented international women's team tennis competitions, coached many future Wimbledon and U.S. Open champions, and made her life's work a virtual crusade to teach, encourage, and enable young women athletes to compete at the highest level. She also shocked the sports world when she returned to competitive tennis in 1915 after having children, something which was considered not merely unseemly, but actually impossible at the time. Indeed, when she won her Gold Medals at the 1924 Olympics, Wightman was already the mother of four, with a fifth still to come. And she broke another barrier by competing successfully in major tournaments well into her 50s, and continuing to compete in -- and win -- tournaments for players aged over 40, when she was in her late 60s. Tennis legend Billie Jean King wrote of her, "Hazel Wightman's name is woven into the tapestry of women's tennis like a shining golden thread that stretched from the 1900s through the 1920s, 1930s, 1940s, 1950s, and 1960s. Champion, patron, coach …she devoted her life to teaching, encouraging, sheltering, and enlightening aspiring young tennis stars. In a statistic not recognized by the record books, 'Mrs. Wightie' will be remembered as the most beloved tennis figure of all time." And it all started on a tennis court on the campus of the University of California in Berkeley.
Hazel Virginia Hotchkiss was born in Healdsburg, California on December 20, 1886. In 1900 her family moved to Berkeley, so her father could work in San Francisco, and also because her parents wanted Hazel and her four brothers to attend the University of California. That same year, Hazel's older brothers took her to a match in San Rafael between noted tennis-playing sisters May and Florence Sutton. (In 1905, May Sutton would become the first American to win a Wimbledon singles title.) Hazel was instantly taken with the game, although she found the interminable baseline rallies a bit dull.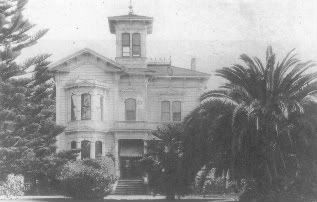 This house on Claremont Avenue in Berkeley was the Hotchkiss family home from 1902 to 1936
Back home in Berkeley, Hazel began playing against her brothers on the only tennis court in town, the one on the University of California campus. However, women were not allowed to use the court after 8:00 a.m., so Hazel would show up with one of her brothers every morning at 6:00 a.m. to get her get chance to play. She was still a student at Berkeley High when she won her first tournament in 1902. In 1907, she entered the University of California,and at that time she also began playing in major tournaments, against opponents such the famous Sutton sisters.
Having watched many men's matches and learned to play tennis against men, Hazel Hotchkiss found the serve and volley game to be much more exciting than the baseline rallies used in women's tennis. She became the first women's player to attack the net in tournament play, creating a sensation on the west coast. Hazel soon became known as the best women's player in northern California, and she developed an intense rivalry with southern California's best, the now two-time Wimbledon champion, May Sutton. They played several times in California tournaments, with Sutton always eking out a win.
In 1909, Cal sophomore Hazel Hotchkiss traveled to Philadelphia with her father for her first US Open. With her unprecedented net attack and dominant volley, she won the women's singles title easily -- even though she had never played on a grass court before. And, while she was at it, Hotchkiss won the women's doubles and mixed doubles as well -- making her the first player to win all three titles in one year. Her style of play now created a sensation on the east coast as well, and women across the country began to play at the net.
Hotchkiss returned to Berkeley to resume her studies, her responsibilities as the president of her sorority, and her work as an editor of the Blue and Gold yearbook. She was also, unsurprisingly, the campus tennis champion, and she organized matches each year against the best women players at arch-rival Stanford. The 1910 edition of the Blue and Gold gives this description of the Cal-Stanford women's tennis tournament that year:
Miss Hazel Hotchkiss, '11, proved herself far superior to Miss Lucy Howell by taking two straight sets, allowing her opponent but one game. The cleverness of the California player was the most interesting feature of the match. In the doubles, Miss Hotckiss and Miss Taney took an uneven match from Miss Howell and Miss Thompson, 6 to 0, 6 to 2. Although the sets were one-sided, there were some spectacular rallies and clever playing. Singles, Miss Taney (Cal) defeated Miss Thompson (Stan), 6-4, 6-1. Miss Hotchkiss (Cal) defeated Miss Howell (Stan), 6-0, 6-1. Doubles, Miss Hotchkiss and Miss Taney defeated Miss Thompson and Miss Howell, 6-0, 6-2.
In 1910, Hazel returned to Philadelphia for the U.S. Open, where she successfully defended all three of her titles, winning the singles, doubles, and mixed doubles championships for the second consecutive year. That same year she played one of the handful of recorded "Golden Matches" in tennis history at the Washington State Championships. A Golden Match occurs when a player wins every single point. Golden Matches are so rare that there has never been one in the history of professional tennis, men's or women's. Only two Golden Sets have ever been played in the professional game.
Cal junior Hazel Hotchkiss at a tournament in California in 1910
In 1911, Hazel graduated from Cal, and then headed back to Philadelphia to try to defend her three U.S. Open titles again. Amazingly, she did, winning the singles, doubles, and mixed doubles titles for the third consecutive year -- a feat unparalleled by any other player in any Grand Slam tournament. Her achievement was made all the sweeter when she finally defeated May Sutton in the finals, in a hard-fought 8-10, 6-4, 9-7 match.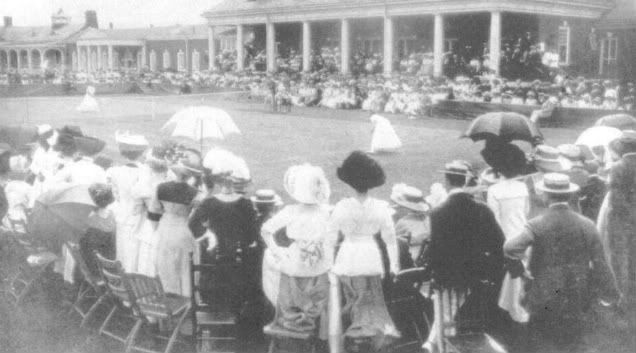 Hazel Hotchkiss Wightman (far court) and May Sutton meet in the US Open final in 1911

Later that year Hotchkiss established herself as the preeminent American women's tennis player by beating Sutton again with an extraordinary come-from-behind victory. As Outing Magazine described the match in Lake Niagra:
Miss May Sutton won the first set 6-0 and was leading 5-1 in the second set of the match, when Miss Hotchkiss called upon her reserve force and ran out 12 games in succession. [Thus winning 0-6, 7-5, 6-0.] Miss Hotchkiss has been leading a kind of triumphal tour through the country and helping herself to the championship, which is thought worthy of her.
But Hazel Hotchkiss' spectacular career seemed over the following year,1912, when she married a Harvard law student, George Wightman, moved to Massachusetts, and then gave birth to two children in the next two years. But both Hazel's husband and her father were supportive of her tennis career and they encouraged her to resume playing. Her father, knowing his daughter's competitive nature, pointed out that no woman had ever returned to tournament play after having a child, and challenged her to be the first. Hazel, now known as Hazel Hotchkiss Wightman, returned to the US Open in 1915, reaching the finals of the women's singles, and winning the women's doubles and mixed doubles for the fourth time each. In 1919, despite having given birth to a third child, Wightman won the US Open singles championship once again. After this, the 33-year-old Wightman decided to focus on doubles play.
In 1920, while on a visit to her family in Berkeley, Wightman stopped by the Berkeley Tennis Club, where she was surprised by the impressive play of a 14-year-old girl. She asked to meet the girl, and offered to play a few sets with her. The girl's name was Helen Wills. Many years later Helen Wills described her life-changing meeting with Hazel Hotchkiss Wightman in an article in Readers' Digest:
At the mention of her name my eyes opened wide. Though only a fourteen-year-old, I was well aware that Mrs. Wightman was a four-time winner of the US Open women's championship. But I couldn't begin to imagine how much this friendly little lady would show me, not only about backhand volleys but also about life and living . . . The day we met, my real tennis education began.
Wightman began coaching Helen Wills, first during her vacation in Berkeley, and later when Wills and her mother made extended visits to Wightman's home in Massachusetts. Helen Wills would eventually become a student at the University of California, like her mentor. And she would, of course, become one of the greatest tennis players of all-time, winning 31 Grand Slam titles, including eight Wimbledon singles titles, and two Olympic Gold medals. (For more on the extraordinary career of Cal's great Wimbledon champion, Helen Wills Moody, click here.)
This began Wightman's second career as a coach and mentor to young tennis players. Eventually, after she and George Wightman divorced in 1940, she opened her home to dozens of promising young women players. The players she mentored included another young girl she met at the Berkeley Tennis Club, Helen Hull Jacobs, who would become both a Cal alumna and a US Open and Wimbledon singles and doubles champion in the 1930s, and Sarah Palfrey, who would win the US Open singles and doubles, as well as Wimbledon and French Open doubles titles in the 1940s.
At times, Wightman had aspiring tennis players stashed all over her three-story home. She would get up early, bake batches of cookies and brownies, and then do the girls' laundry. Doris Hart, a Wightman protegee who would go on to be ranked #1 and win all four Grand Slam singles championships in the 1950s, remembered, "She did all the laundry for us. She didn't want us to mess with her machine. It wasn't like the machines today. It had one of those ringers. It was always going." Shirley Fry, another future #1 ranked tennis player, and winner of all four Grand Slam singles titles, also remembered her coach and mentor doing all the dishes herself in the late 1940s, "because during the war, she had learned to save soap, and no one else could do it right."
At the same time, Wightman continued to play championship doubles tennis. In 1924, Wightman and her former student and now close friend Helen Wills, teamed up to play doubles at Wimbledon. It was Wightman's Wimbledon debut at the age of 38. The two California Golden Bears won the championship in straight sets.
Cal alumnae Helen Wills and Hazel Hotchkiss Wightman (far court) during the 1924 Wimbledon doubles final

Then they traveled to Paris for the 1924 Olympics. The conditions in Paris were primitive. The courts were not even laid until the very last moment, and the facilities for the women players consisted of nothing more than a large shed with a single shower head. Nevertheless, Helen Wills won the Gold Medal in singles, and Wills and Hazel Hotckiss Wightman teamed up to win the Gold Medal in women's doubles. In mixed doubles, Wightman played with Dick Williams (who had survived the sinking of the Titanic as a teenager). According to Williams, the conditions at the Paris Olympics were dreadful:
We played our matches in the Olympics under the worst conditions imaginable. The French completed the courts barely three days before the tournament began, so a fine spray of dust blew in our faces all week. The main stadium, where the track and field events were going on, directly adjoined the tennis courts, and there was no knowing when a pistol would suddenly go off, or a national anthem blare forth, or just some announcement bellowed or rebellowed in several languages.

The officials running the tennis tournament allowed vendors to circulate all over the stadium and to hawk their oranges, bananas, and ice cream at the top of their lungs. On top of this, the officiating was really the poorest I have ever encountered. On several days only the umpire showed up and the line judges had to be patrons from the stands. I was on edge the entire tournament, but nothing bothered Hazel, nothing at all. I don't think she even heard them selling those bananas.
To make matters worse, Williams tore his Achilles tendon during the semi-final match, but he and Wightman decided to give the finals a try rather than forfeit. All Williams could do was stand in one spot and hit any ball that came within a step of him, leaving the 38-year-old Hazel Wightman to cover the rest of the court. "All Dick could do," she recalled years later, "was return the serve and then hobble to the net, and I would take his lobs and the short chops hit to him. I don't know how I did it, but I did."
Perhaps she was inspired by the group of Cal students and alums who showed up at the final to cheer her on. The group was made up of Cal athletes and their supporters who were competing in other Olympic sports, and they made themselves known by giving Cal's famous Oski yell after every game:
Oski Wow Wow! / Whiskey Wee Wee! / Olee! Muckie-eye! / Olee! Berkeley-eye! / California! Wow!
Hazel Wightman was absolutely delighted by this unexpected show of support from her fellow Cal alums, although the other players and the mostly European fans were utterly baffled. But it seemed to work, as Wightman and Williams managed, despite the dreadful conditions and Williams' injury, to win the Gold Medal for the United States. And thus, the University of California managed a clean sweep of all four Gold Medals in women's tennis: singles and doubles for Helen Wills, and doubles and mixed doubles for Hazel Hotchkiss Wightman.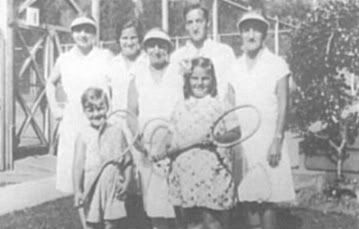 Hazel Hotchkiss Wightman (center) with her five children and her friend, tennis partner, and fellow Cal alumna, Helen Wills Moody (far left) in 1931

Wightman continued to play in major tournaments into her fifties. She won her last Grand Slam event, US Open women's doubles, in 1928, at age 42, and won her last major title at the US Indoor Championships, also in women's doubles, in 1943, at age 57. Three years, later, at 60, she was in the finals of the US Indoor Championships. After that, she continued to compete in senior tournaments, for players 40 and over, winning the US Grass Court Championship for seniors 11 times, the last time in 1954, when she was 68, and reaching the finals of that tournament when she was 70, competing against players who were 30 years younger. She continued to play tournament tennis into her 80s.
As if these feats, along with raising five successful children, were not accomplishments enough for a lifetime, Wightman also made it a goal to encourage international competition in women's tennis. In the 1920s she urged the creation of a women's international team competition similar to the men's Davis Cup. When she could not convince the tennis authorities to agree, she worked to establish a team competition between American and British women, donating the money for a trophy. In this she succeeded, and the competition became known as the Wightman Cup. Hazel Wightman played on several Wightman Cup teams in the 1920s and 1930s, and captained the US Wightman Cup teams numerous times through the 1940s, as it became an important part of international tennis competition. Hundreds of Junior Wightman Cup teams were formed throughout the nation, providing an opportunity for tournament play to thousands of high school-aged girls. Through her continued involvement in the Wightman Cup, Hazel Wightman came to know and inspire the great women players of each succeeding generation, up through the era of Billie Jean King and Chris Evert. Eventually, Wightman's vision of broader international competition was realized with the creation of the Federation Cup, which has become the successor of the Wightman Cup.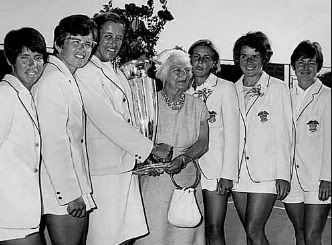 Hazel Wightman with the winning 1967 Wightman Cup team: Rosie Casals, Billie Jean King, Betty Pratt, Wightman, Mary Ann Eisel, Carole Graebner, and Nancy Richey
Wightman was even drawn into the hoopla over the famous "Battle of the Sexes" tennis match between Billie Jean King and former Wimbledon champion Bobby Riggs in 1973. Although only an exhibition, the match, which took place at the height of the early Women's Movement, became a national obsession. Riggs' many public comments about the inferiority of women athletes, and the challenge he issued to the strongly feminist King, made the exhibition a sell-out at the Astrodome, drew a national television audience of 50 million viewers, and became a test of the worthiness of all women athletes. The 86-year-old Hazel Wightman, who had known King since she was a teenager playing on a Junior Wightman Cup team, was called on to provide expert pre-game analysis on the TV broadcast. She feared that the volatile King would succumb to the intense pressure, as she became the representative not only of all women tennis players, but of all women athletes and aspiring athletes. "I'd never seen Billie Jean rise to any great occasion by that time," Wightman said after the match. "And whereas I wanted her to win like nothing at all -- I'd have given anything in the world to have her win -- I couldn't say I thought she would. And yet when she got to playing good tennis that night, outplaying Bobby, no one was happier than I. Oh, I was so proud of her. I was so proud of her."
That same year, the US Open for the first time awarded equal prize money to the women's and men's singles winners. Hazel Wightman, who had won her first US Open when she was a Cal sophomore in 1909, was very pleased to be asked to award the $25,000 winner's check to the 1973 champion, Margaret Court.
Chris Evert with Hazel Wightman in 1973. Evert played on 13 Wightman Cup teams where she was undefeated in 26 singles matches.

Hazel Hotchkiss Wightman was inducted into the International Tennis Hall of Fame in 1957. She was the first person inducted into the Intercollegiate Tennis Association's Women's of Fame in 1995. And she was the first inductee into the University of California's Women Athlete's Hall of Fame in 1978 -- a Hall of Fame that was expanded in 1986 to include men as well, becoming the Cal Athletic Hall of Fame. She was also honored by Queen Elizabeth II for her contribution to international women's tennis, being awarded the Order of the British Empire in 1973. And in 1990, Wightman became the first tennis player ever honored on a US postage stamp.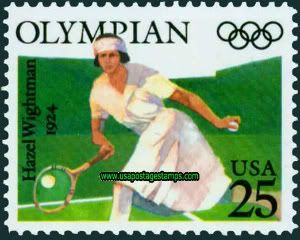 1990 US Postage stamp honoring Hazel Wightman
Hazel Hotchkiss Wightman continued to play tennis and to encourage aspiring young players until practically the day she died in 1974 at the age of 87. She left a legacy of extraordinary achievement as an athlete, as a coach and mentor, and as an advocate for opportunities for women athletes in tennis and in all sports. She also left behind a large family of children, grandchildren, and great-grandchildren, and another large family of hundreds of younger players whom she had coached, mentored, and encouraged for decades. And she left behind several much-loved cats to be cared for by her family -- including one named Oski.
GO BEARS!
Sources
Carter, Tom, First Lady of Tennis: Hazel Hotchkiss Wightman, Creative Arts Book Company, Berkeley, CA (1997)
Kaychir, Hank Cal Athletic Stories, Vol. I, Kraychir Publications, Desert Hot Springs, CA (2009)
King, Billie Jean & Starr, Cynthia, We Have Come a Long Way: The Story of Women's Tennis, McGraw-Hill, New York (1988)
http://www.womentalksports.com/athlete/939/Hazel-Wightman
http://en.wikipedia.org/wiki/Hazel_Hotchkiss_Wightman
http://web.wm.edu/tenniscenter/wightman.html
http://www.tennisfame.com/hall-of-famers/hazel-hotchkiss-wightman
[Note: the U.S. Open was known as the United States National Championships until it was opened to professional players in 1968. It is referred to throughout this article as the U.S. Open to avoid confusion.]