$ - subscription required
Verbal commits are marked w/ (Cal)
July 21, 2011
CGB Recruiting Thread | Golden Recruiting Board
Tedford & Company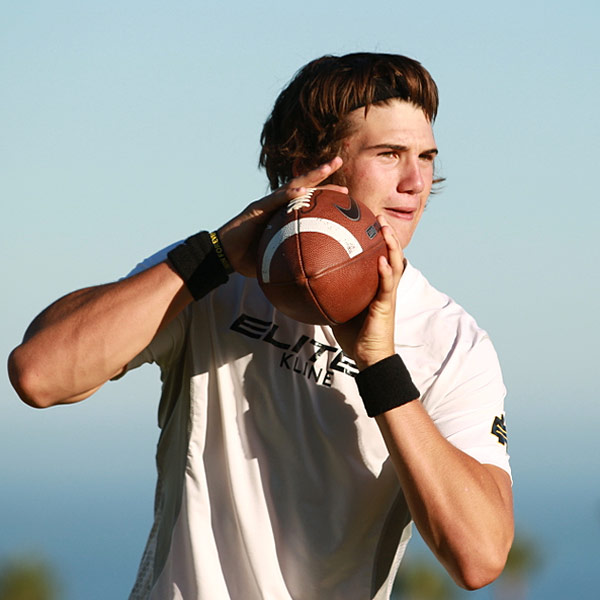 Zach Kline, QB (Cal) San Ramon Valley (Danville, CA) is looking to stake his claim at the Elite 11 QB camp:
The Danville (Calif.) San Ramon Valley quarterback who's committed to California had a sub-par performance at The Opening and could use the Elite 11 to wrap up another fine summer.

Kline, the second-best pro-style quarterback in the class, was out of sorts at times at The Opening, throwing too many bad passes and interceptions and not looking comfortable in the pocket.

Numerous times, including the Stanford Elite 11 regional camp, Kline has looked really sharp and skilled so we expect him to return to that form. He has one of the strongest arms in the class and could use this opportunity to bounce back [1].

Danville (Calif.) quarterback Zach Kline had one of the shortest commutes to the Elite 11 from the Bay Area and though he is used to going down to the beach or enjoying a cool summer day, the experience with 23 other top quarterbacks at the Elite 11 has been eye-opening for him.

"It's been awesome," Kline said. "Nothing is like it, ever. It's the best thing I've ever been to and you have the best players here."

The California kid was sporting a Rafael Nadal-like look on Tuesday with long hair and a headband. Though he was one of the most outgoing and relaxed players on the field, that masked his workman-like approach to learning as much as he could from the coaches and counselors at the event.

"A lot of things like making every throw count and the little things matter the most," he said about what he learned. "Even the smallest thing down to a drop, the fake on the play action matters more than anything and is the difference between a completion and an interception. And just kind of getting to know these guys and the things that they see [2]."

The Northern California quarterback is here [@ Elite 11 Camp in Malibu, CA] to prove that The Opening was an anomaly and not the new norm. But he's also here to learn from Super Bowl champion Trent Dilfer, compete with other great quarterbacks and smile a little bit.

This really isn't life and death.

"On the field, I'm serious but I like to have fun," Kline said. "I like to make guys laugh and I like to lighten the mood. That's how I deal with it, just making jokes and being a fraternity out here, being friends, that's the biggest thing. When you press you don't really do well and when you just have fun that's when you play better.

"I feel good. I've been slinging it really well and I've been icing up. You throw a lot. You probably throw 200-300 times a day and there are only so many throws in your arm so I'm definitely going to stretch and ice some more [3]."

While we wish Kline did not prop the ball up so high in his carriage, there may not be anyone in attendance who consistently spins the ball as tightly as he does. Many prospects who prop the ball to ear level are "pushers," not passers. Kline is a passer. As we have mentioned in the past, he reminds us of a stronger-armed Jake Heaps with more natural wrist velocity [4].
KeiVarae Russell, RB Mariner (Everett, WA) is high on Washington, Notre Dame, and Cal academics [5]. Russell is planning at the moment to commit before year-end:


Stefon Diggs, WR Good Counsel (Olney, MD) seems to have Virginia Tech, Maryland, Miami, Auburn, Florida, South Carolina as front-runners [6].
Travell Dixon, CB Eastern Arizona JC (Thatcher, AZ) visited Alabama.
Pio Vatuvei, DE Patterson (Patterson, CA) likes Cal because of his relationship w/ Coach Lupoi and the new facilities [7]:


DeForest Bruckner, DE Punahou (Honolulu, HI) has Cal, UCLA, Oregon in his top 5 [8]:


Luke Kaumatule, DE Punahou (Honolulu, HI) is leading toward Oregon, Stanford, UCLA, and Cal [9]:


Eddie Goldman, DT Friendship Academy (Washington, DC) is visiting Alabama, Florida State, Auburn, Georgia this week [10].

This summer Goldman camped at Cal and had a recent visit to see the Gamecocks with his parents and coach.

"They did an outstanding job on that South Carolina visit," Muhammad said. "It was an eye opening experience for all of us and South Carolina showed us a lot of love. We loved how everything is set up. They are set up for success in football and with the academics. Coach [Steve] Spurrier wasn't there but he did talk with Eddie on the phone. South Carolina really impressed us."

This week, Goldman will leave for a four-school stop in the South.

"We are going to back Alabama to stay for a few days," Goldman said. "We are also going back to Florida State, Auburn and Georgia. I am still open and looking at those 15 schools [11]."
Bryce Treggs, WR (Cal) St John Bosco (Bellflower, CA) and his Cal Strength 7on7 team finished 9th at Passing Downs Best of the West Tournament:

But the team most expected to run through the tournament was No. 3 seed California Strength I led by Cal commits quarterback Zach Kline and wide receiver Bryce Treggs and cornerback/wide receiver Dalis Bruce. They finished third at the San Ramon Regional. But Kline was expected to add our-star receivers Darreus Rogers and Malik Gilmore to the roster for BOTW for added firepower. Neither made it but three-star receiver Dalen Jones was added last minute. Nevertheless, Cal Strength I didn't look like a star-studded team [12].
Aziz Shittu, DT Buhach (Atwater, CA) is attending invitation-only Football University Top Gun Camp right now [13].
Drae Bowles, WR Christian (Jackson, TN) verbally committed to Tennessee [14].
Previous Updates
July 8th | 14th
June 10th | 17th
May 25th | 18th | 11th | 4th
Visit CGB on Facebook @ www.facebook.com/GoldenBlogs