What are the requirements to be a Cal football fan? A love of the game, of course. A strong affection for the University of California helps a lot. So does having the ability to keep hope alive even as your soul is being crushed. But what are the shared traditions and history that bind us all together? What are the things you simply have to know to be a Cal football fan and to avoid embarrassing yourself in front of other Cal fans? After the jump, we give you our admittedly somewhat arbitrary list of Cal fan essentials. Do you agree that all the items on are list are essentials? Are there other essential Cal traditions, events, athletes, or coaches you think we have left off the list? If so, tell us what they are and why you think they are Bear Essentials in the comments section.
The Axe? Yup, we think that qualifies as a Bear Essential.
Let's start by clearing the air on one point. The Big Game is not on this list because, well, come on . . . some things are just a given in the universe. If those three words, "The Big Game," do not send a thrill down your spine and instantly conjure up a host of memories for you, both wonderful and horrible, then you are not even reading this anyway. The Big Game is an ex officio member of our list, the same way the Governor of California is an ex officio member of the Regents of the University of California -- just by the fact of its existence. So, now that we've gotten that out of the way, on to the other Bear Essentials:
1. The Axe: First made its appearance at a Cal-Stanford baseball game in 1899, when Stanford fans used it to taunt Cal fans by cutting up pieces of blue and gold ribbon. After a dramatic come-from-behind victory by the Cal baseball team, the Cal fans liberated The Axe from its bondage to the Stanford fans and, after a wild chase through the streets of San Francisco, smuggled it onto the ferry back to Berkeley. The Axe immediately became the most prized symbol of Cal sports, until it was stolen by certain criminal elements from Palo Alto in 1930. After that, the two schools agreed that The Axe would be the prize awarded to the winner of The Big Game each year. The Axe has resided in its home in Berkeley for seven of the past nine years, and is currently pining away in Palo Alto, awaiting another heroic rescue by the 2011 Golden Bears.
Cal football star Charles "Lol" Pringle carries The Axe in the first Axe Parade on April 17, 1899.
2. The Play: The 1982 Big Game. A closely fought, back-and-forth battle for 59 minutes and 56 seconds. Then Stanford's John Elway pulled off an extraordinary drive at the very end of the game, from 4th-and-17 on Stanford's own 13-yard-line with just over a minute left, to Stanford kicking what everyone thought was the winning field goal with 4 seconds left. Cal fans were heartbroken, hope was all but gone . . . But then this happened:
The Play: Bears Attack the Band (via CBS)
You know you are a Cal fan if you NEVER get tired of watching that.
3. 1959: If you are a Cal fan, mention of the year 1959 brings a visceral reaction, for better and for worse. The "better" part is that on January 1, 1959, the University of California Golden Bears played in the Rose Bowl. The "worse" part is that the Bears have not played in the Rose Bowl since (and no, those biennial trips to play UCLA in Pasadena do not count as playing in the Rose Bowl). Even Captain Ahab didn't have to spend 50 years hunting for his white whale. But Cal fans are now moving into year 53 of hunting for ours.
Yes, Virginia, Cal really did play in the Rose Bowl . . . in 1959.
4. Pappy Waldorf: According to those people over at California Golden Blogs (and yes, that is us), Pappy Waldorf is the second greatest coach in Cal football history, having taken Cal to three consecutive Rose Bowls from 1949 to 1951. (See for yourself, if you don't believe us.) So why is he on the Bear Essentials list instead of the coach who is considered the greatest of all-time? Well, Andy Smith gets a mention below, so keep your shirt on. But Pappy makes the list because he is the greatest Cal coach that at least some people who are still alive can remember. Or at least the parents of people who are still alive remembered him. In fact, while poor Andy Smith died back in 1926, at the young age of 42, Pappy Waldorf lived in Berkeley until his death in 1981, actively supporting Cal football in any way he could, including giving the pre-game pep talk that helped Cal to a huge Big Game upset in 1980. Pappy Waldorf was not just a great football coach, but a universally beloved figure in the entire college football world. And Pappy's legacy is kept alive by his former players, who still call themselves "Pappy's Boys" and keep in touch regularly. Pappy's Boys helped ensure that Pappy Waldorf would be remembered permanently, by leading the charge to have Pappy's statue placed in Faculty Glade on the Berkeley campus -- the only Cal coach or athlete ever to be so honored.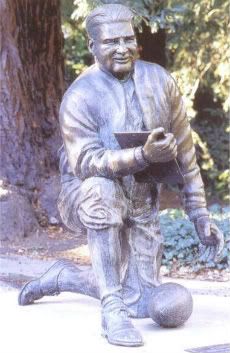 Pappy Waldorf's statue in Faculty Glade. Sorry Andy, but Pappy took the Bears to three Rose Bowls.
5. Mack Brown: Since we've been talking about Rose Bowls, it seems like this is the place to bring up this guy. But wait, what is the head coach of the University of Texas doing in a list of the top 10 Bear Essentials? Because he is the one person whom all Cal fans must hate with the fire of a thousand burning suns. He is the devil incarnate. HE IS THE MAN WHO SINGLE-HANDEDLY KEPT CAL OUT OF ITS FIRST ROSE BOWL IN 46 YEARS. Okay, maybe there is just the tiniest bit of hyperbole there. But Cal was all set to go to the 2005 Rose Bowl. The team was ranked #4 in the nation, with only a single, heart-breakingly close loss to #1 USC. And with USC headed to the BCS national championship game (and let's not even get into what's happened with that), Cal was assured its first Rose Bowl since 1959, as long as the Bears beat Southern Mississippi in the last game of the season. And Cal did win! But then Mack Brown, of #5 ranked Texas, started whining about how his team deserved the Rose Bowl ("deserved" Mack? had your team been waiting 46 years for the Rose Bowl?). And then some poll voters down in Texas suddenly dropped Cal waaaaaay down on their ballots. And the next thing you know, Cal had dropped to #5, despite its win. Texas had moved up to #4 and got to go to the Rose Bowl, while Cal fans had their souls crushed one more time. WE HATE YOU, MACK BROWN!
Mack Brown (artist's conception)

6. The Wonder Teams: One of the antidotes to Mack Brown is Andy Smith and his spectacular Wonder Teams, which won four consecutive national championships and had five straight undefeated seasons from 1920-1924. During that five-year period, the Bears' record was 44-0-4, they shut out their opponents in 30 of those 48 games, and they outscored the opposition by a combined score of 1564-146. In 1920 alone, the 9-0 Bears outscored their opponents 510-14, including wins of 79-7 over Nevada, 63-0 over Utah, 49-0 over Washington State, 127-0 over St. Mary's, 38-0 over Stanford, and a 28-0 blow-out of favored Ohio State in the Rose Bowl that caused the Big-10 to refuse to appear in another Rose Bowl for 26 years. The accomplishments of Cal's Wonder Teams are among the greatest of any teams in any sport at any time, and should be a source of pride forever for Cal fans. And oh, by the way, Mack Brown, Andy Smith accomplished all that with this as his guiding principle: "Winning is not everything, and it is far better to play the game squarely and lose than win at the sacrifice of an ideal."
NEVER FORGET! The 1920 Wonder Team -- Undefeated and untied, Pacific Coast Conference Champions, Rose Bowl Champions, National Champions. You want to know more about the Wonder Teams? Here you go.
7. Joe Roth: There is only one football player in Cal history whose number is retired, and that player is Joe Roth. And every year, the USC or UCLA game is designated as the Joe Roth Memorial Game, with a portion of the proceeds going to charity. Joe Roth was Cal's starting quarterback in 1975 and 1976. He led Cal to an outstanding 8-3 season in 1975 (7-1 after Roth became the starter), including a rather spectacular 48-15 shellacking of Stanford in the Big Game, and tying for the Pac-8 Championship (but very sadly, no Rose Bowl). But it was not his on-field heroics that earned Joe Roth legendary status in Berkeley. It was his off-field heroism. Joe Roth was diagnosed with melanoma just before he came to Cal, but it had been treated, and he did not reveal his illness to friends or teammates. But during his senior season, 1976, he began to feel unwell and, shortly after the season ended, he was diagnosed with a recurrence of the melanoma. Although his doctors told him he probably only had months to live, Joe Roth played in the East-West Shrine game and the Hula Bowl, despite being in the midst of chemotherapy. A model of courage for his teammates and the entire Cal community, Joe Roth died at his apartment in Berkeley in February 1977 at the age of 21. Every Cal football fan should know about Joe Roth.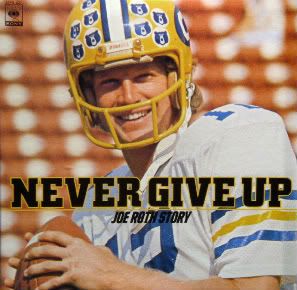 Cal's #12 -- Joe Roth
8. Oski: Dude, he's our mascot. Has been since 1941 (before that it was live bears, not the best idea). What else is there to say, except that:
Oski drinks through his eye

And:
Bear vs. Tree (via etcrisis)
And Oski really, really, hates Trees

9. Joe Kapp: Since we are on the subject of Oski, it is a good time to bring up Joe Kapp. The best summary of why Joe Kapp must be known by every Cal fan was once posted on this site by SoCal Oski, who said, "In a sense, Joe Kapp is the living embodiment of Cal sports. The perfect mascot. Oski made flesh. He's us, and we are him." As a back-up sophomore quarterback in 1956, Joe Kapp led the Bears in one of Cal's greatest upset victories ever against Stanford, to end Pappy Waldorf's coaching career in triumph. As a senior in 1959, Joe Kapp quarterbacked Cal to the Rose Bowl. And he also played on Cal's NCAA champion men's basketball team. After years as a professional quarterback, including starting a Super Bowl for the Minnesota Vikings, Joe Kapp was hired as Cal's head coach in 1982. And on November 20, 1982, his team gave Cal fans "The Play." Following that game, Joe Kapp proclaimed to the world: "THE BEAR WILL NOT QUIT! THE BEAR WILL NOT DIE!" Unfortunately, his lack of coaching experience started showing up the next season, and his coaching career ended with several increasingly bad seasons. Yet even so, he gave Cal fans one final miracle in his very last game, with Cal's biggest Big Game upset ever in 1986, when the 21-point underdog Bears beat Stanford 17-11. And through it all, Joe Kapp has always bled blue and gold like nobody else. He even swore off tequila in 1982 until Cal wins a Rose Bowl. And he stands by that pledge to this very day. As Joe says, it's been a long dry spell, but: "Thank God for Corona!" If there is one person who can be said to have been the representative of Cal football for the past 55 years, it is Joe Kapp.
"God is a Golden Bear." Joe Kapp after winning the 1986 Big Game.
10. Bear Territory: "You know it! What? You tell the story! What? You tell the whole damn world this is Bear Territory!" It may come as a surprise to younger readers that the Bear Territory chant, and the resulting practice of proclaiming various places around the state, the country, and even the world, to be Bear Territory, is of relatively recent origin. The chant has been attributed to former Cal football player Ahmad Anderson, and appears to have debuted at a Big Game bonfire rally at the Greek Theater in the early 1980s. Although it is less than 30 years old (a veritable baby by the standards of Cal football), the Bear Territory chant has become one of the most popular and exciting Cal traditions. And just think: without it, Palo Alto would never have become Bear Territory South!
This is Bear Territory (via KirbyEater)
The whole damn world IS Bear Territory!
So do you agree with our list? What treasured Cal football tradition, person, event, or game have we left out? "Roll on you Bears"? The California Drinking Song? Roy Riegel's wrong way run? The Cannon? "Freshmen more wood"? "Palms of Victory"? Tightwad Hill? Something else? Let us know.
AND GO BEARS!
Further Information (many thanks to Yes We Cannon for compiling this list of excellent links):
1. The Axe: http://en.wikipedia.org/wiki/Stanford_Axehttp://www.stanford.edu/group/axecomm/axebook/early.html -- Brick Morse's "Early California Traditions and The Axe Capture"http://www.csua.berkeley.edu/~yoda/cal/biggame/axe.html -- Excellent history of The Axe
2. The Play: http://en.wikipedia.org/wiki/The_Play http://www.youtube.com/watch?v=qEPxbmwrEeA -- the Stanfurd radio broadcast of the last Stanfurd drive and The Play. http://sportsillustrated.cnn.com/vault/article/magazine/MAG1121229/1/index.htm -- Ron Fimrite's SI article about The Play 3.
3. 1959: http://en.wikipedia.org/wiki/1959_Rose_Bowl http://articles.sfgate.com/2008-12-31/sports/17133717_1_eight-bowl-games-rose-bowl-jack-hart -- SFGate article from 2008 about members of Cal's most recent Rose-Bowl-bound team. http://www.tournamentofroses.com/the-rose-bowl-game/history/game-results-recaps/full/1959-iowa-38-vs.-california-12 -- The Rose Bowl's recap of the game. Articles about Cal and the Rose Bowl.
4. Pappy Waldorf: http://en.wikipedia.org/wiki/Pappy_Waldorf http://www.collegefootball.org/famer_selected.php?id=30064 -- Entry about Pappy from the College Football Hall of Fame http://alumni.berkeley.edu/news/california-magazine/fall-2010-have-we-got-issues/swan-song -- Excerpt from Ron Fimrite's Golden Bears about Pappy.
5. Mack Brown: http://lostangelesblog.wordpress.com/2010/01/08/mack-brown-and-the-curse-of-the-stolen-rose-bowl/ -- A Trojan offers his perspective of the situation (surprisingly good article). http://www.bcsguru.com/BCS_2004.htm -- A look at what Mack Brown's pleading resulted when it came to votes. http://www.chron.com/disp/story.mpl/sports/2967805.html -- Article about Cal's team not being happy about not getting to the Rose Bowl.
6. The Wonder Teams: http://en.wikipedia.org/wiki/California_Golden_Bears_football#1920s_.22Wonder_Teams.22 http://news.google.com/newspapers?id=dIM_AAAAIBAJ&sjid=PVUMAAAAIBAJ&pg=3918,3465116 -- Article about Andy Smith building "wonder teams" from 1921. http://builders.berkeley.edu/stories/stadium.cfm -- A quick look from the University perspective of Andy Smith and how the Wonder Teams led to Memorial being built.
7. Joe Roth: http://en.wikipedia.org/wiki/Joe_Roth_(American_football) http://www.joeroth12.com/index.php -- Site dedicated to Joe Roth's memory http://www.sfgate.com/cgi-bin/article.cgi?f=/c/a/2007/02/19/SPG9MO76HQ1.DTL -- SFGate article about Joe Roth from 2006 http://news.google.com/newspapers?id=-IYkAAAAIBAJ&sjid=i10DAAAAIBAJ&dq=joe%20roth%20california&pg=6838%2C5440939 -- Excellent obituary.
8. Oski: http://en.wikipedia.org/wiki/Oski http://berkeley.edu/news/berkeleyan/1999/1110/oski.html -- Oski's history from the original Oski http://coe.berkeley.edu/news-center/publications/engineering-news/archive/engineering-news-vol-78-no-1F/bear-trivia-test-your-oski-knowledge -- Oski quiz!
9. Joe Kapp: http://en.wikipedia.org/wiki/Joe_Kapp http://calbandalumni.berkeley.edu/history/interviews/kapp/ -- Cal Band Alumni Association interview with Joe Kapp http://www.joekapp.com/home.html
10. Bear Territory: http://www.youtube.com/watch?v=uDIbZ5PXPfw ttp://www.youtube.com/watch?v=yxpCK-6pV7o http://www.youtube.com/watch?v=MtQOWHKWtM4