Last week we looked at the ultimate adjusted yards per attempt (uAYA) measure and saw how 2010's quarterbacks stacked up.  This week, we get to the fun part: predicting performances in 2011.  
Of course, we can only make predictions based on last year's performances, so we won't be able to forecast the Cam Newtons and Allan Bridgfords of tomorrow.  But for everyone else, this will be an entertaining (and perhaps a bit controversial) look into who might be heralded as the best collegiate quarterback next year.
We'll start off with a look at the predictions for the top-10 QBs, examine how we came up with these numbers, and then take a look at each conference from the Pac-12 to the SEC to the new Mountain West Conference.  So, let's get started.  In addition to the predicted uAYA score for 2011, we also include QB efficiency and uAYA scores from 2010 as reference points.
What, you've never heard of Chandler Harnish, next season's dark horse Heisman candidate?  He's a distant second behind our good friend Andrew Luck.  Despite being hailed as the best QB in the nation in pretty much every way you can measure QB efficiency, Boise State's Kellen Moore is predicted to be the third most efficient QB next year.  After that we have a trio of quarterbacks who hope to lead their teams to the top of the Big Ten (Big 12? Conference of Leaders and Legends? What is this new conference called?).  The biggest surprise is sophomore Tommy Rees of Notre Dame.  He had some decent numbers in 2010, but he was turnover prone.  If he can take better care of the ball, he might end up being one of the better QBs next year.
After the jump we take a closer look at the numbers and predict scores for returning QBs throughout the nation.  And just for fun, we'll see how seniors like Jake Locker or early draftees like Cam Newton would fare if they returned next year.
If you're not especially interested in the formula used to generate the scores, skip to the next section where we rank each of the QBs from each conference.
Neil Paine of Pro Football Reference (whose uAYA measure we're using) used a regression equation to allow prediction of uAYA ratings for the following season.  Of course, he ran this for the NFL while we're using it for college QBs.  He explains how he came up with the regression equation.
Now, the fun part is predicting next year's uAYA from this season's rate stats. To get a group of QBs for whom aging wasn't going to catastrophically taint the results, I looked for all QBs since 1978 (the first season with modern passing-game rules in place) who were between the ages of 25 and 35, and threw at least 200 passes in back-to-back seasons. That left us 517 pairs of seasons to run the regression on, and as predictors I tried every possible combination of conventional rate stats, from completion % to rushing yards per play ("plays" being passes + sacks + rushes, the denominator of uAYA).

In the end, the only significant variables were: completions/play, TD passes/play, sack yds lost/play, & rush yds/play. This is actually pretty consistent with previous research that found QBs had the most control over metrics like completion % and sack rate.

uAYA_y+1 ~ 8.7679986 * cmp/play + 15.8060293 * td/play - 0.6723578 * skyd/play + 1.2431414 * ryds/play
Now, I can agree with the notion that QBs have the most control over only a handful of stats.  But I do not necessarily agree with only using the significant coefficients to to predict the uAYA score.  Using the non-significant coefficients could lend insight into some of the randomness that goes into these scores.  Of course, your preference depends on what your goal is: to determine the score based on factors the QB controls, or determine the score based on all factors--including those over which a QB has little control.
By using only the significant coefficients, we're only getting part of the predicted uAYA scores.  You may have noticed that the highest scores were much lower than last year's actual highest scores, while the lowest predicted scores were higher than the lowest actual scores.  This is because we're only using some of the coefficients.  You can think of these as baseline scores, that may fluctuate upward or downward based on factors beyond the QB's control (luck, chance, WR play, O-line play, etc).
QBs with predicted scores that are much lower than their actual uAYA scores may owe their actual scores to a fair amount of luck or chance.  As an example, Neil explains why Philip Rivers has a much lower predicted uAYA than his uAYA ratings over the past three years:
uAYA for Rivers (and Roethlisberger for that matter) has been predicated on massive yards per completion averages, and for most QBs those are not sustainable, or at least being able to sustain them is due more to external factors like scheme. Rivers and Big Ben have shown at least some ability to consistently produce those high yds/cmp averages, so they may well be the exceptions that prove the rule. But for most QBs, things like yds/cmp and Int% vary so wildly from year to year that they're useless when predicting next season's performance.
This prediction takes into account regression to the mean: a QB might post a spectacular season one year, but he cannot typically sustain such lofty numbers year after year.  He can continue to post impressive scores, but it is unlikely that they will consistently be several SDs above the mean.
Anyway, enough stats, let's get to the numbers!
We start with our home conference, the Pac-12, and move onto the rest of the BCS conferences, the independents, and then the non-AQ conferences.  Since I had the numbers for QBs who either graduated or entered the NFL, I included them in the rankings, just to see how they would stack up against next year's QBs.  They are greyed out and not officially part of the rankings.
Pac-12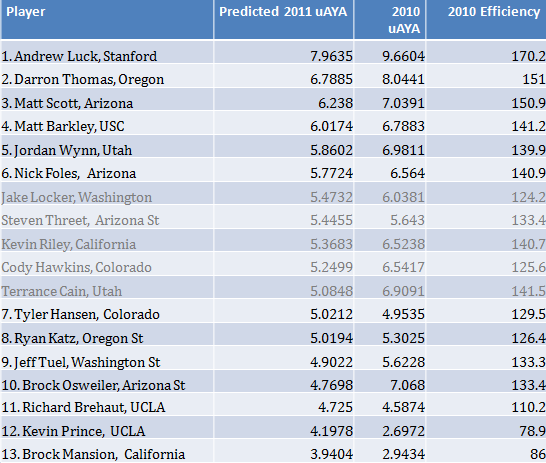 Look away, Cal fans! Look away!  Not only is Andrew Luck on top, but our own Brock Mansion probably will not turn into Aaron Rodgers during the offseason.   Our only solace is that we cannot predict how well Bridgford will perform this season, which means the sky is the limit!
If they returned for 2011, it looks like most of the seniors (Riley, Locker, etc) would post middle-of-the-Pac numbers.
Darron Thomas is a distant 2nd behind Luck, while Barkley, Wynn, and Foles will battle to be the Pac-12 South's best QB.  It will be interesting to see if Mike Stoops redshirts Matt Scott so he has an extra year after Foles graduates.
UCLA looks to have another disappointing season.  Neuheisel is running out of time (and QBs) if he wants to stay at UCLA a few more years.
Brock Osweiler is an interesting case.  He was one of the top QBs in 2010, but he's projected near the bottom in 2011.  The predicted uAYA thinks his great (albeit limited) numbers are likely to come crashing back to earth next season (a la Kevin Riley in '08)
ACC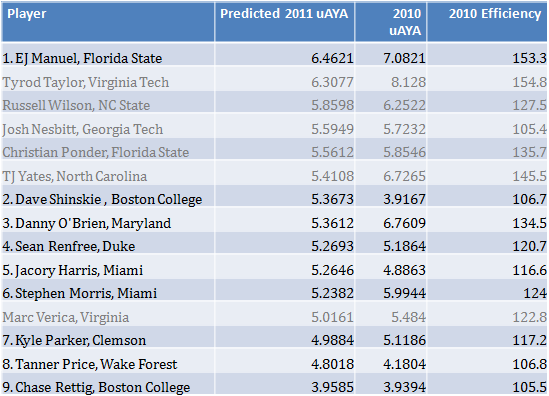 Even if last year's top QB Tyrod Taylor returns, he would still face a serious challenge from Florida State's EJ Manuel.  But Taylor is not returning, so Manuel is projected to be far ahead of any other ACC quarterback.  Miami's QB ongoing battle should be interesting, as Stephen Morris tries to supplant interception machine Jacory Harris.  Several schools do not return starting QBs, so there is still plenty of room for someone to try to unseat Manuel.
Big Ten
Last year's conference of quarterbacks looks to have another strong year, particularly with the addition of Nebraska's Taylor Martinez.  Despite his five-game suspension, Pryor should still post some very impressive numbers next season.  The difference of .05 separating first place from third ensures that competition for the top spot will be fierce.
Big 12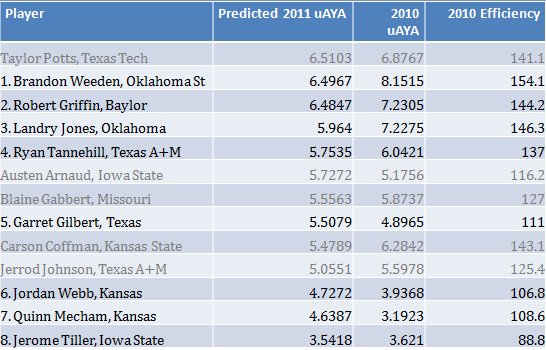 Last year's surprise star Brandon Weeden is the favorite to take the top spot with Baylor's Robert Griffin trailing just behind him.  Texas and Garret Gilbert should improve next year, but he's not coming anywhere close to Colt McCoy.
Big East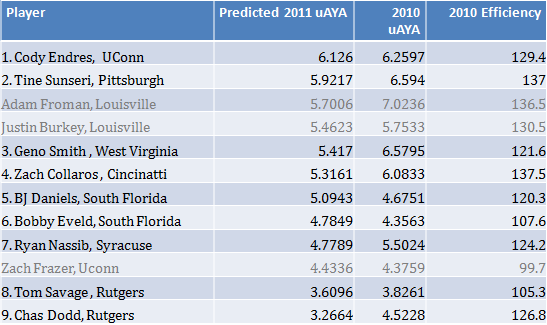 The Big East was full of mediocre QBs last season, and that does not look to change next season.  Hopefully someone better than last year's UConn team can make it into a BCS game and avoid embarassing the conference.
SEC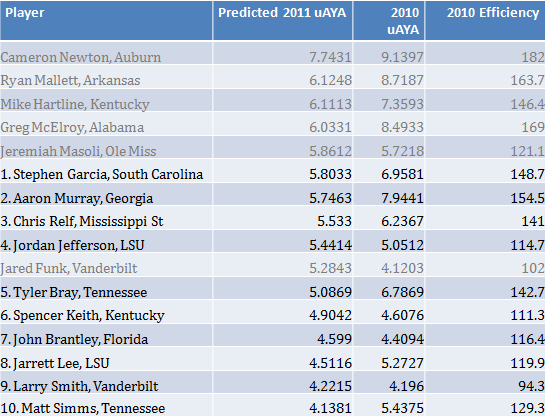 No one in the predicted top five will return next season. This opens things up for Stephen Garcia of South Carolina or Aaron Murray of Georgia to top the conference next season.  John Brantley won't be replacing Tim Tebow at Florida and Cam Newton Jr probably won't be walking onto the field at Auburn this season.
Independents

Only four QBs here, so not too much to talk about.  It's odd that Ricky Dobbs was projected to be a point lower than Rees, even though he outperformed him in most categories last year.  Perhaps Dobbs' low completion rate hurt him.
Conference USA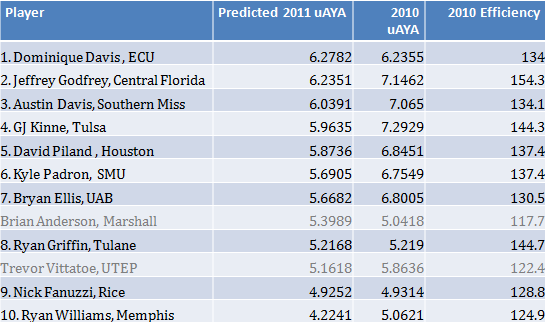 MAC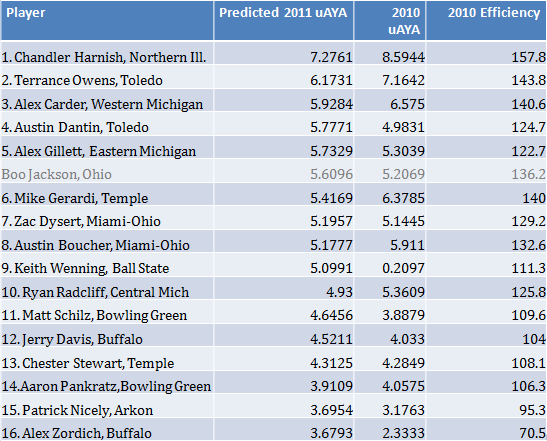 Chandler Harnish is far above anyone else in the MAC.  If he can lead his team to another solid year, he might earn a trip to New York in December.
Mountain West Conference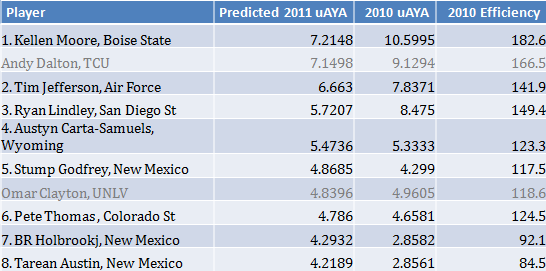 Newest members of the MWC, Kellen Moore and Boise State move to the top of the conference, ahead of Tim Jefferson of Air Force.
Sun Belt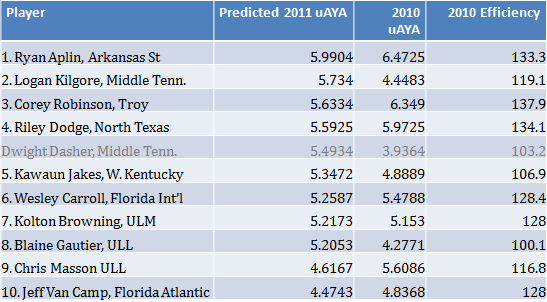 Despite posting some decent numbers last season, none of the QBs in the Sun Belt break into the 6s in our predictions.
WAC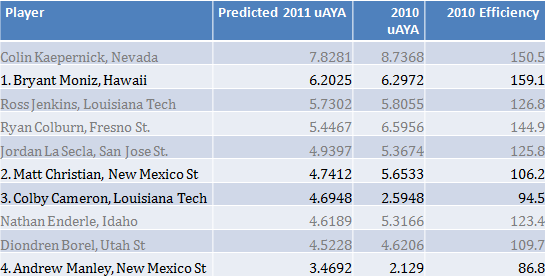 With Kellen Moore moving to the MWC and Kaepernick graduating, Bryan Moniz is in a class of his own in the WAC.  In fact, with only four returning QBs, this conference faces the most uncertainty.