Did the first president of Leland Stanford Junior University murder the school's co-founder, Jane Stanford? Probably not. But I recently came across a book called The Mysterious Death of Jane Stanford, written by Stanford Professor Robert W.P. Cutler, and published by Stanford University Press, which pretty conclusively establishes both that Mrs. Stanford was murdered and that Stanford President David Starr Jordan engaged in a cover-up of her murder which prevented it from ever being investigated or solved, leaving Jordan as a suspect.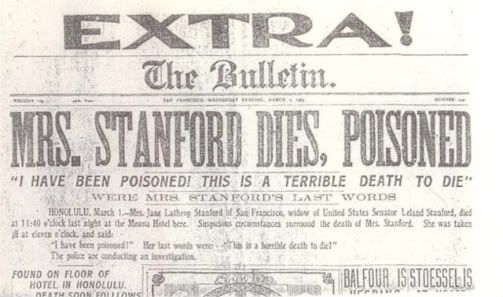 The front page of the San Francisco Bulletin, March 1, 1905
In 1905, Jane Lathrop Stanford was the 76-year-old widow of former California Governor and Senator, railroad tycoon, and all-around robber baron, Leland Stanford. After their only child, Leland Stanford, Jr., died in his teens, the Stanfords founded a school on the San Francisco peninsula in his name, with themselves as the sole trustees. After Leland, Sr. died in 1893, Jane Stanford took sole charge of the University.
Jane Lathrop Stanford
The Stanfords had hired David Starr Jordan as the school's first president. After her husband's death, Jane involved herself in the minutia of the University's day-to-day management, to Jordan's increasing annoyance. Disagreements between Jordan and Mrs. Stanford escalated into battles over the hiring and firing of faculty, and became quite heated. Mrs. Stanford found a confidant on the faculty, German professor Julius Goebel, who began keeping tabs on Jordan's actions and reporting back to Mrs. Stanford. In 1904, Goebel reported to Mrs. Stanford that Jordan's favoritism and political patronage were endangering the recruitment of faculty. Goebel reported in letters to his friends that Mrs. Stanford was considering removing Jordan as University President.
David Starr Jordan
While all this was going on, there was a very mysterious incident at the Stanford mansion in San Francisco. On January 14, 1905, Mrs. Stanford drank some mineral water from a bottle in her room. She thought it tasted odd and spit most if it out. She had the mineral water analyzed, and it turned out to have contained a potentially lethal amount of a deadly poison, strychnine. The police questioned several of Mrs. Stanford's servants, including her long-time personal secretary Bertha Berner. But there was no clear motive and no physical evidence to establish who put the strychnine in the water bottle.
A month later, Jane Stanford left San Francisco for a vacation in Hawaii. On the night of February 28, 1905, Mrs. Stanford was taken violently ill in her room at the Moana Hotel. Three doctors, Francis Humphris, Francis Day, and Harry Murray, were summoned to Mrs. Stanford's room, but there was nothing they could do. Mrs. Stanford was suffering severe spasms, and her entire body was rigid. Within minutes she was dead, her last words reportedly being, "I have been poisoned. This is a terrible death to die." It was later determined that the bicarbonate of soda which Mrs. Stanford had taken that evening contained strychnine. Dr. Humphris, Dr. Day, and Dr. Murray all confirmed that her symptoms were consistent with strychnine poisoning.
The Moana Hotel where Mrs. Stanford was murdered. Her suite was on the second floor, at the far right of the photo
An autopsy was conducted in Honolulu, with the participation of seven physicians. They all agreed that, to the extent it was possible to determine a cause of death, her death was consistent with strychnine poisoning. The case was presented to a coroner's jury which, after hearing the medical testimony, ruled that "Jane Lathrop Stanford came to her death . . . from strychnine poisoning, said strychnine having been introduced into a bottle of bicarbonate of soda with felonious intent by some person or persons to this jury unknown." However, the Hawaiian authorities concluded that, in light of Mrs. Stanford's residence in California and the earlier poisoning episode in San Francisco, jurisdiction to further investigate the case should rest with the authorities in California.
It was now that David Starr Jordan and his entourage arrived in Honolulu. Jordan had set out from California shortly after receiving word of Mrs. Stanford's death. He immediately launched a public relations campaign to convince the world that Mrs. Stanford had not been murdered at all. He hired a physician, Dr. Ernest Waterhouse, to provide a report on the cause of Mrs. Stanford's death. Although Dr. Waterhouse had never seen Mrs. Stanford, alive or dead, and had not participated in her autopsy, his report stated that she died of heart failure. Upon receipt of this report, Jordan proclaimed publicly that Mrs. Stanford had not been poisoned. When Dr. Humphris and the other six doctors who had been involved in the treatment and autopsy of Mrs. Stanford disputed the Waterhouse report, Jordan initiated a smear campaign, implying that Dr. Humphris and the others were incompetent.
Jordan brought Mrs. Stanford's body back to California, where it was interred with those of her husband and her son on the Stanford campus. He announced that the cause of Mrs. Stanford's death had been clearly established to be heart failure, and convinced the California authorities that there was nothing to investigate. As a result, no formal investigation of Mrs. Stanford's death was ever conducted either in California or Hawaii. The investigation into the earlier attempted poisoning of Mrs. Stanford was also dropped. For many years after, it was generally accepted that Mrs. Stanford had died of natural causes, based entirely on Jordan's statements and the report he had paid Dr. Waterhouse to prepare. But based on recent reviews of the evidence, including that of Professor Cutler in The Mysterious Death of Jane Stanford, it now appears to be generally agreed that she was poisoned. The fact that Professor Cutler is a physician, and an emeritus professor at Stanford Medical School, who carefully examined all of the existing medical evidence -- and the fact that Stanford University Press was willing to publish his findings -- lends substantial credence to his book.
So, who done it?
This is one mystery that is unlikely ever to be solved. David Starr Jordan's disinformation campaign prevented any investigation from being carried out at the time. After the passage of over 100 years, there is no way to reconstruct what happened. The top suspect is Mrs. Stanford's personal secretary, Bertha Berner, who was the only person present at both the attempted poisoning in San Francisco in January 1905, and at her death in Hawaii in February 1905. But no clear motive exists for her. She had been with Mrs. Stanford for years, and there was no apparent animosity between them. Although she received a nice inheritance, it was certainly not enough to keep her in the style in which she had lived as she traveled around the world with Jane Stanford.
Bertha Berner in front of the Stanford mansion in Palo Alto
Professor Cutler says, "Berner seems to have had ample opportunity, but no motive. Jordan seems to have had motive but no obvious opportunity." Jordan's motive would have been his fear that Jane Stanford might be preparing to fire him as University president. One theory is that David Starr Jordan and Bertha Berner were working together to get rid of Mrs. Stanford, but there is simply no evidence to support this, apart from Jordan's cover-up of the murder. Did Jordan think that it was more important to avoid bad publicity than to bring the murderer of Stanford University's founder to justice? Was he a "science crank," as the Sheriff of Honolulu called him, who actually believed the heart failure theory? Or was he involved in a murder conspiracy? It is unlikely that anyone will ever know for certain.
For further information, here are links to two articles, both entitled "Who Killed Jane Stanford?" One of them, written by Susan Wolfe, appeared in the Stanford Alumni Magazine, and the other, written by Don Kazak, appeared in The Palo Alto Weekly.