Much to the delight of Cal fans, the Bears are facing Mack Brown and the Texas Longhorns in the Holiday Bowl. Jeff Tedford made some comments about the matchup. A diplomat to the core, Tedford had kind things to say about Mack Brown and the Texas program.
On Texas head coach Mack Brown

"I've gotten to know Mack over the years. We've had chances to visit and hang out. I would call Mack a friend and somebody in the college profession whom I have visited with and spent time with."

On if he sees any similarities with Cal and Texas considering both schools were 5-7 in 2010

"I do. Uncharacteristically, we missed out on bowls last year. I don't know what Texas' run had been, but I know it was pretty extensive. I know we had been bowl eligible every year that we've been here. So now, we've been bowl eligible for nine of the last 10 years. It's great to be back and to be able to practice and compete against such a great team like Texas."

On the Holiday Bowl

"They've done a great job there. There is a great tradition of exciting games, and the city of San Diego does a great job of putting the games on. They run a first-class operation; they're very hospitable and great to our fans."

On playing Texas after the BCS Rose Bowl selection in 2004

"2004 is a long time ago. I don't remember much about it except for feeling like there was a great opportunity there. We all felt like we were going to the Rose Bowl. However it unfolded, we were left scratching our heads as to how that happened. But that was a long time ago. I felt bad for our team because I really felt like we deserved to be in the Rose Bowl that year, but we're in 2011 now and it is a whole different situation."
After the jump we take a quick look at the offense, defense, and special teams of the 7-5 Texas team that will represent the Big 12 in the Holiday Bowl.
Season in Review:
The Longhorns started the season 4-0 while rising to #11 before receiving a whuppin' from Oklahoma. After a subsequent loss to Oklahoma State, the Longhorns appeared to have turned the corner after routing Kansas and Texas Tech. They went to a run-heavy offense and piled up nearly 900 yards on the ground in those two midseason wins. Less reliant on shaky quarterbacks David Ash and Case McCoy, the Texas offense was humming. Texas endured a painful loss to Missouri when the Tigers shut down the Texas running game. While the Texas defense did its job over the next three games, the offense could not muster much of anything. The Longhorns finally put up some decent passing numbers in the season finale against Baylor, but the effort was marred by 4 interceptions and an inability to slow down Robert Griffin III.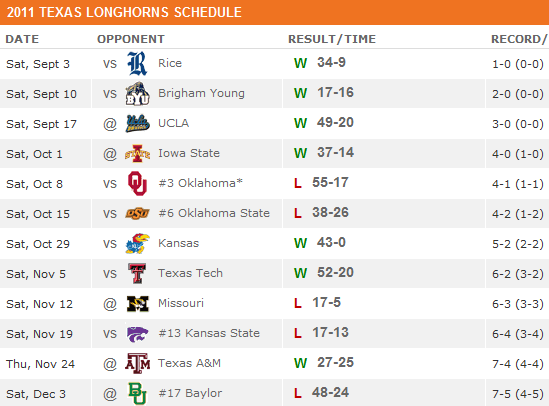 Quarterbacks:
Since the departure of Colt McCoy after the 2009 season, Texas has struggled to sustain a competent passing game. The Longhorns have playing two quarterbacks this season: freshman David Ash and sophomore Case McCoy (yes, Colt's brother). Results have been mixed at best.
| | | | | | | | | |
| --- | --- | --- | --- | --- | --- | --- | --- | --- |
| NAME | CMP | ATT | YDS | CMP% | YDS/A | TD | INT | RAT |
| Case McCoy | 88 | 144 | 1034 | 61.1 | 7.18 | 7 | 4 | 131.9 |
| David Ash | 85 | 151 | 937 | 56.3 | 6.21 | 3 | 8 | 104.4 |
Despite starting the first game of the season for Texas, Garrett Gilbert was pulled during the BYU game and ultimately decided to transfer. Since then the job has gone back and forth between the sophomore McCoy and the freshman Ash. Most recently, Case McCoy was given the starting nod against Baylor because Ash could not take care of the football. McCoy then went out and threw four interceptions. Despite McCoy's struggles against Baylor, offensive coordinator Bryan Harsin remains committed to McCoy as the starter.
Passing yards per game: 193.6 (85th)
Passing efficiency: 120.76 (88th)
Yards per attempt: 7.0 (63rd)
Completion percentage: 57.5 (77th)
Sacks allowed per game: 2.17 (74th)
Running Backs:
While the Texas passing game has struggled, the run game had been explosive...until the top three RBs were injured last month.
Brown, Bergeron, and Whittaker all missed time over the final month of the season with injuries. Fozzie is out for the season with a torn ACL and MCL. Freshman Malcolm Brown is currently nursing a knee injury that does not appear to be serious. However, he has been hampered by turf toe since the Longhorns' win over Kansas and has not had the same explosive speed since. He should be available to play against Cal. Freshman Joe Bergeron sat out last weekend with a hamstring injury and it is unclear whether he will play in the Holiday Bowl. Fortunately for the Longhorns, they are deep at the running back position.
Rushing yards per game: 210.42 (19th)
Rushing attempts per game: 46.2 (11th)
Yards per attempt: 4.56 (36th)
Wide Receivers:
With Texas' struggles in the passing game, it is no surprise that they have not had much production from their receivers. With Whittaker out for the season, Texas' running backs will be minimally involved with the passing game.
Defense
While the Texas offense has struggled this season, the defense has been fairly stout. ESPN's David Ubben--someone who has actually watched Texas--had this to say about their defense:
Linebackers Emmanuel Acho and Keenan Robinson were the solid anchors of the defense as expected. A solid secondary that refused to give up big plays flanked the pair. It kept opposing offenses from throwing a touchdown pass of longer than 20 yards until Robert Griffin III threw two in the season finale. Nobody in college football went longer, and with the caliber of quarterbacks across the Big 12, that's an amazing feat.
Points allowed per game: 23.3 (42nd)
Rushing yards allowed per game: 103.7 (11th)
Rushing yards per attempt allowed per game: 3.34 (19th)
Passing yards allowed per game: 211.7 (47th)
Opponents' passing efficiency: 111.9 (14th)
Opponents' yards per passing attempt: 6.0 (7th)
Sacks per game: 1.92 (61st)
Tackles for loss per game: 6.92 (29th)
Overall, these are pretty impressive. They shut down the run and are able to limit opposing QBs without necessarily getting a ton of pressure on them.
Special Teams and other assorted stats
Field goals: 17/20 (4/4 from 40-49, 1/2 from 50+)
Punting: 38.5 yards per punt (104th), average return of 8.5 yards (72nd)
Turnover margin: -5 (90th)
Penalties: 6.3 per game (70th), 56.0 yards per game (80th)
Red zone conversion: 73.47% (106th)
Red zone TD conversion: 51.02% (104th)
Justin Tucker serves as their kicker and punter. As a kicker, he is solid and has a strong leg (about 18% of his kickoffs are touchbacks). As a punter...well, that 38.5 yards per punt speaks for itself. When you add in the average return, Texas only pushes the opponent back an average of 30 yards on each punt. This type of punting game coupled with Texas' inconsistent offense does absolutely no favors for their defense.
Overall
Texas is not in the happiest place coming into this Bowl game. ESPN's HornsNation site says the Longhorns need to find an identity before the bowl game if Texas wants to finish the season on a high note.
Texas again will have to try to find its identity before it heads to Southern California or Tempe, Ariz., for a bowl game.

For a few weeks, it was thought this was a team dominated by running backs. All three one-time starters -- Fozzy Whittaker, Malcolm Brown and Joe Bergeron -- spent the last four games hurt.

During that stretch it was believed this team was a defensive juggernaut, so much so that defensive coordinator Manny Diaz's name was being bandied about for head coaching jobs. Again, Texas gave up 511 yards to Baylor.

Texas can't even lean on the image of its coach for an identity anymore. Brown's reputation has been damaged by these past two seasons. At no other time in his tenure would anyone even consider throwing out retirement rumors. Even before the Baylor loss, that was the situation for Brown.

"When I do retire, it won't come from a twit, uh Twitter, in Topeka, Kansas," he said.