With the Wimbledon finals coming up this weekend, it is a good time to remember one of the greatest women's tennis players and one of the greatest Wimbledon champions of all time: Cal's own Helen Wills Moody. A Phi Beta Kappa graduate of Cal, Wills Moody completely dominated women's tennis in the 1920s and 1930s. She won two Olympic gold medals and 31 Grand Slam titles. She held the record for the most Wimbledon singles titles (eight) for more than 50 years. And at her death in 1998, Wills Moody left her $10 million fortune to her alma mater, the University of California, Berkeley.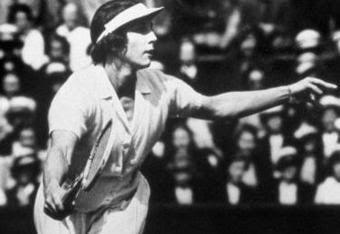 Helen Wills Moody
Helen Wills was born in Centerville (now Fremont), California in 1905, and grew up in Berkeley. For her fourteenth birthday, her parents gave her a membership in the Berkeley Tennis Club, and she began tennis lessons. Just one year later, she won the 1921 national junior tennis championship. At the age of 17 she won the United States National Championship. At this same time, she received an academic scholarship to Cal, where she studied fine arts and, as noted above, graduated Phi Beta Kappa. In 1924 she traveled to Europe for the first time to play at Wimbledon. She made it to the singles final, but lost. That was the only singles match she would ever lose at Wimbledon.

Wills Moody's records are breathtaking. Although her career was shortened by injuries, in a period of 15 years she won 19 Grand Slam singles titles: eight Wimbledon titles, seven U.S. Open titles, and four French Open titles. Had the Australian Open been a Grand Slam event at this time, she undoubtedly would have won several more Grand Slam titles. She also won 12 Grand Slam doubles and mixed doubles titles with eight different partners.

But the number of titles she won does not begin to reflect Wills Moody's complete domination of women's tennis. Over 15 years, she never failed to reach the final of any Grand Slam singles event she entered, with the exception to two tournaments in which she had to default due to back injuries. She won gold medals in singles and women's doubles at the 1924 Paris Olympics. She was the number one ranked women's tennis player in the world for eight years, 1922-1925, 1927-1929, 1931, and 1933. From 1927 to 1933, Wills Moody won 180 straight matches, including a 158-match streak in which she did not lose a single set. Her career record, from 1919-1938 was 398-35, a .919 winning percentage. She even defeated the number eight ranked men's tennis player, Phil Neer, in straight sets in an exhibition match in San Francisco in 1933.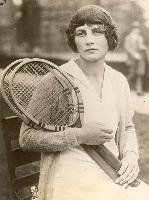 "Little Miss Poker Face"

Wills Moody was known for her stoic and utterly unflappable demeanor on the court. She showed so little emotion that she was nicknamed "Little Miss Poker Face." Her concentration was legendary. She claimed to be unaware of game points, set points and even match points. Her mantra was, "Every shot, every shot, every shot." Crowds did not like her apparent aloofness, and she was often called "Queen Helen" or "Imperial Helen." But Wills Moody explained, "I had one thought and that was to put the ball across the net. I was simply myself, too deeply concentrated on the game for any extraneous thought." American tennis great Don Budge said that Wills Moody hit the ball harder than any woman player he ever saw, except Steffi Graf.

Her most famous match was against the great French champion Suzanne Lenglen in 1926. The match had a "prizefight atmosphere" with tickets being scalped for the outrageous sum of $50. Wills Moody lost the first set 6-3, but had a set point in the second. A disputed line call cost her that set point and she went on to lose the match to Lenglen. For the only time in her career, Wills Moody showed strong emotion on the court, raising her voice to argue with the linesman – to no avail, of course. Lenglen, knowing when to leave well enough alone, refused a rematch and the two tennis greats never played again. However, Wills Moody did meet her future husband, Frederick Moody, at the match.

Although she was naturally shy and reserved, Helen Wills Moody counted among her close friends King Gustaf of Sweden, Diego Rivera (who featured her in a two-story mural at the Pacific Stock Exchange) and his wife Frieda Kahlo, and Charlie Chaplin. When Chaplin was once asked to describe the most beautiful sight he had ever seen, he replied, "Helen Wills playing tennis."

Injuries forced Wills Moody to retire from competitive tennis in 1938, at the age of only 33. But she continued to play the game into her eighties. She was an avid follower of the professional game, and was said to have had decidedly mixed feelings when Martina Navratilova broke her record of eight Wimbledon singles titles in 1990.

Helen Wills Moody died in Carmel, California on January 1, 1998. She left her entire $10 million fortune to the University of California, Berkeley to found the Helen Wills Neuroscience Institute, which currently has a faculty of over 50 researchers and administers the University's graduate program in neuroscience.

[Note: Wikipedia says that Wills Moody attended Cal and was elected to Phi Beta Kappa, but did not receive a degree. Her New York Times obituary says that she did receive a degree in fine arts from Cal. I have chosen to rely on the New York Times rather than Wikipedia on this point.]
GO BEARS!


Sources:

Kraychir, Hank, Cal Athletic Stories, Vol. 1, Kraychir Publications, Desert Hot Springs, CA (2009).
http://en.wikipedia.org/wiki/Helen_Wills_Moody
http://www.nytimes.com/learning/general/onthisday/bday/1006.html
http://bleacherreport.com/articles/276355-queens-of-the-court-helen-wills-moody-the-garbo-of-tennis
http://neuroscience.berkeley.edu/