Readers of this site have recently been treated to a series of stories about Big Games which Cal lost.  I thought my fellow readers might also want to hear a little bit about a Big Game Cal won:  the glorious '98 Big Game.  No, not the 1998 debacle, but 1898 Big Game, which was not only a Cal victory, but Cal's very first Big Game victory!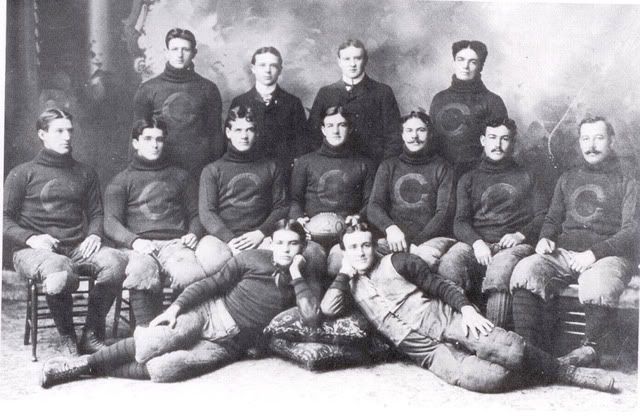 LADIES AND GENTLEMEN:  YOUR 1898 GOLDEN BEARS!
(Top row): "Kangaroo" Pete Kaarsberg, assistant coach Addison Kelly, head coach Garrett Cochran; Volney Craig, (Middle Row): James Whipple, Bart Thane; Charles "Lol" Pringle, Percy Hall, Fred Greisberg, Harry Cornish, Fred Athern (Bottom row): Lloyd "Wrec" Womble, Warren "Locomotive" Smith
The Big Game rivalry did not start well for our beloved men in blue.  The heavily favored Bears lost the first Big Game in 1892 by a score of 14-10.  Then came some ties and more losses.  As the 1898 Big Game approached, Cal's record was a tragic 0-4-3 in the Big Game.  And the 1896 and 1897 games had been lost 0-20 and 0-28.  The song "Palms of Victory" had debuted at the '97 Big Game, with its lyric announcing: "We now declare our hoodoo's gone, Victory is here!"  But, sadly, victory still eluded the Bears – perhaps because the Cal Band had not yet learned the dangers of that particular song, and had played it throughout the game.     

Another possible explanation for Cal's lack of Big Game success was proffered by Cal Professor M.E. Jaffa, who studied the problem and concluded that Cal's players were overfed!  Professor Jaffa issued the following report: "Not only was the amount of food actually consumed excessive, but the amount of food wasted was very large.  The average daily cost per man, 97 cents, greatly exceeds the amount paid by the majority of housekeepers.  The cost of meat alone was 35 cents per man per day.  Another large item of expense is ale, which costs nearly 20 cents per man per day."

But, of course, as all true sports fans know, the real solution to any team's problems is: fire the coach!  And Cal did just that – twice in two years.  Cal said goodbye to Coach Frank Butterworth after the 1896 season.  Butterworth had not been popular on campus.  His players regarded him as a "slave-driver" and he seemed to be more interested in hobnobbing with San Francisco society than in coaching football.  Butterworth's replacement, Coach Charles Nott, lasted only a single season. The Bears were winless in 1897, and Cal's 0-28 Big Game loss saw the end of Nott's career as a Cal coach.  However Nott did remain at Cal in his original position, for which he was probably better suited: professor of botany.

 In 1898 Cal made the bold decision to hire a coach from back east with actual football experience.  Garrett Cochran was only 22 years old, an 1897 graduate of Princeton, where he had been an All America end.  He was hired to coach both football and baseball at Cal for the princely sum of $1,500 per year – even though Frank Butterworth tried to talk him out of taking the job.

The Cal campus, like much of the country, was ablaze with patriotic frenzy and war-fever in 1898.  The sinking of the American battleship Maine in Havana Harbor had the country eager for war with Spain, which was presumed to have done the dastardly deed.  That there was no evidence of this was entirely beside the point.  Professor Bernard Moses, the founder of Cal's political science department proclaimed: "The war with Spain . . . has shown that in spite of our joy in peace congresses, we are still possessed of a warlike spirit, and that underneath a veneering of cultivation, there remains the uneradicated qualities of the old Viking or ancient Germanic warrior."  Football was proclaimed to be the representative of that spirit, "true to the instincts of the race."

Garrett Cochran fit right in with the martial spirit of 1898.  Young and energetic, he recruited players from throughout the Cal campus.  Ninety Cal students tried out for the team - a record at the time.  Unlike previous coaches, Cochran moved players to different positions based on their skills and abilities, and he encouraged the emergence of "star" players.  And he instituted new plays and schemes he had learned while playing at Princeton.  The "Cochran Revolution" was a triumph.  As Big Game approached, Cal had compiled a 6-0-2 record, outscoring its opponents by a total of 172-5 – a far cry from Cal's 0-3-2 record the prior year.

But seven years of Big Game futility had left Cal's fans in desperate need of a Big Game victory to make the turn-around complete. Cal had repeatedly been favored in earlier Big Games, only to end up heading home to Berkeley without a win.  And Stanford was no pushover in 1898, either.  Its record was 5-2-1, and it had outscored its opponents 93-40 on the season.  The Berkeley campus was in a frenzy.  One enormous sign on campus proclaimed: "Remember the Maine! TO HELL WITH STANFORD!" Classes were suspended during Big Game week, and spontaneous Cal rallies broke out in Berkeley and San Francisco.  Two hundred Cal men signed a pledge to forego wearing neckties for an entire year if the Bears did not win the game!

The game was played at Recreation Park in San Francisco on Thanksgiving Day, with 20,000 spectators in attendance.   The Cal team was nervous.  Despite their spectacularly successful season, they had been bitten by the Big Game jinx too many times to be confident of victory.  So right before the game, Coach Cochran gave the team a pep talk:
Boys, this is the opportunity of your lives.  A grander opportunity to immortalize you names, stamp them indelibly upon the pages of the history of your university, has never been given you.  For eight long years have those lobster backs made you bite the dust.  It is your turn now.  Make them bite and bite hard.  Play, every one of you until you drop in your tracks; and when you can't play any longer, we'll put another man in your place.  If you are repulsed once, come at them again, harder.  Just think what it means!  Here are twenty thousand people to watch you!  Some of you have mothers and fathers and sisters here today.  Yes, boys, some of you have sweethearts here, who are wishing and praying that you may win.  Play, fellows, play for their sakes.  Let your motto be, "Hit 'em again, harder, harder."

After a moment of dead silence, the team gave a mighty roar, and raced out onto the field.

The game started slowly.  After the Bears kicked off, neither team could move the ball.  Stanford had the first sustained drive of the game mid-way through the first half, moving the ball 40 yards, down to the Cal 20.  But then they fumbled and Cal recovered.  Cal then drove the ball 89 yards on runs by stars Warren "Locomotive" Smith, "Kangaroo" Pete Kaarsberg, Charles "Lol" Pringle, and Percy Hall.  But then Cal fumbled at the one-yard line, Stanford recovering.  Stanford ended up having to punt, however, from its own end zone.  Stanford punter Chet Murphy botched the punt, kicking it almost straight up in the air.  Murphy somehow caught his own punt on the Stanford goal line and then took off running down the 110-yard long field – which was allowed under the rules of the time.  Murphy ran 85 yards, getting all the way down to Cal's 25-yard-line before Percy Hall caught up with him and, in the words of a newspaper account, "reduced the Cardinal hope to a helpless heap." 

Murphy's failure to score seemed to dispirit the Stanford team.  The Bears held them on downs, and regained the ball on their own 16-yard-line.  Cal then marched 94 yards on 18 plays, capped by a three-yard touchdown run by Percy Hall.  Cal missed the conversion, and so led 5-0, touchdowns being worth 5 points and conversions 1 point.  (This was a change from the prior year, when touchdowns were 4 points and conversions 2 points.)

The score still stood at 5-0 at the half, but the game would be all in Cal's favor in the second half.  "Locomotive" Smith ran a punt back 35 yards early in the second half, and was tackled at the Stanford 2.  "Lol" Pringle took it in for a touchdown.  "Kangaroo" Pete Kaarsberg scored the conversion, and Cal led 11-0.  (Kaarsberg got his "Kangaroo" nickname from his ability to leap over opposing players at the line of scrimmage and come down running.  In fact, he had straps sewn onto his pants which his teammates could use to lift him and throw him over the line of scrimmage.)
Stanford was never able to move the ball in the second half, running only 10 plays in the half, against Cal's 46 plays.  Cal's Percy Hall and "Lol" Pringle each scored another touchdown in the second half, with Kaarsberg adding one more extra point.  The final score: California 22, Stanford 0.  Cal's first Big Game victory!
The game statistics were even more lopsided.  During the 70 minute game, Cal ran 122 plays from scrimmage to 43 for Stanford.  All of Cal's starting eleven played the entire game, while Stanford had several substitutions.

The yardage totals were equally overwhelming in favor of California:

    California Rushing

    Percy Hall                                      183 yards
    Warren "Locomotive" Smith             131 yards
    Charles "Lol" Pringle                         82 yards
    "Kanagroo" Pete Kaarsberg                61 yards
    James Whipple                                 30 yards
    Bart Thane                                       18 yards                   

    Total Cal yardage
          (including punt and kick returns):     882 yards


    Stanford Rushing

    Murphy                                                  111 yards
    Fisher                                                        6 yards
    Dole                                                           5 yards
    Clinton                                                       3 yards
    Wilson                                                       2 yards

    Total Stanford yardage
         (including punt and kick returns):     475 yards

    By order of the President of the University of California, all classes were cancelled the following Monday afternoon, and the team and their coach were honored at a mass rally on campus.  The team finished out the season over Christmas vacation, playing Multnomah Athletic Club in Portland, and winning 27-0.  The Bears went 8-0-2 for the 1898 season, outscoring their opponents by a total of 221-5.  Best of all, they had won the Big Game! 

GO BEARS!
Sources:

Brodie, S. Dan, 66 Years on the California Gridiron, Olympic Publishing Company, Oakland, CA (1949)

Fimrite, Ron, Golden Bears: A Celebration of Cal Football's Triumphs, Heartbreaks, Last-Second Miracles, Legendary Blunders and the Extraordinary People Who Make It All Possible, MacAdam/Cage, San Francisco (2009)

Peters, Nick, 100 Years of Blue & Gold, JCP Corp., Virginia Beach, VA (1982)   

Songs of California: The U.C. Berkeley Tradition, Medius Corp., Milpitas, CA (2007)

Sullivan, John, The Big Game, Leisure Press, New York (2nd ed. 1983)