As a member of the marching band, we often found ourselves near the California Dance Team.  That was, of course, the extent of our interactions with CDT.  Being near them.  We were not cool enough, by far, to interact with these enchantresses. 
We would always sit there and beat our chests and rent out clothes and exclaim "Why will we never ever know more about these sirens?!?"  Well, I have good news for all the nerds out there like I, band or otherwise. 
There's a CDT slash CADT member in our midst!  Masquerading as a pitiful loser like the rest of us.  But, in reality, epically more awesome.  Yes, CGB friend of the blog, DancingDoc, was a member of the Dance Team.  Let's learn a little bit more about her:
Dancingdoc was a member of the California Dance Team from Spring 2004-Spring2007. She was a captain her last two years on the team. Her duty as captain was to maintain close contact with the band, thus, she knows many of them and loves them to death!! CAL BAND GREAT! She pioneered the premier of the Alumni Dance Team at the 2007 homecoming game versus OSU. She also helped resurrect the California Alumni Association of Michigan. She remains active in her Cal Spirit community and will always bleed blue and gold!
Well, hmmm, damn, she likes the band even more than *I* did!  How charitable of her to tolerate the presence of us painfully lame bandos in her life.  If I were her and I were to see me or any other band-member in real life, I would put the brim of my hat just a little bit lower and walk immediately in the other direction.  But I guess the real DancingDoc is more Mother Teresa than me masquerading as her.
Plus, she's quite a bit more flexible than me.  That just doesn't look right.  Is the leg supposed to bend like that????  DancingDoc was nice enough to do an interview with us to teach us more about the Cal Dance Team and the Cal Alumni Dance Team.  After the fold, learn more about the CDT, Richard Midgley's nipples, and "Little" Marshawn (which, as you'll find out, is a poor use of that nomenclature).
Mucho, mucho thanks to DancingDoc for answering all of our increasingly weird questions!  She is a great human being, indeed!
1. What made you join the CDT?
Freshman year I remember going to the first game, having an awesome time, and then looking at the dance team and saying, "hey, I can do that too!" Plus, the dance team does have the best seats in the house and I would get to do what I love while watching my favorite team play football! It just made sense. I also knew that I wanted to get involved with some sort of dance team on campus because I have been dancing since I was two years old. I never really dreamed that I would get on dance team, be a captain, and dance in front of hundreds of thousands of people. It was pretty overwhelming.
2. How many years were you on CDT?
I was on the dance team for three years, the longest you can be unless you are a fifth year senior. You have to be at least a freshman to tryout, therefore, your first year on the team you would be a sophomore.
3. What is the CDT try out like?
It was actually pretty intense. It's a three day process during the spring. The first day is an informational meeting about being on the team. The second day is a practice where you learn a cheer routine, an across the floor routine, and a jazz/hip-hop halftime-ish dance. Then the third and final day is the REAL auditions. You come in, get a number, warm up for awhile and then they start cutting people. Cuts are made after each round of dances. One cut after cheer, across the floor, halftime, etc. If you are lucky enough to make it through those cuts then you have a one-on-one interview with a panel of judges. After this, you go home extremely tired and nervous waiting for them to call you. Also, if you are a returner to the team you have to re-audition each successive year you do dance team. So, potentially, you could be on the team one year and not make it on the following year.
I kind of have a funny story about auditions. We were doing this combination and then the coach, Sanford, points to me and says "You! Can you please demonstrate this combination for everyone?" Of course I was terrified. I mean, I am a dancer and am used to performing in front of everyone, but this was the DANCE TEAM auditions! Plus, I had no idea what one of the moves was. It was a jazz move and I know ballet technique, anyway, so I demonstrate the combination very well until the last move (the move I didn't know how to do) and I fall FLAT on my ass. IN FRONT OF EVERYONE. Then I just started laughing and said, "Go Bears!" What else could you do? Go Bears fixes everything! 

4. What is the average home game like?
The average home game begins with us getting there three hours before the game actually starts. I know this is nothing compared to the band's call time, but we have to wear make-up, eyelashes, etc. It takes a long time to get ready in the morning! Usually my day would start at about 6am if we had a 12:30pm game, which most of them are. We then do the last touch ups on our make-up and do March to Victory by the Fun Zone. That was always fun getting to see the football players up close and personal. After this madness we walk down to sproul where we stretch and waste time until the band begins running up the sproul steps. We then follow them and dance for about 20 minutes straight. The rallies were always the most tiring because it was dancing straight. No breaks. We would sweat so much. It was really stupid because no one attends the rally before the game, so we basically get really tired and sweat away all our make-up so we look like crap at the game when thousands of people see us. Oh dance team, I don't understand you sometimes. After the rally, we march up with the band (my FAVORITE part of the entire day!) "Hey, look it's the LIBRARY! SHHHH! They're studying at the LIBRARY!!" "Oh it was SAD, SO SAD" Man. I love the band. So great. After march up we would dance at the fun zone to whatever the hell the band decides to play. Then we would run into the stadium and rush into the trainers to use their bathroom to fix our hair/make-up before the game started. This was always a chore because some girls would take longer than others and it was difficult to get everyone to leave at the same time and make it back to the field for pre-game. However, we always made it in time. Then we dance pre-game facing the alumni section and make a tunnel with the band for the football team to run through. After this, we go back on the boards and dance on them for the remaining of the game. Then comes post-game where we dance on the field with the band playing behind us. We then pass out from exhaustion.
 
5. What is the average away game like?
Away games were definitely the best part of being on dance team. I got to travel to so many places: Tennessee, Washington, Oregon, Colorado, Arizona, Nevada and many others. We fly on the charter with the football team usually a day before the game or sometimes two days if Tedford needed extra practice time there (like for the Tennessee game in 2006). While we are away we didn't have any scheduled practices or anything so we were able to enjoy many of the places we visited, which was really nice.
 
6. What are the differences between CADT and CDT?
The main difference is that the Alumni Team only performs during the homecoming football game each year. The Alumni Dance Team has only been around for two years. I had the idea to start the team when I was traveling to the WSU game in 2006, my last year on the team. It was their homecoming and as I was watching their halftime I wondered why there were so many people on the field and then I read the shirts of some of the dancers. Written on them was "WSU Alumni Dance Team." That was when everything clicked. I said to myself, "If they have an alumni team, why can't we?" As I did more and more research into the idea, I discovered that EVERY SINGLE pac-10 team has an Alumni Dance or Cheer team expect UC Berkeley. My next step was to talk to our coordinator and get this whole thing off the ground. Even from across the country (I was living in Michigan at the time); I was able to orchestrate the premier performance of the alumni dance team at the homecoming game versus OSU in 2007.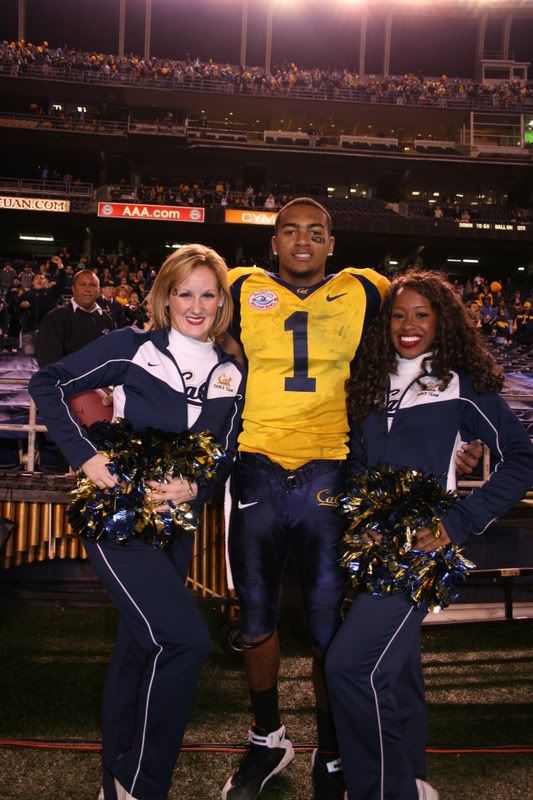 7. What is the average basketball home game like?
Basketball home games were a lot of fun, but very stressful because we had to learn a new halftime for every single home game. This means that we would have to prepare two different halftimes a week (due to a game being on Thursday and Saturday). We perform during the entirety of the game, go out during timeouts on the floor, perform halftime, and a little bit at post game. Basketball games were usually pretty chill except for the fact that we basically had to sell our souls every game. Since our team was not yet fully funded, not only did we have to pay to be on the team, but we had to sell our posters/calendars/bear paw tattoos before every game. It felt so wrong. I wish we could have just given our stuff away like the dance team can do now due to Nike funding them.
 
8. Did you ever have any negative experiences with a lecherous fan?
Too many. However, the worst was at the 2004 U$C game, which was in LA. We were dancing and their fans were the absolute worst. They were saying things like "I've seen better legs on a flamingo" and stupid crap like that. I mean, who says that? I think they also threw one of their cups at us, but luckily they had bad aim. The end of this game was the worst because we had lost and all their fans were telling us to go home and to stop dancing. It's difficult to keep smiling and dancing when all I wanted to do was bitch them out and flip them off.
 
9. What is your most favorite moment as a CDT member?
The end of the Big Game in 2005, which was at Stanford. We had a pretty terrible season and Steve Levy became the hero of the game to win it 27-3. Not only was it an amazing game, but at the end of the game Terrell Williams came over to us and started dancing. He then took one of my poms and began dancing with it. Most fun time ever. And then at the football banquet he had the picture of him dancing with me in his slideshow. It was awesome!
 
10. What sort of interactions with the football team would you have?
Tedford was VERY strict about our interactions. He was so strict that we weren't really supposed to even say hi to them. When taking the chartered flight with the team to away football games, we'd have to get on the plane first (like half an hour before the team got onto the plane). Not only did we get there earlier, but there'd be about 20 people in between us that consisted of donors and coaches. I guess he thought we were that much of a distraction.
11.  In that last question there, you made it sound like the cheerleaders and the football team never interacted at all?  Really?  Ever?  EVAIR?????  That seems wildly unlikely.  I mean its the football team and cheerleaders.  PS  Feel free to name names. 

Of course there were interactions. We just weren't supposed to openly interact with them in front of Tedford. During our chartered flights to away games, girls would be texting football players while they were in the front of the plane and we were shunned to the back. So, you can't really control our interactions. One time actually Steve Levy came to the back of the plane to "go to the bathroom" and he hung out with us for longer than he should of. I forget which game this was, but it might have been his last away trip, so I don't think he really cared that he got in trouble. I mean, just look at Holiday Bowl 2006. He didn't give a crap what Tedford said.
 
12. What is your least favorite moment as a CDT member?
Oh man. I have an embarrassing moment, which still haunts me to this day. It occurred during a Friday Noon rally. I was hung-over, got dressed and left my apartment quickly. While I'm stretching to get ready for the rally another girl on the team says, "I think you have a hole." I was like, "Where?" And she says, "In the crotch of your spankies" (which are the things we wear under our skirts). We don't wear anything else under these spankies, which meant that I had a hole which allowed everyone to see everything. There was nothing that I could do, I had to perform and no one had extra spankies. So, I just turned them around and figured it would be better if people got a view of my ass. In the end, I performed with a huge hole exposing me and to this day I still don't know if anyone ever noticed. Luckily it was for the Friday rally and not for the entirety of a game. 

12.  In the marching band, we had many newman hazing rituals such as the Crossing of the Desert, the Wreck of the Hesperus, the Unblinking Eye, and, of course, the Paddling of the Swollen Ass...With Paddles.  Of course, one more popular, band hazing ritual was the naked pillow fight.  Did the CDT have hazing rituals such as the naked pillow fight and can you please send those naked pillow fight photos to goldenblogs at gmail dot com?

We did have hazing rituals, however, they began with me. Due to my close contact with the band, many of their ways rubbed off on me and I decided to begin initiating the dancers. Therefore, I never had the pleasure of being initiated, which kinda makes me sad. But I made sure that the other girls had a great/humiliating time being initiated. Our initiation was called "The Search for Cal Spirit." I can't comment any further. Don't want to ruin it for the next round of girls.
13.  What sort of athletic regiment is necessary to keep a dance team member in shape for their events?  And what percentage of that is jazzercise?

Well, we would have practice three days a week for three hours each. Sometimes we would also have practice on Sundays if something really big was coming up (like Big Game). We also dance for about 6 hours at football games. Some of us would exercise outside of dance team stuff, but usually our practices and games would keep us in shape. However, we would take practice time to do jazzercise. It probably takes up about 30% of our work out regimen.
14.  How awesome is Marshawn?  On a scale of Marshawn to Marshawn.

He's BEASTMODE Marshawn (that's off the charts)

15.  Seriously, though, what's up with rally comm?  It seems like Rally Comm's only entrance requirement is the ability to clap in rhythm.  Did the Dance Team members mock Rally Comm as much as the band members?

Oh Rally Comm. They TRY to pretend like it's difficult to be in Rally Comm. They pissed us off as much as they pissed the band off. We'd get so angry when they'd get per-diem on the away trips and didn't have to do ANYTHING. Then they would complain about waking up early, ugh. I wanted to punch them in the face a little bit.
16.  Do you guys get to watch any of the game?

I'd watch as much of the game as possible. We have the best seats in the house! Some girls, however, were probably watching the players and not the game. They are the ones that cheer when we get a penalty or when the other team intercepts the ball.
17.  What do you talk about during the game?  Is it about how attractive TwistNHook is?  Sources say Yes.

I'd be talking about the game! Like, "did u see that amazing catch?" or "holy crap, it's fourth and INCHES, go for it!" Oh, or I'd be talking to the student director of the band about what song is next and then I'd have to motion that to the rest of the girls so they knew what song was next too. Sometimes the girls would be talking about the players. Like one time when Marshawn peed in the trash can right on the field. Ya, we saw EVERYTHING. And let me tell you, Marshawn deserves his beastmode slogan.
18.  I know that you guys also interact with the basketball players. Any interesting stories?

I am glad you ask because one of the best moments on dance team occurred while on a chartered flight with the basketball team in 2005. We were returning from our first round NCAA loss against NC State in Dallas, Texas. It was a rough trip, not only did we lose, we were in Texas. I think we were ALL happy to be on the charter heading home. Rod was drinking his "clear Pepsi" with Richard Midgley. We were all having a grad 'ol time! This was the first time where the players, band, and dance team all sort of sat near each other. I was sitting next to Omar Wilkes, who was one of my team crushes, and he asked me if I had a boyfriend. And, of course, I did. DAMN. If only.
Anyway, back to the story. So the band starts playing drinking songs and being awesome as usual. Then Rod comes up to us and says, "Hey what are you guys playing?" He was interested in learning how to play "on the farm." He came up with a very creative on the farm about one of the coaches. None of us got it, but his entire team laughed and they were then interested in what we were doing. The next round of on the farms was the best because one of the band kids came up with "Oh, Stevie Stevie P. Will you have sex with me?" This was about Steve Panawek a current bball player. They wanted someone on dance team to say it and of course I agreed! It was amazing. I think a lot of the bball players were shocked, but Steve was all for it! He was like "OK!"
Again, if only. This charter also lead to one of the most awesome pictures I have ever taken. I got a picture with Richard Midgley (who I was obsessed with!) and Rod Benson. The pic is great cause I am standing on my toes and I barely clear their nipples.
19.  On a scale of 1-10, how hot is Brock Mansion?
He's ok. Like a 7.
20.  Admit it, you like it when the team wears white pants, don't you?
Oh yea. You get a better view of their butts that way. Duh.
21.  Who has a better average GPA, the football team or the dance squad?
Probably the dance team even though the football team has a larger population to take the mean from, thus, one bad GPA is not gonna effect their average as much as it would effect our average. However, there is a GPA requirement to be on Dance Team. I forgot what it is. Something like 2.5 maybe. Anyway, none of us ever got close to being kicked off dance team for our GPA. We may look dumb, but don't forget we go to UC BERKELEY. We are nerds at heart.
22.  Rumor has it that the dance team is going to become a cheerleading squad in 2009 - meaning that they'll do flips and shit (like you're on a dolphin).  Is that true?
I haven't heard anything about this. This makes sense though because the current coach is actually a cheer coach and wants the dance team to do stunts, however, it's never gonna happen. We are the only Pac-10 team to have just a dance team, not both cheer and dance, and I don't think that'll ever change. It's Cal. We are all about tradition.

23.  How many different dance routines do you know?
Oh jeez. During football we'd hav to know like 10 different cadences, 12 fight songs, and at least 15 other random dances we'd do when the band plays more contemporary music. We'd also have to know halftime and all the cheers that the student section does during a game. It's a little overwhelming, but you get used to it. Oh, and basketball is worse cause you have to know all that plus two full halftime routines. It was madness.
24.  If Jeff Tedford allowed you to call a play in a game, what play would you call? 
I would call the double pass play that Tedford opened with against MSU this past fall. However, I would make sure that Shane Vereen didn't under throw it. It would work and it would be SICK.

25.  Do you prefer performing at basketball or football games?
That's an interesting question. I really liked the energy of football games and I loved feeding off the fans, however, at bball games you're so close to everything and you feel like you are right there in the game. Plus, hot sweaty players fall on you sometimes, which is awesome.
26.  How does the dance team get its funding?  Do you have some sort of fund raisers?
Well now the dance team is funded by Nike and they don't have to pay for anything. This was not the case when I was on the team. We'd have to sell ourselves every second we could. We sold posters and calendars. We also went up to business and asked for funding, which was just awkward. We'd also do fundraisers in conjunction with the band. Man, it must be nice to not have to do all that crap now. They can just focus on being the best dancers THEY can be
27.  Other schools often allow their cheerleading squads to be rented out.  For example, if your wallet is big enough, you can rent the USC Song Girls for private performances.  Do you gals do the same thing?
Yup. We are for sale. I think the current team still does this. We'll take any money you can give us. We'd have to do terrible events at like weddings and house parties. Sometimes it was kinda weird having these old people who basically "bought" you for the night...

28.  Is there a lot of drama between all the girls on the squad?
Ha. Of course! If there's ever more than three girls in a room, there's gonna be drama. Come on.
29.  Do you talk or associate with cheerleaders from other schools?
We tried while we were at away games. Usually they were really nice to us and would feed us during halftime, which is what we do to cheerleaders that visit us. However, the U$C cheerleaders didn't even say hi to us. Who do they think they are? And they didn't even feed us! How rude.
30.  Are you single?
31. Are any of your other dance team friends single?

Again. Depends who's asking.
32. Hydro can do cartwheels.  Can he be on the dance team?
No. We can't have him flashing the crowd as HE DOES cartwheels on the field.
33.  Can guys join the dance team?  I think TwistNHook is interested.
Interesting that you asked because the dance team used to have guys on it, however, it was not taken well by the student section. So they were then cut from being on dance team. But when I auditioned, there were two guys that were also trying out. My coach said to them, "You have to be better than the best girl to be on the dance team." That's pretty intense. Needless to say, neither of them were better than the best girl dancer there. So, TwistNHook, if you think you can BRING IT better than any other dance teamer, then GO FOR IT.
"TwistNHook practices his moves!" via www.latimes.com
34.  Are you aware that Yellow Fever was the guy who sprang for five signed calendars from the group a few years ago?  Do you think that's creepy, or just very supportive of the Cal Dance Team?
I guess it depends on where those calendars are hanging...either way, thanks for supporting the dance team! ;)
35.  We all know that you might have some idea who Diante Jackson is. Why didn't you try harder to get him to come to Cal?
Eh. He's too young for us and not that attractive.
36. Is there anything else you'd like to tell us about being a CDT member?
I think that people really take the dance team for granted. It takes a lot of hard work and practice to learn all the dances we have to know at a moments notice. I know we're easy to look past during a football game, but just take a moment to look and appreciate the dancing. Also, we'd be nothing without the band! This is my little shout out. I love the band and I think anyone who's ever met me knows this! Without the band we are literally NOTHING. At the next homecoming football game, look for me performing in the alumni dance team! I'll be dancing and supporting my team until I can't walk anymore! GO BEARS!!
37.  Finally, can I smell your underwear?
...............................................................................