Fantasy Week in Review makes its glorious return this week, after the first weekend of the tournament wreaked havoc on our brackets. La Salle, Wichita State, and Florida Gulf Coast in the Sweet 16? Who could have foreseen that? Let's look at the damage:
CGB NCAA Tournament Pick 'Em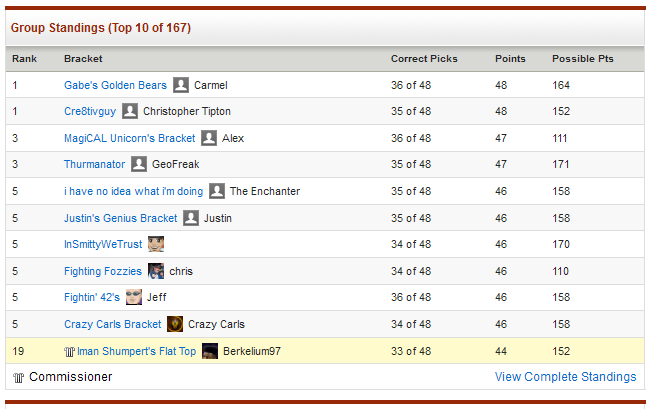 Gabe's Golden Bears and Cre8tivguy sit atop the standings after the first weekend. With "Possible Points" values above 150, they have potential to post solid finishes unlike third-place MagiCal Unicorn's Bracket, who picked Gonzaga to win it all. Enjoy the glory while it lasts, MCUB; there's nowhere to go but down. With 171 possible points, Thurmanator is in an excellent position to succeed down the stretch.
Here are some other observations from the week:
Crabbe Kecobbs, Maxdarkfire's Golden Bears, and Kyle B dreams of bears all fought the valiant fight but lost--each picked Cal to win the tournament. You're all winners in my book.
nwcalbear picked Gonzaga to face Georgetown in the National Championship Game. Oops!
Correctly picking 27 out of 32, Mustard's Off The Top Dog was the top performer in the round of 64.
Crea8tivguy posted the highest round of 32 score with 26 points (13 of 16 correct picks).
In addition to the NCAA Tournament Pick 'Em, we're about to kick off two fantasy baseball leagues.
­
­
­


Fantasy Baseball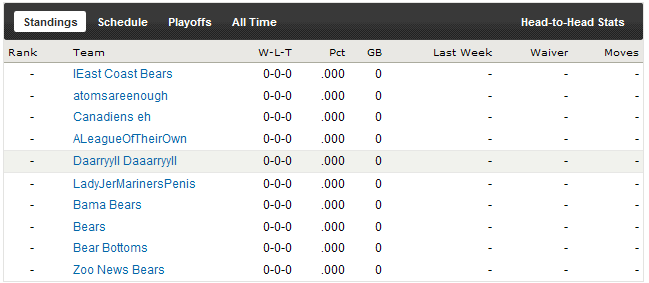 The Gorilla Munch league could use another two teams. Make sure to join by Thursday, as the draft is currently scheduled for 8pm PDT on Thursday.
­
­
­
Our Trollifornia league has filled up and is preparing for Wednesday's draft.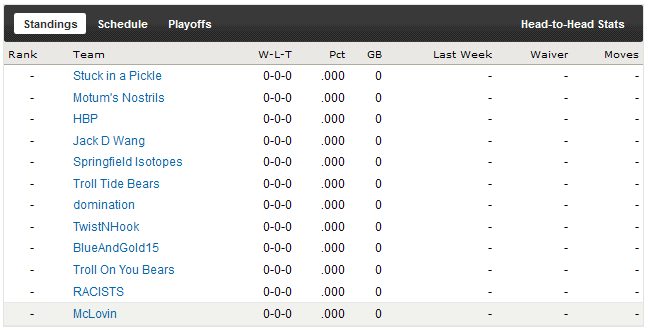 The 16 scoring categories have been set.

The batters categories are all maximum categories; that is, you want to maximize all these stats. The only exceptions are Ground Into Double Play and Errors. And yes, this means you earn points when your batters get hit by pitches.
The pitchers categories are a mix of maximum and minimum categores. Max categories include Total Batters Faced, Batters Grounded Into Double Plays, Relief Wins, Pickoffs, and No Hitters. Min categories include Intentional Walks, Hit Batters, and Stolen Bases Allowed. Finally, your team will have to pitch at least 30 innings each week or else you forfeit all pitching scoring categories.
As planned, the troll league's draft will take place at 8pm PDT this Wednesday. Trying to create a draft strategy here is probably one of the most fruitless endeavors you will ever undertake.