The University of California has been sending athletes to the Olympics since 1906, and at least one Golden Bear has participated in every summer Olympics since 1912. Over the past 106 years, more than 300 Cal Bears have performed in the Olympics, earning a total of 178 medals. In 2012, Cal sent 38 Olympic athletes to London, representing 17 countries, and these Golden Bears are bringing 17 Olympic medals home to Berkeley, 11 of them Gold. There were extraordinary Gold Medal performances from swimmers Dana Vollmer and Nathan Adrian and rower Erin Cafaro, among others. After 88 years of Cal Olympic water polo, Heather Petri and Elsie Windes earned the Bears' first Gold Medals ever in that sport. Swimmer Natalie Coughlin won her twelfth Olympic medal, tying the record for the most decorated American woman in Olympic history. And soccer player Alex Morgan provided the world with one of the signature moments of the 2012 Olympic Games.
Golden Bear Alex Morgan receives her Gold Medal for Women's Soccer
So how does the performance of our Golden Bears in 2012 stack up against previous Olympics? Although it is always somewhat unfair to compare different eras in sports, let's give it a try anyway because . . . why not? Let's take a look at Cal's performance in earlier Olympic Games, to see if 2012 can be considered Cal's best Olympics of all time.
Cal has had so many outstanding moments at the Olympics over the past 106 years, that it was difficult to narrow down the candidates for "Best Cal Olympics Ever" to a manageable number. So if you feel that I have left out one of Cal's best Olympics, feel free to discuss that in the comments. But here are my candidates for the best Cal Olympics ever.
1920 - Cal Bursts Onto the Medal Podium With a Bang
Although Cal athletes had participated in the 1906 and 1912 Olympics, the first time Golden Bears won medals was in Antwerp in 1920. And they started off Cal's medal-winning ways in style. Of the 13 Cal athletes at the 1920 Games, 10 of them came home with medals, six of them with Gold. That would be the equivalent of 29 medals and 17 Golds in a 38-member Olympic delegation, such as the Bears brought to London this year. And it must be remembered that in 1920, there were a total of only 156 events in which medals were awarded. In 2012, there were 302 medal events. So it could be argued that Cal's 10 medals in 1920 were the equivalent of 19 or 20 medals in 2012.
The 1920 Games also featured some of Cal's most memorable Olympians. Silver medalist Ludy Langer was not only Cal's first Olympic swimmer, but was almost single-handedly responsible for swimming becoming a varsity sport at Cal. Harold "Brick" Muller won a Silver Medal in high jump in Antwerp. Then he returned to Berkeley to become the greatest player on the most dominant football team in Cal history: Andy Smith's 1920 Wonder Team. Muller's Wonder Team teammate, Albert "Pesky" Sprott, finished sixth in the 800 meters. Brutus Hamilton, winner of the Silver Medal in decathlon, would go on to become a legendary track coach for Cal, and eventually Cal's first Athletic Director (whose first act as AD was to hire Pappy Waldorf). Bronze Medal shot putter Harry Liversedge may have been the greatest of them all, as he would become a career Marine Corps officer, lead the invasion of Iwo Jima during World War II, and be awarded the Navy Cross for gallantry twice. And six Gold Medals went to Cal rugby players, who were part of an all-northern-California team which pulled off a stunning upset of France. It was a truly extraordinary group of Golden Bears who represented Cal in 1920.
Team USA, with six Cal Bears, including team captain Charles Tilden, defeated highly favored France for the 1920 Gold Medal in rugby.
1948 - The Most Gold Medals Ever for Cal

The 1948 edition of Cal Olympians brought home 13 Olympic medals. Of the 15 Bears at the 1948 Games, 11 came home with a medal. That's a lot of medals, especially since there were only 138 Olympic events in 1948. In fact, 1948 is still tied for fifth in the most Cal medals at an Olympics. But what is more remarkable still, is that 12 of those 13 medals were Gold -- one more Gold than Cal won in 2012, and the most Golden Bear Gold ever.
On the other hand, nine of those Gold Medals were won in a single event, eight-oar rowing. Back in 1948, the USOC selected rowers as a team. Universities and rowing clubs entered their boats into the Olympic trials, and the entire crew of the winning boat became the American Olympic representative. Thus, Cal's entire 8-oar men's crew team (plus coxswain, of course) went to London, where they proceeded to win Gold in convincing fashion.
The stand-out individual Cal athlete in 1948 was Ann Curtis. She was the greatest swimmer of her era, and began Cal's tradition of Olympic swimming champions, winning two Golds and a Silver in the three events she swam. What makes Curtis' feats so remarkable is that there were only a total of five swimming events for women in the 1948 Olympics, and no swimmer was permitted to participate in more than three events. So she won a medal in every event which it was possible for her to enter, and won medals in 60% of all women's swimming events in existence. If a swimmer were to medal in 60% of the women's swimming events in 2012, that would mean 10 or 11 medals -- more medals than even Michael Phelps could manage. Of course, this is not to say that Curtis would have won that many medals had there been 17 events. But it shows her dominance of women's swimming at the 1948 Games.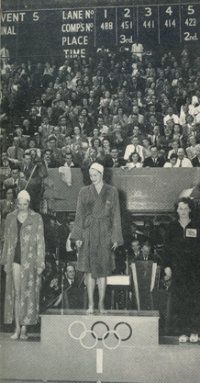 Ann Curtis receives Cal's first Gold Medal ever in swimming, for the 100 meter freestyle
And finally, Golden Bear Guinn Smith won an unusual (for Cal) Gold medal in pole vault. Smith won his Gold on a windy, rainy day, and despite chronic knee problems, which had resulted from being shot down by the Japanese, while serving as a Army Air Corps pilot in World War II. After two failed attempts at the bar, he switched to a borrowed bamboo pole. Its owner was a Japanese pole vaulter whom Smith had met during the Occupation of Japan, and who was barred from competing in 1948 (as were all Japanese and German athletes). And with that borrowed pole, Smith won Cal's twelfth Gold Medal of the Games.
1988 - Matt Biondi Gives the Greatest Olympic Performance Ever by a Golden Bear
As far as the Cal Bears are concerned, the 1988 Olympics belonged to swimmer Matt Biondi. Yes, the Golden Bears sent 20 other athletes to Seoul. Yes, Bears won Silver and Bronze medals in water polo (Kevin Robertson - USA), decathlon (Dave Steen - Canada), women's swimming (Mary T. Meagher - USA and Conny van Bentum - the Netherlands), and even another medal in men's swimming (Paul Kingsman - New Zealand). But Matt Biondi dominated men's swimming, winning seven medals, five of them Gold. Biondi's medals were: 50 Free (Gold), 100 Free (Gold), 400 Free Relay (Gold), 400 Medley Relay (Gold), 800 Free Relay (Gold), 100 Butterfly (Silver), 200 Free (Bronze). Biondi was the most dominating Olympic swimmer between Mark Spitz in 1972 and Michael Phelps in 2008. In fact, he won more medals at the 1988 Olympics than any other athlete from any country, in any sport. (Biondi also won Gold at Los Angeles in 1984 and at Barcelona in 1992, ending his Olympic career with 11 medals: 8 Gold, 2 Silver, and 1 Bronze.)
Matt Biondi shows off his Olympic hardware.
It could be argued that Cal as a whole did not fare especially well in Seoul. If Biondi had not been there, the Bears would have won only five medals, two Silver and three Bronze. But Biondi was there. And he put on the most spectacular performance of any Cal athlete in the history of the Olympics. Matt Biondi's performance alone would be more than enough to make the 1988 Olympics one of Cal's greatest.
2004 - Golden Bears Medal in Eight Different Sports, and Natalie Coughlin Wins Five
For Cal, the 2004 Olympics were in some ways the opposite of the 1988 Games. Whereas the 1988 Olympics had been dominated by the spectacular performance of a single athlete, the hallmark of 2004 for Cal was the variety of Bears who contributed to the medal tally. 31 Golden Bears went to Athens in 2004, and they came home with 16 medals: 5 Gold, 6 Silver, and 5 Bronze. And those medals were won by 12 athletes in eight different sports - the largest number of sports in which Cal has ever received medals at an Olympics. But, at the same time there was a dominant Cal athlete: swimmer Natalie Coughlin, who won five medals, including two Golds.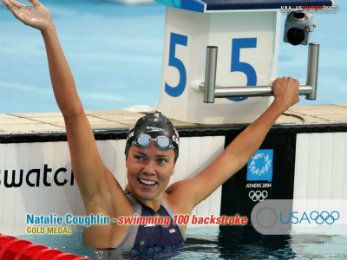 Natalie Coughlin celebrates her Gold Medal in the 100 meter backstroke.
Golden Bears medaled in all these sports in Athens: (1) Men's Rowing (Peter Cipollone - USA, Gold, 8-oars and Jake Wetzel - Canada, Silver, Fours); (2) Women's Rowing (Megan Dirkmaat and Laurel Korholz- USA, Silver, 8-oars); (3) Women's Soccer (Joy Biefeld Fawcett - USA - Gold); (4) Men's Swimming (Duje Draganja - Croatia, Silver, 50 Freestyle); (5) Women's Swimming (Natalie Coughlin - USA, two Golds, two Silvers, one Bronze, and Dana Vollmer - USA, one Gold); (6) Sychronized Swimming (Tammy Crow - USA, Bronze); (7) Women's Beach Volleyball (Holly McPeak - USA, Bronze); and (8) Women's Water Polo (Ericka Lorenz and Heather Petri - USA, Bronze).
Natalie Coughlin's two Golds in 100 Backstroke and 800 Free Relay, her two Silvers in 400 Free Relay and 400 Medley Relay, and her Bronze in the 100 Freestyle led the Bears in Athens, and made her a national hero. But it was the combination of Coughlin's feats with the depth and breadth of the entire Golden Bear performance which made 2004 such a great Olympics for Cal.
2008 - The Most Cal Athletes, Most Cal Medals, and Natalie Coughlin Wins Six
In Beijing, the Bears set new records for the most Cal athletes at an Olympics (38) and the most medals won by Golden Bears (17). The Bears medaled in seven different sports, second only to 2004, earning five Gold, nine Silver, and two Bronze. And Natalie Coughlin cemented her claim as Cal's Golden Girl in swimming, winning six more medals: 100 Backstroke (Gold), 400 Free Relay (Silver), 200 Individual Medley (Bronze), 800 Free Relay (Bronze), 100 Free (Bronze), 400 Medley Relay (Silver). That brought her career total to eleven Olympic medals, matching Matt Biondi's record for the most career medals in Cal history.
Cal's up-and-coming men's swimming star Nathan Adrian also won Gold in Beijing, in the 400 meter freestyle relay. But the most well-remembered moment for Cal swimming at the 2008 Games was the battle in the 100 Butterfly between Cal Bear Milorad Cavic of Serbia, and Michael Phelps. Television viewers everywhere thought that Cal's Cavic had beaten Phelps, stopping his run to eight Gold Medals. But the Omega timekeeping folks said that Phelps had touched the wall first, leaving Cavic with Silver.
Michael Phelps (left) and Golden Bear Milorad Cavic. Who finished first?
In addition to swimming excellence, in 2008 Cal fans took special pleasure in seeing basketball star Jason Kidd win Gold. Cal rowing continued its winning Olympic tradition, with Erin Cafaro earning Gold for the USA in the women's 8-oars, while Canadians Jake Wetzel (men's eight) and Scott Frandsen (pairs) added a Gold and a Silver. Silver Medals in Softball (Vicky Galindo), and Women's Water Polo (Heather Petri and Elsie Windes) rounded out the seven sports in which the Bears medaled.
With the most Cal athletes and the most Cal medals ever, the 2008 Beijing Olympics seemed like they would be hard for the Bears to top. But then came 2012.
2012 - 38 Cal Athletes, 17 Cal Medals, 11 Cal Golds, Dana Vollmer, Nathan Adrian, Natalie Coughlin, Erin Cafaro, Alex Morgan, Heather Petri, Elsie Windes . . . Is It the Best Yet?
In 2012 the University of California equaled two of its records, set in 2008, by sending 38 Cal athletes to the Olympics, and winning 17 Olympic medals. But the 2012 Bears more than doubled their Gold Medal count over 2008, winning 11. This was the second-most Gold medals ever won by Cal athletes in a single Olympics, behind only the 12 Golds in 1948. But in 1948, nine of those medals came in a single event, men's eight-oar rowing. In 2012, the Bears won Gold in eight different events, and in five different sports: Women's Swimming, Men's Swimming, Women's Rowing, Women's Water Polo, and Women's Soccer. And the Bears won medals in a total of six different sports, including a Bronze in Men's Water Polo.
Eight Cal coaches and support staff also went to London, including Cal's women's swimming head coach, Teri McKeever. In 2012, McKeever became the first woman head coach of the US Women's Swimming Team. She led Team USA to its most successful Olympics since 1984 (when the US had an easier task, because of the Olympic boycott by the Soviet Union and most Eastern European countries).
And the 2012 Olympics were filled with dramatic Cal Bear moments. In swimming, Dana Vollmer became only the third Cal athlete to win three or more Gold Medals in a single Olympics, setting two new world records in the process. Nathan Adrian had a heart-stopping .01 second win in one of the glamor events of men's swimming, the 100 meter freestyle, becoming the first American man to win that event since fellow-Bear Matt Biondi in 1988. Adrian also swam the anchor leg of the 400 medley relay, in a dominating performance that ensured his fellow relay team member, Michael Phelps, would end his Olympic career with a Gold Medal. Vollmer and Adrian both won multiple Gold Medals -- the first time two Bears had won multiple Golds at an Olympics since tennis players Helen Wills and Hazel Hotchkiss Wightman did it in 1924. And Natalie Coughlin won the twelfth Olympic Medal of her career, a Bronze in the 400 freestyle relay. This put her in a tie for the most career medals ever by an American woman, and broke Matt Biondi's record for the most career medals by a Cal Bear (although Biondi still leads in career Golds, with eight).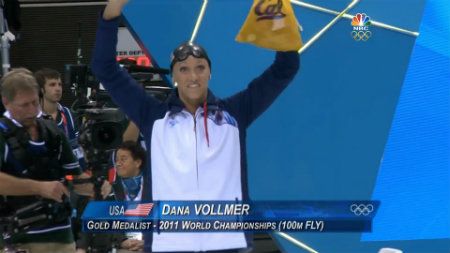 Triple Gold Medalist Dana Vollmer shows her Cal pride as she heads to the start of the 100 meter Butterfly -- where she would set a new world record.
Erin Cafaro won her second Gold Medal in women's eight-oar rowing. While the race itself was not dramatic, as the US team had a solid lead from start to finish, the accomplishments of Cafaro and her teammates are dramatic indeed. Not only have they won Gold in two consecutive Olympics, but almost unbelievably, they have not lost a race to anyone in six years.
Women's water polo players Heather Petri and Elsie Windes added to the drama by giving Cal its first Gold Medals in that sport. Golden Bears have been competing in Olympic water polo since George Schroth and George Mitchell won Bronze in 1924. And Petri and Windes themselves won Silver in Beijing. But this year, they finally brought water polo Gold to Berkeley, after 88 years of Golden Bear effort. And they helped the USA earn its first Gold Medal in water polo since 1904.
And, of course, Women's Soccer player Alex Morgan provided what may well become the single most famous moment in Cal Olympic history. It was Morgan's last-second game-winning goal against Canada which allowed the American team to reach the Gold Medal game.
And there was so much more to these Olympics. At least one Cal Bear was in action on every single one of the 16 days of the 2012 Olympics. In fact, Golden Bear Betsy Hassett of New Zealand played in the very first event of the Olympics, a Women's Soccer match against Britain, two days before the Opening Ceremonies. And Cal Men's Water Polo player Aleksa Saponjic of Serbia and Men's Track athlete Kari Karlsson of Iceland ended the 2012 Olympics for the Bears on a high note on the day of the Closing Ceremonies. Saponjic won Cal's seventeenth medal, a Bronze. And Karlsson became the first Golden Bear ever to complete that most hallowed of Olympic events, the Marathon.
Was 2012 the Best Cal Olympics ever? You decide. But this much I do know for certain:
I can hardly wait for 2016!
GO BEARS!