I recently discovered some surprising and disturbing information about my beloved hometown.  At first, I was tempted to take all possible steps, lawful or otherwise, to conceal this information. But then I remembered the lesson that I learned (and that Bill Clinton failed to learn) from Richard Nixon:  It's not the crime.  It's the cover-up. So, rather than engage in a cover-up, I decided to bite the bullet, take the bull by the horns, and strike while the iron is hot.  Here goes.  It turns out, that Sacramento! was the birthplace of none other than Leland Stanfurd, Jr. (The Horror! The Horror!)  At least this is what Wikipedia said.
But then I did some further investigation and discovered that Wikipedia was wrong. Sacramento! was actually the birthplace of a boy named Leland DeWitt Stanford.  It was nine years later, while that boy was living in San Francisco, that he changed his name to Leland Stanfurd, Jr.  So, really, Leland Stanfurd, Jr. came into existence in San Francisco, not Sacramento!  And Sacramento! has nothing to be ashamed of at all!  You can imagine my relief!
For reasons known only to itself, the State of California bought the Stanfurd Mansion in Sacramento! a few years ago and turned it into a state park.  It is also available to the Governor of California to hold official receptions, because California has had no Governor's Mansion since Jerry Brown sold off the last one. (Do you think he could be persuaded to sell this thing off, too?)
The Stanfurd Mansion in Sacramento!, birthplace of Leland DeWitt Stanford (but not the birthplace of Leland Stanfurd, Jr.)
In fact, Sacramento! got rid of Leland DeWitt Stanford and his family when the boy was only two years old, and he lived the next seven years in San Francisco.  Then he turned into Leland Stanfurd, Jr., and spent most of the rest of his short life (he died at the age of 15) in San Francisco.
The Stanfurd Mansion in San Francisco -- the place where Leland Stanfurd, Jr. came into existence.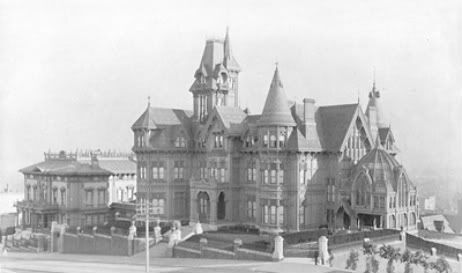 The Stanfurd mansion on Nob Hill (left) and the tasteful and understated mansion of fellow robber-baron Mark Hopkins (right).  The Stanfurd Mansion looks kind of puny and insignificant, doesn't it?

Apparently recognizing the error of its ways, the City of San Francisco arranged for an earthquake and fire in 1906, for the purpose of destroying all trace of the actual birthplace of Leland Stanfurd, Jr.  Apparently San Francisco thought it could cover-up its guilt by destroying the evidence.  But what did we just say about cover-ups?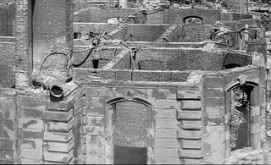 The remains of the Stanfurd mansion in San Francisco in April 1906.
So really, what was I worried about?  Sacramento! has no reason to be embarrassed. San Francisco is entirely at fault.  Whew!