Way back in the halcyon days of July Twistnhook demanded the CGB commentariat to build him an army of animated GIFs.  But because he's CGB's Jimmy Carter, nobody listened.  But I've been jealous of McCovey Chronicle's incredibly large, diverse collection of GIFs for awhile, so together Twist and I attempted to create our army.  We discussed ideas, scoured the internet for videos, downloaded programs and converted files.  And then we realized something
We're both morons.  So, so stupid.  Totally incapable of performing complicated computer file manipulations.
So we had to find somebody smart enough to make GIFs, but also willing to do our bidding.  We needed a person - nay, A HERO - to save us.  So we sent all our ideas to Goldblooded, and he worked til his fingers were sore and blistered . . . and he produced magic.  Unbelievable magic!  Now, thanks to him, CGB has an army!  Click here to visit CGB's photobucket and look at all of the incredible GIFs, pictures and photoshops we've created/collected.  There's the best of JShufelt, the bear madness of Zoonews, and even a few things that Twist and I managed to get to work.  But the vast majority of the GIFs were created by an industrious Goldblooded.  Praise be to Goldblooded!
Now, when words can't express how you feel, you can turn to the photobucket!  Say, for example, a pac-10 ref has decided that UCLA is allowed to win by shooting over the backboard.  You can express your extreme displeasure with this:
Imagine a suddenly overconfident Duck fan is giving you grief!  You could respond with this: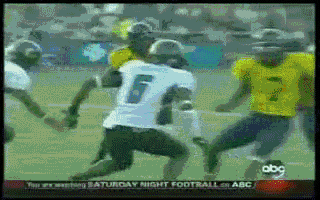 or this
What if you need to express your disdain for USC?  Here's your chance:
Or for the stupidest mascot in the world?
Or remember the greatness of Pain Train:
Now, how should you go about using this incredible power?  GIFs, while awesome, also tend to slow down computers.  So, remember the following:
1:  Always use a subject line.  By clicking on the subject line a user can hide everything below the subject line in the comment, including GIFs and pictures.  This is especially important in game threads and DBDs when there are many hundreds of comments that slow down a computer on their own. 
2:  CGB mods retain the power to delete and any all GIFs without a subject line.  It's nothing personal - we just want to make sure everybody's computers keep working!
3.  In addition to collapsing GIFs using the subject line, users can stop GIFs from running by pressing the escape key
So enjoy, but use them responsibly.  Because remember, with great power comes great responsibility!