Who is the most extraordinary Cal football player of whom you have probably never heard?  There are, doubtless, many candidates.  But one of the best has to be Walter A. Gordon.  Not only is he a member of the College Football Hall of Fame, but he was also Cal's first All America football player and Cal's first African-American football player.  And those are only were only a few of his many extraordinary achievements.
Walter Arthur Gordon - 1918 All American
Walter Arthur Gordon was born in Atlanta in 1894, the son of a Pullman porter, and the grandson of slaves.  His family moved to Riverside, California in 1904, where Gordon graduated from high school.  He was accepted as an undergraduate by the University of California in 1914, at a time when there were fewer than 50 African-Americans in the United States enrolled at predominately white colleges and universities.

Gordon was the star of Cal's boxing team, winning the California State Championship.  He was the star of Cal's wrestling team, winning the California State Championship in that sport as well.  And he was a star on Andy Smith's early Cal football teams, playing on both the offensive and defensive lines.  In fact, during his Cal football career, at one time or another he played every position on both lines except center. At 6'0" and 200 pounds, he was one of the biggest men on the team, but with tremendous quickness, and an instinct for knowing where to be on the field.

1918 was Gordon's senior season, and it was his best.  Andy Smith said that Gordon was the fiercest tackler he had ever seen.  The 1918 Bears went 7-2 and won the Pacific Coast Conference Championship.  The season included a satisfying 33-7 road win over USC and a delightful 67-0 destruction of Stanford at home. 

To cap off the 1918 season, Walt Gordon was selected as a third-team All American, the first Cal player to be so honored.  He was also only the second African-American to be selected as an All American, following Paul Robeson, a star at Rutgers, who was an All American in both 1917 and 1918.  (Yes, that Paul Robeson, the famous actor, singer, and political activist).  Walter Gordon was also inducted into the College Football Hall of Fame in 1975.

Shortly after Gordon graduated from Cal, Andy Smith hired him as an assistant coach and scout. Although the record-keeping is not definitive, Gordon appears to have been the first African-American hired as a coach at a predominately white college or university.  He was the head coach of the Ramblers, Cal's junior varsity team, throughout the 1920s and 1930s.  The Ramblers were the training ground for Cal players and served as the practice opponent for the varsity squad, as well as playing games against other school's junior varsity teams. Gordon also became Cal's chief scout. During these years Cal was, of course, one of the great powers of American college football, and Walt Gordon was an integral part of the coaching staff of Cal's famous Wonder Teams.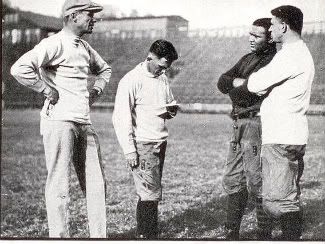 The Cal coaching staff in 1922: Head Coach Andy Smith and assistant coaches Clarence "Nibs" Price, Walter Gordon, and Albert Rosenthal
While working as an assistant coach and scout for Cal, Gordon joined the Berkeley police department in 1919, becoming its first African-American officer.  And if all this wasn't enough, he entered Boalt Hall law school in 1918, from which he graduated in 1922 as, yes, Cal's first African-American law graduate.  He opened a law office in Oakland in 1922, while still serving on the Berkeley police force and, of course, coaching and scouting for Cal.

Gordon finally left the Berkeley police department in 1930, and retired as a Cal coach and scout in 1943.  He also left his law practice in 1944, when he was appointed to the California Parole Board by his long-time friend Governor Earl Warren.  In 1955, President Eisenhower appointed Gordon the Governor of the Virgin Islands. That same year, he was named Cal's Alumnus of the Year.  And in 1958, Gordon was appointed as a federal judge by President Eisenhower, and confirmed by the U.S. Senate.  He finally retired in 1968, and returned to live in Berkeley, where he passed away in 1976, at the age of 81.

If you aren't exhausted just reading all of that, consider that Walter Gordon also founded the Alpha Phi Alpha fraternity at Cal, was the president of the Berkeley NAACP from 1923 to 1933, was vice president of the Lawyer's Guild of San Francisco, and was a member of the executive board of the University YMCA.  In between all this, he somehow also found time to marry Elizabeth Fisher in 1920, and raise three children.  One of his sons, Walter A. Gordon, Jr., played varsity football for Cal in 1941 and 1942.

GO BEARS!

Sources:

Kraychir, Hank, Cal Athletic Stories, Vol. 1, Kraychir Publications, Desert Hot Springs, CA (2009).

Peters, Nick, 100 Years of Blue & Gold, JCP Corp., Virginia Beach, VA (1982).

http://en.wikipedia.org/wiki/Walter_A._Gordon

http://www.collegefootball.org/famersearch.php?id=10051

http://www.riversider.org/walter_gordon.htm