[Twist: Thought we could get this party started right this year by bumping CalBear81's amazing post on Big Game Upsets to the top of the page. It is as relevant this year as last, if not more so. Enjoy and GO BEARS!]
2010: Stanford comes into in the Big Game this year 9-1, ranked # 6 in the BCS, and with a highly touted quarterback. Cal is 5-5, has had a strange and rather disappointing season, has lost its starting quarterback to injury, and is coming off a heartbreaking loss to the #1 ranked team in the nation. The oddsmakers have Cal as a 7.5 point underdog.
So does Cal have a realistic chance to win this thing?
Avinash edit: Turns out no. Oh well. Reboot!
2011: Stanford comes into the Big Game this year at 9-1, ranked #9, and with a highly touted quarterback. Cal is 6-4 and is coming off a strange and curious season away from Memorial Stadium at AT&T Park. The oddsmakers have Cal as a 17 to 20 point underdog.
So does Cal have a realistic chance to win this thing? Do Bears sharpen their claws on Trees?
Joe Kapp is carried off the field by his players after the Bears' improbable 1986 upset of 21-point favorite Stanford
Cal has a great tradition of pulling off Big Game upsets, often against Stanford's most well-known quarterbacks, and with unknown back-up quarterbacks starting for Cal. Here are ten of the greatest Cal Big Game Upsets.
10. 1982 – The Year of The Play (California + 6). You already know how this one ended.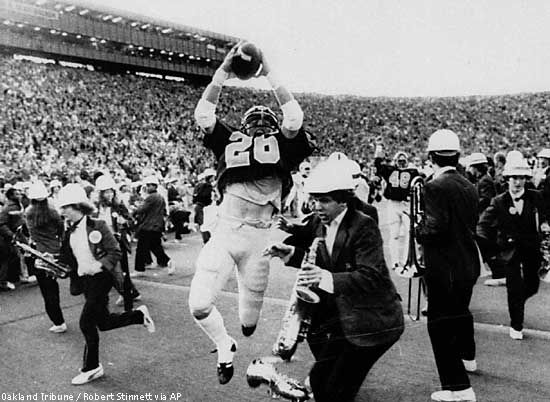 "Kevin Moen runs through the Stanford Band into history."
So let's talk about what happened before that. 1982 was Joe Kapp's first year as Cal's head coach, and the team actually had a pretty good season. The Bears were 6-4 coming into the Big Game, but had suffered some bad losses, including USC 42-0 and Washington 50-7. Stanford, under head coach Paul Wiggin, was only 5-5. But their offense, led by senior quarterback John Elway, had been outstanding all year, and Elway was a lock to be the number one pick in the NFL draft. And Stanford had knocked off the #1 ranked Washington Huskies 43-31. So despite Cal's better record, Stanford was a 6 point favorite. What's more, the Cardinal were guaranteed a Hall of Fame Bowl bid if they won. It was going to be Elway's first and only bowl appearance.
The game, played at Memorial Stadium, was close and exciting throughout. Cal built up a surprising 10-0 halftime lead on a Joe Cooper field goal and a spectacular TD catch by Mariet Ford. But things changed dramatically in the second half. After Cooper missed a 33-yard field goal, Elway first took the Cardinal on a 77-yard TD drive, and then on a 73-yard drive, capped by Elway's 43-yard TD pass to Mike Dotterer. Suddenly Cal was trailing 14-10.

But Cal wasn't done. On the first possession of the fourth quarter, Gale Gilbert took the Bears on a drive that ended in a 35-yard Cooper field goal. 14-13 Stanford. And on Cal's next possession, the Bears went 59 yards on two plays, ending with another spectacular diving end zone catch, this time by Wes Howell. Cal went for the two-point conversion, in the hopes of building a 7-point lead. But the Cardinal broke up Gilbert's pass, and Cal's lead was 19-13. Then Stanford came back to kick a field goal, cutting Cal's lead to 19-17, with 5:32 left.
On their next possession, the Bears were unable to make a first down and had to punt. Elway, starting on the Cardinal 36, quickly brought his team down to Cal's 33. Things looked grim for the Bears until, on 3rd and 8, Elway fumbled and the Bears recovered. All Cal needed was one first down to run out the clock. But three plays later, Cal had to punt. Stanford took over on its own 20, with 1:27 left. After the Bears sacked Elway, the Cardinal found themselves 4th and 17 from their own 13-yard line. Of course, Elway completed a long pass and proceeded to take the Cardinal down to the Cal 18. For reasons known only to themselves, the Cardinal coaches stopped the clock with :08 left to get the field goal team on. The kick was good, and Stanford led 20-19 with :04 left. If Stanford had let the clock wind down to, say, :03 before calling that time out, the game would have been over. Stanford would not have had to kick off to Cal again. And the game would be remembered today for Elway's great winning drive. Stanford and Elway would have gone to a bowl game. But this is what happened instead:

The Play: Bears Attack the Band (via CBS)

Although Cal was only a 6 point underdog, The Play turned the 1982 into one of the great upsets of all time. The Best Damn Sports Show Period selected it has the Greatest Football play of All Time. And in December 2003, an online vote sponsored by Pontiac chose The Play as NCAA Football's most memorable moment of all-time. But the last word on the 1982 Big Game really ought to go to Stanford's quarterback, John Elway:
They ruined my last game as a college player. It was a very bittersweet ending. I did not want it to end this way. It's something I'll have to live with for the rest of my life.
9. 1902 - Stanford Derails Locomotive Smith, But Cal Wins Anyway (no line). Cal and Stanford both had fine years in 1902. In fact, both schools brought undefeated records into the Big Game. As the game approached, Cal was actually a 3-2 favorite, based on the fact that the Bears had outscored their opponents on the season 104-0, while Stanford had "only" outscored its opponents 76-10. But a week before the game, a bombshell was dropped.
Cal's star running back, Warren "Locomotive" Smith

Cal's most outstanding player was halfback Warren "Locomotive" Smith. He had played for the Bears in 1898, 1899, and 1900, before taking a year off from school. Smith had played well in the 1898 Big Game, and had been the star of the 1899 Big Game. He returned to complete his senior year at Cal in 1902, and was once again the Bears' best player. But shortly before the Big Game, Stanford learned that during the year Locomotive Smith had been out of school he had moonlighted as a football coach, for which he had received a small stipend. Smith said he had no idea this could be a problem and, in an era before there was an NCAA, and when no formal rules about player eligibility existed, it did not seem to be one. However, Stanford, only too aware of the way Smith had devastated them in the 1899 Big Game, absolutely refused to play the Big Game unless Smith was banned. Cal reluctantly gave in to Stanford's threat. Locomotive Smith was taken off the Cal team and Bobby Sherman took his place. The San Francisco Examiner described the effect of the loss of Locomotive Smith:
The loss of Smith has had unquestionably its impact on the Berkeley team. In every perfect football eleven there is one tower of strength on which the men rely to support them in the last ditch. . . . such would Smith have been in this team.
Suddenly, the Bears went from the favorite to the decided underdog. But the Bears were energized by what they regarded as Stanford's unfair treatment of their teammate, and "Remember Locomotive Smith" became their rallying cry.
The game, played at Richmond Field in San Francisco, was a defensive struggle for most of the first half. The Bears did manage one field goal by kicker Orval "Ovie" Overall, giving them a 5-0 lead (field goals being worth 5 points at that time). Stanford had one long drive down to Cal's 10-yard line, but fumbled there, with Cal recovering.

The second half started off as more of the same, with the defenses dominating and both teams trading punts. Midway through the half, Stanford, with the wind at its back, kicked a tremendous 75-yard punt. It was fielded at the Bears' 10-yard line by none other than Bobby Sherman, Locomotive Smith's replacement. Sherman fumbled the ball, and it rolled back to the 5. He ran back, picked the ball up, and took off down the 110-yard-long field on what every newspaper account of the time called the greatest run ever seen on the west coast. Sherman stopped only after he had reached the Stanford end zone. Bobby Sherman's 105-yard punt return was the longest run in football history at that time, and it remains the longest play in the history of the Big Game.

Sherman's touchdown made the score 11-0. It also seemed to rattle the Stanford team, and on the Bears' next possession they were able to score another field goal. The final score: California 16, Stanford 0. Stanford had gotten rid of Locomotive Smith, but his replacement, Bobby Sherman, made them pay the price.
[Note: I found at least three rather different versions of the story about how Locomotive Smith ended up being barred from the game. I elected to go with the version given by Dan Brodie in 66 Years on the California Gridiron, since it was written closest in time to the events.]
8. 1951 - Sorry Stanford, No National Championship for You (California + 7). Cal and Stanford were both outstanding teams in 1951. Cal had begun the season 4-0, and was ranked #1 in the nation, before being devastated by injuries to key players, including a knee injury to star running back Johnny Olszewski. As a result, Cal was 7-2 and ranked #19 going into the Big Game. Stanford had had an even better season. The Indians were 9-0, and ranked #3 in the polls. They were already guaranteed a Rose Bowl berth, but were hoping that a Big Game win combined with some key losses by other teams could help them to a national championship. And Stanford's chances looked good, as the game was played before 90,000 fans at Stanford Stadium.

Pappy Waldorf and his Golden Bears were not impressed. On the Bears' first possession they drove 86 yards on 10 plays, capped off by a 34-yard TD run by Don Robison. In the second quarter, the Bears drove deep into Stanford territory again, before Cal halfback Johnny Pappa broke away for a 21-yard TD run. 14-0 Cal. The second half was no better for the Indians. They did get down to the Cal 22, but then turned the ball over on downs. In the fourth quarter Cal added a 78-yard drive on 14 plays, with Johnny Pappa scoring again, this time from three yards out. The extra point was missed, but Cal led 20-0.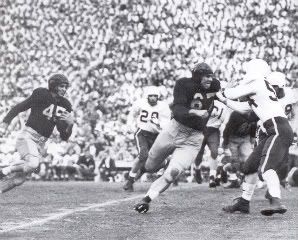 Cal All-American Les Richter (67) blocks for Don Robison on his 34-yard TD run
Although Stanford managed to score a TD late in the game to make the final score 20-7, the game was a Cal rout. Cal had 22 first downs to Stanford's 12. Cal outgained Stanford 366-197. The Bears rushed for 306 yards, to Stanford's 64 yards. Stanford did pass for 133 yards, but most of that came late in the fourth quarter when the game was already out of reach. And Cal did all this against the undefeated, #3 ranked team in the country, with the Bears biggest star, Johnny Olszewski, sitting on the bench with a knee injury. Stanford dropped to #8 in the polls after its Big Game defeat, and there was no more talk of a national championship. Stanford went on to lose the Rose Bowl to Illinois, 40-7.
7. 2009 - Bad Luck, Stanford (California + 7.5). You all know just about everything there is to know about this great Cal Big Game upset. And I certainly cannot improve upon the masterful summary of the 2009 Big Game recently provided by our own TwistNHook. But all that really needs to be known about this game is this:
Andrew Luck: 10 for 30, 157 yards, 0 TDs . . .
. . . and one interception.
Which resulted in this: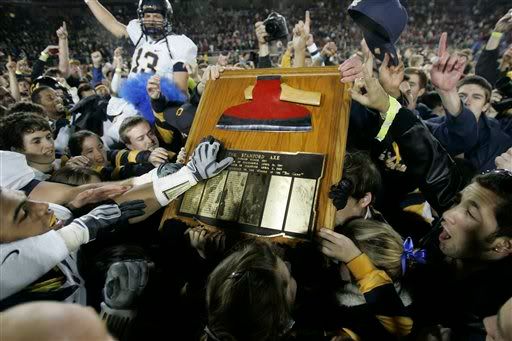 6. 1972 - The Most Dramatic Big Game Catch. Ever. (California + 8). 1972 was Cal's first year under new head coach Mike White. White had been a star player at Cal, and had been an assistant coach at Stanford. And White had reportedly been offered the head coaching job at both Cal and Stanford in 1972. But it had been a rough start for White, and the Bears were 2-8 entering the Big Game. During a six-game losing streak, the Bears had scored an average of 17.1 points per game, but the porous defense had given up 35.3 points per game.
Cal's quarterback situation was also unsettled. Jay Cruze had been the starter at the outset of the season, but Cal had not one, but two, freshman quarterbacks who were to be future NFL starters: Steven Bartkowski (a future number one overall NFL draft pick) and Vince Ferragamo (who would lead the LA Rams to the Super Bowl). All three quarterbacks played at various points in the season, but Ferragamo got the nod for the Big Game.
Stanford by contrast, came into the game with a 5-4 record, although theirs had been an up-and-down season, with good wins followed by upset losses. But Stanford had a solid quarterback in Mike Boryla, who was fourth in the nation in passing, and was an 8-point favorite. The most unsettled thing about Stanford was their name: 1972 was the year they dropped "Indians" in favor of "Cardinals," and no one was yet entirely sure if this meant birds or colors, or just what.
It had rained solidly all week before the game, and Memorial Stadium was a giant mudhole. It took the players most of the first half to adjust to the playing conditions. Stanford managed a TD, and Cal a field goal by future 49er Ray Wersching, and late in the first half, Stanford was up 7-3. But with 8 seconds left in the half, Stanford's Gordon Riegel intercepted a Ferragamo pass and took it 71 yards for a TD, putting Stanford up 14-3 at the half. Given Stanford's superior defense and the muddy conditions, the game seemed to be just about finished.
The field conditions at the 1972 were some of the muddiest on record.
But the game turned out to be far from over. On its first possession of the second half, Stanford fumbled a hand-off, and Cal recovered at the Cardinals 32. The Bears scored a TD and a two-point conversion to narrow Stanford's lead to 14-11. Cal added a TD in the fourth quarter, set up by a long punt return by Scott Stringer. The Bears led 18-14. But Stanford came right back with a TD drive of its own, and took a 21-18 lead with 3:42 left in the game.
All seemed lost for the Bears when, with only 2:28 left, Ferragamo threw his fourth interception of the day. Amazingly, the Bears got the ball back through a strong defensive stand, and careful use of time-outs. The Bears had the ball on their own 38-yard line with 1:13 remaining. With the help of two pass interference calls, Ferragamo drove the Bears down the the Stanford 8-yard line, with :03 left.
The Bears now had a choice to make: send out their outstanding kicker, Wersching, to attempt a virtually certain 25-yard field goal for the tie, or take one final shot at the win. With only :03 left, either choice would be the last play of the game. Rookie head coach Mike White decided to roll the dice and sent Ferragamo back out on the field. Cal's star wide receiver, Steve Sweeney, was sent out to line up at tight end. Sweeney collided with Stanford defender Jim Ferguson when he made his cut, and Ferguson fell down. Ferragamo threw to the corner of the end zone. Sweeney stumbled and dived for the ball, holding on even after he fell face down into the mud.
Steve Sweeney catches the winning TD pass as time expires in the 1972 Big Game
Mike White's gamble had paid off, and the underdog 2-8 Bears won the Big Game. Freshman Vince Ferragamo would ultimately lose the starting job to Steve Bartkowski, and would transfer to Nebraska. Senior Steve Sweeney ended his Cal career that day as Cal's all-time leading receiver both for his career and for a single season. But Sweeney said that catching that pass to win the Big Game meant more to him than any record.
1972 Big Game (via PRD74)
5. 1956 - Pappy Waldorf Goes Out In Style (California + 14). Lynn O. "Pappy" Waldorf was Cal's greatest coach of the modern era. From 1947 to 1950, he led Cal to four straight one-loss seasons and three straight Rose Bowls. His 67-32-4 record at Cal gave him the most wins of any coach except Andy Smith, and was only surpassed by Jeff Tedford in 2010. But by 1956 Waldorf seemed to have lost his magic, at least in part because the NCAA had changed the substitution rules back to those of the pre-World War II era. Teams could no longer have separate offensive and defensive units, which totally disrupted Waldorf's schemes. In 1955, Waldorf has suffered his first ever Big Game loss, and endured the taunts of the Stanford fans who chanted "Goodbye Pappy! Goodbye Pappy!" as he left the field.
Waldorf privately informed his friends before the 1956 season that it would be his last. And it was a dismal one, with Cal compiling a 2-7 record before the Big Game. Four days before the Big Game, Waldorf publicly announced his impending retirement. The Cal Band showed up that night in full uniform at Waldorf's Grizzly Peak home to serenade the coach -- who was in his pajamas. Waldorf called it, "one of the finest compliments ever paid to me." Cal players expressed a desire to "tear Stanford apart" for Waldorf's sake.
This seemed unlikely. Although Stanford's record was only 4-5, they had scored a convincing upset win over USC. And their offense, led by senior All-American quarterback (and future 49er star) John Brodie, had been vastly superior to Cal's, scoring 200 points on the season, to Cal's 115. As a result, the Bears were 14-point underdogs.
Cal was led by sophomore quarterback Joe Kapp, who had gotten the starting job as a result of injuries to two other quarterbacks. Kapp, of course, would later be the Cal head coach during the Bears' 1982 and 1986 Big Game upsets. Interestingly, two other future Big Game head coaches also played that day: Mike White starting at end for Cal, and All-America tackle Paul Wiggin for Stanford (Stanford's coach during Cal's 1980 and 1982 Big Game upsets).
The Bears came out so inspired by Waldorf that they scored on each of their first three possessions. Joe Kapp returned the opening kick to the Stanford 20 and Herb Jackson scored a TD from the 3. On the Indian's first possession, John Brodie fumbled at the Cal 37. Kapp drove the Bears 63 yards in 9 plays, including a 29-yard Kapp run to the Stanford 1. Darrell Roberts scored the TD. Just like that, it was 14-0 Bears. Stanford scored a TD in the second quarter, to make the halftime score 14-6. The Bears scored another TD early in the third quarter, but the extra point was blocked. 20-6 Cal. Stanford came back with two TD's in the fourth quarter. But both times Cal stopped the Indian's 2 point conversion tries. The final score: California 20, Stanford 18. The 14-point underdogs had pulled off the upset.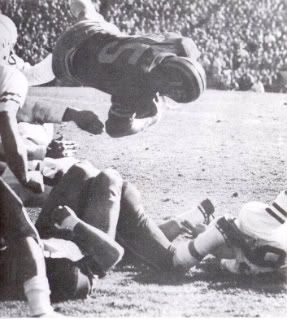 Herb Jackson dives into the end zone to score Cal's first TD of the 1956 Big Game

Stanford running back Lou Valli had rushed for a Big Game record 206 yards. But Cal's unknown sophomore quarterback, Joe Kapp, was the Big Game hero. He ran Cal's offense to perfection, rushing for 106 yards on 18 carries, while going 2-for-6 in passing, for 15 yards. Stanford head coach Chuck Taylor explained the loss this way: "Perhaps we underestimated Kapp's ability to roll out, run, and pitch-out a trifle." After the game, Pappy Waldorf addressed a crowd of 18,000 from the balcony on the north end of Memorial Stadium. "I love you," he told them, "and I always will."
Herb Jackson, Pappy Waldorf, and Joe Kapp enjoy their Big Game victory
4. 1970 - Stanford's Got the Heismann Trophy Winner? Yawn. (California + 10.5). The big story coming into the 1970 Big Game was all about Jim Plunkett and his spectacular season. Coming into the Big Game, Plunkett had led the Indians to an 8-2 season (6-0 in the Pac-8), had outscored Stanford's opponents 302-167, and had a Rose Bowl berth already guaranteed. No one gave the 5-5 Bears a chance against the scoring machine of #11 ranked Stanford. But Cal quarterback Dave Penhall was not impressed. He had played brilliantly in the Bears' near upset of heavily favored Stanford the year before, only to fall short 29-28. But not this year.
Cal started strong, building an early 10-point lead on a Ray Wersching field goal and a 10-yard TD pass from Penhall to Bob Darby. After the TD, Cal successfully executed a surprise onside kick. The Bears drove down for another Wersching field goal, and the underdog Bears were up 13-0. But Plunkett brought the Indians back, throwing a 61-yard TD pass to Jackie Brown, right before the half. 13-7 Cal at halftime.
And Plunkett was not done. Late in the third quarter, facing 3rd and 1, he threw a 74-yard bomb to Brown. Suddenly Stanford was ahead for the first time in the game, 14-13. But Penhall was not done either. He drove Cal down to the Stanford 23. On 3rd and 7, Penhall lofted a jump ball into the end zone, in the vicinity of two Bears and two Indians. The ball was knocked away, and one official signaled incomplete. But another official threw a flag. Pass interference. Cal got the ball first and goal at the 1, and Penhall took it in for the TD. Cal's 2-point try failed. 19-14, Bears.
Cal quarterback Dave Penhall scores what proved to be the winning TD in the 1970 Big Game
Plunkett had another great chance, taking the Indians down to the Cal 9. But then he missed a wide-open receiver on fourth down, and turned the ball over to the Bears. Stanford got the ball back with 5 minutes left in the fourth quarter, but Plunkett fumbled. Cal recovered and went on a long drive, using up most of the remaining clock, before Ray Wersching kicked a 26-yard field goal with 56 seconds left. Final score: California 22, Stanford 14.
Jim Plunkett had had a great career. He held the all-time NCAA records in passing and total offense. He went on to beat Ohio State in the Rose Bowl, and to win the Heismann Trophy. He had a great NFL career, playing for the Patriots and the 49ers, before winning two Super Bowls with the Raiders. But he ended his Stanford career without the Axe.
3. 1941 - The Bears Aren't Wowed (California + 12). 1941 was the era of Stanford's "Wow Boys." Before he came to Palo Alto, Stanford's head coach, Clark Shaughnessy, had been working with Chicago Bears coach George Halas on developing a revolutionary new version of the "T formation," using a man in motion for the first time. In 1940, Shaughnessy had introduced this new T formation to college football with dramatic results. The Indians, who had gone 1-7-1 in 1939, were 10-0 in 1940, including a Rose Bowl win over Nebraska. The 1941 Indians were hampered by injuries during the season, but star quarterback Frankie Albert (who would later play seven seasons for the 49ers), still led them to a 6-2 record entering the Big Game, and kept Stanford's Rose Bowl hopes alive.
Cal was only 3-5 coming into the Big Game, and on paper was outclassed in just about every way imaginable. Stanford had outscored its opponents 118-56. Cal had been outscored 60-71. Against common opponents, the Indians had gone 5-2, the Bears 2-5. Stanford had 1,991 yards of total offense, Cal had 1,187. After Stanford's success, much of the country had adopted the revised T formation, but Cal's Stub Allison retained his traditional, more conservative offense. And Cal had lost running back Jim Jurkovich, who had been expected to be one of the best backs ever to play at Cal (and who was also your author's third cousin) to repeated head injuries. It was no surprise that the Bears were 12-point underdogs -- a huge margin in a day when most games were very low scoring. But the Bears chose that day to play an absolutely inspired game.
The fans had barely settled in their seats before it become clear that this was not going to be another Stanford rout. Cal held Stanford on its first possession, and the Indians punted from their own 23. Frankie Albert's kick was short, and the Bears took over on the Stanford 46, near the eastern side of the field. On first down, Cal running back Al Derian started wide around his own left end, cut back to his right, picked up blockers, and ran in an almost straight diagonal line across the field, toward the west corner of the Stanford end zone, for a 46-yard TD. 1:35 had elapsed in the game, and the Cal fans began going wild.
After that, the defenses took over. The Bears showed that they were not intimidated by Stanford's vaunted T formation, stopping the Indians on downs at the Cal 24. Stanford's defense stiffened as well, and the game was still 7-0 going into the fourth quarter. In the fourth, a 50-yard Cal punt by Bob Reinhard put the Indians back at their own 11. On first down, George Herrero tackled Stanford halfback Buck Fawcett for a 2-yard loss. On second down George Herrero's brother, Jack, tackled Fawcett for a 4-yard loss. Then Stanford was penalized for delay of game. Finally, Stanford had to punt from its own 1-yard line. Cal's Jean Witter burst through the line to block the kick. The ball rolled out of the end zone for a safety. Cal 9, Stanford 0.
Stanford's next possession started on the Indians' 20-yard line. On first down, Bob Reinhard sacked Frankie Albert for a 9-yard loss. On second down, Jack Herrero sacked Albert for a 7-yard loss. Two plays later, Stanford was again punting out of its end zone. This time it was Jack Herrero who blocked the punt, and Reinhard recovered it in the end zone for a Cal TD. Final score: California 16, Stanford 0.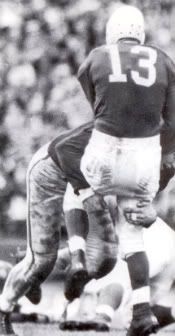 Stanford quarterback Frankie Albert takes one of many sacks in the 1941 Big Game, this one from Bob Reinhard

The Bears had been anything but wowed by Stanford's vaunted "Wow Boys" and their revised T formation. Stanford's star quarterback, Albert, ended the day just 4 for 16, for 45 yards. Stanford had four fumbles, to Cal's one. Cal had blocked three Stanford punts, two resulting in Cal scores. And, according to one reporter, the Cal student section set an unofficial world record by rushing the field and tearing the goal posts down exactly 14 seconds after the final gun sounded.
2. 1980 - "Hey Stanford, Eat My Peach!" (California + 15). 1980 was a truly abysmal season for the Bears. After a modestly successful 7-5 season in 1979, which had culminated in Cal's first bowl appearance in 20 years (a miserable loss to Temple in New Jersey's Garden State Bowl), Cal fans hoped better times were ahead in 1980. This was especially so because of the return of senior quarterback Rich Campbell, who looked to break most of Cal's passing records before the season ended. Thus, the disappointment was all the greater when Cal found itself with a 2-8 record entering the Big Game. The season had included a hideous 60-7 loss to USC and a 26-19 loss to Army, which Cal had been favored to beat by 14. Against Arizona, Cal led 21-3 at the half and 24-10 in the fourth quarter. And somehow lost 31-24. Adding injury to insult, Rich Campbell's Cal career ended with a knee injury against USC, in the eighth game of the season. Back-ups Gale Gilbert and walk-on J Torchio then quarterbacked Cal to losses against Arizona State and Washington State.
Things looked very different on the other side of the Bay. Stanford was led by its sophomore sensation, John Elway, who was already being touted in the media as "the greatest quarterback ever." Stanford was 6-4 on the season, including a stunning 31-14 win over #1 ranked Oklahoma at Norman. Stanford had been all but guaranteed a berth in the Peach Bowl. All it had to do was beat the Bears. Cal's students and fans viewed the upcoming Big Game with grim foreboding.
The author's grimly foreboding student ticket to the 1980 Big Game
Cal was a 15-point underdog and it was rumored that the job of Cal head coach Roger Theder was on the line if he could not manage a Big Game victory. Theder pulled out all the stops, inviting Cal coaching legend Pappy Waldorf to address the team before the game. Waldorf spoke to the players about the meaning of college football, of Cal football, and of the Big Game. "The Big Game," Waldorf said, "is college football in its purest form. There is nothing else like it."
The Bears seemed to take Waldorf's words to heart. Led by back-up quarterback J Torchio, the Bears went 80 yards for a TD on their first possession. The big play was a 56-yard pass from Torchio to Don Sprague on 3rd and 13, followed by a 15-yard John Tuggle run into the end zone. Stanford immediately responded with a 97-yard drive to tie the game.
In the second quarter, Torchio took his team on a 69-yard drive to put the Bears ahead again, 14-7. When Stanford got the ball back, Elway was sacked by Richard Rogers and the ball was stripped from him by noseguard Kirk Karacozoff. The Bears recovered on the Cardinal 4, and two plays later Tuggle carried the ball into the end zone to give Cal an astonishing 21-7 halftime lead.
By now, the Cal fans were going absolutely crazy. In an era before bags or packs were inspected, the Cal students had brought literally thousands of peaches into the stadium -- in "honor" of Stanford's presumptive Peach Bowl bid -- and they spent most of halftime hurling peaches onto the field using all manner of slingshots and similar devices. By the time the Stanford band ended its show, the place looked more like a fruit salad than a football field. The students began chanting, "Hey Stanford - Eat My Peach." And they kept it up for most of the rest of the game.
But the game was far from over. Early in the fourth quarter, Stanford wide receiver Vincent White caught a swing pass, broke through the Cal defense, and ran 32 yards for a TD, cutting Cal's lead to 21-14. On the Cardinal's next possession, Elway took his team on another drive. This time, however, the Cardinal were stopped when Vincent White fumbled after catching a pass, and the Bears recovered. Except that the line judge, for reasons he never explained, ruled no fumble. And because replay did not exist, that was that. Elway was permitted to continue the drive, which ended in another Stanford TD. Suddenly the Cal lead was gone. It was 21-21.
Stanford stopped the Bears on their next possession, with five minutes left. Cal's Mike Ahr came through with a great punt that was downed at the Stanford 5. And on the very next play, Elway fumbled the hand-off to White, and Cal recovered at the Stanford three-yard line. J Torchio carried the ball in on a bootleg, and with four minutes left, Cal was back ahead, 28-21.
Stanford had one last shot. Starting at the Cardinal 26, Elway led his team all the way down to the Cal 4. Everyone was speculating about whether Stanford head coach Paul Wiggin would go for a 1 point conversion for the tie, or 2 points for the win and the Peach Bowl bid. But that turned out to be academic, as the Bears threw Vincent White for a loss on third down. On fourth down, Cal safety Kevin Moen blitzed Elway, forcing him to throw early. The ball landed harmlessly in the end zone, and Cal took over on downs at its own 6.
But the game still wasn't over. The Bears were unable to make a first down. With 22 seconds left, coach Theder ordered his center to snap the ball through the end zone for a safety, making the score 28-23 Cal. After the free kick, Elway tried one desperate Hail Mary pass, but could not connect. The upset was complete.
1979 and 1980 Big Games (via PRD74)
John Elway had good numbers in his first Big Game: 20 for 45 for 257 yards. And Stanford had out-gained Cal 442-276. But Cal's walk-on back-up quarterback, J Torchio, had the best game he would ever have at Cal: 11 of 22 for 186 yards and one TD. And, unlike the Cardinal, the Bears played error-free football. Cal had completed its greatest Big Game upset to date, kept Stanford out of the Peach Bowl, and brought the Axe back to Berkeley. The Bears had also provided a fitting tribute to Pappy Waldorf, who had inspired them with his pre-game speech. It was especially fitting, because this was the last Big Game for Waldorf, who would pass away just a few months later.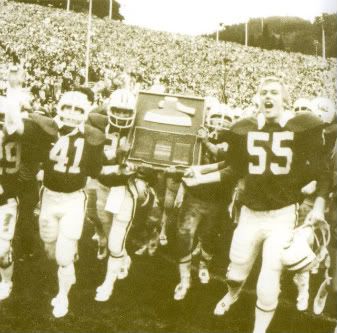 The Cal team celebrates following their dramatic 1980 Big Game upset of Stanford
1. 1986 - The Greatest Upset of Them All (California + 21). Joe Kapp is the living embodiment of Cal football. As one commenter on this site has said, "Joe Kapp is Oski made flesh." It is no coincidence, then, that Joe Kapp played a role in no fewer than three of Cal's Top 10 Big Game Upsets: in 1956 as Cal's starting quarterback; in 1982 as Cal's head coach for The Play; and in 1986, in his last game at Cal, as the head coach for the Bears' greatest upset and most emotional Big Game win ever.
Head Coach Joe Kapp shows his emotions as he is carried off the field after the Bears' extraordinary upset of Stanford in Kapp's last game at Cal.
If 1980 had been an abysmal year for Cal, then 1986 was whatever is worse than abysmal. The Bears were beaten by Boston College in their opening game, but managed to beat Washington State in their second game of the season. But that was it. Eight straight losses followed, including a 49-0 loss to ASU and a 28-3 loss to USC in the two games preceding the Big Game. That gave the Bears a 1-9 record on the season. Just before the ASU game, Joe Kapp was told that his stint as Cal's head coach, which had begun with such promise with a 7-4 season and The Play in 1982, would be over at the conclusion of the 1986 season. And then, almost unimaginably, the news got even worse for the Bears. True freshman starting quarterback Troy Taylor, who had replaced Brian Bedford four games into the season, went out of the USC game with a broken jaw. "We were crumbling from the inside out," says linebacker David Ortega.
Kapp had to decide between starting Brian Bedford, who had been ineffective at quarterback, but had been converted into a good wide receiver, and bringing back Kevin Brown, who had started games for Cal in 1985, but had been bypassed in 1986. Kapp settled on Brown, who hadn't started a game all season, to lead the Bear offense, which hadn't scored a touchdown in almost a month. It would be Brown's final game at Cal.
Things looked much better down on the Farm. Under coach Jack Elway, John's father, the Cardinal had built a 6-3 record, with two games still to play. (Stanford was set to play Arizona in Tokyo the week after the Big Game, as part of a short-lived NCAA effort to bring American football to Japan.) With a strong starting quarterback in John Paye, an excellent running back in Brad Muster, and a good defense, Stanford was considered a sure thing. The Cardinal were favored by 21 points over the hapless Bears.
Kapp, an old-school, from-the-gut coach, in an increasingly technical game, tried to fire up his players by bringing a 74-year-old former yell leader, Natalie Cohen, a fixture at Big Games for decades, into the locker room to lead the team in the Axe yell right before they ran on the field. As corny as it might seem, it worked. "We ran out on the field together, as a team," said linebacker Ortega. "We didn't do that every week that year."
On Stanford's first possession, all seemed to be going as expected. Paye led the Cardinal to a first and goal on Cal's 7-yard line. But the Cal defense held, and then Stanford missed a field goal try. The Bears started to believe they had a chance. And so did their fans. "Those Cal crazies got excited," said Paye.
The Bears managed a field goal early in the second quarter to take a 3-0 lead, and the team and the fans got even more excited. Then Brown took the Bears on a 93-yard drive. Brown hit Mike Ford with a 61-yard pass, but on that play Brown himself received a helmet-to-helmet hit and suffered a concussion. But he stayed in the game, completing the drive with a 5-yard TD pass to Wendell Peoples, putting Cal up 10-0. Today, Brown's concussion would have resulted in his removal from the game, but in 1986 he was left in to play. "It was frightening," says Brown, who still doesn't remember throwing that TD pass.
Stanford managed a field goal right before the half to cut the Cal lead to 10-3. The third quarter and the early fourth quarter were scoreless, and it was still a 10-3 game with 7:36 to go. On 2nd and 7 from the Stanford 47, Kapp called an option end-around. Kevin Brown says, "I was smiling to myself, because it probably wouldn't work. But if it does work, this game is so over." Brown pitched the ball to Mike Ford. Ford got a block behind the line from James Devers. Kam King threw another key block at the Cal 40, as did Todd Powers at the 30. Ford then waltzed into the end zone to give Cal a 17-3 lead.
By now, the crowd noise was deafening. And it was the defense that really got them going, with seven sacks of John Paye. "There were some pretty good shots on him," said Cal linebacker Hardy Nickerson. "With every one, you could see him getting up slower and slower -- and the crowd was getting louder and louder." But Paye was a gamer, and, despite an injured shoulder, on Stanford's next possession he completed a 69-yard TD pass to Jeff Jones, 55 yards of it in the air. Stanford made the 2-point conversion, and suddenly Cal's lead was down to 6 points: 17-11.
Stanford got the ball back one more time, and Paye took the Cardinal down to the Cal 37. But the Cal defense came through one last time, sacking Paye twice to end the game. The 21-point underdog Bears, with a back-up quarterback and a fired head coach, had pulled off the biggest upset in Big Game history. As the crowd stormed the field, Joe Kapp's players carried their coach off on their shoulders. Hardy Nickerson climbed up a ladder and conducted the Cal Band. And pandemonium and joy swept through Berkeley. Linebacker David Ortega had been thinking about transferring, but his mind was changed by "that whole atmosphere at the end of the game, hysteria for a 2-9 team."
In the Cal locker room, Natalie Cohen led the players in Hail to California, and Joe Kapp gave his players his farewell speech as their coach:
1986 Big Game - Cal Locker Room (via PRD74)
What's that word on the chalk board behind Joe Kapp? Is it "Stanfurd"?
GO BEARS!
BEAT STANFORD!
GIVE 'EM THE AXE!
Sources:
Brodie, S. Dan, 66 Years on the California Gridiron, Fontes Printing Co., Oakland, CA (1949)
Fimrite, Ron, Golden Bears, MacAdam/Cage, San Francisco (2009)
Kroner, Steve, 1986 Big Game / 20 Years Later, Upset Is Still Hard to Believe, The San Francisco Chronicle (Nov. 27, 2006) (http://articles.sfgate.com/2006-11-27/sports/17321859_1_quarterback-john-paye-big-game-stanford)
Peters, Nick, 100 Years of Blue and Gold, JCP Corp. of Virginia, Virginia Beach, VA (1982)
Sullivan, John, The Big Game, Leisure Press, New York (2nd ed. 1983)
- and -
Bear81, Cal, Personal Recollections of Listening to and/or Attending 1970, 1972, 1980, 1982, 1986, and 2009 Big Games.