On October 10, 2007 I attended an event at Alumni House that was billed as a "Homecoming Colloquium" entitled "'The Play': How It Affected College Football, Cal Spirit, and the Rivalry with Stanford."  It was presented in honor of the 25th anniversary of The Play, and the featured speakers were Joe Starkey and Joe Kapp.  (By the way, if any of you academic-types can explain precisely what a Colloquium is, and how it differs from a Symposium, I would love to be enlightened.)

    I got there early, to be sure to get a seat, and got the chance to chat with Joe Starkey for a few minutes while he was standing around in the lobby wondering where he was supposed to go and what he was supposed to do.  (The event was organized by current students, who did a nice job, but weren't exactly a model of precision and efficiency.  At some point it occurred to me – with horror –  that none of those students had even been born when The Play happened.)    Starkey couldn't have been nicer.

    The event began with the arrival of the Cal straw hat band.  We were in a relatively small room at Alumni House, which was packed to overflowing.  The noise of the 20-or-so band members was just about deafening.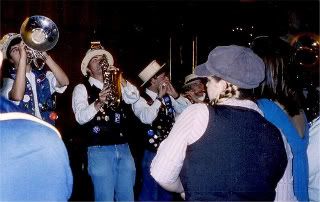 I <3 the Cal Band!
    Next, they showed "The Play," with Joe Starkey's call, of course.  Then Starkey was introduced.  He talked about what a great game the 1982 Big Game had been even before The Play and discussed some of the things he had said on the broadcast which aren't usually part of what gets heard on TV or radio clips.  (Such as his comment right after Stanford got the field goal with 4 seconds left, "Only a miracle can save the Bears.")

    Starkey told us that he had learned some years after the game that there had been a heated debate among the Stanford coaches in the booth over whether to stop the clock for that final field goal at 4 seconds or with 8 seconds.  If they had waited until there were only 4 seconds, the field goal would have eaten up all the remaining time and there would have been no kickoff for Cal to run back. Apparently Stanford opted to call the time out with 8 seconds because it was only second down and if there was some problem getting the field goal off, they might have been able to get another chance.  Starkey said that the Stanford assistant coaches who had wanted to run the clock down to 4 seconds got so upset after The Play that they actually got into a fistfight in the booth with the coaches who had insisted on 8 seconds.  The fistfight later continued down in the locker room.
I <3 Joe Starkey!
    Someone asked whether Starkey had ever heard the Stanford radio broadcast of The Play and, if so, what it was like.  Starkey said that he had heard it, but that it, like the TV broadcast, was disappointing.  Starkey said that one thing he has always believed is vital for a play-by-play man is never to give up on a play.  Always assume that the play is going to count and call it that way.  Even if there are penalty flags, or it looks like the guy stepped out of bounds, don't assume the play is over.  Keep calling it like it counts.  You can always go back later and tell the audience that the play was called back.  But if you give up and stop calling it, you can never fix that.  Starkey said that the Stanford broadcaster, like the TV broadcasters, gave up on The Play.  They assumed it would be called dead and gave up.  As a result, they missed the call. (I have a copy of the TV broadcast, and the entire Play is ruined by the announcers repeatedly saying, "flags are down, flags are down, it's not going to count, flags are down . . .")

    Starkey told us about being hired to be the Cal announcer in 1974.  He said that he grew up in the mid-west listening to baseball broadcasts from Chicago and St. Louis. He is a life-long Cubs fan – good training for all the dreadful years at Cal!  He had always wanted to be a sportscaster, but thought that was a pipedream.  He had considered being a priest at one point, and later got an MBA.  (I tried to imagine Joe Starkey as a priest: "The bread and wine are going to turn into flesh and blood!  The bread and wine have turned into flesh and blood!  Oh my God!  The most amazing, sensational, dramatic, heart-rending, exciting, thrilling miracle in the history of the Catholic Church!  Transubstantiation Has Occurred!")

    Starkey had expected to end up as a businessman of some sort.  But in his 30s he decided to take a shot at his dream of being a sportscaster and started trying out for openings.  It paid off.  But when he was hired for the Cal broadcasts, one of the KGO employees asked him, "Cal has had four announcers in the last five years.  How long do you think you're going to last?"  Starkey told the guy that he wouldn't be going anywhere – but did not imagine he would last more than 30 years.  Starkey also mentioned that his predecessor as Cal announcer was none other than Joe Kapp.  Kapp was the color man on the Cal broadcasts the year before Starkey was hired.

    After Starkey finished, it was Joe Kapp's turn.  Kapp teased Starkey about his statement that "only a miracle can save the Bears."  He claimed that The Play was not a miracle at all, but was the result of a never-say-die spirit and careful preparation.  Kapp was asked whether, before The Play, he thought the game was over.  He repeated the statement he made famous right after the 1982 Big Game, "The Bear will not quit!  The Bear will not die!"  In fact, he repeated that statement a number of times over the next half hour.

    According to Kapp, the difference between Cal and Stanford is apparent from their campuses.  "Have you seen how flat it is over there?" he asked.  "They can walk around easy, go to their classes with no effort."  Then he became dramatic, "But here!  Here you've got to work for it!  At least half the time you're going uphill.  It's a struggle. You learn to work hard, never give up!"

    Kapp then launched into a rambling, free-association discussion of pretty much whatever entered his mind.  Several times he called on the audience to "Give me a 'C'," which we did.  And when it wasn't loud enough he told us to make it louder.  We did.  His infectious enthusiasm remains undiminished.  I was reminded of my father's assessment of Kapp back when he was Cal's head coach, "As a head coach, Joe Kapp makes a great cheerleader."
I <3 Joe Kapp!
    Kapp talked about his days as Cal's quarterback in the 1950's, when he led Cal to its last (or should I say "most recent") Rose Bowl.  He talked about his first visit to the Cal campus when he was in junior high school.  His music teacher led a field trip to Cal. (He also related that, although he wanted to play the trumpet in music class, his buddy got the last trumpet.  "I got stuck with the last remaining instrument," Kapp lamented.  "A sousaphone.  Can you imagine a quarterback walking down the street with a sousaphone!")  No one in his family had ever gone to college, and he was amazed by the campus, especially the football stadium.  When buddy asked, "how do you get to go to school at this place?"  Kapp said, "Forget that – how do you get to play football at this place?"  

    He praised his football coach at Cal, Pete Elliott, and also his basketball coach, Pete Newell.  Kapp laughed at his own efforts on Cal's 1959 NCAA championship basketball team, saying that he was the twelfth man on the bench and liked it that way because he got to sit close to the cheerleaders.  He told a story about playing in a tournament at Madison Square Garden against Kansas.  He said that there was a player on that Kansas team we might have heard of – Wilt Chamberlain.  Kapp was sitting on the bench, watching the cheerleaders, when he heard Coach Newell call his name.  Kapp claimed he thought the coach wanted him to bring in some towels or something.  But the coach told him he was going into the game.  "Be aggressive," the coach said.  So Kapp went in, and found himself playing against Wilt Chamberlain.  He claimed that he thought Chamberlain had hit him.  "The coach said be aggressive" he thought.  So he swung around and punched Chamberlain – in the knee, Kapp joked.  Kapp got thrown out. No loss for Cal.  So did Chamberlain. Big loss for Kansas.  "Be aggressive," said Kapp, "pretty good coaching!"     

      Kapp also told us that when he became Cal's head coach he swore off Tequila until Cal got to the Rose Bowl.  "That was December 1981!" cried Kapp.  "Thank God for Corona!"  But he predicted that this is the year he's going to be able to drink Tequila again.  He was asked if his vow would be satisfied if #2 ranked Cal ended up in New Orleans (for the National Championship game) instead of Pasadena.  Kapp replied, "I think the Pope will give me a dispensation." (Tragically, three days after this event Cal played Oregon State and . . . well, no need to get into that.)

    He also mentioned that he didn't finish his degree at Cal in four years.  He was two units short, so he had to come back for one more semester.  "And I learned something very important during that semester," said Kapp gravely.  "I learned that you can drink a lot of beer when you only have to carry two units!"

    Back on the topic of The Play, he told us that it all resulted from playing "grabasso" with the linemen.  Back when Kapp was the Cal quarterback, Coach Elliott had the players play "grab ass," where they would throw the ball around and try not to let it hit the ground.  When Kapp became head coach, he invited the linemen to meet him at the Andy Smith bench at Memorial Stadium on Sunday mornings to play "grab ass," which he changed to his native Spanglish, and called "grabasso."  He brought out a football and showed it to the linemen.  "That's a football" he announced.  "No shit?  Really? Never saw one up close before," they said.  The linemen loved being able to actually touch a football.  Kapp claimed that is was playing "grabasso" that prepared his players for all those laterals during The Play.  (I remember him making that same claim back in 1982.)  Kapp said he didn't tell the players anything before they went on the field for that kickoff.  He said, "they already knew what to do.  Whatever happened, they knew that they would not go down with the ball." 

    Kapp concluded by reading a quote from the greatest of all Cal coaches, Andy Smith.  The quote was about winning not being nearly as important as holding to an ideal.  What is that ideal?  According to Kapp, "The Bear will not quit!  The Bear will not die!"

 I <3 The Play! 
GO BEARS!  BEAT THE INDIAN-ROBBER BARON-BIRD-RED-TREE-JUNIOR-CARDINAL THINGS!